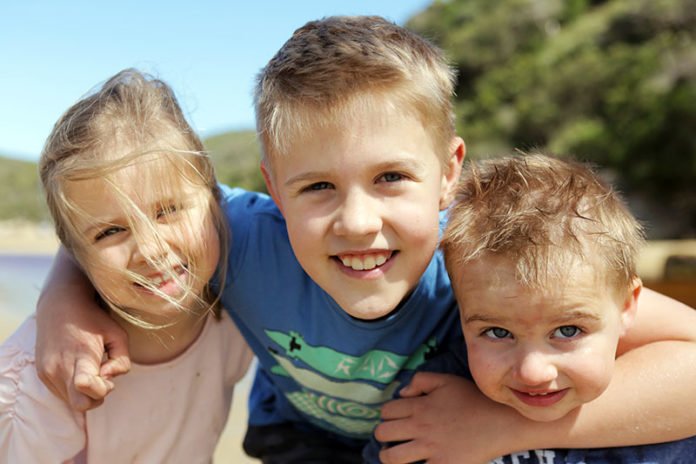 Travelling with kids has its challenges. And because it so graphically illustrates the need for everyone to take care, even in the relatively safe confines of a caravan park, GoRV is linking to this dash cam footage of a child being struck by a car in a caravan park, which was shared on Facebook. We do, however, recommend viewer discretion – some might find it distressing.
TRAVELLING WITH KIDS: WHO'S RESPONSIBLE?
This footage raises the question of parental responsibility in van parks. Let's face it: kids will be kids and no matter how vigilant the parent, accidents can and do happen.
"We have stayed in caravan parks where all children need to sit a little test to get their bike/scooter 'licence'," Adele Dyson of Caravanning with Kids told GoRV. "At the time we wondered if this was overkill but our kids learnt a lot about the rules of the park and traffic and really enjoyed the process. We believe that kids should wear helmets at all times and treat the paths as they would roads."
Almost every child or young teenager has broken the rules at van parks. Of course, a cardinal sin is for a kid to cut through the sites of other campers. Almost all kids have done it, despite being (almost constantly) told not to.
"We ask our kids to treat other sites like they are homes on a street," Adele said. "Would you take a shortcut through someone's backyard? Nope. Then stick to the designated pathways. This also means they are less likely to get lost."
KID-FREE ZONES?
Some parks and campgrounds have special zones for campers with dogs, generators, etc. Would a zone for campers with children be a good thing? That way, they could run amok without upsetting other campers.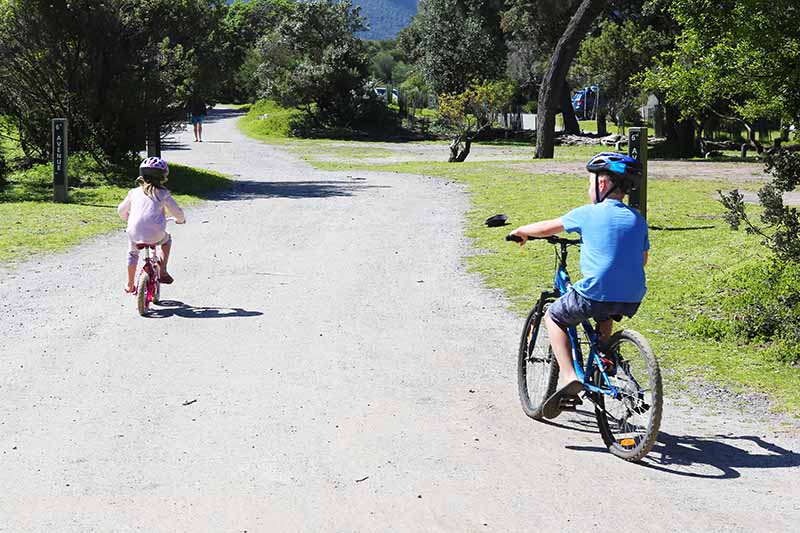 "I think there are many campers out there who would love child-free areas!" Adele said. "Generators are banned at many places for good reason. Many of them are so loud! But in all seriousness, if we start segregating, where would it stop? A grey nomad-free zone, an outdoor cooking-free zone?"
She makes a good point – travelling with kids, after all, should be about inclusion; however, kids running hell-for-leather around a van park also raises the question of privacy.
"If you want total privacy, then maybe don't stay in a caravan park!" Adele said. "We encourage our children to introduce themselves to their neighbours, respect their property and be aware of everyone's space. It's okay to squeal and carry on at the playground but we try to get them to 'tone it down' if we are only metres away from people. We call these 'park rules' and we are consistent with them. They sometimes need a gentle reminder but so do we after a few too many happy hour drinks!
"Parents definitely need to take responsibility and finding the balance on holidays can be tough. We are more relaxed while on holidays but we still expect manners and respect from our kids."
KIDS' SAFETY
Back to the footage of the child struck by the car. Most people would assume that a caravan park is one of the safest places they could stay… and generally they are. But just like in a driveway at home, or perhaps on a crowded road during school pick-up, complacency can lead to dangerous situations.
Adele said parental vigilance was especially necessary when a caravan park was too busy and very quiet.
"A very busy caravan park might have loads of kids around on bikes, scooters, etc., and lots of cars coming in and out and caravans checking in and out," she said. "On the flip side of this, when it is very quiet, sometimes the kids can 'forget' to take care. Extra care needs to be taken at parks that are on the water's edge. These parks are gorgeous but extra supervision is required, especially for young kids."
What do you think? What are your experiences with travelling with kids? Have your say below.