The Avan Aspire is available in a wide range of configurations, from the 402 (also available as a pop-top) to the 617, the largest in the Aspire line-up.
There's no denying it: Avan has, for many years, been one of Australia's most successful RV manufacturers. Over the years, the company has expanded and evolved its offering. Though that classic A-shaped camper remains one of its signature rigs, but not its best-seller. That honour goes to the Aspire range.
Our review Aspire is the 587-1 Hardtop. Fitted with the optional Allure interior package, with updates for 2018 that will be officially unveiled at Melbourne Leisurefest, it is a study in how far Avan has come. Talking about evolution, I'm told that even more changes are to come for 2018.
AVAN ASPIRE'S INTERIOR
Anyone familiar with Avan would automatically associate a faux wood grain finish to the internal cabinetry, including the locker doors, of the company's vans. That interior finish remains available, of course, but the Allure design package considerably brightens things up.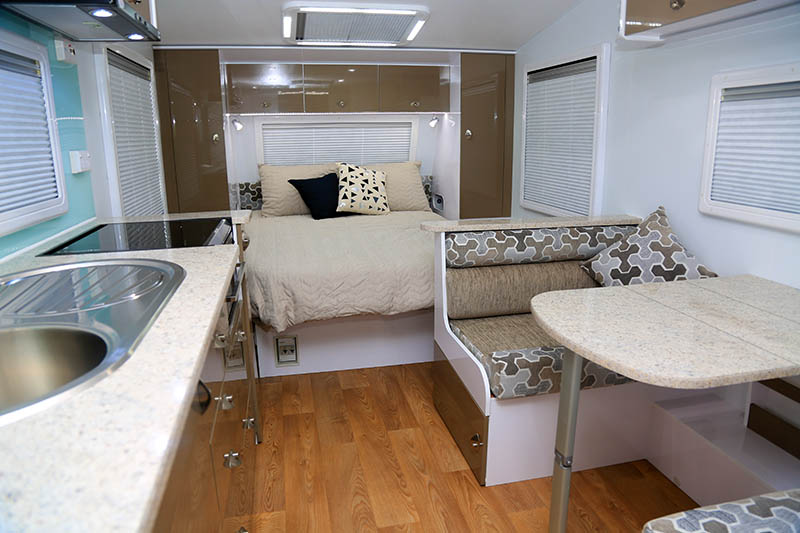 The '1' in 587-1 refers to this van's layout designation (there are three layouts available). And while the layout is effective for two people, it is outdone by the contemporary interior design. Having been reviewing Avans for more than 10 years, it's the Allure package that really caught my eye.
The package now comes with enhanced facings for the cupboards and overhead lockers – the doors now cover the entire box of the cabinet behind. I also liked the curvaceous wood magazine/book holder in the entryway – it's a distinct stylistic upgrade from the fabric pouch to which you might be accustomed.
A suite of LEDs, including strip lighting and even a strategically placed light in the entryway grab handle, adds a new level of class. And then there's that wine rack, which also has a somewhat curvaceous door. The rack will hold seven bottles of wine. Apparently, Avan customers have been telling the company to hurry up and build a dedicated spot for their happy hour drinks. It is, I admit, an elegant way to use the small section of the kitchen forward of the four-burner cooktop and griller. And there's no rule that says it's for wine only. If you're a beer or whiskey person, stuff your loaves of bread in each compartment instead.
There really is a decent amount of kitchen storage, including a large drawer for pots and pans beneath the griller. Overall, the fit and finish in the kitchen is of a high standard, but a less intrusive trim between the benchtop and splashback would take it from very good to great.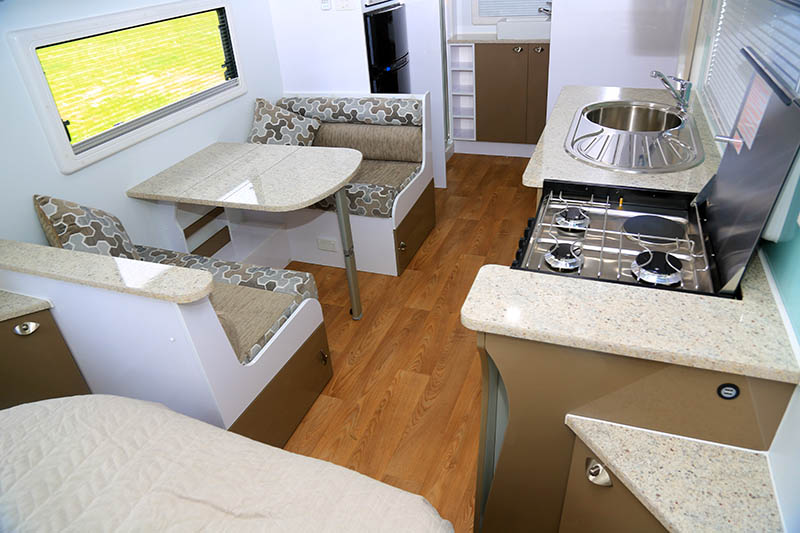 There are no complaints with the dinette. In fact, quite the opposite. Every caravanner understands that accessing the storage space beneath the dinette seats is, at best, awkward and, at worst, downright frustrating. Drawers are common but, while they make access easier, they're not an efficient use of space. The Avan Aspire 587, however, has doors that hinge outwards, rather than down. The result: wide, clear access.
There are a number of interesting features to the bedroom, too. First, the deep wardrobes with USB charging points mounted inside, with easy access via cutouts in the wardrobe either side of the bed.
And then there's the storage beneath the bed. Usually, when a van has a tunnel boot – as this one does – the entire tunnel is lined with galvanised sheet metal and boxed off, and it significantly intrudes in the under-bed storage space. The rationale is to keep dirty external-use items separate from the interior, and I can understand that, but I like that Avan has opened this space up in the Avan Aspire 587-1.
Finally, the bathroom. Thanks to a large rear window – which is offset to the nearside – it floods with natural light. In fact, it's as bright and cheery as the rest of the van, and if you've been inside a few caravans, you'll know that a naturally-lit bathroom isn't a given.
The Allure design touches are on show here, too. The bathroom's vanity has sensibly-designed shelving, overhead lockers, a nearside cassette toilet and an offside shower.
RIDING HIGH
I know, the bulk of this review has focussed on interior finish and design. That's because, fundamentally, the Avan Aspire is built as Avans traditionally are: with sandwich panel walls comprised of an outer skin of flat aluminium, a foam core, and a ply inner finished with a white veneer.
If the van appears to be riding a little high, that's due to the underslung axle on leaf-spring suspension. It gives the van a little more ground clearance but it's not an offroader.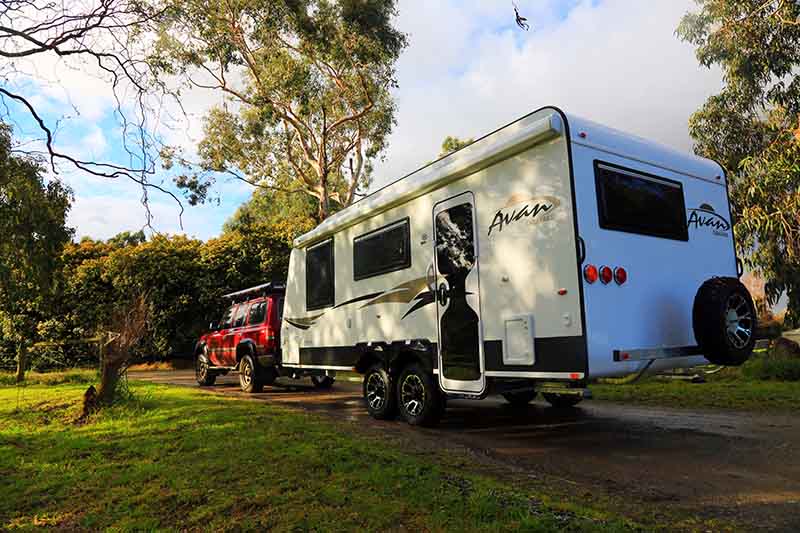 On the drawbar are two 9kg gas cylinders (two 4.5kg cylinders are standard), a standard 50mm ball coupling, a tap plumbed to the fresh water tanks – obviously the van can be hooked to town water, too – and an offset jockey wheel.
An external feature that I particularly like about Avans is the inbuilt, retractable 15A power lead. It's a small thing, I know, but to me, it's the small things that make a difference when you're on the road.
As standard, the van is fitted with Al-Ko ESC and it really does tow well. Hitched behind Ruby, my undaunted 80 Series Land Cruiser, and using no load-levelling gear, the Aspire gave no hint of instability – I towed it comfortably at highway speeds. For a tandem-axle van nudging 25ft in overall length, it's not overly heavy. Its Tare of 1855kg (and ball weight of 110kg) wouldn't be out of place on a pop-top and some wind-up campers.
The payload capacity of 400kg is standard fare for a tandem-axle van. If you travel with both water tanks and gas cylinders full, etc., you'll still have about 200kg for luggage, gear… and wine.
GORV'S VERDICT
The Avan Aspire 587 was released earlier this year and I'm told that it's proving popular. And though it's an upgrade, rather than standard fitment, I think the revamped Allure package will do well.
Truth be told, the Aspire as reviewed presents as good value for money. The base model is priced at $49,990 (ex-Melbourne) but despite the Allure upgrade, and a number of other optional features also fitted, the $54,950 RRP for the van as shown is still competitive. It's definitely worth a look.
THE SCORE
FIT AND FINISH –

LAYOUT –

INNOVATION –

HITS & MISSES