North Stradbroke Island,  affectionately known as Straddie, is jointly managed by the Quandamooka people and the Queensland Parks Service. Naree Budjong Djara National Park, meaning My Mother Earth, now covers about half the island; much of it is off-limits for regeneration after decades of sand-mining.
Like all holidays, planning and preparation are the keys to a good time. If possible, allow at least five days to fully enjoy your visit and to justify the cost of getting there. 
Plans should include:
Booking the North Stradbroke Island Vehicle Ferry roundtrip from Cleveland to Dunwich; you will need to know the full length of your rig for this.

 

Studying the Minjerribah Camping website to find the best campsite for your setup; you will need to book and pay for your site in advance.

 
NORTH STRADBROKE ISLAND BEACH CAMPING
Beach bush-camping with a tent or offroad camper trailer is behind the foreshore of Main Beach or Flinders Beach; you'll need to access your site no more than two hours either side of a low tide and you won't be able to drive at all on the beaches one hour either side of a high tide.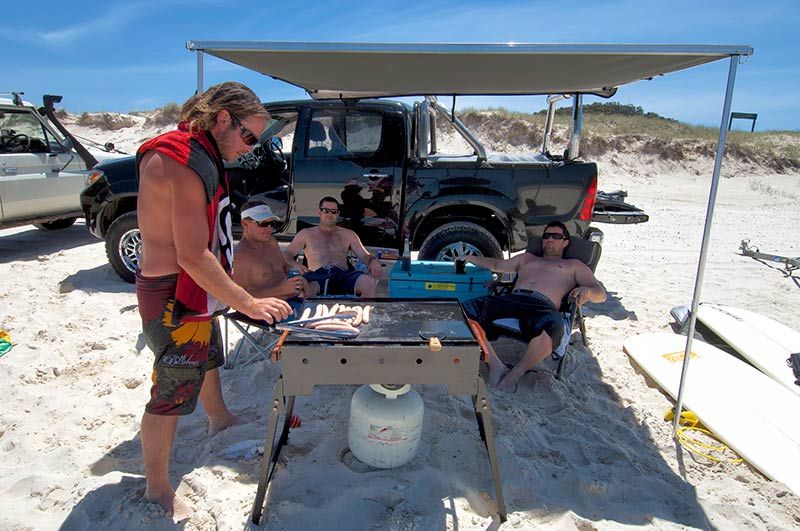 Flinders Beach offers 200 designated, BYO everything sites; it is accessed from Amity Point. The camping zone on Main Beach begins 7.5km south of the Causeway; it offers 200 designated sites and is ideal for those who want a quieter (though windier) camping experience. 
It runs for about 15km almost to Jumpinpin and you can tumble out of your tent or camper trailer straight onto the beach for some surf fishing or a long walk. If you prefer a few more creature comforts, the Cylinder Beach CG, Adder Rock CG and Home Beach CG are closest to the Point Lookout facilities and the surf beaches. 
The Amity Point CG, and Adam's Beach and Bradburys Beach in Dunwich, are near the calmer bayside waters.  
VEHICLE PERMIT
A vehicle permit is required for four-wheel-driving on Flinders Beach and/or Main Beach, and to access all of the Minjerribah Recreation Area, which includes the campgrounds. Permits are available online or can be purchased on the island.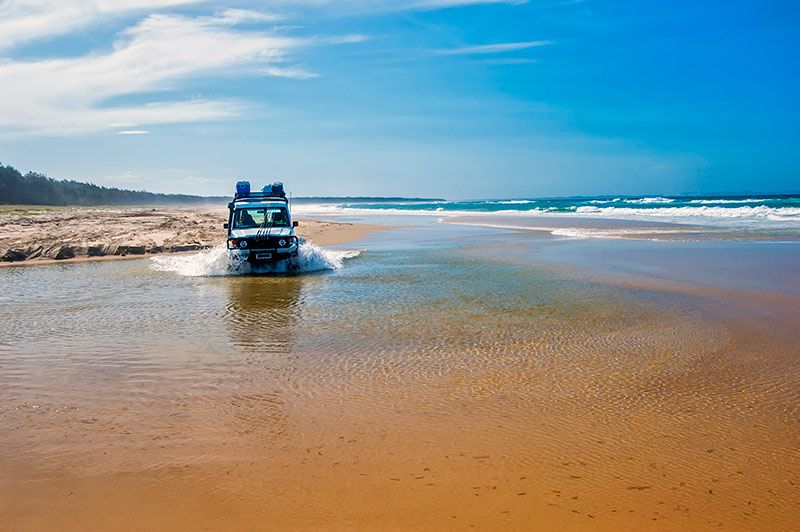 Download a copy of the tide tables to comply with the strict beach-driving regulations. Also check the Beach Report for cautions and current information.
Stock up on all supplies and fill your vehicle with fuel on the mainland. There are shops and petrol stations in Dunwich, Amity Point and Point Lookout; however, prices will be higher and the selection less. There are no banks on Straddie, but there are ATM outlets and three post offices with limited banking facilities.
As soon are you arrive on Straddie, you know you are somewhere special. Young surfers, over for the day from the mainland, wait with board in hand to take the bus from Dunwich to Main Beach where waves hurl ecstatic surfers to shore just below South Gorge. Have a look around before you head out of town, unless you have booked a site at Bradburys or Adams. 
The Minjerribah Camping office is just up from the ferry terminal; you can purchase a 4WD permit there and get information on just about any aspect of the island. The bakery and Foodworks are a few streets up; you could also drop by the Island Fruit Barn Café for a snack or meal. 
If you are booked into Amity Point, it's only a short drive away. A visit to Rufus King Seafoods on Sovereign Road will keep your barbie going every evening of your stay. Otherwise, basic groceries are available at General Dealers.
FLINDERS BEACH
If you have booked a campsite on Flinders Beach, head to the north-west point of the island via Claytons Road and Sovereign Road; bend around to the left just past Gore Street and follow the track to Flinders Beach.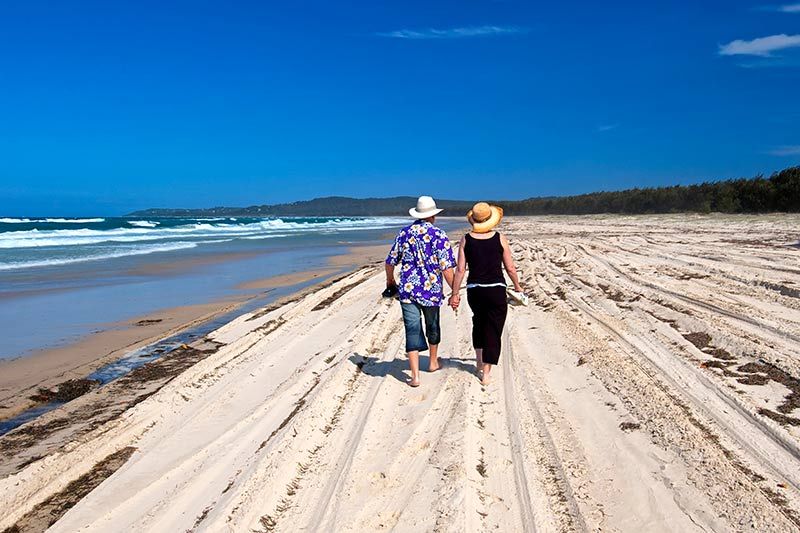 Stop to lower your tyre pressure and engage 4WD. Turn right (4WD access is not permitted to the left), remember the 60km/h maximum speed limit, and stay between the low and high tide mark. The camping zone begins at 2.5km with numbered tracks running up from the foreshore.
There is no doubt that Point Lookout is where the action is on Straddie. A 20-minute drive will land you at your designated campground of Adder Rock, Home Beach or Cylinder Beach. Everything you might need is here and a good look around is a must.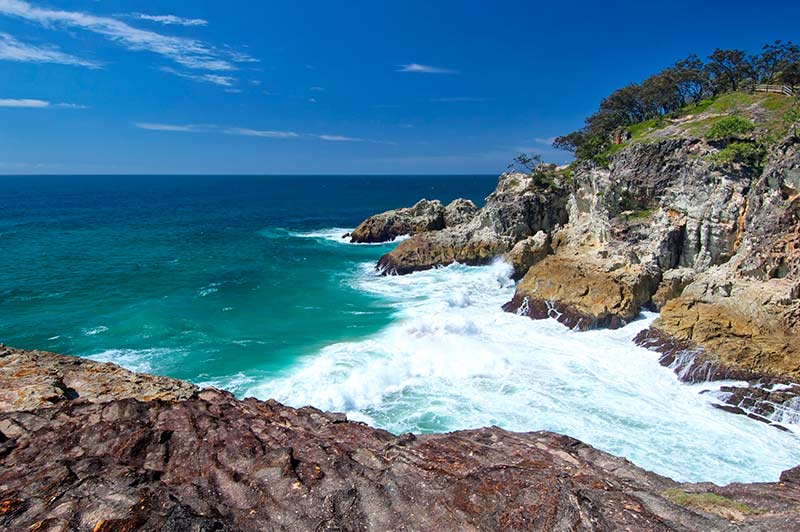 A not-to-be-missed scenic walk bends around the north-east tip of the island with access to Cylinder Beach and its headland, Deadman's Beach, Frenchman's Beach and lookouts at North Gorge, Point Lookout and South Gorge: be sure to watch for migrating humpback whales and dolphins playing in the surf.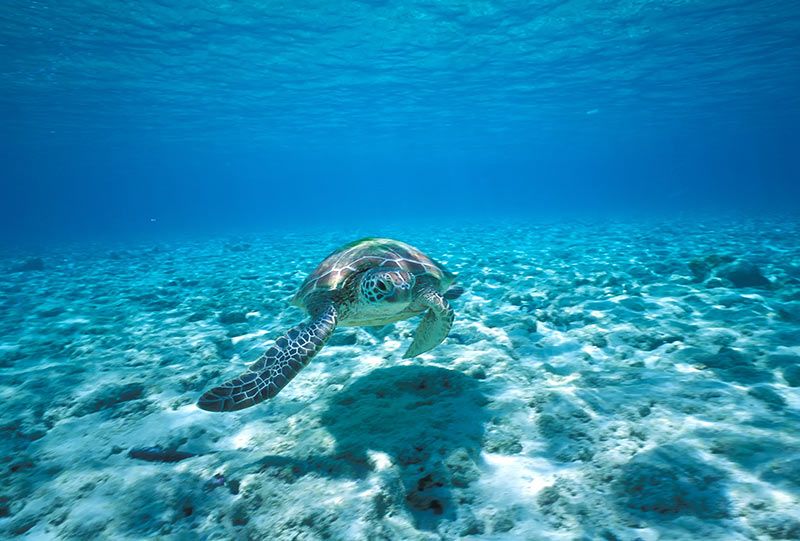 The gutter to the south of North Gorge is a good place to watch for turtles and other marine life from the lookout above.
MAIN BEACH
To access Main Beach from Point Lookout, proceed east on the East Coast Road past the Islander Holiday Resort and turn right on George Nothling Drive – it's 2.5km to the beach (don't forget to engage 4WD, drop the tyre pressure again if necessary and stick to the speed limit).
To the left, toward South Gorge, is a great surf beach (with no 4WD access). Turn right for the Main Beach 4WD run with a few scenic stops along the way. It is 2km to a deep, sandy, rutted track entering on the right.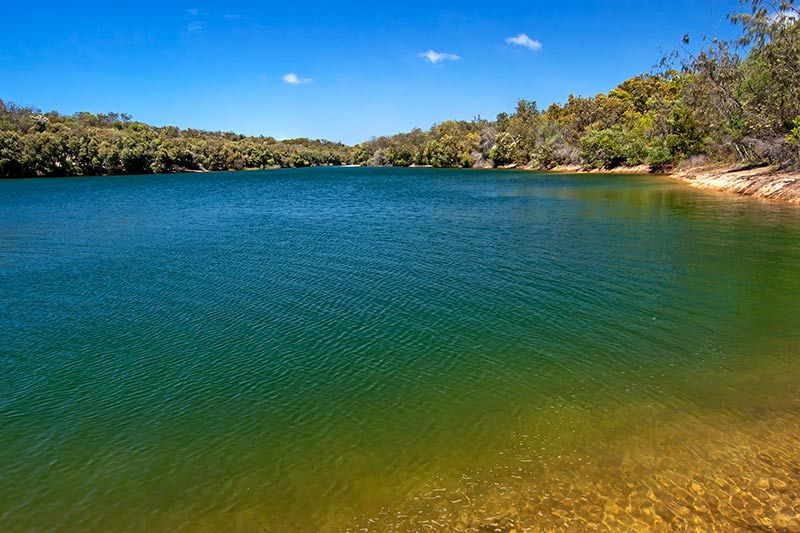 Turn right, continue for half a kilometre, then turn left on Fisherman's Road to The Keyholes (about 2km, watch for deep potholes filled with water). Park your vehicle and walk the short trail to The Keyholes, a pristine freshwater lake with superb swimming.
If you have a kayak with you, paddle through the lagoon system that extends for about 3km to the south (no fishing). Return to Main Beach via the same route. From there, it is 7.5km to the Causeway.
From the Causeway, you can continue driving on the beach for another superb 24km to Jumpinpin. Up from the foreshore are the camping areas; beyond those is Eighteen Mile Swamp (with plenty of mossies) and beyond that are forests and sand dunes.
CENTRAL STRADDIE
The centre of Straddie also offers activities. For the one and only 4WD track accessible to the public, turn left at the Causeway and drive half a kilometre before veering left to sealed Alfred Martin Way. The Tripod Track enters after 2km on the right.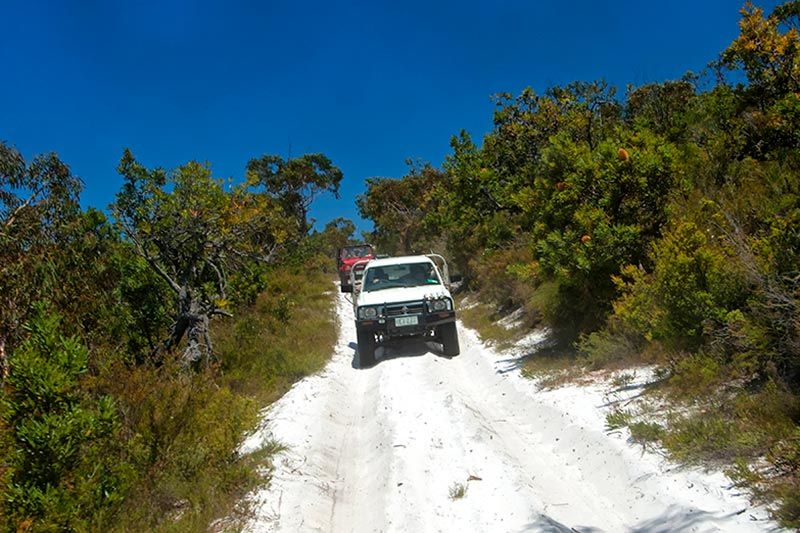 Engage 4WD and lower your tyre pressure: expect tree roots running across the track, steep ascents and descents that may require low range, and two-way traffic on a single-lane track. There are a number of fire-break trails running off to both sides; don't drive on these but do use them to pull over and let other drivers by, be considerate and give way to uphill traffic.
At 8.5km, veer right: this is a good place to stop, with the Tripod Lookout offering views of Moreton Island to the north and Jumpinpin to the south. The track drops down a hill; watch for vehicles grinding their way uphill in low range.
Tripod Track ends after a total of 11km at the intersection of sealed East Coast Road and Beehive Road.
BUSHWALKING
For bushwalking, there are a few places that shouldn't be missed. Back on Alfred Martin Way, about 1.5km west of the Tripod Track, is the parking area for the Blue Lake section of the national park. Two trails penetrate the park with a 6km return walk to the Neembeedda Lookout, and the Karboora 5.2km return walk to Blue Lake (no swimming).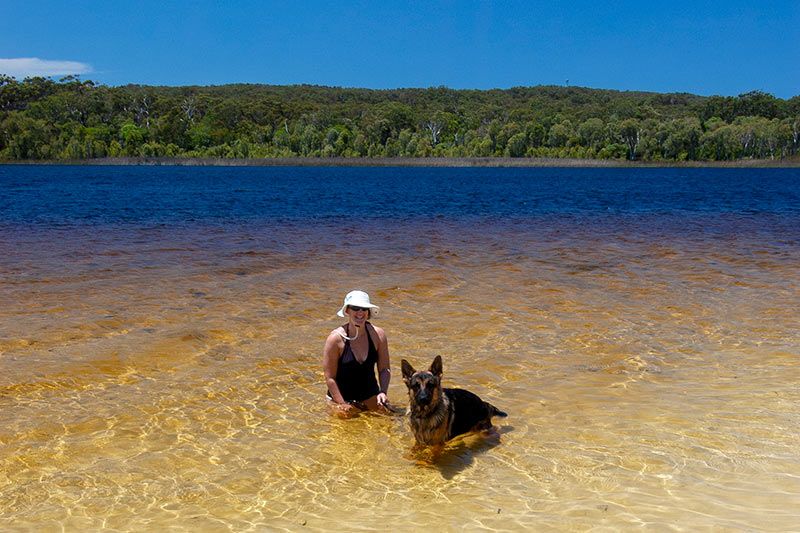 If it's hot, and/or if you are yearning for a swim in some fresh water, continue on Alfred Martin Way to the Brown Lake Recreation Reserve; a short drive on a gravel road leads to a picnic area with barbecues and toilets. The large lake is the perfect place to cool off; you can even take your dog in for a swim.
And sadly, even tragically, your time on this superb little island must come to an end (though there are real estate offices in Point Lookout). Pack up your gear and head to Dunwich where you catch the ferry to Cleveland.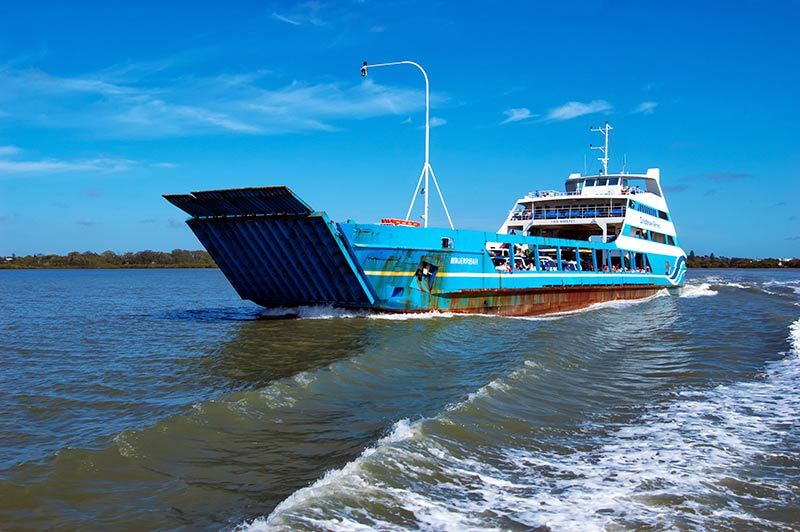 On the passage back, console yourself with the thought that you will one day return to Straddie. It is, in short, unforgettable.
– Images: Steven David Miller/Natural Wanders
FAST FACTS
North Stradbroke Island's internal roads between Dunwich, the Main Beach Causeway, Amity and Point Lookout are sealed.
Flinders Beach and Main Beach camping gear should include a BYO portable toilet: please do your bit to keep this delightful island clean. If you don't already have such a device, check Cleanwaste for helpful products including 'Poo Powder'. There are no dump points on the island.
If you prefer to prevent saltwater and sand damage to your vehicle, try an island 4WD tour. Gooriemooka offers indigenous tours; Kingfisher offers both 4WD and made-to-fit activity tours.
MORE INFORMATION