In a recent article on Western Australia's 'south-west edge', we mentioned a pleasant drive from the town of Pemberton: the Karri Forest Explorer. Here, we cover more details, and if you decide to go, the Parks and Wildlife Service (DPaW) publishes a brochure and map that is essential for planning your Karri Forest Explorer Drive. Sections of the drive are on unsealed roads: any SUV, AWD or 4WD will handle these with ease, except where indicated. 
CAMP SITES
If you are travelling with a large caravan in tow, the most convenient place to camp with full facilities is the Pemberton Caravan Park. The Big Brook Arboretum campground can accommodate caravans and provides toilets and picnic tables. Of course, you can join or exit the drive at a number of points, so travellers with tents or camper trailers who want to set-up first and then proceed can also choose Big Brook Arboretum.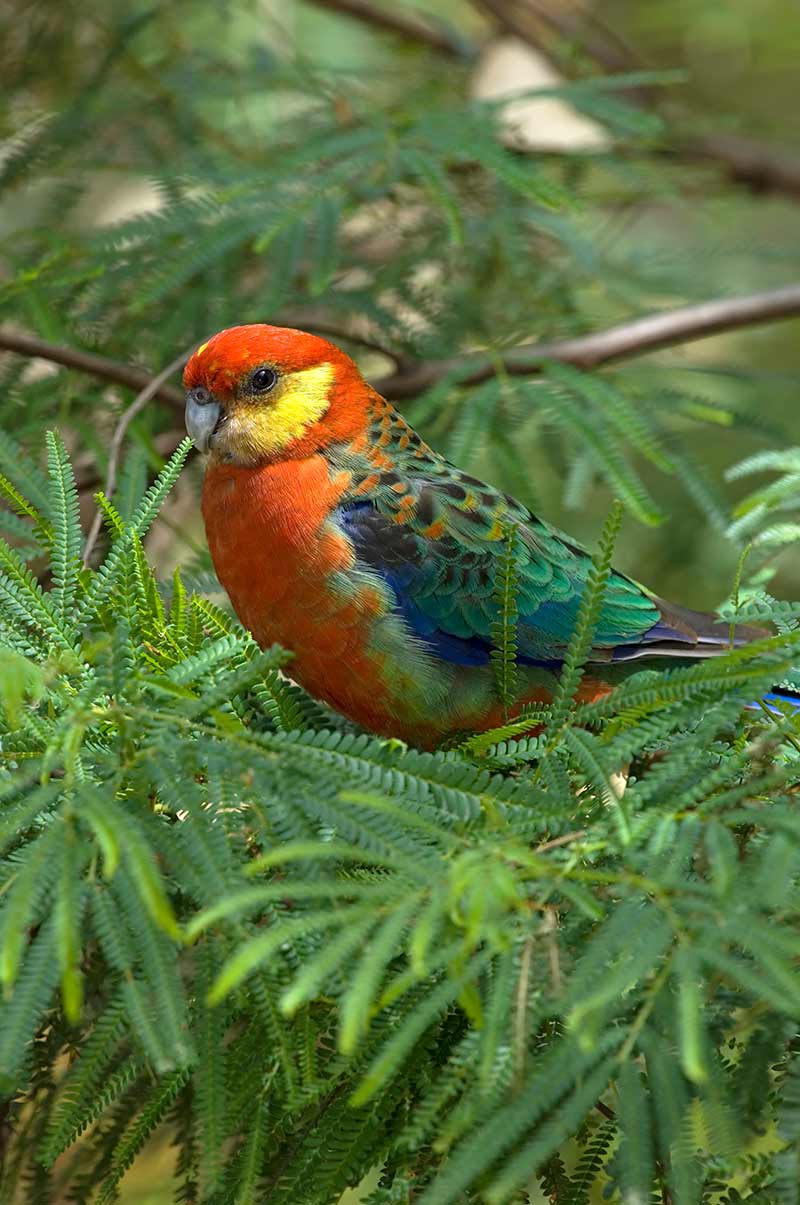 To the south of Pemberton is Warren National Park, with Draftys Camp campground offering tent sites, toilets and a camp kitchen, and Warren Camp camping area with tent sites, toilets and picnic tables. For other nearby campgrounds, check the visitor centre's website. Camping fees are charged for the national park campgrounds, which are payable at the various entry stations.
To pick up a brochure of the drive, your first stop should be at the Pemberton Visitor Centre. You can also buy the required pass to enter the national parks you drive through along the way. You might also want to ask about any other attractions to watch out for, for example, you can access a section of the Bibbulmun Track at Big Brook Dam and the Arboretum. There might be a winery along the way, or even a roadside stall.
GLOUCESTER TREE ON THE KARRI FOREST EXPLORER
Assuming you start in Pemberton, your next stop should be to see the Gloucester Tree in Gloucester National Park. If you don't have a fear of heights, and you are wearing sturdy shoes, you can climb the 53m to the fire lookout via 154 metal spikes driven into the trunk and spiralling up the tree. Going up is a lot easier than coming down!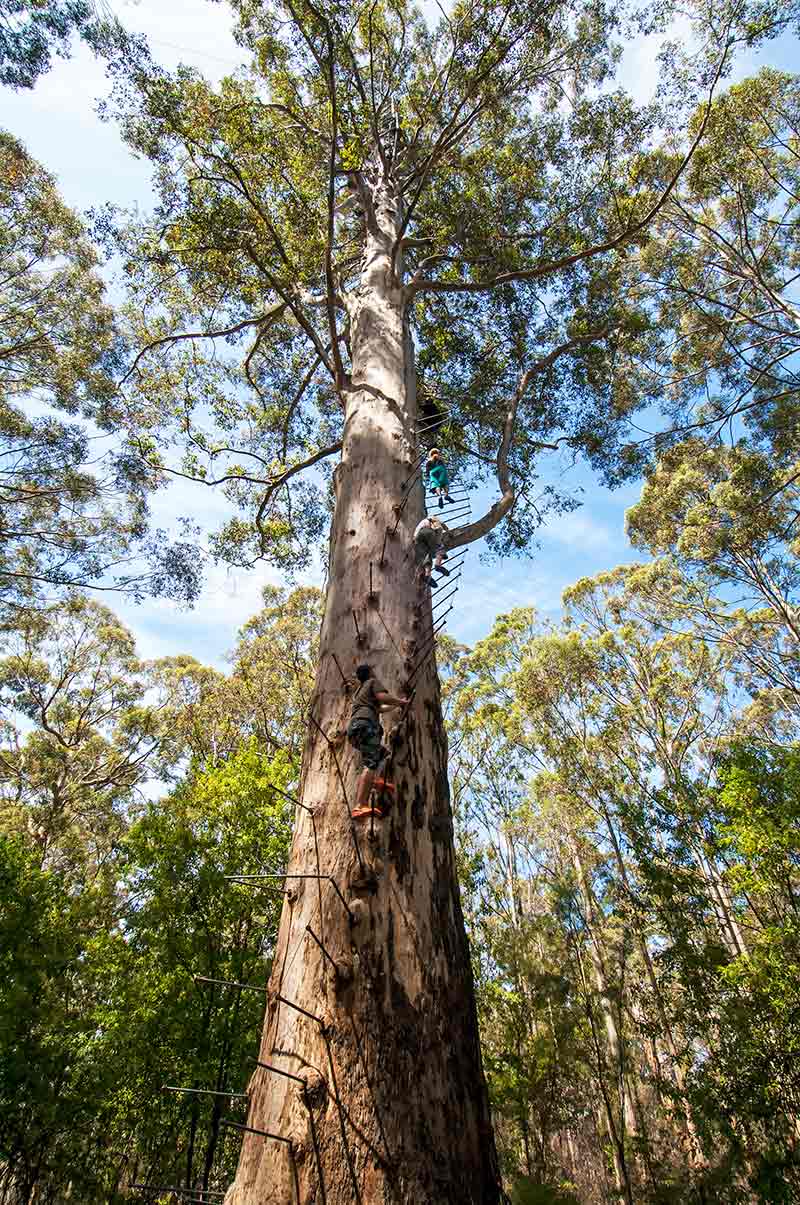 The short 400m Dukes Walk gives you an idea of what the park offers, and for bird lovers, a bit of time spent watching the birdlife is most enjoyable. There are plenty of western rosellas and twenty-eight parrots around to light up the landscape.
Your next stop is Big Brook Dam. This lake was created in 1986 when a river was dammed as a water supply for Pemberton. It is a delightful spot for a picnic and/or a swim on a hot day. At this point, the road becomes unsealed and it is a short drive to Big Brook Arboretum where a narrow track leads to the camping area. A rather unique trail here leads through a sampling of unexpected trees planted to see how they would fare in the local conditions; the oddest surprise is the grove of American redwoods!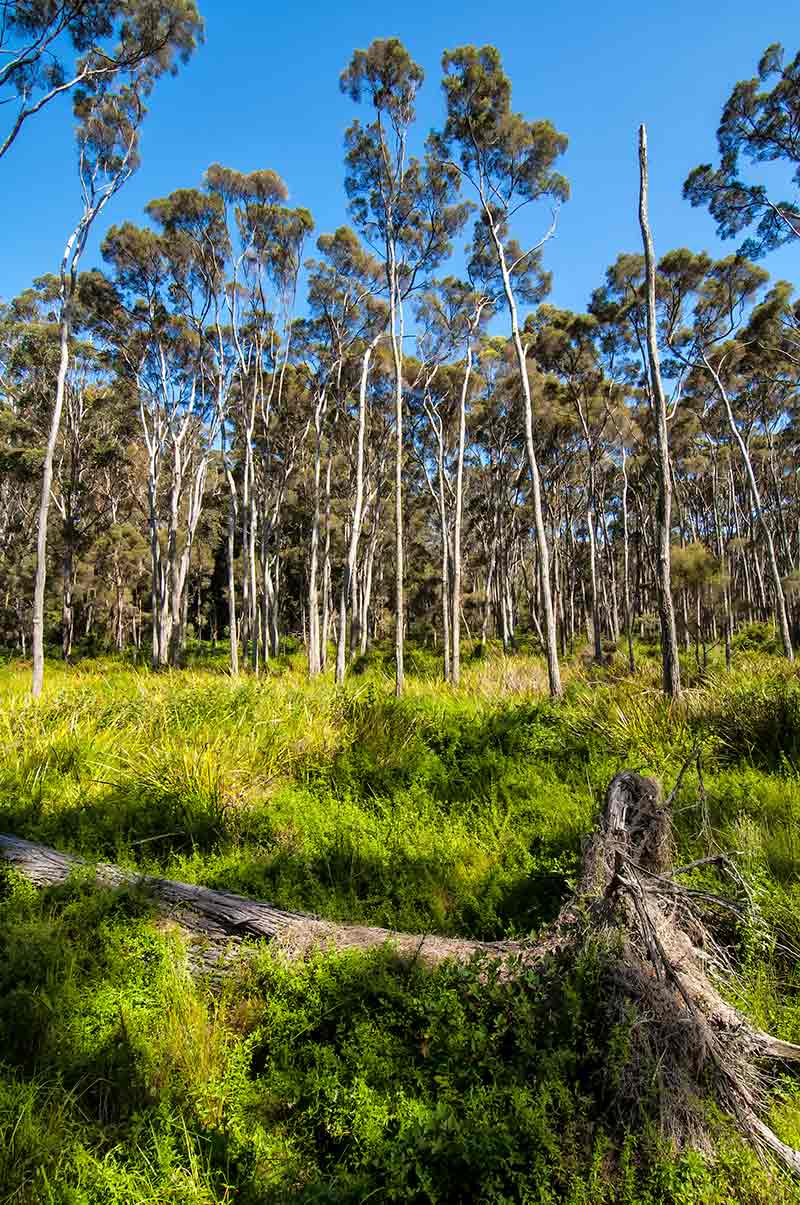 Heading north, the boardwalk at Warren River Cedar is the perfect reason to get out of the car for a stretch. The cedar trees here provide a contrast to the Karri trees, and for more Karris, a bit further on (either on foot or by car) watch out for 'Big Karri', a 300-year-old tree that seems to climb higher and higher in its quest to reach the sky.
Three kilometres along, turn left onto sealed Channybearup Road for 8km, and then right onto unsealed Thornhill Road. Shortly, you turn left on Tartan Road near the boundary of Greater Beedelup National Park. The road becomes one-way here in a counter-clockwise direction. The twists and turns can be slippery through here so take it easy and avoid any sudden stops. Giblett is tucked along the way after about 6km. It is a forest viewing area where you can have a rest and take in yet more forest scenery.
From here Tartan Road becomes Beedelup Road and then Carey Road. Pure Marri is another strand of trees to the left, blending in with the diverse flora of this park and region. Vasse Highway 6m further on.
As an aside, if you are still in need of a car camping campground, you might want to take a look at Grass Tree Hollow-Carey Brook campground and Snottygobble-Carey Brook campground; both of these are in D'Entrecasteaux National Park and are accessed via unsealed Boat Landing Road. Boat Landing Road is 4km to the north on Vasse Highway. Please note that you cannot re-enter the forest drive from this point since it is only one-way. 
BEEDELUP FALLS
Returning to the Karri Forest Explorer drive at Vasse Highway, you will travel south for 7km before an unsealed road on the left backtracks into Greater Beedelup and ends at a carpark where a lovely walk leads to a viewing platform and then a suspension bridge over Beedelup Falls before continuing on a circuit back to the carpark. This is one of the highlights of the entire drive and is a beautiful place for a picnic lunch or a cuppa.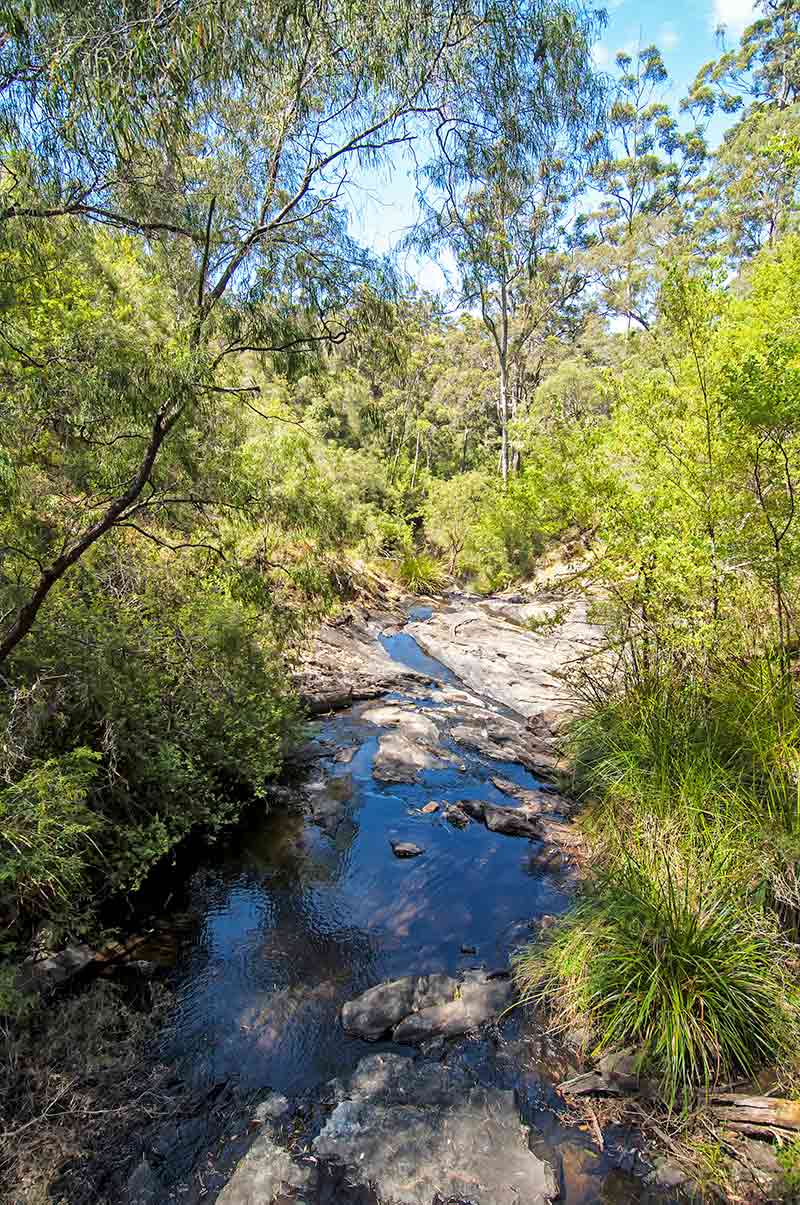 The Karri Forest Explorer drive continues on Vasse for 9km; at the junction veer right onto unsealed Old Vasse Road. Within 1km is unsealed Ritter Road, offering a side trip that is well worth doing.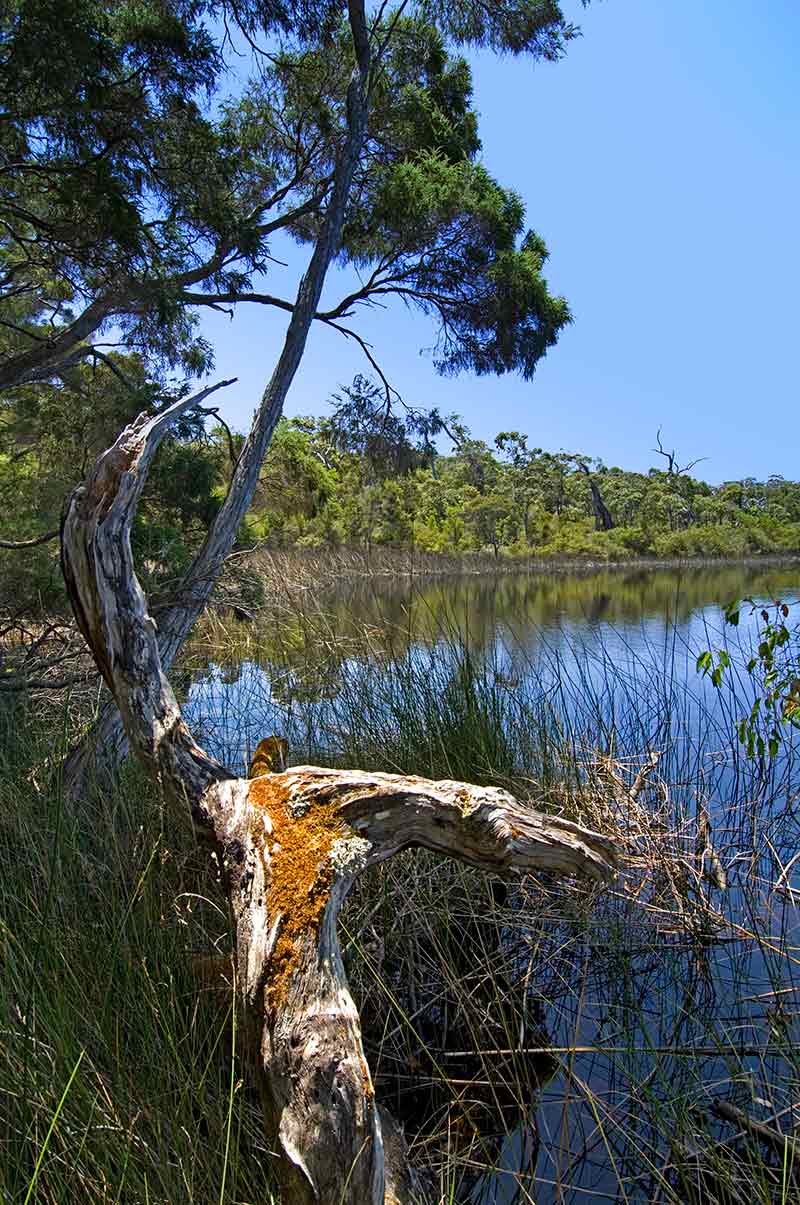 It is 11km to Yeagarup Lake in D'Entrecasteaux National Park, with Leaning Marri tent campground suitable for tent car camping. A boardwalk at the lake takes you to a lookout of the waters, and to the west, you can see clear evidence of Yeagarup Dunes slowly swallowing up the forest. Return the way you came to Old Vasse Road.
YEAGARUP TRACK
The 10km 4WD-only Yeagarup Track, starting about 2km from the lake at the DPaW registration station, leads to Yeagarup Beach across a series of shifting sand dunes. This challenging drive is for experienced sand -drivers only.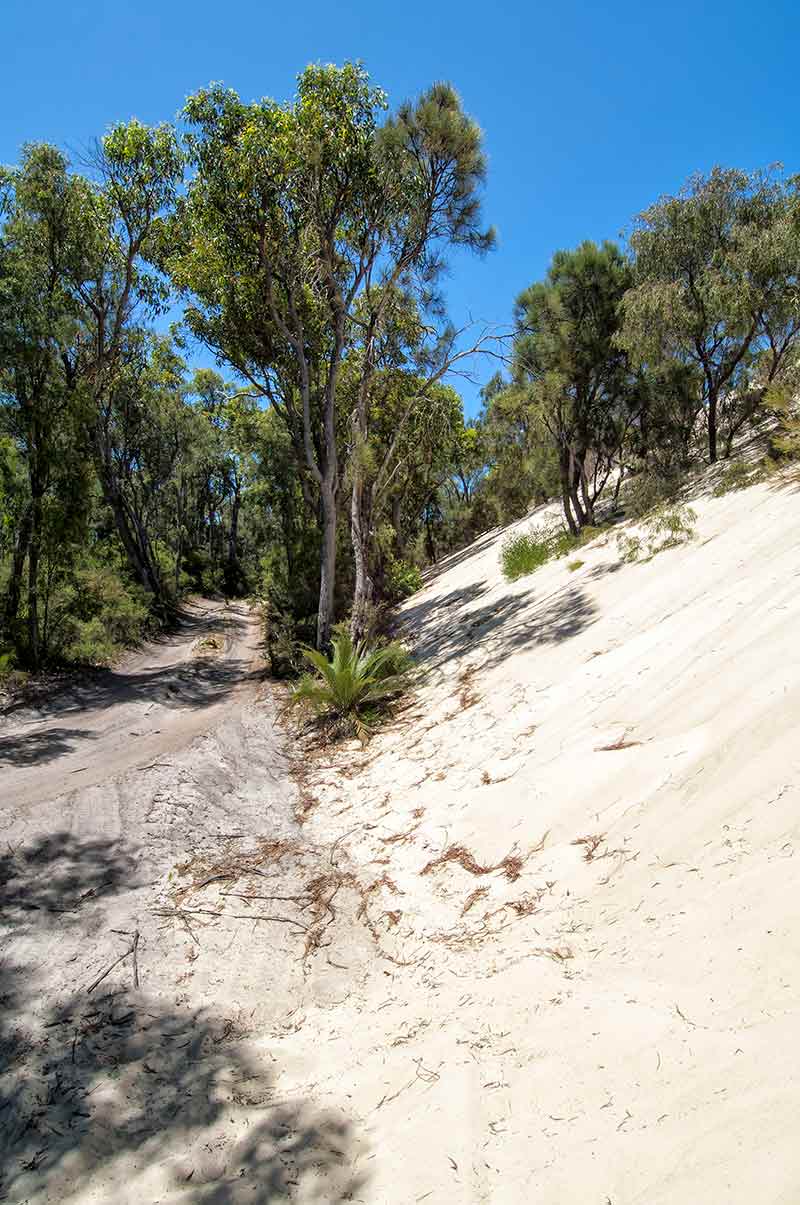 It is best left for another day and should only be attempted in a convoy of at least two 4WDs with high clearance and low range, full recovery gear, an air-compressor and tyre gauge, a shovel and a means of emergency communication.
Only drive where wooden stakes mark the way through the dunes. Check with DPaW in Pemberton and/or the visitor centre before attempting this track. Be advised that if you get stuck here and have to dig your way out of the sand on a hot day, you are not going to enjoy it. 
HEARTBREAK TRAIL
Continue south on unsealed Vasse Road for 4km to the Heartbreak Trail junction. Here, you can continue straight on Olde Vasse Road, stopping along the way to see Marianne Tree and then Dave Evens Bicentennial Tree. Or you can choose Heartbreak Trail, noting that the trail is a one-way, unsealed, steep, winding rough road unsuitable for towing.
If the track is wet, think twice about taking it. If you do choose this way, spare a thought for the men who carved out the track by hand to access the Warren River for fighting fires. It plunges through Warren National Park; at 5km is Maiden Bush offering a swimming hole and a picnic table, and a bit further along is Heartbreak Crossing over the river.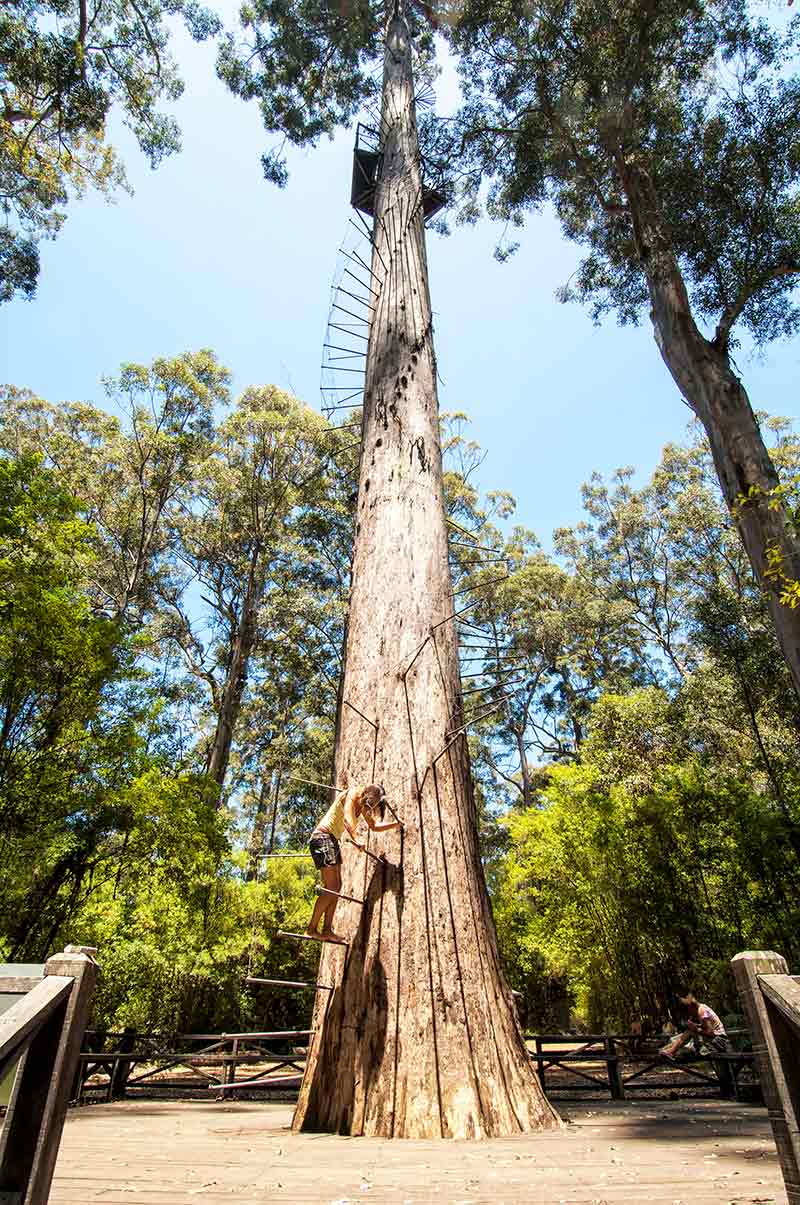 The nice part about the rough access is that Draftys Camp and then Warren Camp are isolated campgrounds with (hopefully) few people tenting it there. Both are by the river and offer picnic tables and toilets. 
Two kilometres past Warren Camp is Warren Lookout with views back over Warren Valley with its forest and river; 1km on is Blackbutt with a grove of blackbutt trees. Shortly, you are back on Old Vasse Road. It is worth driving west on Old Vasse to see the Dave Evens Bicentennial Tree, a 65m-high karri that is still used as a fire lookout when fire-spotting planes are unable to fly. Backtrack east on Old Vasse to sealed Pemberton Highway.
Last but not least on the Karri Forest Explorer drive is access to The Cascades back in Gloucester National Park. Watch for Glauder Road on the right and take the 2km unsealed road to Lefroy Brook where large boulders break up the water's journey.
This couldn't be a prettier way to end the Karri Forest Explorer drive before returning to Pemberton. Oh, and if you are wondering what to have for dinner, you could consider some sustainably farmed marron (freshwater crayfish) available at Forest Fresh Marron right in town.
Images: Steven David Miller / Natural Wanders