As a state, Western Australia is the second largest 'subdivision' in the world after the Sakha Republic in Russia. It sprawls across almost 33 per cent of Australia, which means that 110 Victorias (Victoria is tucked into only three per cent of the island continent) could fit in Western Australia.
If you have toured WA's many splendours, you would be forgiven for thinking that enough is enough. But don't rush off just yet, because if you haven't explored the Southwest Edge, you are missing some of the best spots in the state. You won't be going out of your way, just the coastal way around to Esperance and Norseman, the start of the 1500km Nullarbor crossing to Ceduna.
BUSSELTON
Let's begin at Busselton, which is a good, but not the only, base camp from which to explore the northern part of Leeuwin-Naturaliste National Park. For information, drop by the Busselton Visitor Centre, where you can find out about the 1.7km Busselton Jetty with the Underwater Observatory at the end.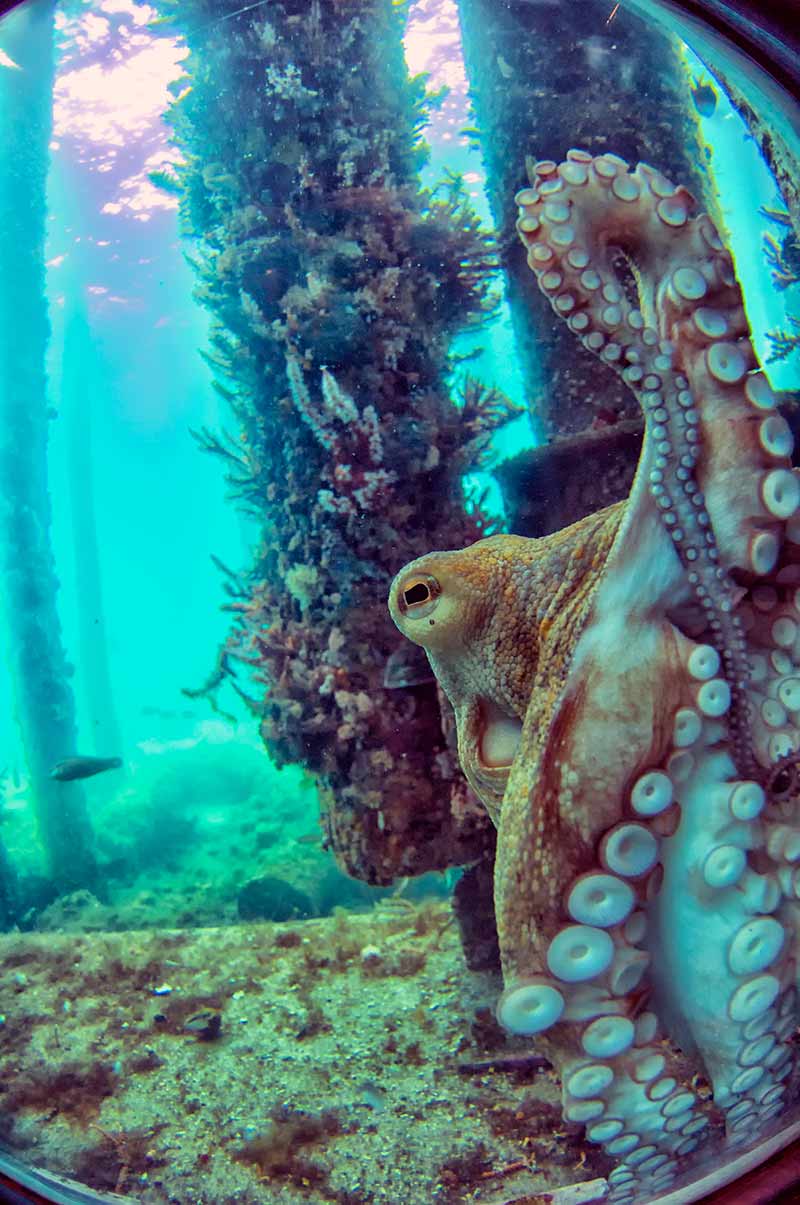 Here, you can watch a range of marine life growing on and living around the jetty pylons and, more widely, some of the fish found in Geographe Bay. You might even meet an octopus watching you watching him through the massive viewing windows.
Birdwatchers will want to visit the Vasse-Wonnerup Wetlands. Nearby is the Tuart Forest National Park with a night spotlighting trail where you might be lucky enough to see a western ringtail possum (listed as 'critically endangered' due to loss of habitat). The town's foreshore offers a great beach with both walking and biking tracks.
Before you leave, drop by the Department of Parks and Wildlife office on Queen Street to pick up visitor guides and maps for the numerous state and national parks to come.
CAVES IN WESTERN AUSTRALIA
Leeuwin-Naturaliste NP stretches from Cape Naturaliste to Cape Leeuwin and is pinned to the north and south by lighthouses of the same name. Depending on your rig, you can camp at a number of spots along the way.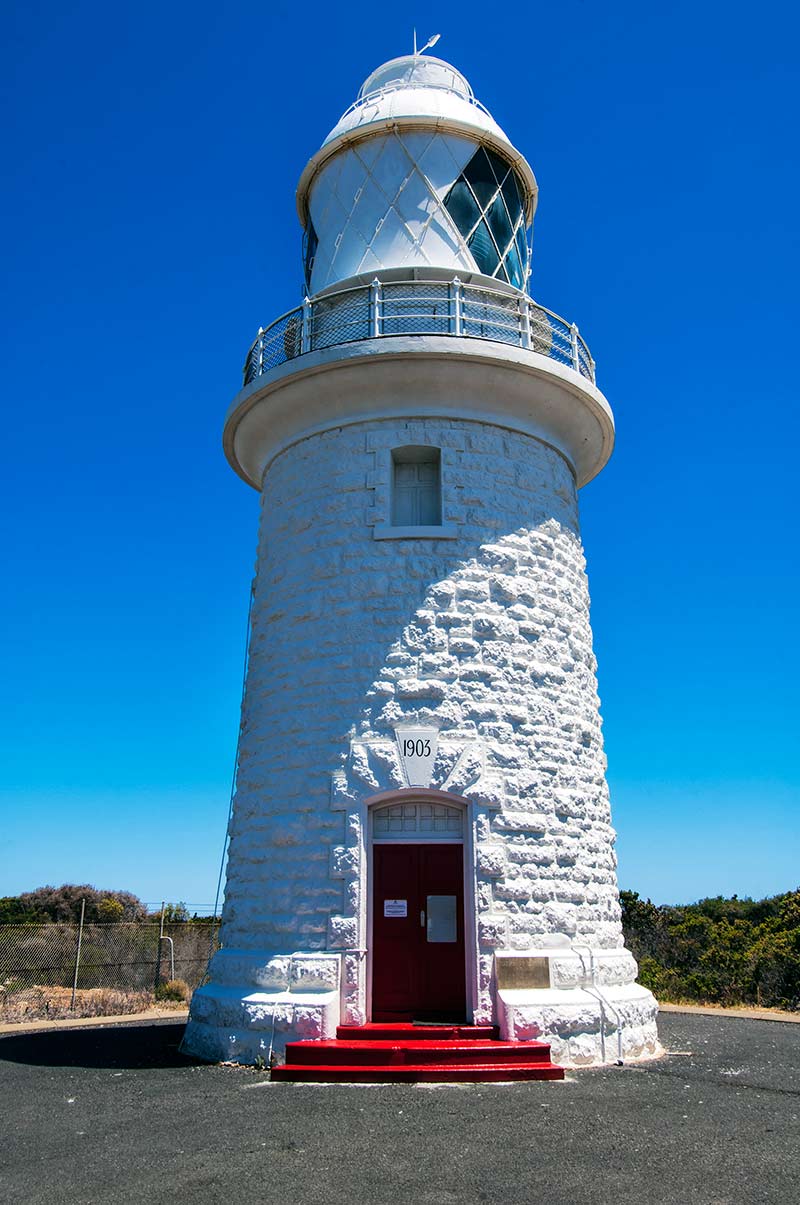 At least one full day should be devoted to tours of the Cape Naturaliste Lighthouse and Ngilgi Cave. Learning about the history of the lighthouse, and the structure of the light itself, is fascinating; don't miss some of the walks around the area.
Ngilgi is one of the nicest caves in Western Australia, if not the entire country. It has a wide, open chamber from which to view the 'decorations' – perfect for those with a touch of claustrophobia. Cave enthusiasts will also want to visit Jewel Cave, Lake Cave and Mammoth Cave. These can be accessed along the 110km cape-to-cape Caves Scenic Drive.
COASTAL LOOKOUTS
The scenery and coastal lookouts as you head south are majestic. Yallingup offers some great surf beaches. Sugarloaf Rock, Canal Rocks, Injidup and Moses Rock provide stops well worth lingering at; don't be surprised if you spot a pod of dolphins playing in the surf.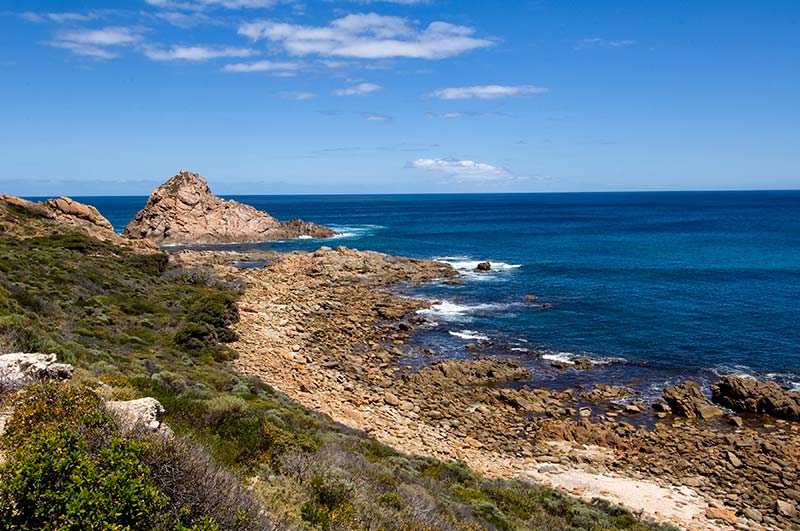 Wallclife Road leads to Margaret River to the east and Prevelly to the west. Prevelly Caravan Park gives surfers access to surf waves at five different locations. Margaret River offers several places to stay for RVers; a few nights here with a guided wine tour is not a bad way to spend some time. Either of these, or Hamelin Bay for the fisherfolk, make a good base from which to explore the southern end of the national park.
The scenic Boranup Drive through a karri forest is another 'must'. Finish your explorations off with a visit to the Cape Leeuwin Lighthouse and stand at the south-west tip of Australia to watch the Indian Ocean and Southern Ocean converge like boiling water in a cauldron. 
SOUTHERN FORESTS
If you would like to linger in the shade of the southern forests, then continue along the south-west edge. Study Explore Parks WA and zero in on that corner to find numerous state and national parks protecting a range of ecosystems.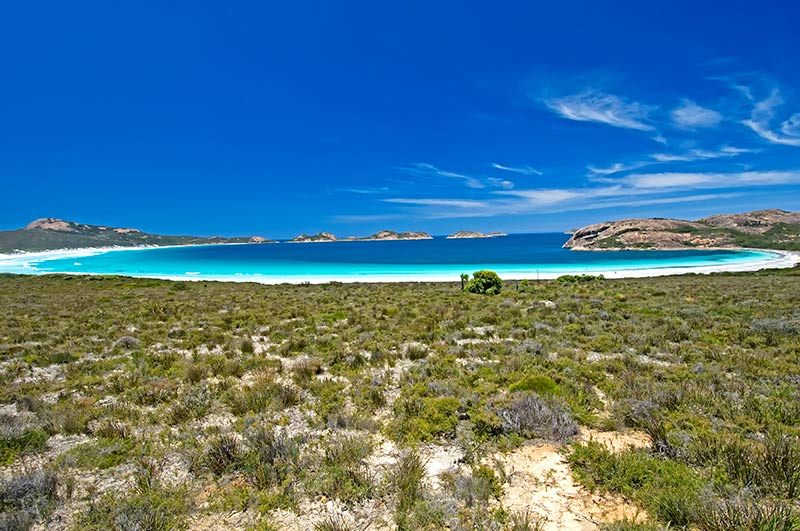 The Brockman Highway (10) in Western Australia leads you away from Leeuwin-Naturaliste NP and skirts along the southern boundary of Wiltshire-Butler NP and then through Milyeannup and Hilliger NPs via Stewart Road. Pick up 10 again just north of Greater Beedelup NP.
Depending on your rig, you can find a campsite in greater Hawke NP or Warren NP; caravanners can opt for the town of Pemberton, which makes a good base from which to do the Karri Forest Explorer Drive.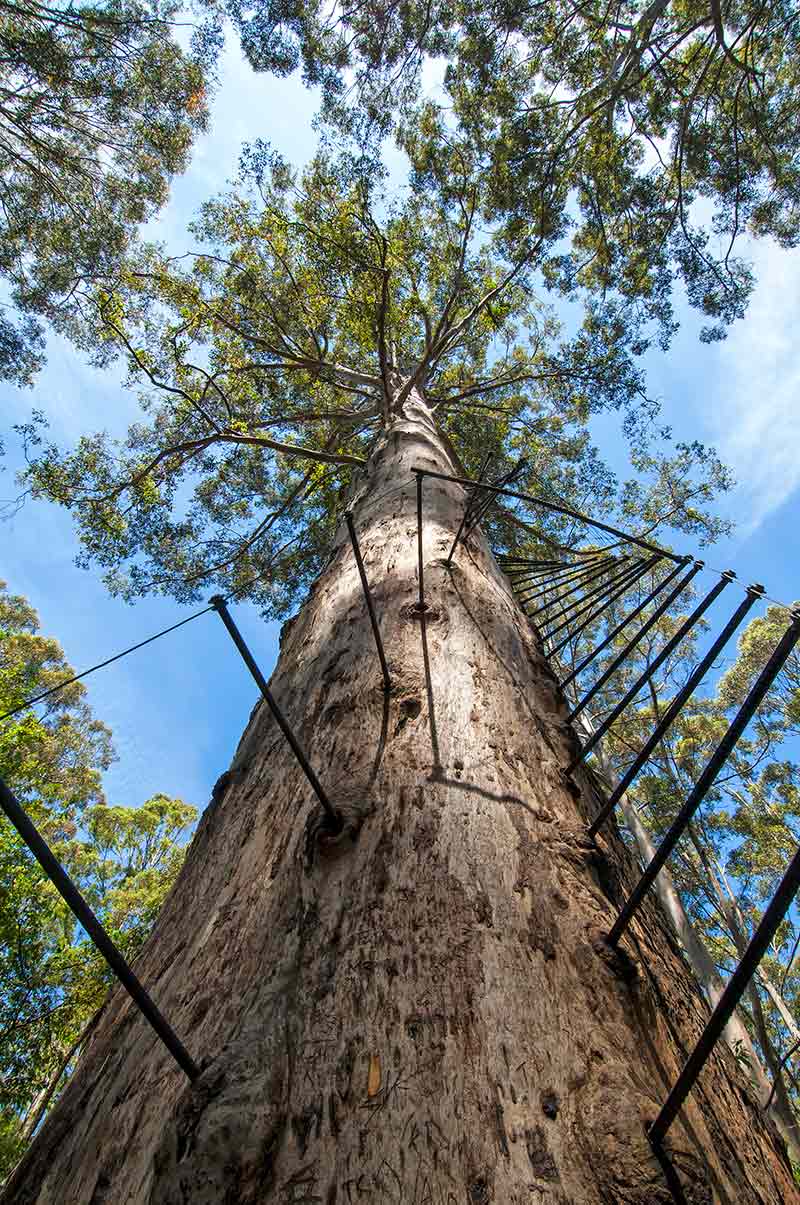 Gloucester NP with the 58m high Gloucester Tree is well worth a visit, even if you decline the  climb to the top of the fire lookout. Birdwatchers will delight in seeing western rosellas and twenty-eight parrots, along with a range of honeyeaters. 
D'ENTRECASTEAUX NATIONAL PARK
If you would like to do some camping in coastal D'Entrecasteaux NP, Windy Harbour (with the emphasis on windy) offers the only caravan camping via a sealed road. From Windy Harbour, return to Northcliffe and continue on Middleton Road to Shannon NP where you really must spend at least a couple of nights at the campground to complete the 50km Great Forest Trees Drive and some of the marked bush walks.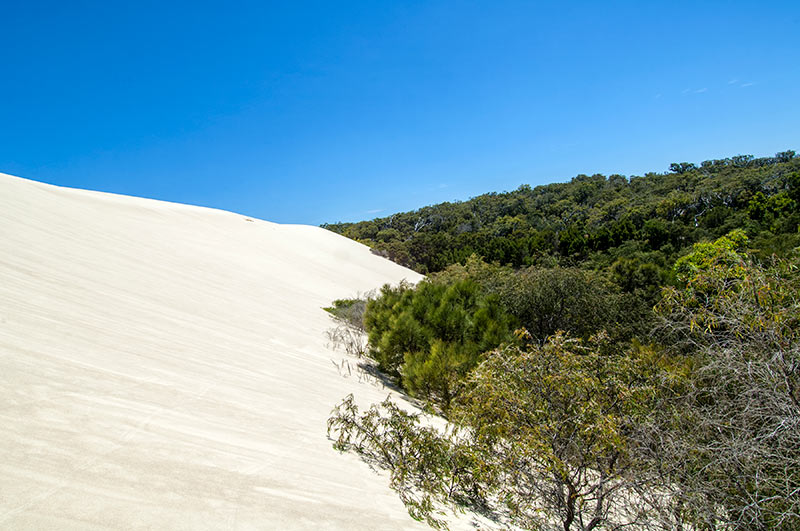 From Shannon, Highway 1 plunges south between D'Entrecasteaux NP and Mt Franklin NP to Walpole. This extraordinary village has enough nearby natural delights to keep a greenie like me happy for the rest of her life.
Set-up camp and plan to spend several days here (with the option to extend); the visitor centre will help with any information you need. Get the tinnie or kayaks off the roof and explore Walpole & Nornalup Inlets Marine Park. Coalmine Beach Holiday Park and Walpole Rest Point Caravan Park are both surrounded by the marine park and three national parks, they also have boat ramps.
In this, one of the most biodiverse regions on earth, there is much to do including drives, bicycling and walking. A good introduction is the DPaW Visitor Guide to the Walpole Wilderness Area. The Valley of the Giants Treetop Walk gives a canopy view of the tingle forest; to experience the remarkable girth of these trees, visit the Giant Tingle Tree. 
THE GREAT SOUTHERN
From here we turn away from the forests and continue to more coastal scenery with bays, inlets and beaches as ravishing as any in the world. This is the Great Southern. Peaceful Bay Caravan Park is just that – peaceful. William Bay NP has to be seen to be believed; you can stay at the caravan park in Denmark or at Ocean Beach so you have enough time to enjoy a full day at Greens Pool in the national park.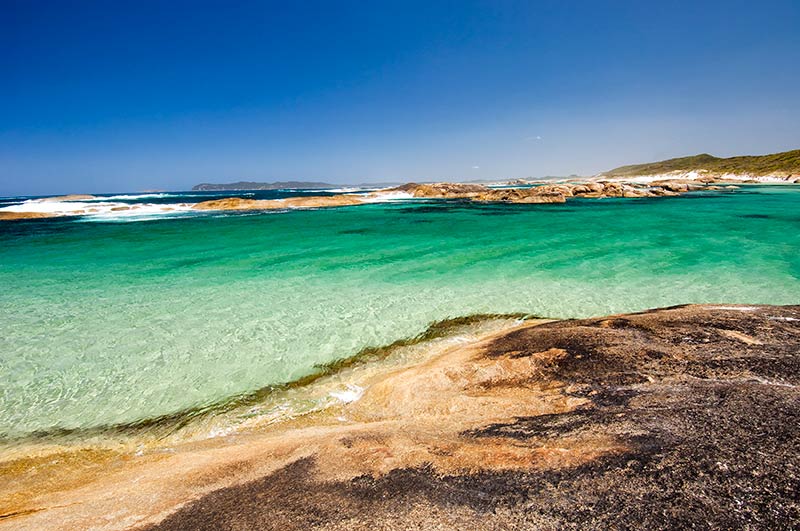 Albany is next, and while there are several camping options to choose from, Middleton Beach Holiday Park and Emu Beach Holiday Park both offer outstanding locations. Christmas school holidays are very busy here, but at other times you can find some peace and quiet. The visitor centre will point you in the right direction for a number of things to do as well as the Albany DPaW office less than 1km up the road.
At the top of the list is a full day's scenic drive out to Torndirrup NP where the Southern Ocean rages against a granite coastline. Here, you can include lookouts over Sharp Point, Natural Bridge and The Gap, Stoney Hill and Isthmus Hill.
Bushwalks ranging from moderate to challenging also lead to breathtaking scenery such as the 1.6km return walk to Blowholes, the 4.3km return ramble to Peak Head, and the 12.5km return walk along Flinders Peninsula to Bald Head.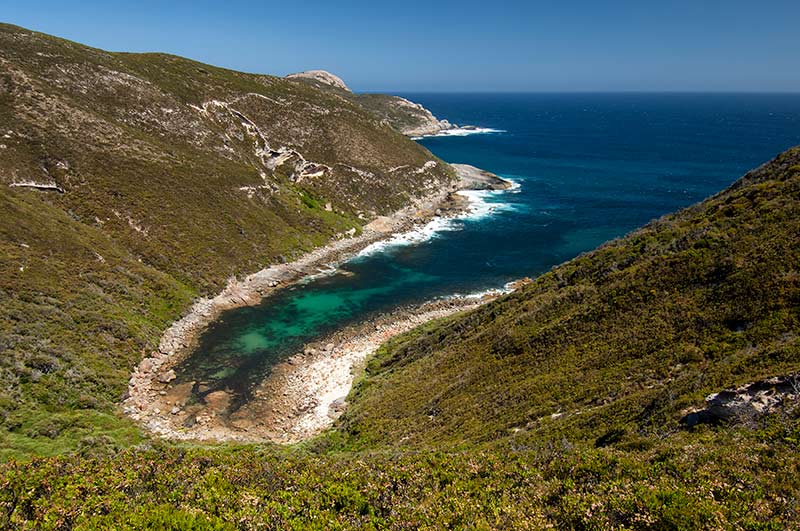 Other places to visit include the National ANZAC Centre, where you can follow the tragic experiences of the young men and women who served in World War I. Also tragic is Albany's whaling past that is now on display at the Historic Whaling Station, giving a perspective that is both sobering and educational.
The property includes an Australian Wildlife Park and a Regional Wildflower Garden. To see live whales, June to October, there are a number of whale watching tours to choose from.
Of course, there is always more to do; however, a solid portion of one day should be spent enjoying Albany's protected harbours and bays. The lucky residents of this region live beside what is best described as an enormous natural water park. 
NATIONAL PARKS AND RESERVES
A number of small national parks and reserves follow, and several of these offer nearby caravan parks for yet another stay in this endless parade of wonders. There is Cheyne Beach near Arpenteur Nature Reserve, Bremer Bay near the south-west boundary of Fitzgerald River NP and Hopetoun near the Four Mile Beach end of Fitzgerald River NP.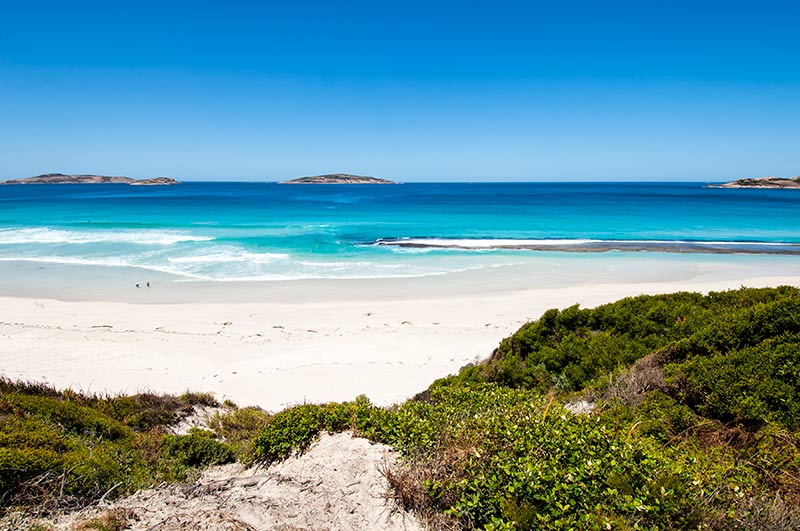 Scenic Hamersley Drive is a must-do, with a sealed road that links a number of highlights in the park. Within the national park itself there are a limited number of campsites for RVs and tents near Four Mile Beach.
And then comes Esperance, a place of astonishing beauty. RVers have bushcamps to choose from and caravan parks. A stay in town for a few days is worthwhile, followed by several nights of camping in Cape Le Grand NP.
In Esperance, a day trip out to Woody Island is interesting; a number of other natural attractions are just that: attractive! The 40km Great Ocean Drive is a must.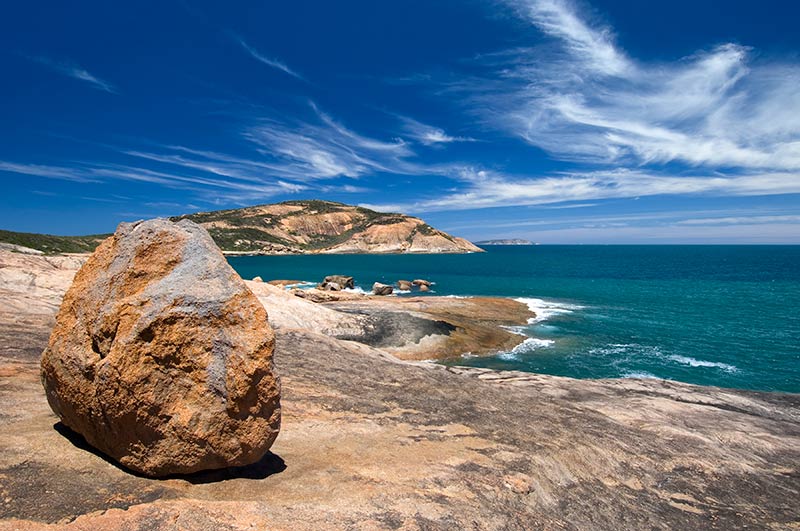 If you like to save the best for last, then Cape Le Grand NP is just that: the best. You can set-up camp at Le Grand Beach, which is gorgeous, or Lucky Bay, which is dazzling. Everything about this park is stupendous, and the beaches must surely rival any others in the world. Explore by car, by foot, stand in one spot and turn in a circle; no matter where you go, you will see nothing but beauty.
Frankly, you could spend months exploring the south-west edge of Western Australia. If you want to linger, the Duke of Orleans Bay Caravan Park, next door to Cape Le Grand, has a beach that could stop your heart.
On reflection, maybe you don't have to leave just yet. After all, there is a lot more to explore in this 33 per cent chunk of the country. In WA, a lifetime of adventures awaits. 
– Images: Steven David Miller, Natural Wanders
MORE INFORMATION