ALICE: THE HEART OF THE NORTHERN TERRITORY
They call it the Alice, and she is the hub of central Australia. Alice offers a number of caravan parks along with the historic Telegraph Station, the Araluen Cultural Precinct, a Royal Flying Doctor Visitor Centre, the friendly and informative Reptile Centre and the Desert Park showing off regional flora and fauna. In mid-August, the hilarious Henly-on-Todd Regatta is not to be missed; in mid-June is the bone-jarring Finke Desert Race.
The visitor information centre will arm every visitor with days of exploring. In the East MacDonnell Ranges, the sealed Ross Highway leads to Aboriginal rock art at Emily and Jessie Gap then continues to Corroboree Rock, Trephina Gorge and N'Dhala Gorge. Ross River Resort has a desert campground with all the creature comforts. For hardcore four-wheel-drivers, remote Ruby Gap provides hardcore tracks.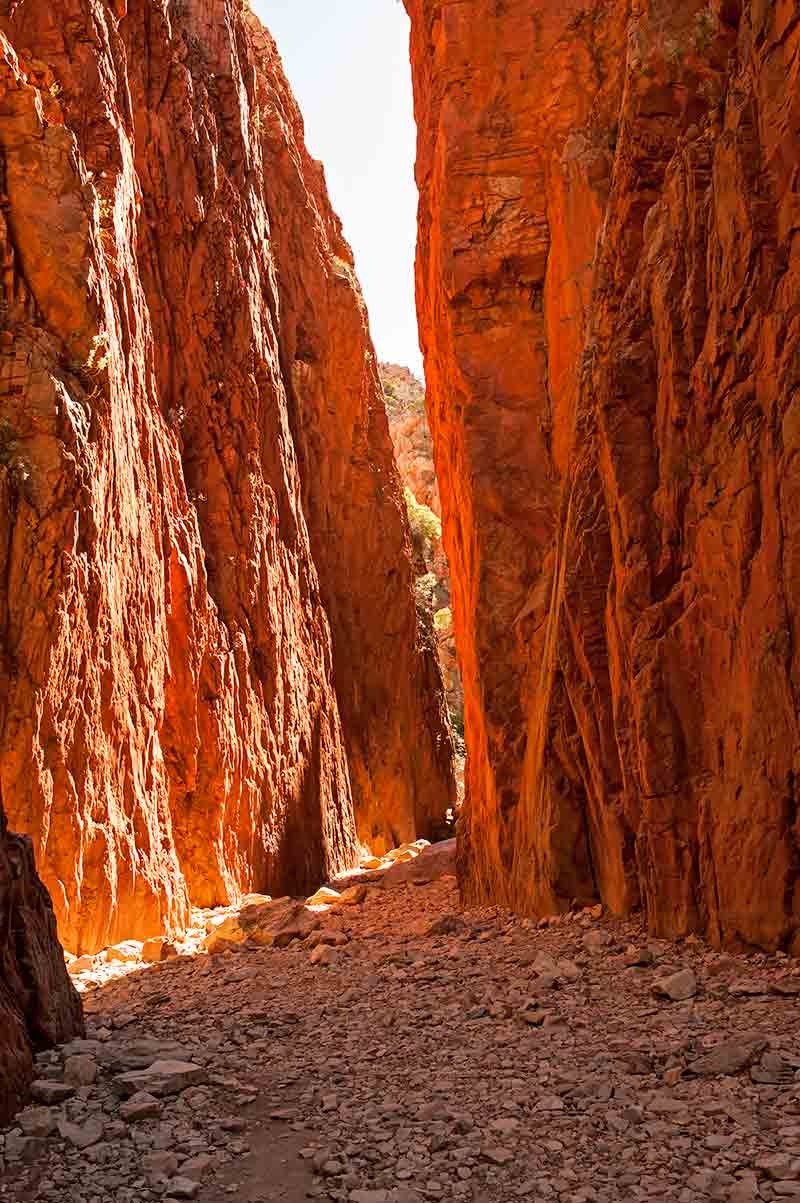 Most of the West 'Macs' are enclosed in the Tjoritja/West MacDonnell National Park. Simpsons Gap has excellent bushwalks and, of an evening, euros and black-footed rock wallabies bound in for a feed. Standley Chasm shines with its best light at midday. Ellery Creek Big Hole is picture-perfect and the shadeless campground accommodates small vans. Serpentine Gorge is followed by lovely Ormiston Gorge with an excellent walk and a shady campground for small vans. At nearby Glen Helen Lodge, larger vans are welcome.
For experienced four-wheel-drivers, Palm Valley in Finke Gorge National Park is mandatory. Vans can be left in Alice or at the caravan park in Hermannsburg, which is also a historic mission and the home of Albert Namatjira. The campground at Palm Valley is suitable for offroad camper trailers. For those who aren't into 4WDing, there are a number of 4WD tours to Palm Valley from the Alice; pick a smaller tour for a better experience.
To the south-east of Alice is the Simpson Desert. Historic Chambers Pillar, with a basic campground suitable for offroad camper trailers, is wonderful, as is the Napwerte/Ewaninga Rock Carvings Conservation Reserve along the way. Rainbow Valley Conservation Reserve is like a landscape painting on a wall of blue sky: certainly worth a visit on another day. 4WD tours from Alice are on offer, or you can combine both Chambers and Rainbow into an informative overnight camping tour with Outback Elite Tours and save your 4WD from a shattering drive along Old South Road.
More info: Alice Springs Visitor Information Centre; (08) 8952 5800.
ULURU KATA TJUTA NATIONAL PARK
Uluru draws visitors from around the globe like a giant, red magnet with mystical properties. Few people can stand before that rock, bathed in the scarlet glow of sunrise or sunset, and not be moved by its inner power.
The township of Yulara caters expertly to everyone including RVers, and if the budget permits, the Sounds of Silence al fresco dining experience on a clear night is a memorable treat. For the best view of Uluru's remarkable light show at dusk, head to the sunset viewing area with a platter of nibbles and a glass of wine to toast one of Mother Nature's most awesome structures.
During the day, the Cultural Centre offers tours and an insight into the deep, spiritual meaning of the rock for the Anangu people. A self-guided walk (or a drive with designated stops) around the base of Uluru makes for a delightful morning or afternoon.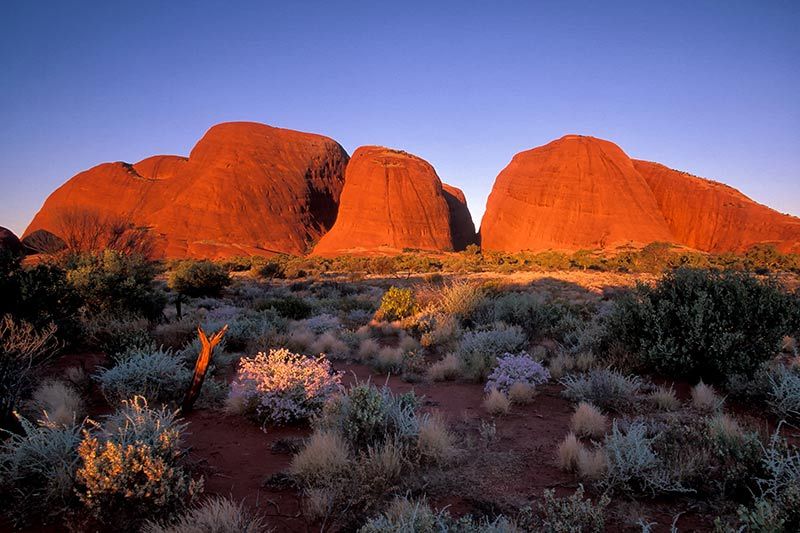 And then there is Kata Tjuta, sitting in the distance like giant scoops of purple prehistory. Watch for wild camels on the drive out there, and spend an outstanding morning or afternoon doing the moderately challenging Valley of the Winds Walk through the rounded, sacred mounds. For a fiery sunset equal to that at Uluru, go to the Sunset Viewing and Picnic Area and stand in awe as the domes light up with a fire from within. The excellent Uluru Visitor Guide will help with your planning.
More info: www.parksaustralia.gov.au/uluru; Cultural Centre: (08) 8956 1128; www.ayersrockresort.com.au, 1300 134 044.
KAKADU NATIONAL PARK
Kakadu is a landscape saturated by rivers, which, in the wet season, turn the region into a vast, verdant wetland sprawling beneath soaring escarpments. Tucked into every corner of the park are waterfalls, billabongs throbbing with birdlife and crocodiles, a rich variety of flora, and Aboriginal rock art sites painted with the finest examples of x-ray art in the world.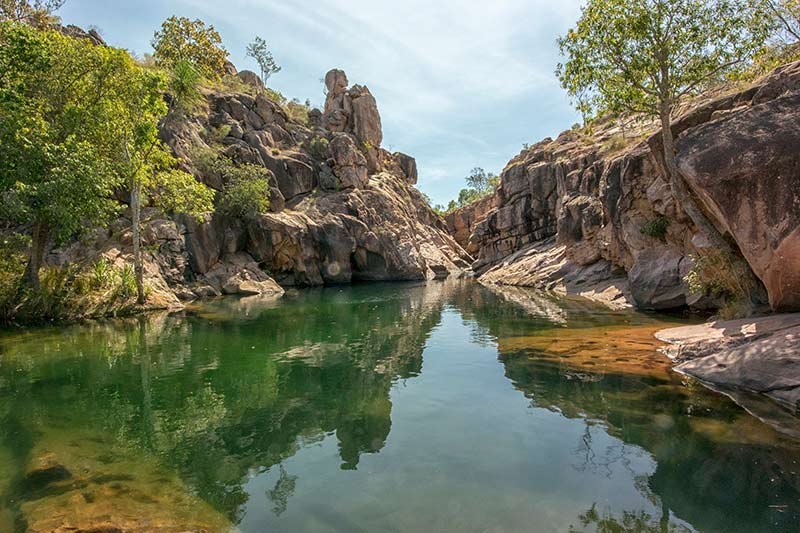 The excellent Kakadu Visitor Guide booklet divides the park into regions. At the Mary River end, Gunlom (via a 4WD road) offers lovely Waterfall Creek with a walk to the top of the escarpment. Cooinda has Yellow Waters, a boardwalk and a superb wetlands cruise.
Four-weel-drivers will not want to miss the road to the Garnamarr Campground followed by a wild track to Jim Jim Falls and a heart-stopping river crossing to Twin Falls. The stunning rock art at Nourlangie and Nanguluwur is not to be missed.
North of Jabiru is Ubirr Rock with yet more rock art, a view of the Nardab floodplain and the outstanding Guluyambi Cultural Cruise on the East Alligator River. In the South Alligator area, the birdlife at Mamukala Wetlands is prolific.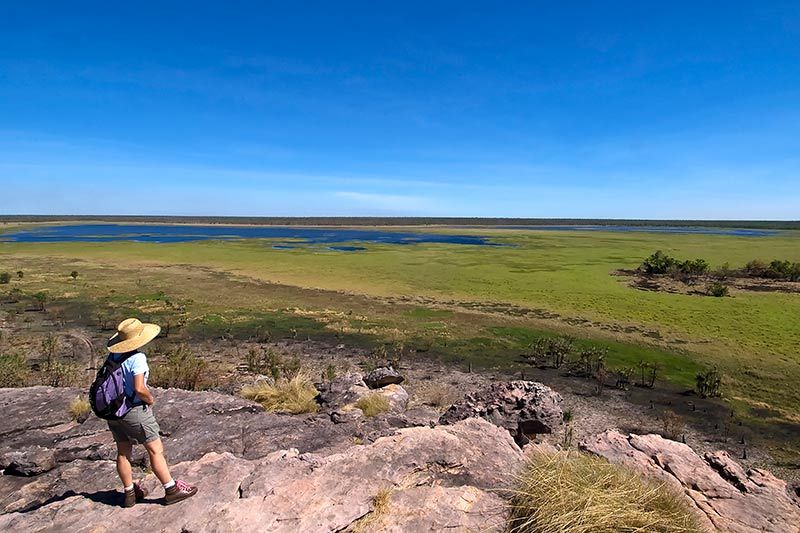 Kakadu is a must-do: check the website and follow the camping links to select from a range of options. For those who want to venture to areas closed to the public, one of the indigenous tours is the answer. If your budget is a very generous one, you can fly to Davidson's Arnhemland Safaris from Jabiru.
The Bowali Visitor Centre has a wealth of information on every aspect of the park.
More info: www.parksaustralia.gov.au/Kakadu; Bowali Visitor Centre: (08) 8938 1120.
LITCHFIELD NATIONAL PARK
Litchfield National Park is often compared to Kakadu, though its terrain and size are entirely different. The Tabletop Range is carved by spring-fed creeks like the Florence, and sliced open by the Reynolds, the Adelaide and the Finniss rivers.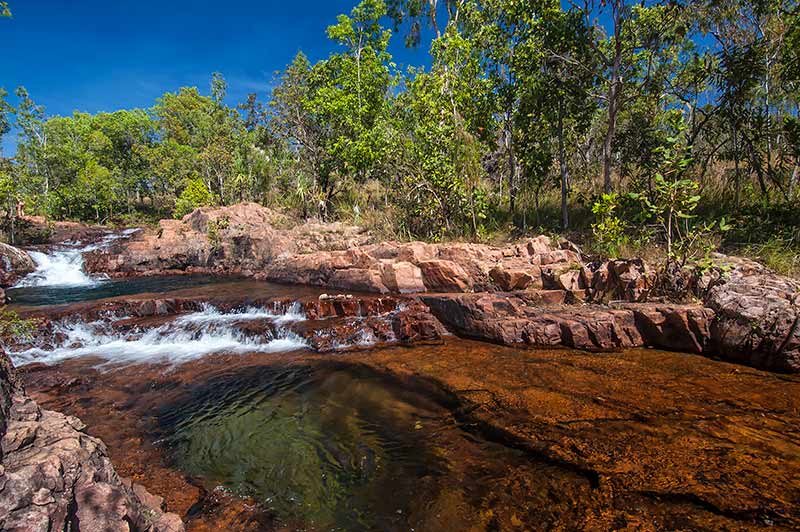 RVers can base themselves in comfort in or near Batchelor (such as Litchfield Tourist Park) and spend several days exploring Litchfield's many scenic wonders. The sealed road leads to the fascinating Magnetic Termite Mounds.
Next are the refreshing swimming holes and natural spas of Buley Rockhole and then Florence Falls with a nearby campground. Tolmer Falls is picturesque with a viewing platform and a bushwalk to the top of the falls. Down the winding road to the base of the park is Wangi Falls with a basic caravan campground and a huge swimming hole.
For the experienced four-wheel-driver, another day of touring leads to The Lost City with a walk at the end and plenty of birdlife along the way.
Another 4WD track, with several fairly deep creek crossings, leads to Blyth Homestead and then on to Sandy Creek Falls. Park your 4WD and take the 3.4km walk bordering a clear creek to the perfect falls and grotto for a picnic lunch and a swim. Litchfield's swimming holes are all croc-free, something Kakadu can never lay claim to!
More info: https://nt.gov.au/leisure/parks-reserves, (08) 8976 0282.
KINGS CANYON & WATARRKA NATIONAL PARK
It would be tragic to drive all the way to Uluru and not take an extra few days to visit Kings Canyon, now known as Watarrka National Park. There is no camping in the park; the nearest place for caravanners is Kings Canyon Resort. If a couple should happen to be there on their anniversary, then the resort's Under a Desert Moon dining experience might be a nice way to celebrate. Sunset sees all visitors facing the George Gill Range for a fiery show.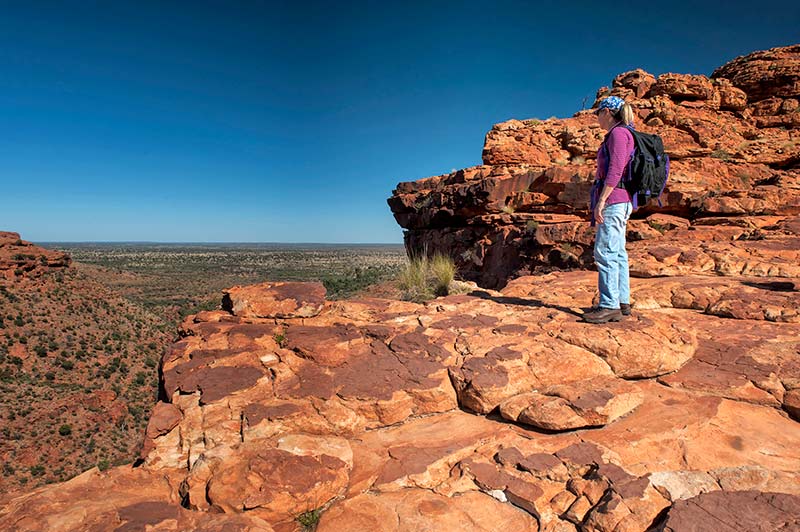 It is the daytime, though, that shows Watarrka at its best. Kathleen Springs has a wildflower-banked walking track to a petite, pretty spring. Another charming short walk is in the basin of Kings Canyon itself: this is a meander along Kings Creek with views of the canyon rim up above.
For one of the best walks anyone could hope to do in a lifetime of walks, the 6km Kings Canyon Rim Loop is superb. Pack a hearty lunch and get an early start to beat the soaring midday temperatures. The initial, steep climb up onto the rim is breathtaking in more ways than one; from then on, the only thing to constantly take your breath away is the scenery.
More info: Watarrka: (08) 8956 7460; Resort: 1800 837 168
DARWIN
Darwin could easily be named the Fiesta Capital of Australia with events starting in May and running through August-September. They include the Arafura Games, the V8 Super Cars, the Darwin Cup Carnival, the Darwin Show and the Darwin Festival. Basically, this means that caravan parks fill up to overflowing so the name of the game is to book in advance or visit before or after the rush.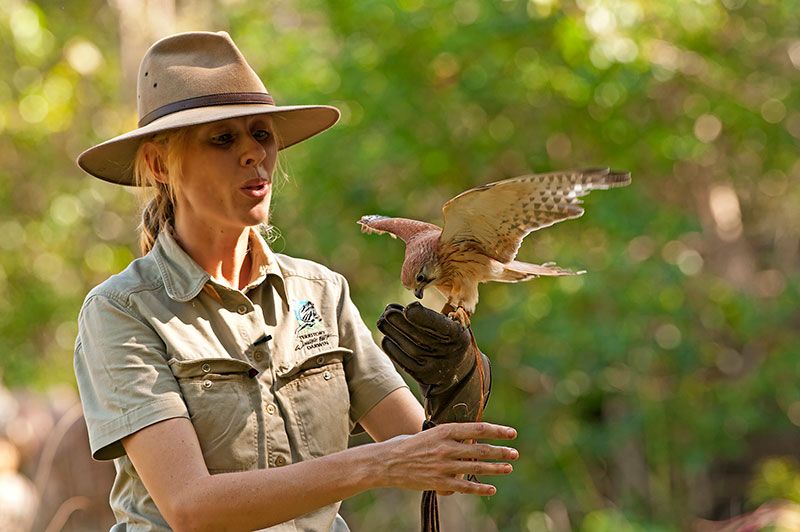 For history buffs, Darwin abounds with World War II historic sites and museums (for information visit the Defense of Darwin). On a lighter note, the Mindil Beach Sunset Market offers something for everyone. In and around the CBD there is the fascinating Museum and Art Gallery, the botanical gardens, Crocosaurus Cove, and the East Point beaches and Casuarina Beach.
A ferry ride across the bay lands at Mandorah on the Cox Peninsula, or you can take a day drive there. For an insight into the flora and fauna of the region, visit the outstanding Territory Wildlife Park followed by a swim in Berry Springs Nature Park. Other day tours include a drive out to Fogg Dam for bird-watchers.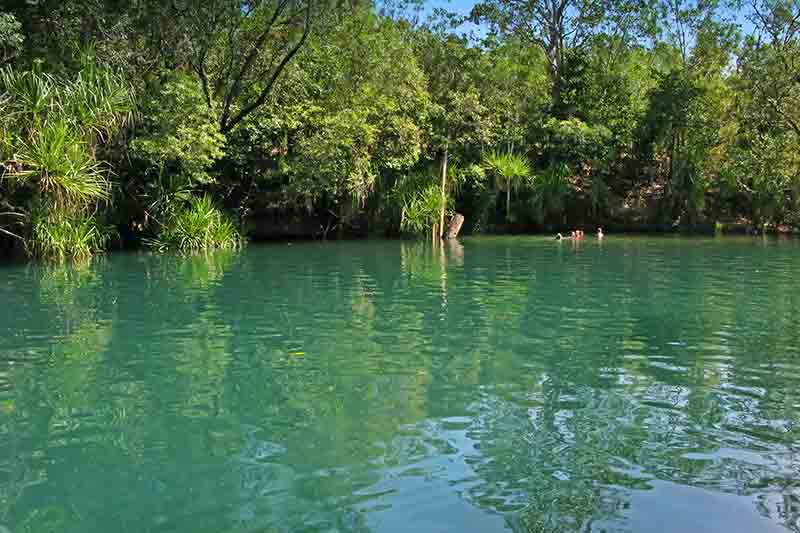 For something unforgettable, a one or two-day tour to the Tiwi Islands ranks highly. If your budget is unlimited, then a three-day tour with Davidson's Arnemland Safaris is tops.
More info: www.tourismtopend.com.au, 1300 138 886; www.northernterritory.com/Darwin
KATHERINE & NITMILUK NATIONAL PARK
The town of Katherine sits on the T-junction of the scenic Victoria Highway, reaching west to Kununurra and the Stuart Highway, bisecting Australia from north to south. The town itself offers travellers all services, along with the Katherine Show & Rodeo in mid-July and the Katherine Festival following in August.
Caravan parks fill quickly through the touring season, with travellers often staying longer than intended.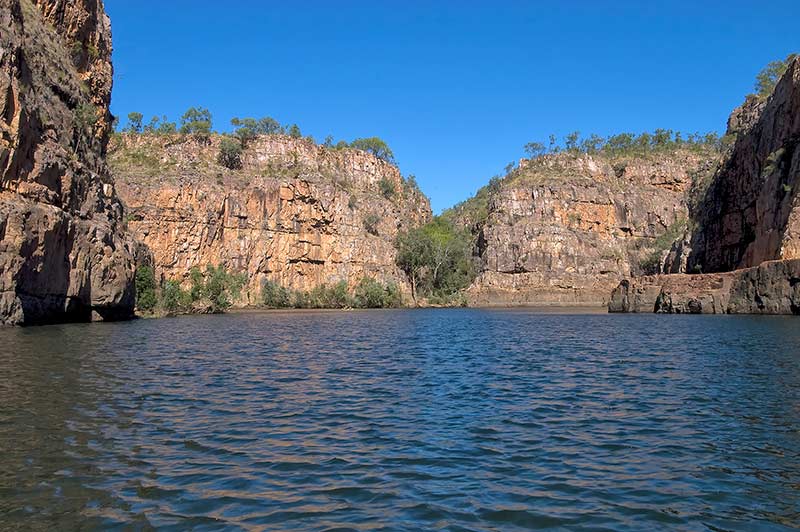 The highlight of Katherine is Nitmiluk National Park. The excellent campground is run by Nitmiluk Tours and caters for most RVs; several days can be spent exploring the main gorge. Walks span from a few hours to a few days with bush-camping along the way; guided cultural walks are also available.
Canoeing along Katherine River is a must, with canoes for hire when the river is not flowing too fast and estuarine crocodiles are not present; boat tours are the best option for visitors who do not want to, or cannot, paddle.
The park is home to vast colonies of black and little red flying fox; not only are they cute, they are critical pollinators of numerous Australian native plants. Without them, certain ecosystems would collapse. They may be a tad pungent, but they are essential to Australia's genetic diversity. You can watch them fly off at dusk from the verandah of the visitor's centre.
For a quieter experience, Leliyn's campground is more rustic and (hopefully) less crowded with a swimming hole at the lower falls. The hike to Upper Edith Falls is rewarded with sublime scenery and a natural spa like no other.
More info: www.visitkatherine.com.au, (08) 8972 2650; www.nitmiluktours.com.au; NP Gorge: (08) 8973 8821; Leliyn's campground: (08) 8975 4852; Visitor centre: (08) 8972 1253.
MARY RIVER NATIONAL PARK REGION
It would be a mistake to race along the Arnhem Highway to or from Kakadu and ignore the Mary River National Park region. Mary River Wilderness Retreat (with RV camping), lying beside the river crossing, provides an inviting setting and an excellent basecamp from which to explore. Fishermen can launch their boats nearby or proceed north to Point Stuart Wilderness Lodge for another civilised campground (or on to Shady Camp in the national park for a not-so-civilised campground).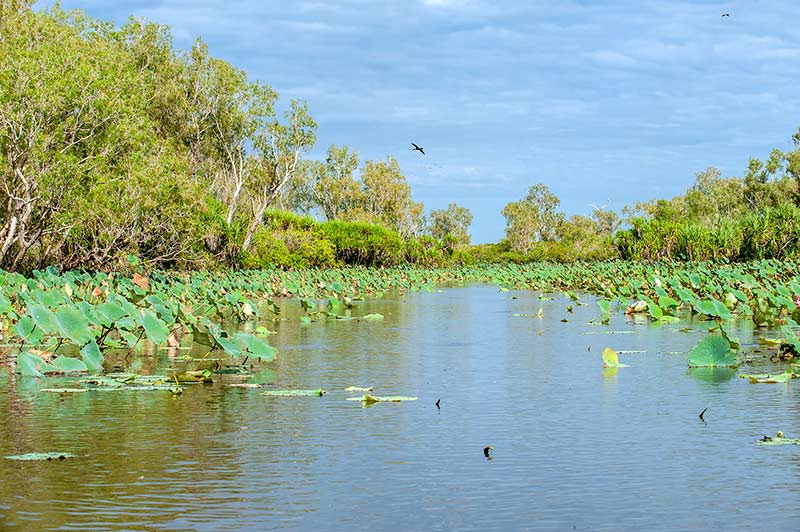 Within Mary River National Park, the four-wheel-driver will find two satisfying tracks to attempt: Hardies and Wildman. Easier options include visits to Brian Creek Rainforest and Jimmy's Creek Rainforest.
Unsealed Rockhole Road leads to a basic campground near the breathtaking Couzens Lookout and Rockhole Billabong; Rockhole is the departure point for the Point Stuart Lodge's Mary River Wetlands Cruise.
The gorgeous Corroboree Billabong Wetland Cruise is not to be missed: bird-watchers will be in heaven, as will nature lovers – the sunset cruise is the best. A boat ramp gives fishermen the chance at a barra.
For RVers in a convoy, a group rental of a Mary River houseboat would be bliss itself. Picnic boats are also available for hire; a day spent cruising this area is one you will never forget.
Back at Mary River Retreat, the river cruise is pleasant, and wildlife abounds. A swim in the pool, a meal on the lodge's verandah – what more could anyone ask for?
CAPE CRAWFORD/BORROLOOLA
The Cape Crawford and Borroloola region is imbued with a touch of the wild that is harder and harder to find these days. Across the street from The Heartbreak Hotel is Cape Crawford Tourism where a number of outstanding tours can be booked.
If the budget permits, a helicopter trip into The Lost City, along with a walk among the sandstone columns, presents scenery at its finest. At Poppy's Pool, accessed via a self-drive 4WD trip or a helicopter ride, a thermal spring can be had without another soul to disturb you. For an expensive indulgence, the heli flight and cultural tour to Vanderlin Island in the Sir Edward Pellew Group provides a tropical paradise of unrivalled beauty.
For those who did not drive down from Roper Bar, a short 4WD trip north with a night or two at Lorella Springs Wilderness Park, offering a divine thermal pool, is a must. On Nathan River Road, there is yet another 'Lost City' you can walk into, and near the Nathan River is lovely Butterfly Springs.
Borroloola is the wild west of the gulf. At King Ash Bay, fisherfolk arrive with boats and freezers, gorging themselves on fishing and barramundi for an entire dry season. One can go troppo here and love every minute of it.
MATARANKA
When Jeannie Gunn wrote about her life in We of the Never Never, she probably didn't think that a replica of her little homestead would one day become a tourist attraction, and indeed that her home turf would become a popular stop along a major sealed highway.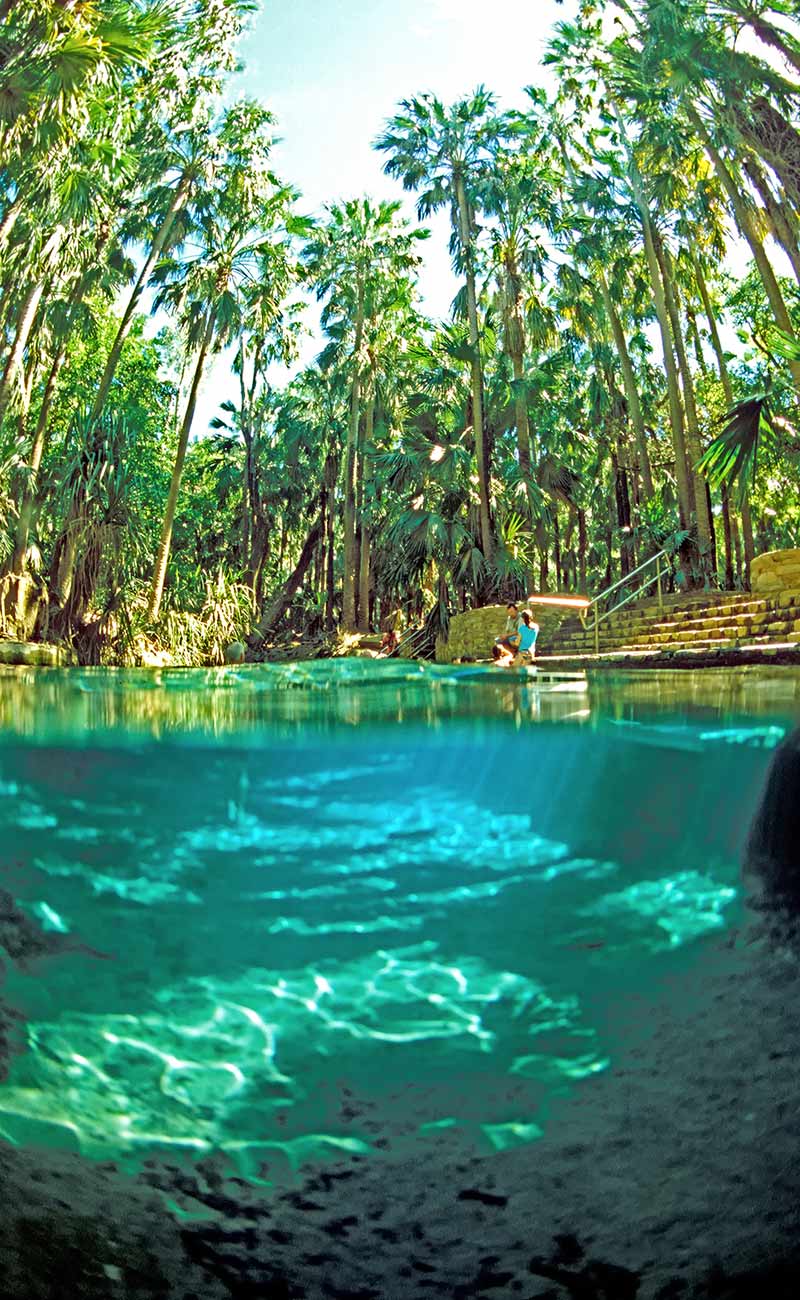 It is little wonder that it is. The crystal-clear, warm Mataranka springs gush water year-round into the Roper River. Mataranka Homestead provides the nearest camping to the Rainbow Spring & Thermal Pool complete with that Elsey Homestead replica and a daily showing of the Never Never film. Hand-raised agile wallabies roam the campground; RVers gather of an evening for the nightly entertainment at the pub.
Within Elsey National Park, which encloses the numerous springs, there are several walking trails and a camping area at 12 Mile Yards. Near Bitter Springs is Bitter Springs Cabins & Camping; these springs feed Little Roper River and a quick visit for a soak can turn into an all-day affair. Lounge on a floatie, hire a canoe, go fishing for barramundi, visit the Never Never graves and the Never Never Museum, and watch barra being fed every day at the Territory Manor.
More info: www.visitkatherine.com.au/surrounding-regions/mataranka
KARLU KARLU/DEVILS MARBLES CONSERVATION PARK
The highlight of the long drive from Alice Springs to Tennant Creek is the Devils Marbles. Even if you only have a few minutes for a stop, go there. Since the stone spheres light up at sunrise and sunset, it also makes a perfect place for a one-night stand.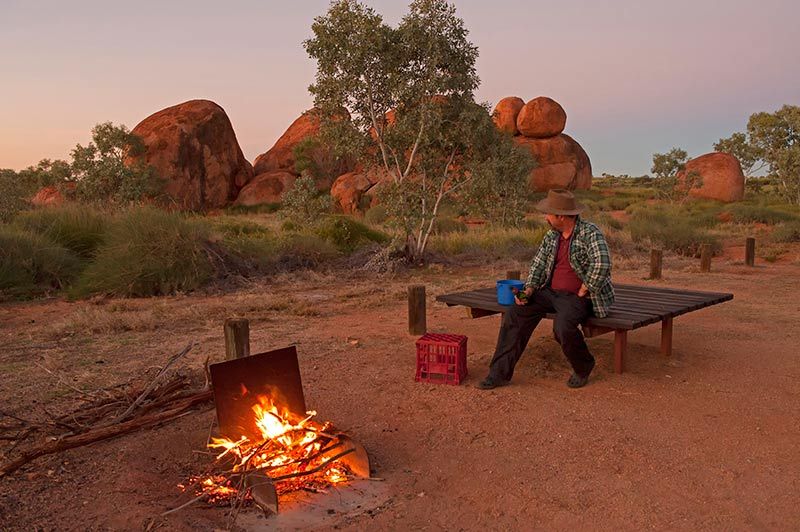 There is basic camping in the park, or you can camp at the Devils Marbles Hotel. The marbles turn the Northern Territory's top 10 spots into a mandatory eleven!
– Images: Steven David Miller / Natural Wanders
FAST FACTS
Be croc aware at all times through the Top End!
Watch for kangaroos and wallabies on and near all roads at all times, especially between dusk and dawn. Reptiles sun themselves on the bitumen during the day: please watch out for them as well.
For help with injured wildlife, phone Wildcare Inc in Darwin on (08) 8988 6121 or 0408 885 341; Darwin Wildlife Sanctuary on 0473 992 581; Wildcare Alice Springs on 0419 221 128; or Katherine Wildlife Rescue on 0412 955 336.