Australia doesn't really build cars anymore. But caravans? We've got more manufacturers than you can count.
But as anyone who had done the rounds of an RV show would attest, many of the thousands of vans built each year look alike and are built in similar ways. When something genuinely new and different crops up, we therefore take notice.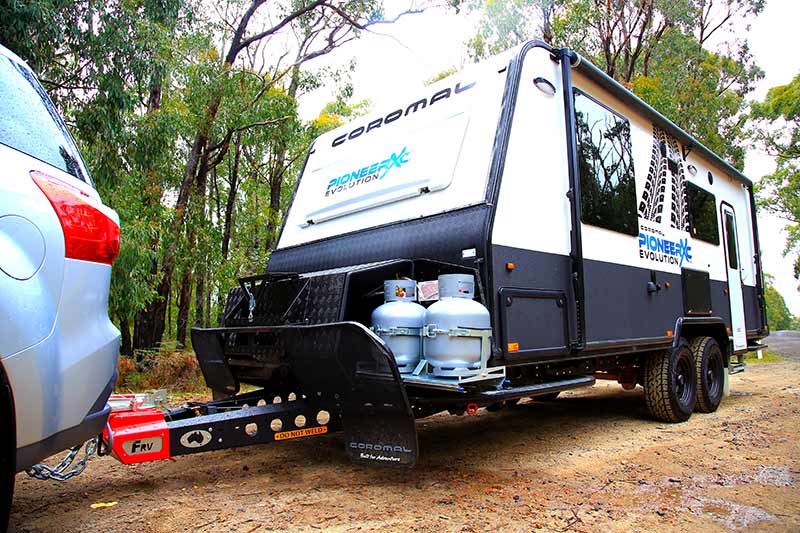 Enter the Pioneer Evolution XC range. From the chassis up, it's not the Coromal you might be familiar with. Utilising new materials and construction methods, and employing a new philosophy towards manufacturing in general, the 'PEX', as it's known, may redefine our notions of how caravans should be built in this country.
COROMAL CARAVANS' HIGH-TECH CHASSIS
It starts with Coromal Caravans' new FRV chassis, which Coromal claims to be 130kg lighter than a standard caravan chassis. Built from 550 grade steel, it's laser cut, punched and folded, and hulk-riveted together, with very few welds involved. Coromal Caravans says all fixings are of industrial automotive grade and it certainly appears to be a highly-engineered unit.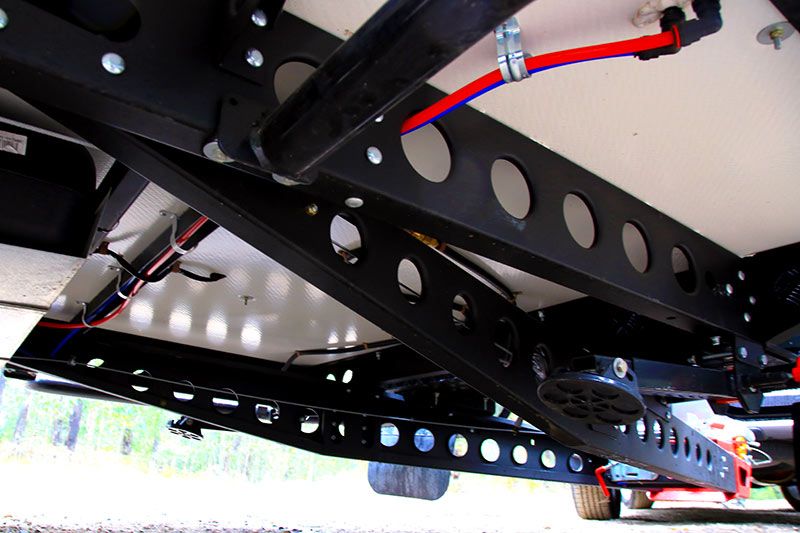 The drawbar has been specifically designed to accept a Hayman Reese-style of weight distribution hitch. Furthermore, to suit various towbar heights, the coupling can be bolted to the top of the drawbar, as in the case of our review van, or underneath.
Our PEX 632 was fitted with Coromal Caravans Easy-Tow Sport X Rally wishbone suspension system. Built for offroad work, it tackled the undulations and corrugations we discovered a couple hours north of Melbourne without hesitation.
And then there's the 'Future-Teck' body construction. This entails a 50mm-thick, one-piece fibreglass composite panel roof that stretches from the leading edge of the van to the very rear, a 40mm-thick 'honeycomb' flooring, and chemically-bonded composite fibreglass walls (30mm thick) incorporating a foam core. A special aluminium extrusion holds all sides together. The walls and roof have a nice gelcoat finish.
As Peter Naylor of Fleetwood RV once told me: "You wouldn't buy a car made of timber, so why would you build a caravan made of timber?"
While that is a simplification, the point is taken: with its PEX range, Coromal is aiming for an 'automotive' finish and build quality. And to that extent, I think they've largely succeeded.
Underneath, there are some exposed cables and plumbing; however, they're all tucked up quite high, though I'd love to see the rear grey water tank's outlet protected. This is an offroad-capable van, after all.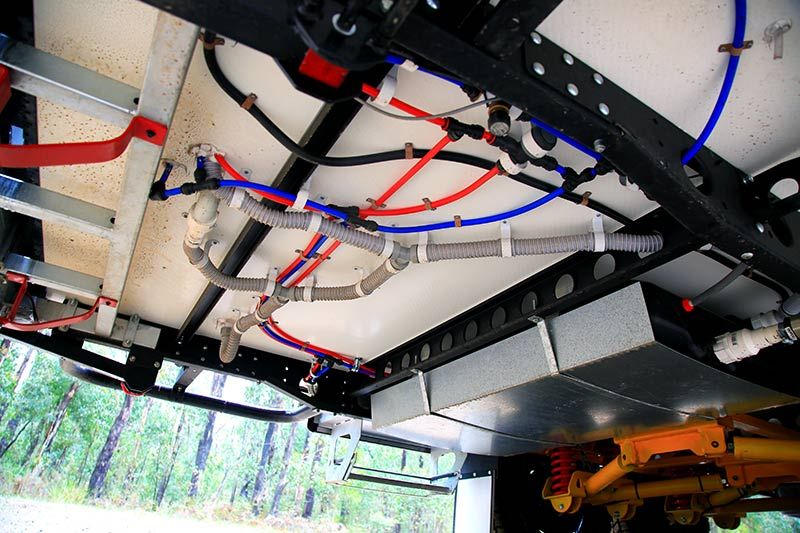 Up front, Coromal has fitted a checkerplate storage box comprised of a slide-out tray on the offside for a portable fridge or generator, and another slide-out tray on the nearside that contains two 9kg gas cylinders. A jerry can holder is mounted to the front. One small complaint: the leading edge of the offside tray's door tended to contact the body of the van, making it awkward to slide the tray completely out.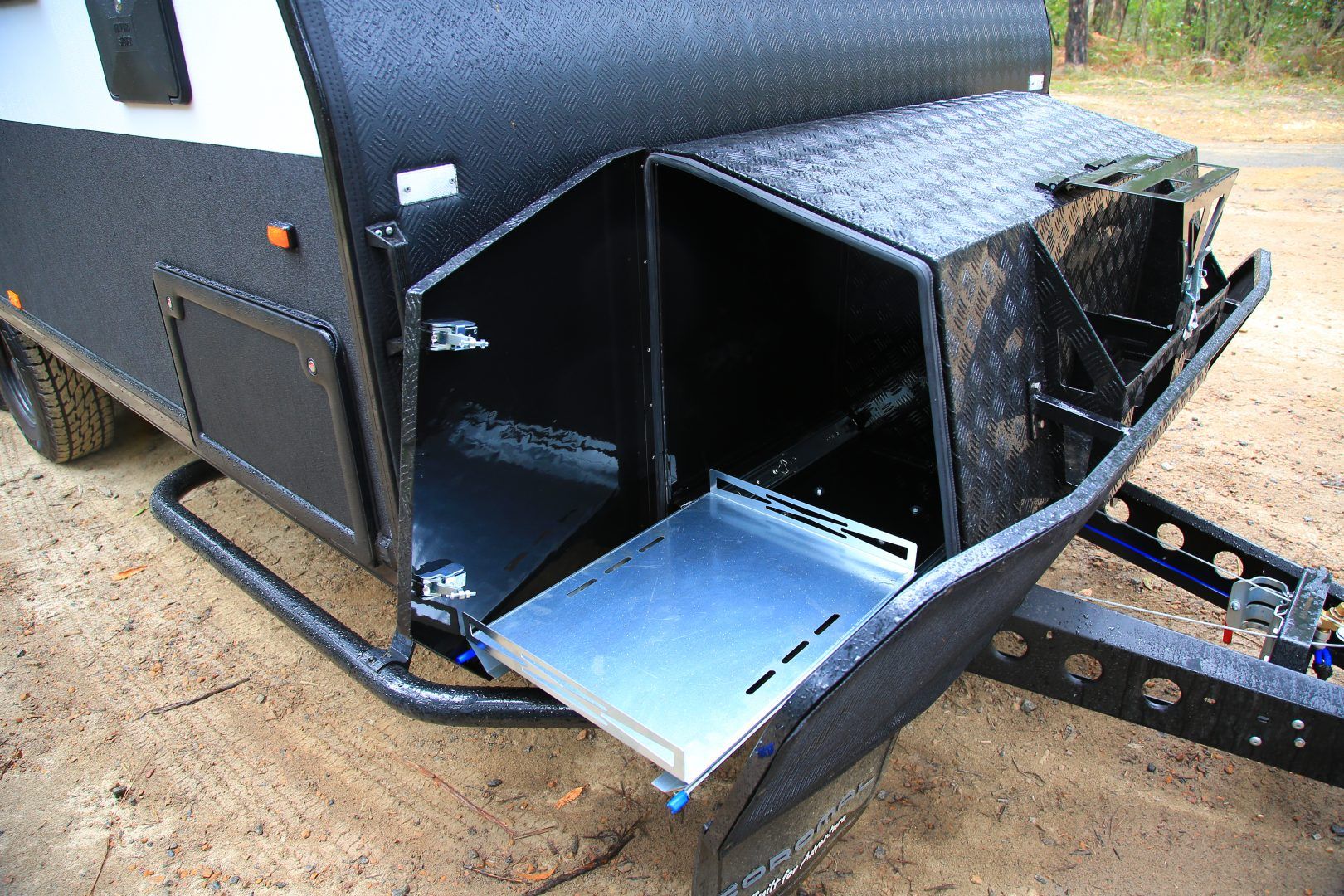 At the pointy end, Al-Ko's relatively new 3.5-tonne-rated offroad coupling has been fitted, and I liked the fact the drawbar-mounted tap was fitted inside the chassis rails, where it's protected, rather than the outside. The only issue I had with hitching and unhitching: the jockey wheel's handle tended to bind on the van's handbrake cable – a small issue that didn't otherwise impede things, beyond sparking mild frustration.
There's yet more storage behind the checkerplate box, while two spare wheels are mounted to the rear of the van, along with jerry can holders either side fabricated out of checkerplate to match the rear bumper.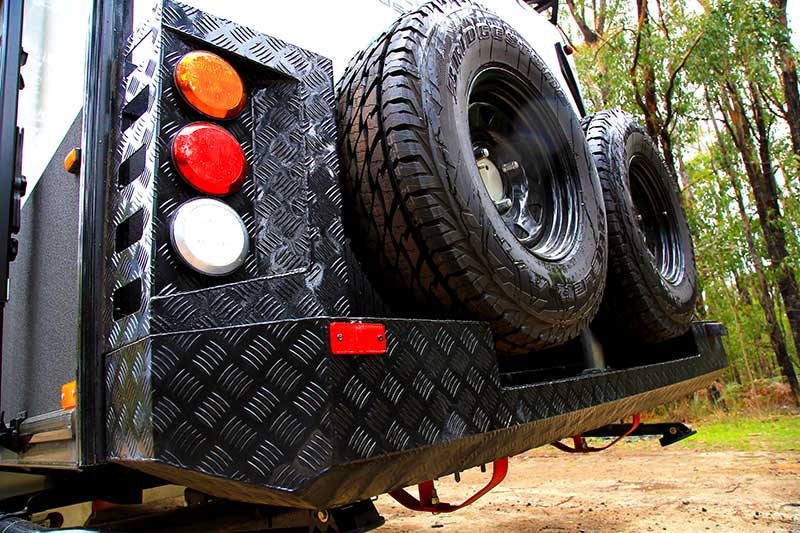 Add to all this corner brush bars, a full-length roll-out awning, a couple of speakers, a fold-down picnic table, a nearby 12V point, and you've well and truly got the makings of a well-thought-out caravan. I didn't mind the wind deflector, either.
COME ON IN
There are eight layouts in the PEX range, with body sizes from 5.5m to 6.9m. Our layout features a forward bed, a nearside kitchen, and offside dinette with tri-fold table, and a rear bathroom.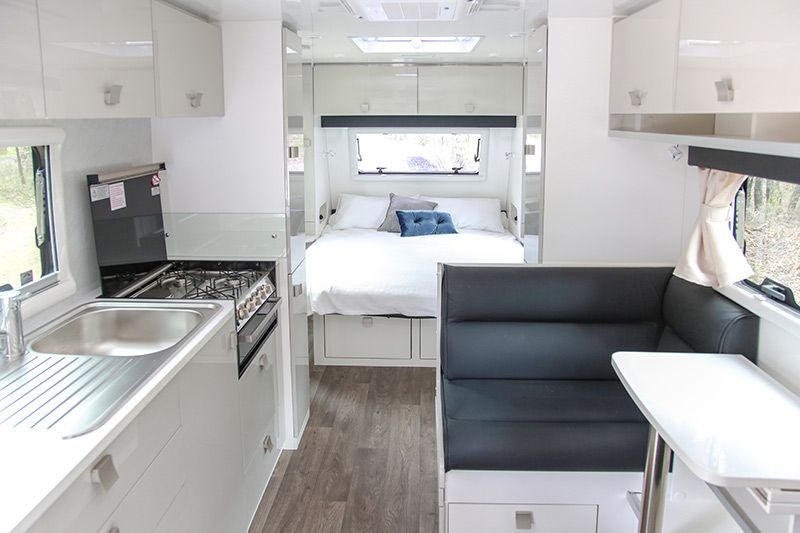 The layout in our van doesn't break new ground; however, two full-height cupboards, one either side of the van, add a sense of separation between the living quarters and the bedroom.
The cabinetry is through-bolted to the roof and walls, their structural rigidity enhanced by additional aluminium framing and fixing.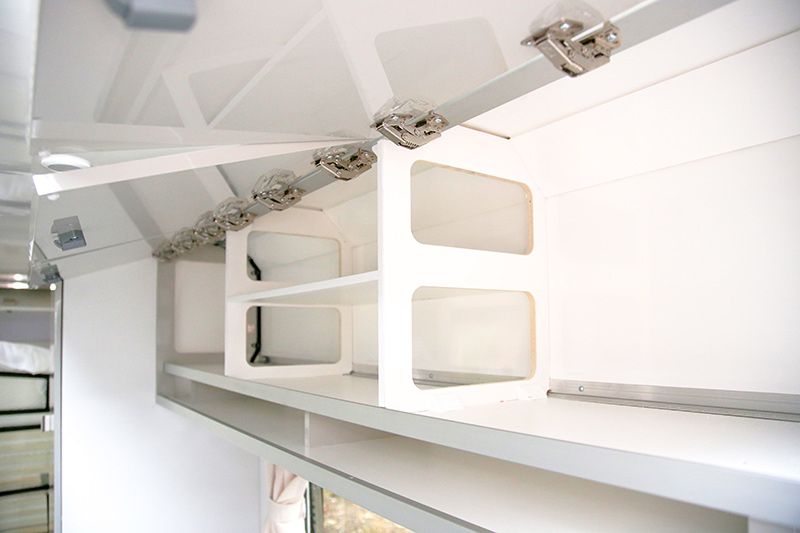 The kitchen has a four-burner Camec cooktop and no shortage of storage options, from large drawers to overhead lockers to cupboards below the sink and griller.
With its queen-size bed, side wardrobe nooks (each with a 12V and 240V point) and overhead lockers, the bedroom is quite standard; however, I appreciated the fact Coromal has fitted 'his and hers' drawers to the underbed storage space. You can still lift the mattress to access the batteries, charger, etc., but for day-to-day items, just slide open a drawer. Much easier.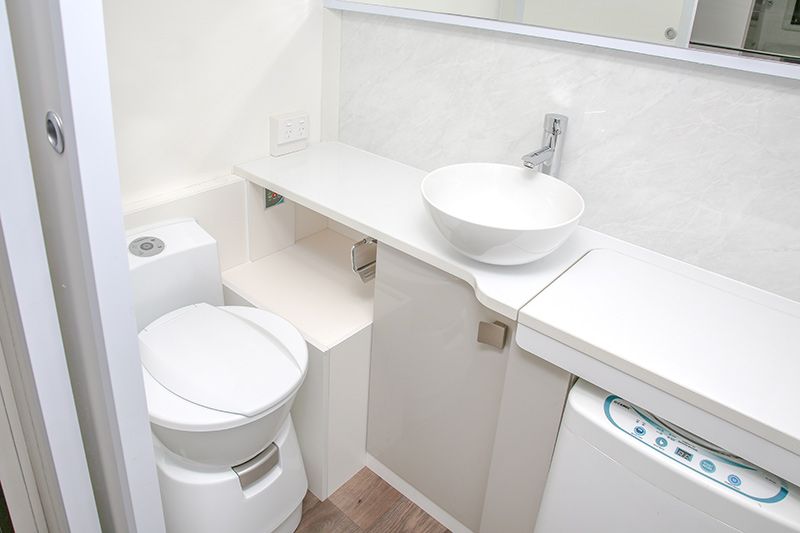 The bathroom occupies the full width of the van. It includes an offside cassette toilet, a nearside shower cubicle, and a vanity in between. Rather than a hinged lid to access the under-bench washing machine, Coromal Caravans has fitted runners, allowing the bench section above the machine to slide out. This means you don't have to clear the bench just to get to the washer.
The Camec instant hot water service is boxed off next to the toilet, however, it doesn't impede leg room.
The wall separating the bathroom from the main cabin is a one-piece fibreglass-polystyrene composite panel fixed to the floor and roof, a design calculated to increase the overall rigidity of the van.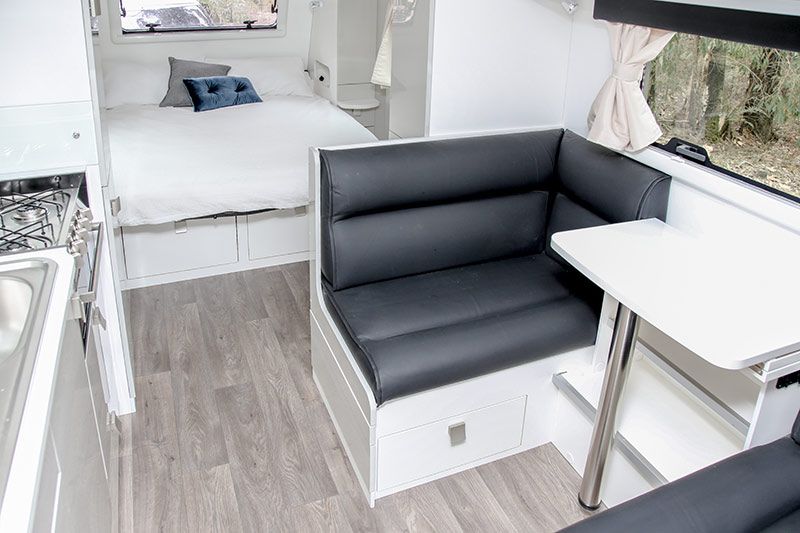 Overall, the interior is smart, stylish and comfortable. Speaking of comfort: each dinette lounge features a slide-out 'tray' to which a matching cushion can be fitted for an instant footrest. The bonus with this design, over and above the common 'snap-up' footrests, is that there's space below the slide-out for a drawer.
GORV'S VERDICT
Unladen, the Coromal Caravans PEX 632 tips the scales close to 2700kg, so it's no lightweight. However, under tow it behaved itself on various terrain types, from highway bitumen to gravel secondary roads. It's fitted as standard with Al-Ko ESC – a little extra peace of mind.
Although we towed the van with our MU-X, you'll need a heavy-duty 4WD to make full use of this van's payload capacity – think Grand Cherokee, D-Max, etc.
In its price category, it's up against some stiff competition, but the PEX nonetheless deserves a good, hard look. This is by no means a run-of-the-mill caravan.
THE SCORE
FIT AND FINISH –

LAYOUT –

INNOVATION –

HITS & MISSES
Future-Teck construction
High-tensile steel, highly engineered chassis
Independent Esy-Tow Sport X Rally wishbone system
Offroad touring ability
Jockey wheel handle binds on handbrake cable
The door of the offside generator/fridge tray tends to bind on the front of the van, making it difficult to slide it out
I'd like some protection for some of the underbody components