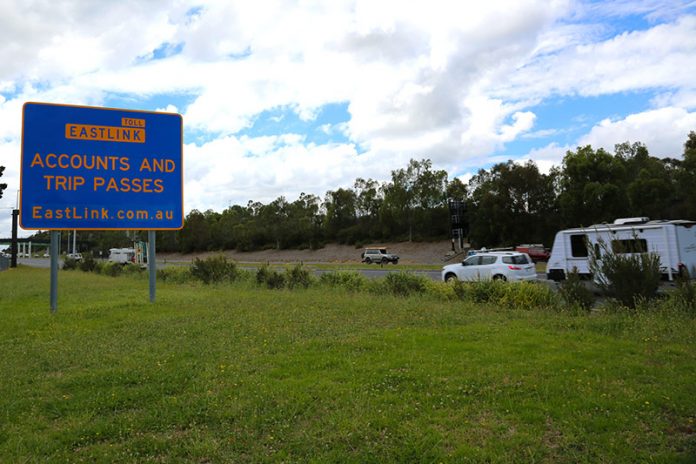 Toll roads. In Australia, they're unavoidable. Drive Highway 1 and you'll follow a serpentine route that bends and twists around all Australian states and territories, with the exception of the Australian Capital Territory. There's even a separate little chunk of it in Tasmania.
But in that 1500km trek and the tributaries that flow from it, there are roads you must pay to travel on. Here are a few tips that should put you on the fast lane to less angst when driving on Australia's toll roads.
FEES AND FINES
Mid-way through 2013, all toll roads in Australia turned to cashless tolling system. With that change, the congestion that long queues in toll lanes caused disappeared. To turn to a cashless system, toll authorities distributed vehicle tags and online payment systems to allow drivers to put aside the need to scramble through the car looking for change and to wait in long queues to pay at a toll booth. To date, toll roads are only found in New South Wales, Queensland and Victoria.
The trouble is, knowing what will happen to South Australian, West Australian, or Territorian motorists, or perhaps international visitors puttering along the highway, travelling interstate and finding themselves having to stump up for a toll or two.
At risk are extra fees and fines for those who inadvertently fail to pay tolls. The trouble is, even paying a toll doesn't altogether eliminate the possibility of being hit by extra fees.
The best advice from motoring organisations such as the The Royal Automobile Association of South Australia is that a little planning will go a long way towards solving the problem. The RAA's advice is for caravanners and other travellers to plan their journeys ahead and pre-purchase tolls to side-step any potential penalties.
On the up-side, you don't need to worry about not having an electronic tag because cameras positioned along each toll road will record your registration plate. The downside is that if your vehicle is identified by cameras and you pay within 72 hours, you will avoid a fine but might incur extra processing fees because you didn't have an electronic tag.
HOW TO PAY
In Queensland you can pay online before or after you travel at www.govia.com.au. You need to click on the 'Pay Casual Toll' tab and put in your vehicle's make, model and colour together with the registration details, credit card, travel dates and class of vehicle and you've got it sorted. Alternatively, you can pay by phone and provide the same information. For either choice, you need to make a payment each time you travel on a toll road.
To pay for your tolls in Victoria, you're required to register your vehicle for regular tolling, though temporary passes are available. It's a somewhat cumbersome system; however, as there are two toll operators, Eastlink and CityLink, and you need tags for both unless you opt for video processing and that'll mean extra processing charges every time you use a Victorian toll road.
Depending on the type of CityLink pass you buy or if you have an e-tag you have between three and seven days to pay for your toll. However, e-tag accounts will not cover you on EastLink. For EastLink you will need an account with EastLink.
If that has you a little flummoxed, the good news is CityLink can provide a prepaid e-tag account that lets you travel on any toll road in Australia.
You can pick up a similar tag in Queensland or New South Wales where you can use your account on any Australian toll road. That means, while you may have to settle separate accounts, an electronic tag from any provider will make things cheaper and easier across all states with toll roads.
In terms of cost, toll charges can vary from state to state, tollway to tollway and, in the case of some toll roads like the Sydney Harbour Tunnel, different tolls apply to different times of day. The point is, they can add up quickly so planning is essential and using them carefully while keeping your account in the black will go a long way towards minimising costs.
FAILURE TO PAY
Avoid paying a toll and you could find yourself in a bit of strife. Take New South Wales as a typical example of the consequences of not paying. Not paying a notice will incur an administrative fee of up to $10 and a $165 – ouch. That's quite a hit for a toll that started off under $10.
FINDING THE TOLL ROADS
In Queensland, the toll roads include The Gateway Motorway providing the main north-south link, Clem 7 crossing the Brisbane River, the Logan Motorway providing a major connection on Brisbane's south, the Legacy way through Brisbane's western suburbs and the Go Between Bridge as an inner-city cross river connection.
Those looking at motoring in New South Wales, as in Queensland, the easiest option is to set up a pass online, which will automatically sort out your toll charges while you are on your trip. The toll roads include the M2, M5 and M7 ringing the city, and the M4 radiating out through Sydney's western suburbs. Then there's the Cross-City Tunnel, the Harbour Tunnel, Lane Cove Tunnel and the M1 – Eastern Distributer.
When it comes to motoring in Victoria, once again the best option is to plan ahead and book your pass online via www.roamexpress.com.au . As elsewhere, if you don't plan ahead and rely on camera recognition of your vehicle, you're up for extra fees each time the vehicle has to be matched.  Around the Victorian capital, Melbourne commuters and tourists alike get to ride on the Eastlink or Citylink toll roads. While the Eastlink carries traffic through Melbourne's eastern suburbs, Citylink provides a north-south link from the inner city.
MAINTAIN THE BALANCE
Bruce and Marg Gow, the Baby Boomers on the Road, have some common sense advice for dealing with Australian road tolls…
"If you maintain a reasonable balance on your toll road account, you will avoid those nasty surprise fines when you return from your holiday," they told GoRV. "CityLink suggests a minimum of $40, but put more in if you like to cover all bases, including interstate travel.
"Our CityLink account notifies us via email when the balance gets under the base amount and, using electronic banking, it's easy to top that up that night."
QUICK LINKS
NSW tags and passes: http://www.rms.nsw.gov.au/sydney-motorways/tags-passes/index.html
Qld tags and passes: https://www.govia.com.au
CityLink: https://www.citylink.com.au/using-citylink/
EastLink: https://www.eastlink.com.au/tolling-how-to-pay/tolls