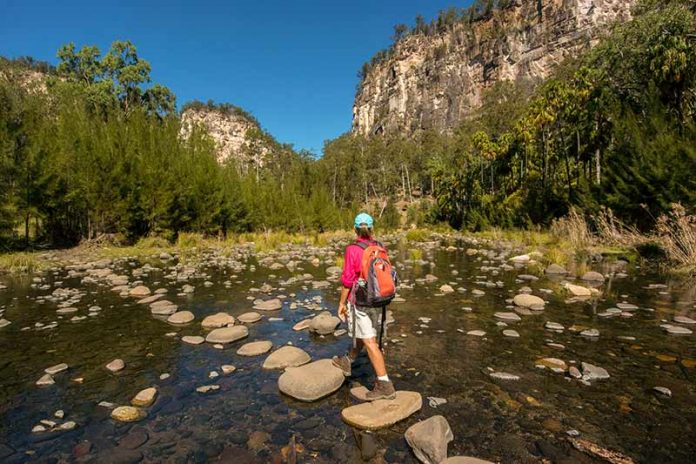 Several decades ago, Steve and I visited beautiful Carnarvon National Park in Central Queensland. We stayed at Carnarvon Gorge Wilderness Resort, and in the gift shop we spotted a beautiful coffee table book called Australia's Greatest Rock Art. The depth of the book, with its beautiful photographs and scholarly text, dazzled us. This particular copy was rather worn from many viewings, and we asked if there was some way to buy a clean copy. "Of course," responded the woman in the shop. "The author, Grahame Walsh, lives just down the road; I'll give him a ring to see if he has any copies."
He did, and so later that afternoon we wandered over. Grahame lived on a gorgeous bush property called Takarakka Rock Art Research Centre. Several hours later we returned with book in hand, somewhat dazed by a close encounter with a man who had more energy, interests and charisma than anyone either of us had ever met. At one point, Grahame had been a ranger at Carnarvon Gorge.
CARNARVON GORGE AND TAKARAKKA
Over the years, we got to know Grahame very well; he became a close friend. We even organized a rock art tour to Carnarvon with a number of interested acquaintances from Melbourne. We stayed at the wilderness resort again, and we also spent some time at Takarakka.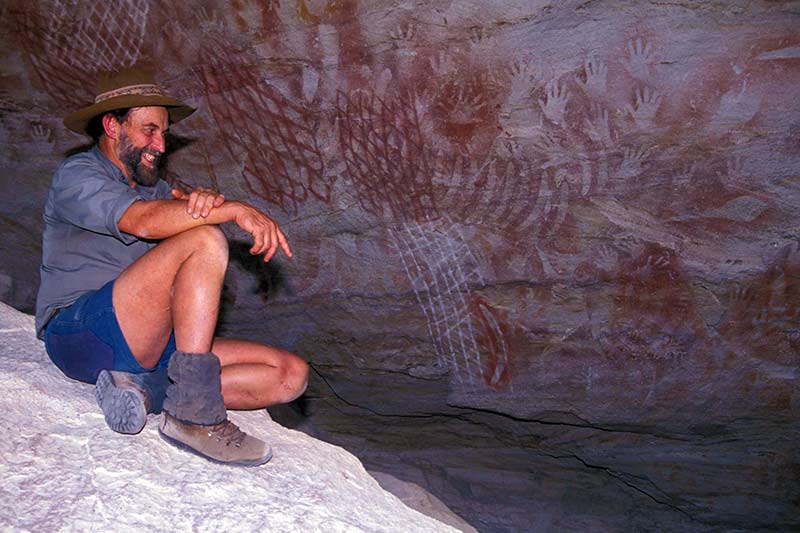 Grahame's office included over one million slides of rock art sites he had visited over decades of research, and a comprehensive library of Aboriginal ethnology. We had the privilege of visiting a number of rock art sites at Carnarvon Gorge with Grahame, many of them off the beaten path. But we always seemed to return to Takarakka, where Grahame's many interests captivated the entire group. Several pristine, vintage American Cadillacs sat in the driveway. In the shed, a defused World War II bomb dangled from the ceiling not far from a Spitfire wing gun that sat on a bench.
There was an armoured personnel carrier casually parked near the house; Grahame had driven it from Brisbane and, as always, had an adventure along the way when the vehicle couldn't making it up the steep mountain pass in the Great Dividing Range where the town of Toowoomba is perched. A collection of Samurai swords hung from the walls of the inside of Grahame's house.
One of the guests on that rock art tour became Grahame's patron, and because of the opportunity this provided to do more extensive and comprehensive research, Grahame sold Takarakka and moved to Brisbane. There, he went from strength to strength, publishing a number of other books on Aboriginal rock art. Takarakka was developed into a camping bush resort; we were always curious what the property had become. In the winter of 2017 we had the chance to return, and so we did.
TAKARAKKA CAMPING
RVing nature lovers could not ask for a better place to camp. Carnarvon Creek runs through Takarakka and is home to a number of platypuses. These notoriously shy creatures are easily seen in the early morning and late afternoon from a specially built viewing platform.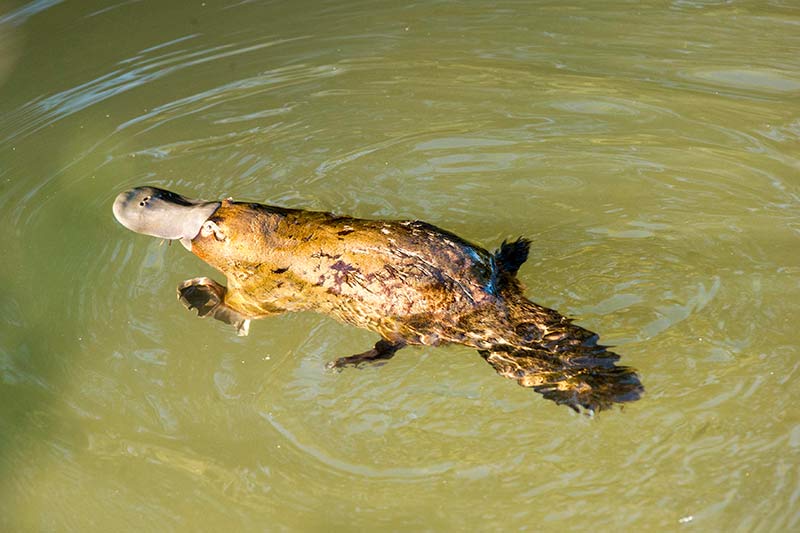 There aren't too many other places in Australia where you can watch a platypus going about its business while an echidna wanders past through the bush: these are the only two monotremes (mammals that lay eggs) on the planet. Walk along the path by the creek and you are sure to see pretty-faced wallabies and eastern grey kangaroos snoozing in the sun. The birdlife is prolific and botany enthusiasts will also find plenty to 'ohhh' and 'ahhh' about at Takarakka and in the national park.
Takarakka offers a daily information talk after happy hour at the Taka Bush Bar where you will learn about their guided tours up the gorge, to Boolimba Bluff and of the Carnarvon night sky. Two-course roast dinners are on offer three times a week.
CARNARVON GORGE WALKS
Australian nature guides, based at the nearby wilderness lodge, also offer tours including a nocturnal tour to see greater gliders, yellow-bellied gliders and feather-tailed gliders along with owls and microbats. They, too, offer a Guide to the Galaxy tour. The Lower Gorge Explorer tour wanders along the main track at Carnarvon Gorge and the Off-the-Beaten Track tour goes to lesser known side gorges and lookouts. The lodge is also open to Takarakka guests for meals.
While all these tours offer information you might not otherwise learn, the walks can be done on your own within the national park. Takarakka's welcome pamphlet includes walk information, and the Carnarvon Gorge Visitor Centre provides a Discovery Guide with full details and track classification.
Be warned that the main track up the gorge has a number of moderately steep ascents and descents along with a lot of steps that can be hard on the knees. Most of the tracks are rated for bushwalkers with some experience and/or for experienced walkers. Only one track (Baloon Cave) is rated for small children or people with mobility limitations.
The best way to tackle the tracks is to walk to your furthest point for the day and then access the sidetracks to various highlights on the way back. The furthest point for most walkers is Big Bend (with pretty scenery) at just under 20km return or Cathedral Cave (with rock art) at just over 18km return. Save this longer hike for later in the week.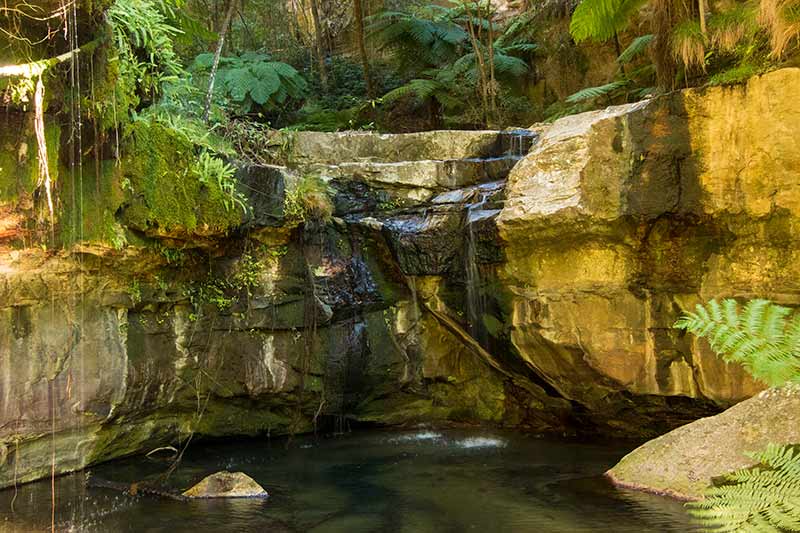 A good starting destination is Moss Garden at 7km return; this ravishing little gorge is flanked by emerald-green moss-covered walls surrounding a beautiful waterfall. This will give you an idea of the terrain up the gorge; you follow the same path to most of the destinations. If you prefer to begin with a shorter walk, try the Nature Trail to Rock Pool (a lovely stroll along the creek) at 3.6km return from the park's visitor centre. Baloon Cave, a perfect little rock art tableau, is a 1km return walk from a signed car park. Mickey Creek Gorge (gorgeous) is 3km return from its car park.
As your knees adjust to going up and down the track (that is, if they adjust), tackle Boolimba Bluff at 6.4km return: this is straight up via hundreds of steps and four ladders leading to an expansive view of the Consuelo Tablelands. What goes up (you) must come down and this walk is rated for experienced bushwalkers only.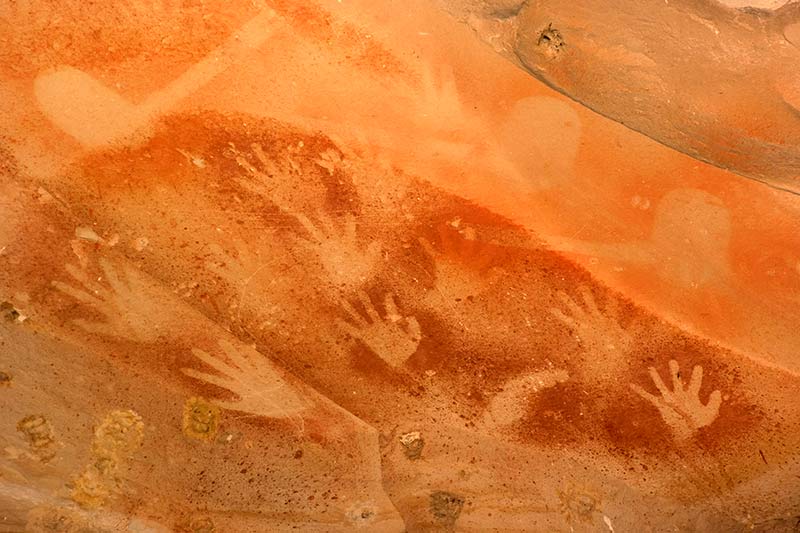 If possible, that walk to Cathedral Cave is a beautiful accomplishment (you can also include Big Bend and the first kilometre of Boowinda Gorge). Head for Cathedral and after a rest under the overhang while looking at the rock art and contemplating the Aboriginal people who used this as a shelter, backtrack to Art Gallery where a panorama of some of Australia's greatest stencil art is painted along a 62m wall of sandstone. This is a place you won't soon forget; the signage adds to the experience.
Wards Canyon is next down the track and is a must with a series of steep steps leading to a perfect little garden fed by a clear stream and walls festooned with rock orchids (when in bloom). Angiopteris evecta ferns, the largest species on earth, stand as sentinels in the canyon. The path to the Amphitheatre soon branches off to the west: prepare to climb a ladder into a chamber carved into the sandstone by water. I think this would be a superb venue for an outdoor opera.
Moss Garden is last on the return journey down the creek; no matter what, you should not miss this spot.
Every RVer wandering in the Central Queensland area should visit Carnarvon Gorge; the Takarakka Bush Resort adds immensely to the experience. Sadly, Grahame Walsh passed away in 2007. He remains well-known in the Aboriginal ethnology, anthropology and rock art community, but RVers visiting Takarakka probably don't know about the property's earlier owner.
Now that you do, you should go, and while there, please think of Grahame. His heart remained at Takarakka and his ashes are scattered somewhere in the Carnarvons.
– Images: Steven David Miller / Natural Wanders
FAST FACTS
The road is now sealed to the entrance of Takarakka and to the entrance of the national park.
Be sure to book in advance as it is a long way to Takarakka. A week is ideal; keep in mind that school holidays are very busy. Takarakka does not have a dump point (nearest points are in Rolleston, Injune and Springsure). The shop offers limited supplies so stock up on all groceries. The largest shops are in Roma to the south and Emerald to the north.
RVers can also stay in the national park; it is a fabulous campground but only open during the Easter, winter and spring Queensland school holidays. Book early and be prepared for lots of enthusiastic children.
Sandstone Park offers camping to self-sufficient RVers but it is currently upgrading its facilities. Sandstone Park allows pets and its rates are cheaper than Takarakka's. It is 2.5km from the park and offers helicopter tours over Moolayember Gorge (but not over Carnarvon Gorge).
MORE INFORMATION