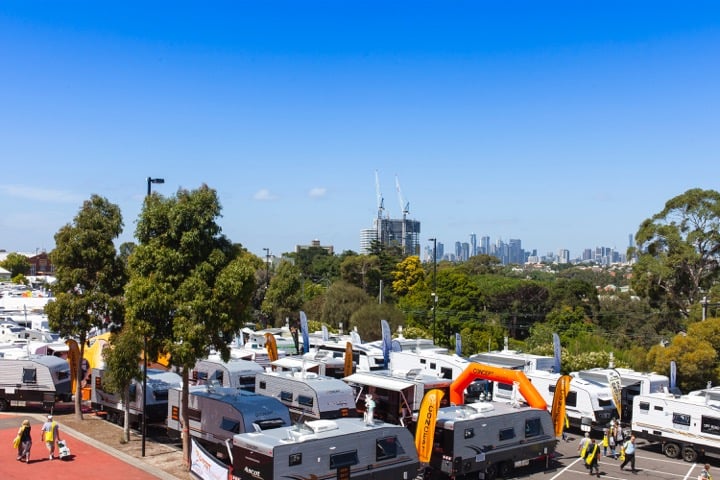 The Victorian Caravan, Camping and Touring Supershow brought out the best of the Australian RV manufacturing industry. Melbourne Showgrounds once again turned into a temporary 19-hectare sea of new caravans, motorhomes, camper trailers, gear and accessories in late February.
[If you like this article, Like the Go RV Facebook page!]
This was the third year that the show had been held at the Melbourne Showgrounds, and any 'teething' problems experienced in the previous years appear to have been settled.
Here are some of the interesting, different and otherwise eye-catching rigs that were on display…
WINDSOR SILHOUETTE XC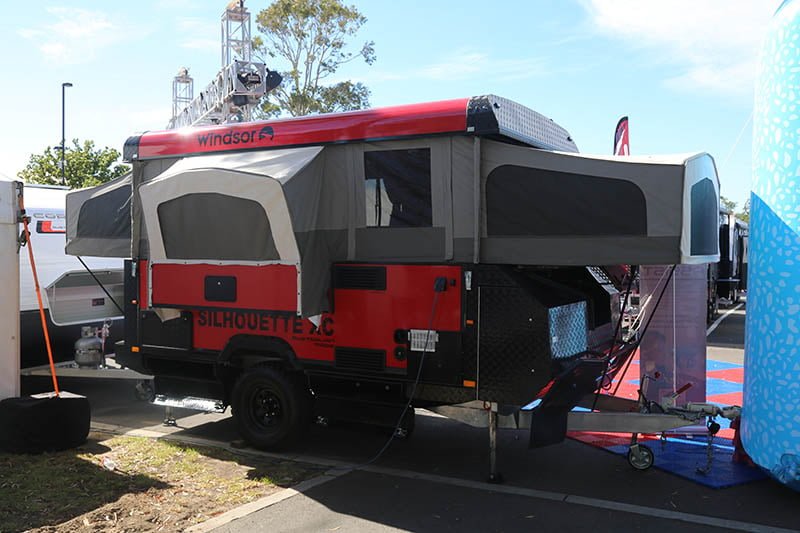 If you've been into caravanning and camping for many years, or you're a keen watcher of the second-hand market, this rig might seem familiar. That's because it's a distinct throwback to the Coromal Silhouette of the 1990s and early 2000s. With its pop-out kitchen and bed-ends, the Coromal Silhouette turned a lot of heads in its day.
Windsor, of course, is owned by the same company that owns Coromal, so perhaps the re-use of the Silhouette name isn't surprising. The flashy red cladding, stylish interior, offroad body kit… it all suggests a camper that's been overhauled for the 21st century.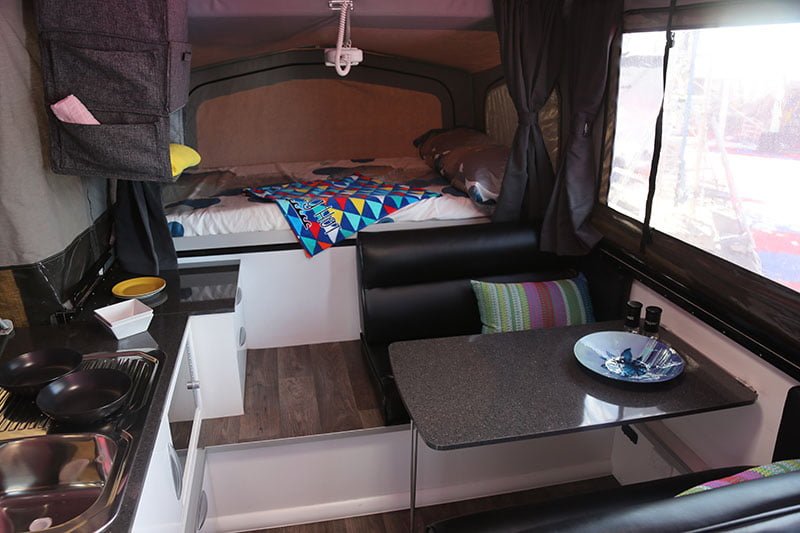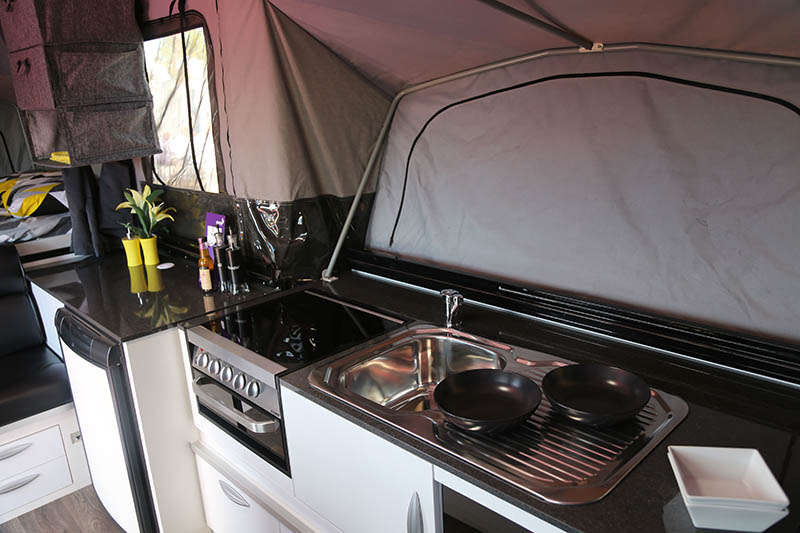 Standard features include a one-piece roof and floor, lockable generator storage, rear tunnel boot, a 90L AES fridge, microwave, Australian-made canvas and more. A swag of upgrade features is available, too, from scrub bars to roof-mounted air-conditioning.
If a wind-up camper is on your shopping list, the Windsor Silhouette XC would be one to consider.
TITAN BLACK HAWK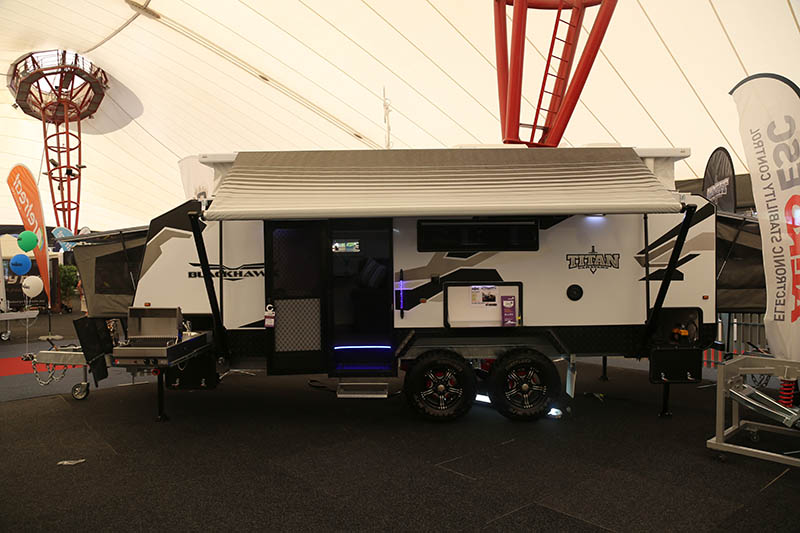 The all-new caravan brand Titan was launched by Roma at the Victorian show. And the Black Hawk pop-top immediately caught our attention. The layout, in particular, is interesting. It's more suggestive of a hard-roofed caravan than a pop-top. After all, how many pop-tops have you seen featuring a split-bathroom? Not many, I'm sure. A combo bathroom, or a full-width rear ensuite, are what you would traditionally find in an Aussie pop-top.
Standard features of the Black Hawk include Al-Ko independent suspension, 300W worth of solar, two 110Ah deep-cycle batteries, and much more.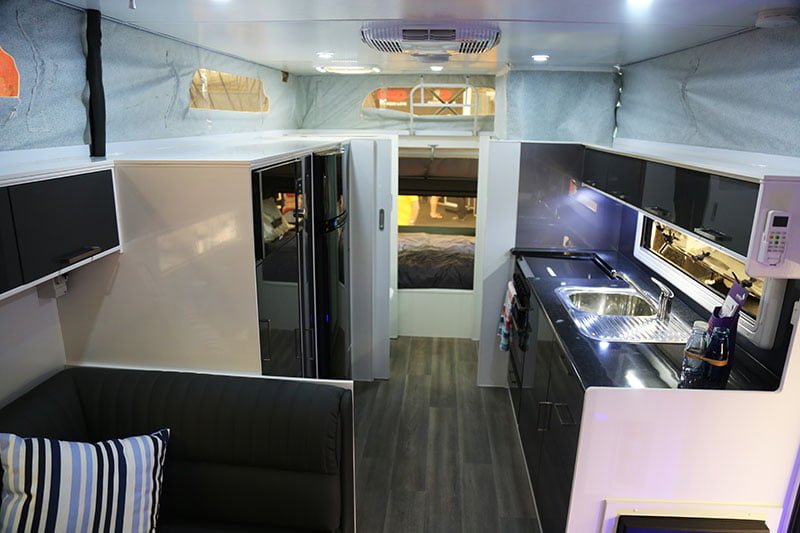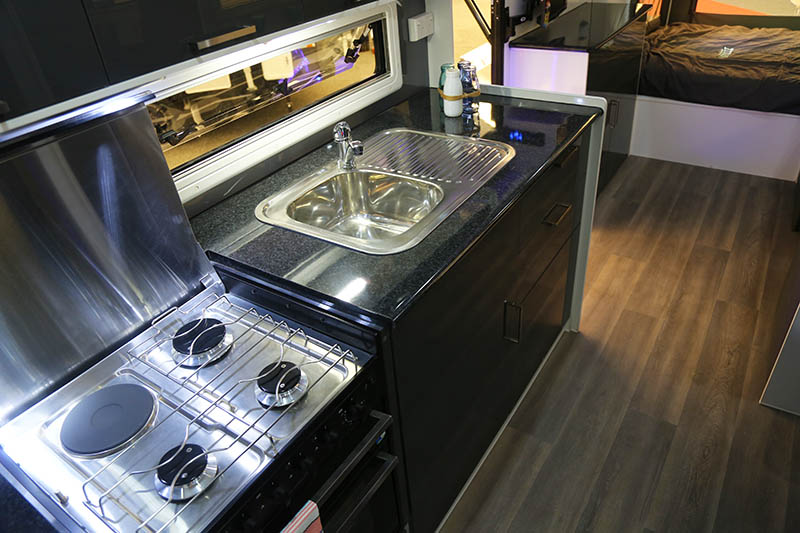 Four layouts are available in the Black Hawk range, including one with a corner bathroom. But we think that split bathroom layout is the pick of the litter. Having been available on the Australian market for only a few weeks, we are hopeful that the Titan range proves to have staying power.
AIR OPUS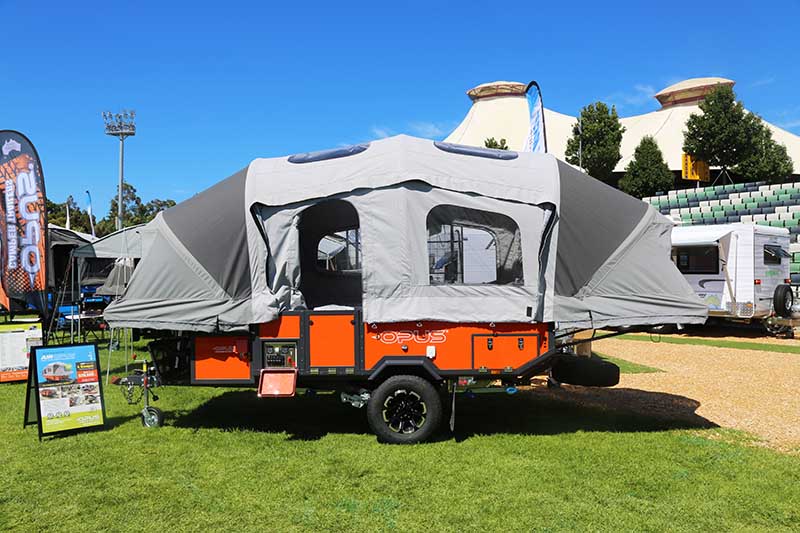 This one is personal. Go RV's editor, Max Taylor, was once the proud owner of an early-model Opus camper. It must have been good because it was pinched from his driveway one Saturday night!
The latest Opus eschews tent poles in favour of so-called 'air-beam technology' to keep the familiar dome-shaped tent erect. Essentially, an onboard 12V pump inflates the 'poles', deploying the tent of the Air Opus in a matter of minutes.
Each 'beam' is fitted with a valve on the offside – when it's time to pack up, simply open the valves to release the air.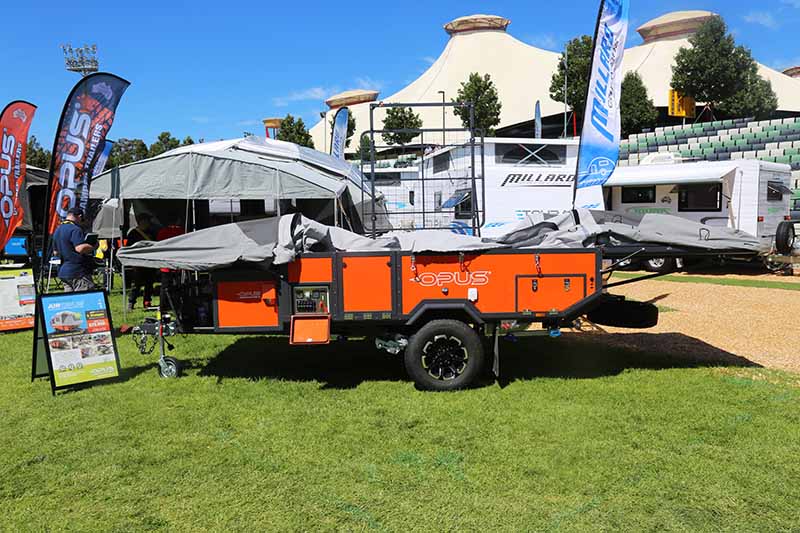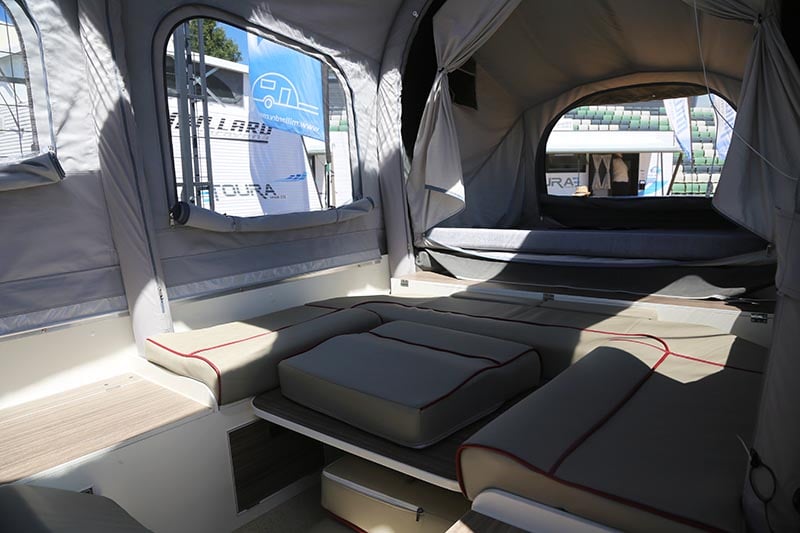 The Opus camper has been continually improved since it began being manufactured in Australia a few years ago (previously, it was imported from the UK).
With dual fold-out beds, and a club lounge that converts to a double bed, the Opus can conceivably sleep up to six people. It's light and has a compact towing footprint. One downside: there isn't room to stow gear on the floor of the camper when towing, as this area is taken up by the kitchen module and lounge cushions. But, packed with care, the Opus is an ideal rig for small families. Trust us, with its distinctive shape, the Opus will make you the talk of the caravan park.
LOTUS OFF GRID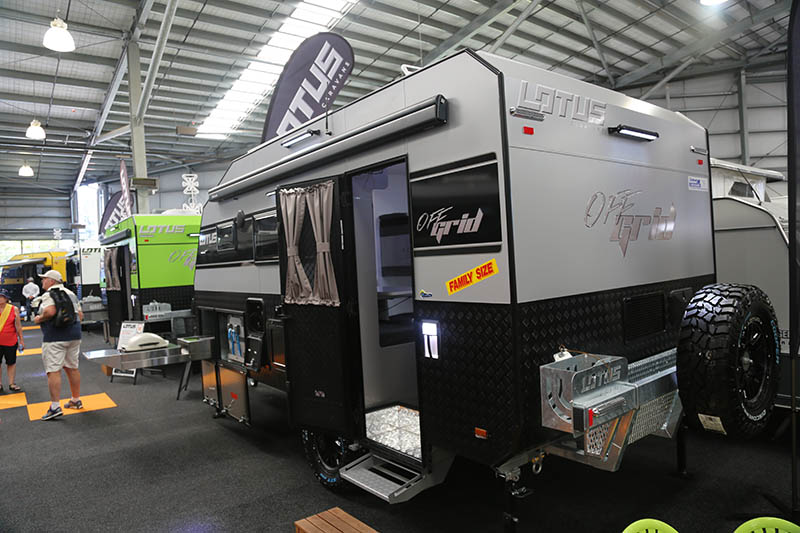 The Lotus Off Grid family van caught our eye, too. It's not a particularly large van. In fact, at 15ft 6in (4.72m), it has sensible proportions for offroad travelling. And inside, it remains reasonably spacious.
With two offside bunks, a nearside dinette, small forward kitchen and corner bathroom, and a double east-west bed in the nose of the van, this brand new offering from Lotus Caravans has all the bases covered.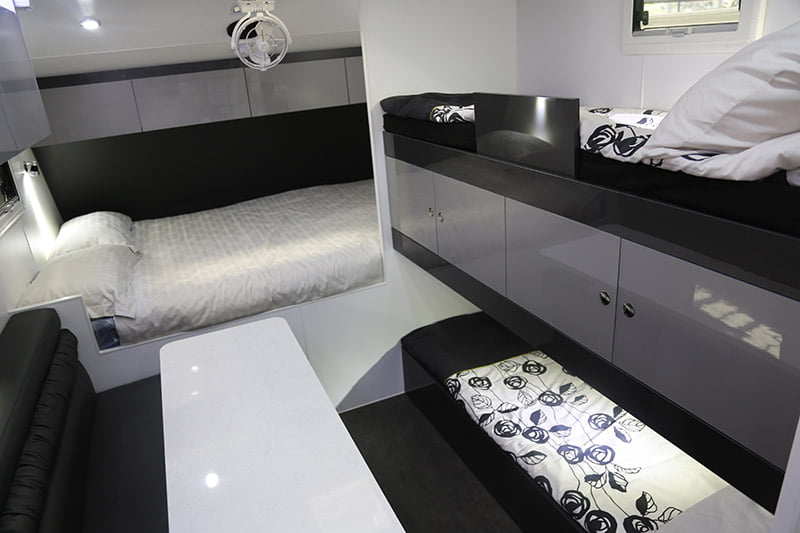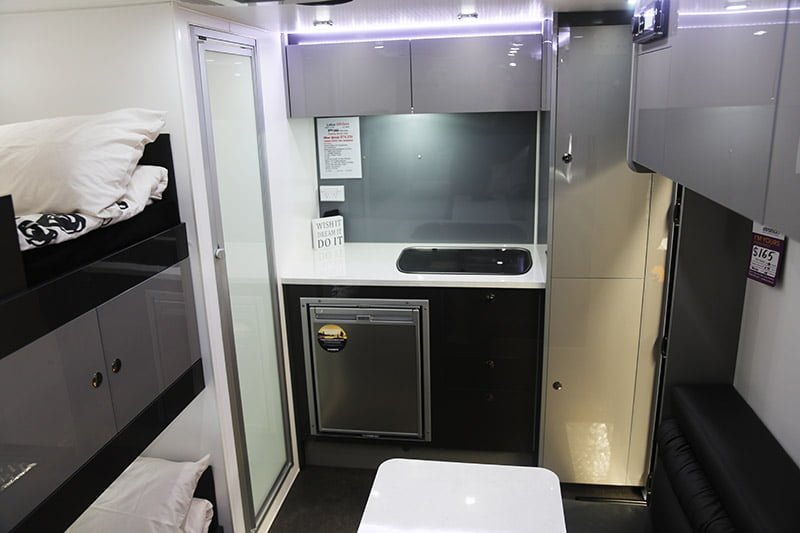 Standard features include composite aluminium panelling, an external slide-out kitchen, Waeco 12V compressor fridge, two 95L fresh water tanks, Control Rider independent suspension, and two 150W solar panels to charge the twin 120Ah deep-cycle batteries.
With acres of black checkerplate protection, a D035 coupling, a decent amount of external storage space, this van, this little Lotus has the makings of a real offroad weapon.