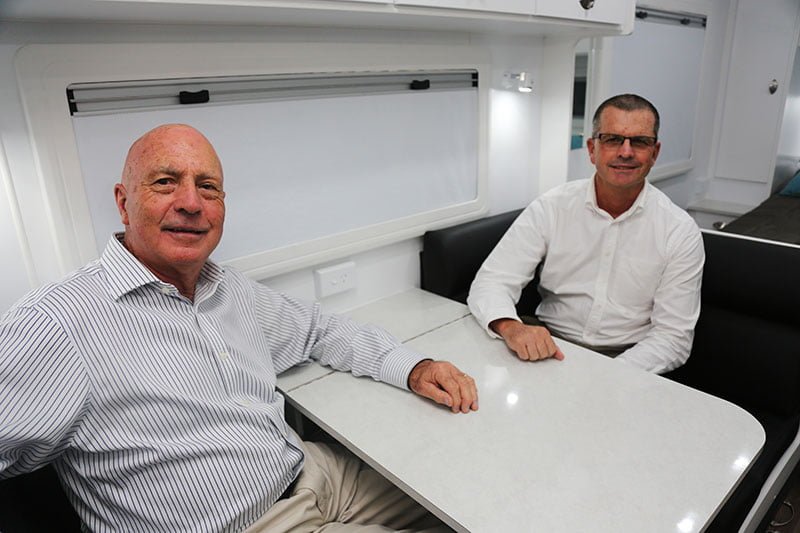 "My Reputation is Your Protection".
That's the motto of Alan Graham's Caravans and RVs. If you have shopped for a new or secondhand caravan in New South Wales, there's a good chance you've visited Alan Graham's. If not, you may still have heard of this dealership, such is the respect it has garnered within the industry. And this year, it's celebrating a major milestone: its 40th anniversary.
The reputation of Alan Graham's Caravans and RVs is hard won. It's the Graham family legacy, the result of a decades-long family business history, and perhaps the thing the Grahams pride the most.
If anyone had asked Alan Graham if, in 1977, his caravan dealership would still be operating 40 years later, let alone become one of the country's most successful, he probably would've smiled and shrugged. But business was in his blood.
Alan's grandfather, Thomas Graham (1860-1955) was a blacksmith working in the 'Fix It Shop', which opened in 1881 in Meredith, Victoria. Family lore has it that Thomas Graham built this gold-mining town's local fire engine.
Thomas' son, Leslie Richard Graham (1901-1994) began working for his father as a motor mechanic in 1921 but, in 1927, took up a job with Ford Motor Company in Geelong, Victoria. Ten years later, Leslie put the spanners down to become Ford's sales manager. Leslie, however, saw opportunity in Gosford, NSW, purchasing the Richardson Motors Ford dealership in 1946. And thus begun 70 unbroken years of Graham family business.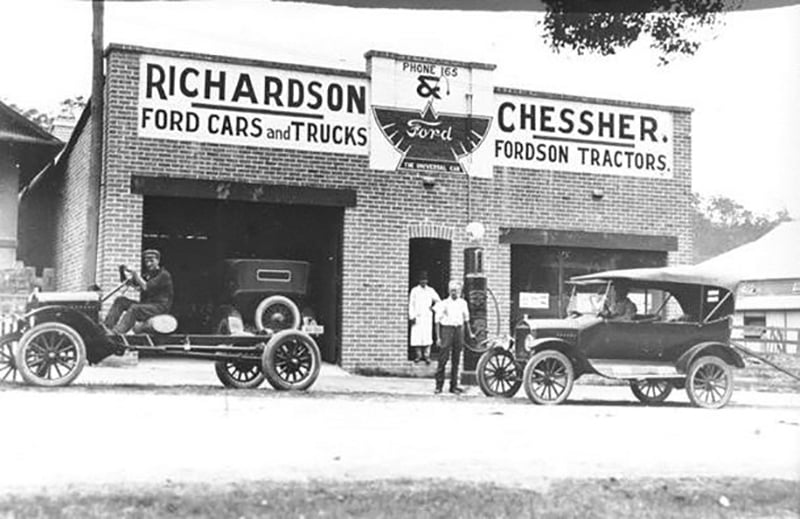 In about 1951, Richardson Motors had a name change, becoming Grawill Motors. In 1959, Leslie's son, Alan, took a position with the company as the family accountant. He'd studied accountancy at TAFE and had 12 months of experience with a Gosford-based chartered accountant.
Soon enough, however, Alan became Grawill Motors' sales and general manager, a role that gave him the skills and business expertise to make a go of it for himself.
In 1977, having researched the caravan and leisure markets, he foresaw an industry ripe for growth. Eighteen years after starting at Grawill Motors, he and his wife, Judy, opened a caravan and car sales business.
But Alan's love of the RV industry was more than opportunism. In 1966, he took his two-year-old son, Andy, on their first caravan trip. That was to Batemans Bay, on the south coast of New South Wales, but a trip around Australia in 1974 cemented Alan's deep affection for the industry.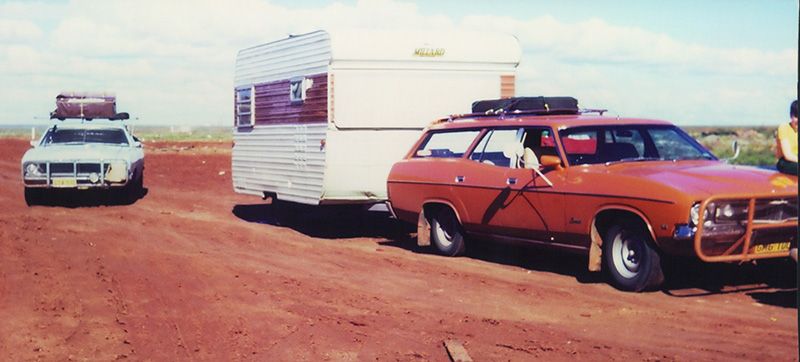 "I was still working in the family business and we arranged our first big trip with our three children and four other families," Alan said. "We travelled from the Central Coast to Broken Hill, Port Augusta, Coober Pedy, Ayers Rock, Katherine, the Olgas, Stanley Chasm, Tennant Creek, Cairns, Townsville and Magnetic Island. That was when the children were 10, eight and four years old. They experienced wonderful things, learning first-hand about this great country of ours. So much so that Andy, who joined the family business in 1994, took his young family on a similar trip."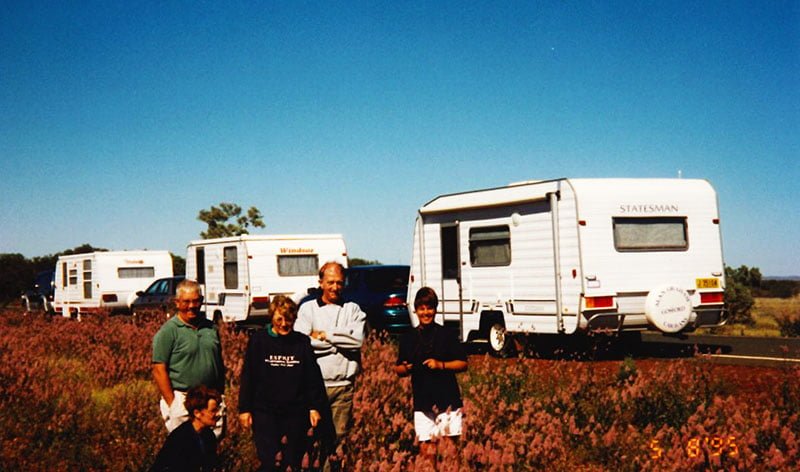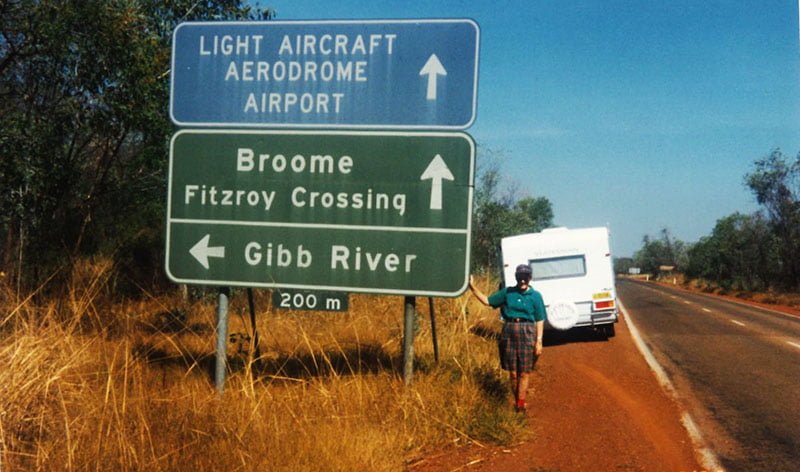 That trip was a three-month expedition from New South Wales to the Flinders Ranges, then north up the Oodnadatta Track, a visit to Coober Pedy, Uluru, Kings Canyon, Alice Springs via the Mereenie Loop, and on to Kununurra and the Kimberley. Most impressively, the family of five – Andy, his wife and three kids – did the trip in a little Avan Aliner.
"There is so much of Australia to explore and the only way to really do it is in a caravan," Alan said.
But what is it about selling caravans that means the most to him?
"Bringing joy to people and having them trust us as we guide them through their purchase and then see them enjoy their experiences," Alan said. "They return or write to us to share the wonderful experiences they have had."
The success of Alan Graham's Caravans and RVs comes down to respect. Respect for its customers, staff, suppliers and the environment. To Alan, if it isn't done with integrity, it is not worth doing. "A good deal is one where both parties are happy with the outcome," he said.
It's a large, well-equipped dealership that employs 12 people. It has 65 vans on site (35 new, 30 used) and a fully-equipped workshop. And the family atmosphere must be genuine. Why else would service manager Steven Fuller have worked with Alan since 1976?
ANNIVERSARY CARAVAN
Alan Graham's Caravans and RV is an agent for Jurgens, Lotus, Galaxy and Concept. In fact, it's the largest Concept dealer in Australia, having sold about 1250 Concepts in 12 years. It's perhaps not surprising, therefore, that Concept Caravans was tasked with building a special 40th anniversary van.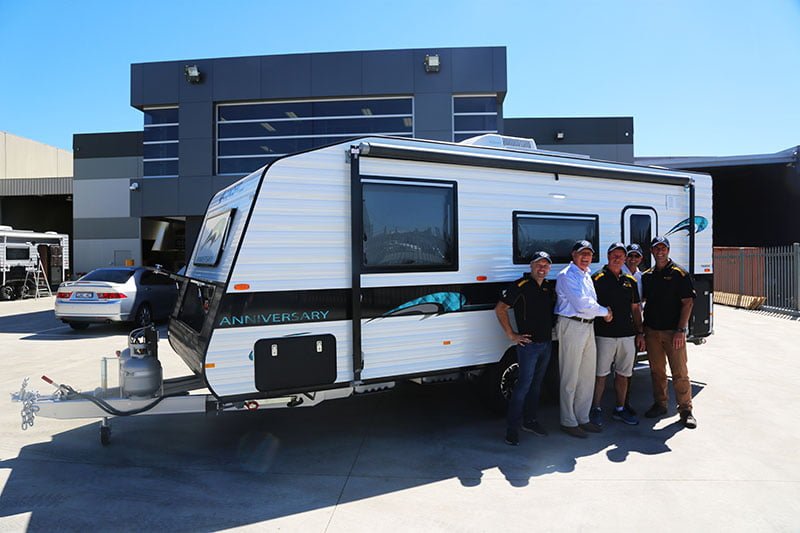 The AG40 (which stands for Alan Graham's 40th Anniversary) is particularly special. There will be only 40 built, one for each year the dealership has been in business.
"I'm very happy that Concept has built this van for us," Alan said. "They have loaded it with extra value and we are pleased with the result. The AG40 represents excellent value for money.
"We're sure that whoever buys an AG40 will love it and will get many years of happy travelling out of it."
The AG40 is, without question, a beautiful caravan. It features pearl white aluminium cladding with inset black aluminium composite side and rear panels, chrome tail-lights, 15-inch gloss black wheels, a pull-out door step, a solid access door with positive locks… the AG40 is indeed an attractive van.
Underneath, there are two 95-litre water tanks, leaf-spring suspension, six-inch main chassis members, and more. And, with a 120W roof-mounted solar panel, battery pack and 15A charger, the AG40 is equipped for free-camping.
Inside, the van really shines. All furniture is CNC-routed and assembled with care – Concept Caravans' attention to detail is on show throughout. The front bedroom is equipped with a north-south, queen-size bed, wardrobes, reading lights, and lots of storage.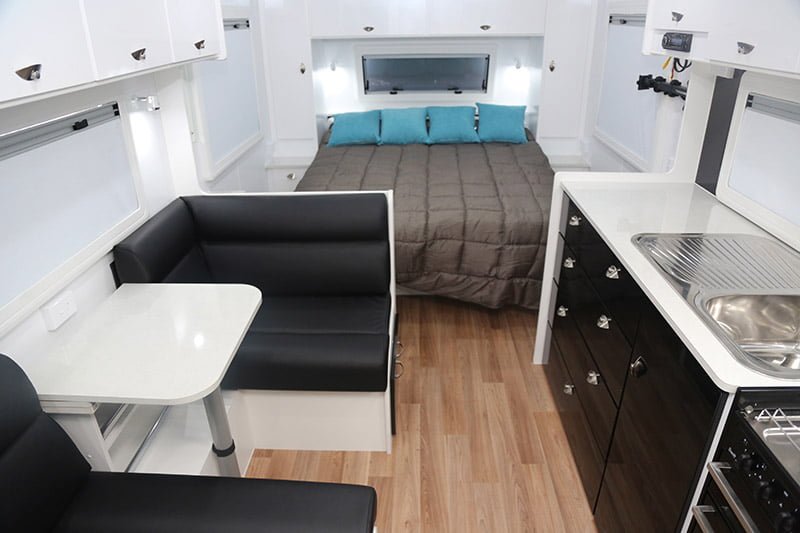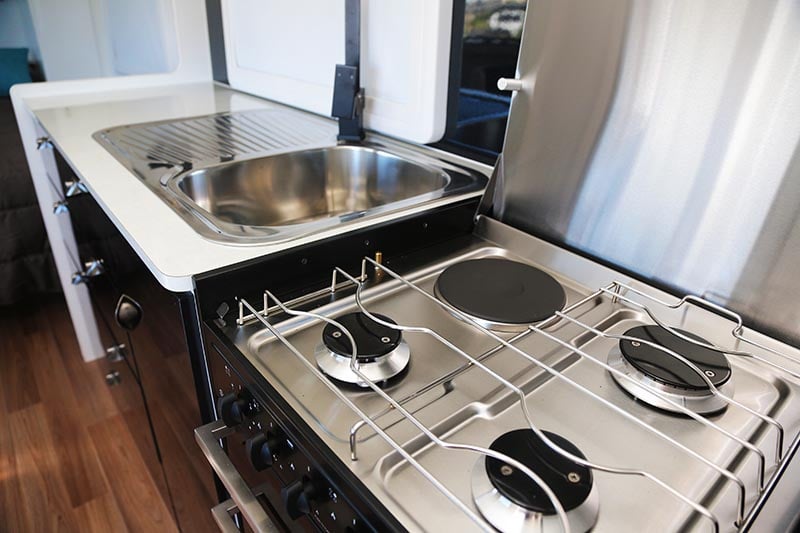 The nearside dinette, meanwhile, is fitted with a tri-fold table and slide-out footrests – just add the matching cushions to the slide-out tray and get comfortable.
The kitchen will keep the fussiest of travelling chefs happy. It features a four-burner cooktop, griller and stove, a stainless steel sink with classy black tapware, a microwave, a large fridge-freezer, and loads of bench space, not to mention all the overhead lockers and general storage options a touring couple would need.
Finally, the ensuite of the AG40 is as attractive and functional as the rest of the van. A nearside cassette toilet fits neatly between the ensuite wall and large linen press – yes, a linen press – while a washbasin and top-loading washing machine sit along the rear wall. The full-height offside shower is a moulded fibreglass unit with a ventilation hatch and a variable-height shower rose.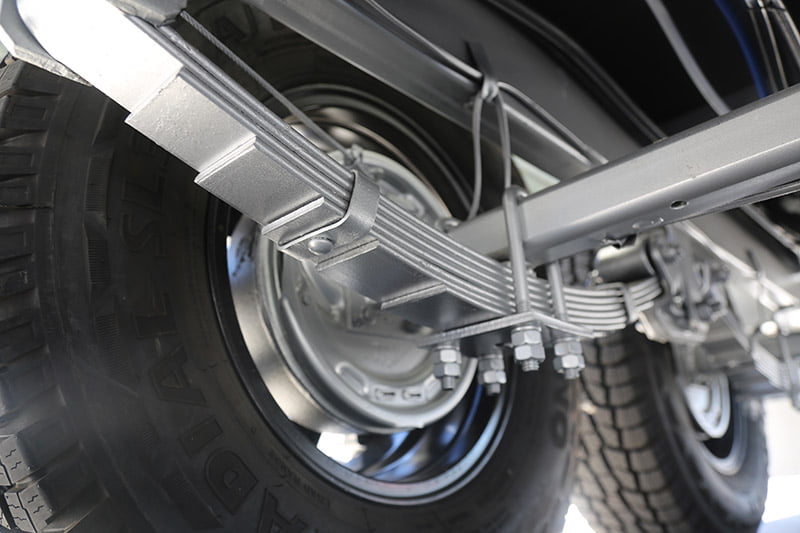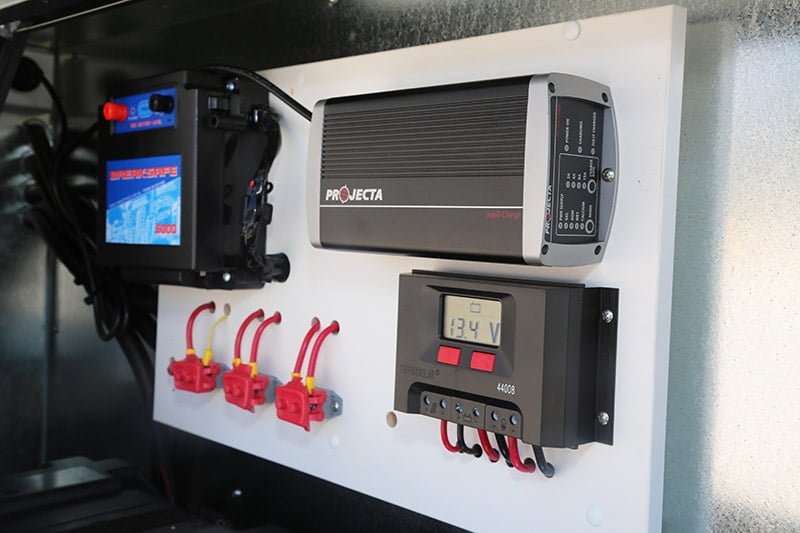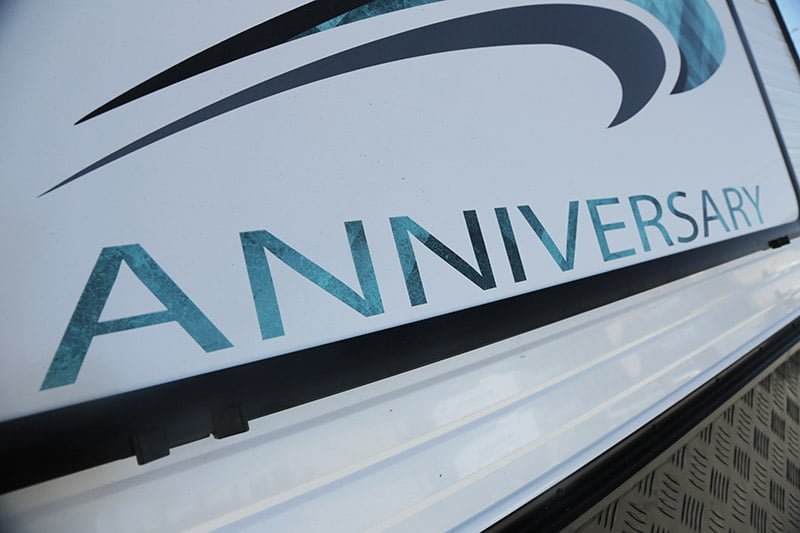 Twelve-volt lighting is used throughout the AG40, lending the caravan a soft, pleasant ambience, while the reverse-cycle air-conditioner will keep things cool in the tropics and warm in less temperate climates.
The appeal of the AG40 is clearly deeper than the fact it's a limited edition release. It is, frankly, a value-laden caravan built by one of Australia's most reputable manufacturers. With clean lines, solid underpinnings, and a beautiful interior, the AG40 is a fitting celebration of Alan Graham's Caravans and RVs' remarkable achievement. Forty years in and stronger than ever, this well-loved dealership is just getting started.