Sometimes you just want to get away to a quiet little spot where the rest of the world can just roll by. You know the sort of place – your own slice of heaven where you just get to be happy with someone special where nobody and nothing can bother you.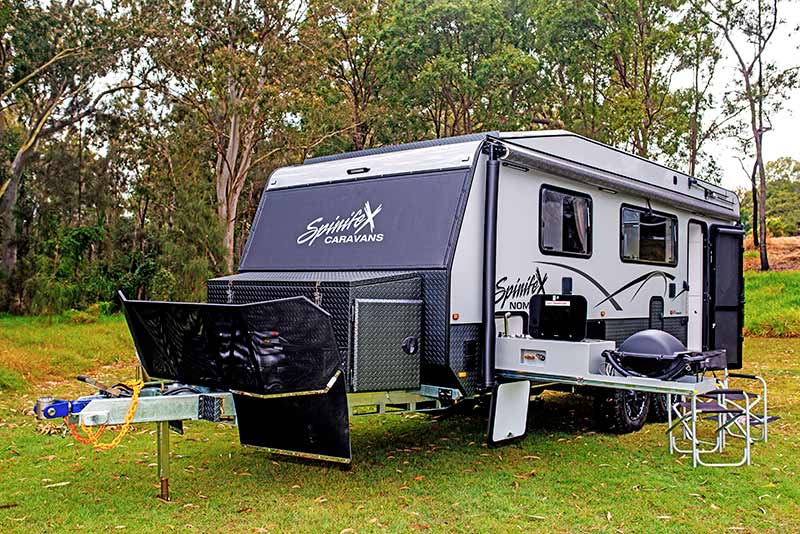 That's the romantic notion of life in the easy lane – life as a nomad. With that in mind, we picked up the high-end Spinifex Caravans Nomadix Premier and took it to a nice and easy spot within the lulling sound and sight of sleepy Pumicestone Passage, whose tide rolls lazily between the Sunshine Coast and Bribie Island, just north of Brisbane.
OUTSIDE THE SPINIFEX CARAVANS NOMADIX PREMIER
This particular van had already been purchased by a happy buyer, who was waiting to collect their rig, so a rough-and-tumble trial was not on offer. However, we still poked around the outside to see what would make this impressive off-roader worth considering.
First up, the Nomadix Premier range is available in sizes between about 4m and 8m. The review rig was 20ft (6.1m). It's intended as a genuine offroad, off-grid tourer, with loads of water storage and a serious 48V system. You should be able to live in total comfort away from civilisation for up to two weeks in this refined machine.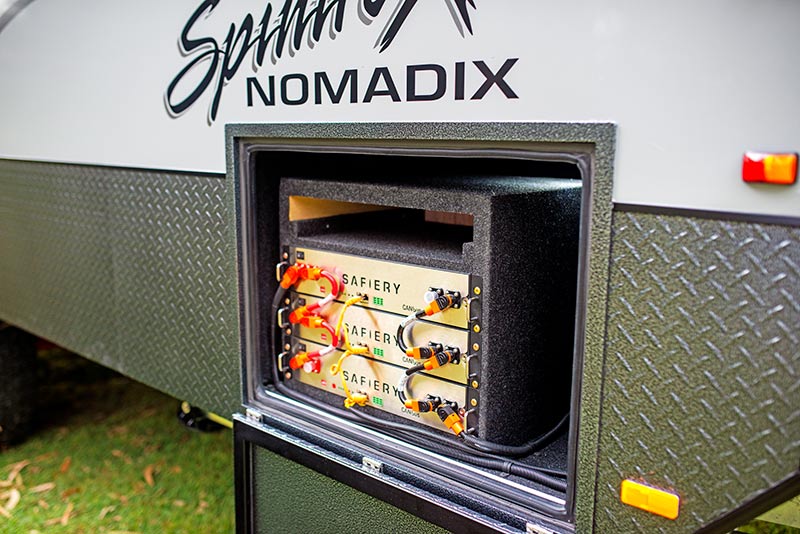 Wrapped around the fibreglass, aluminium-framed walls is powder-coated aluminium armour – the drawbar-mounted storage box is fabricated of the same material. Underneath, a hot-dipped galvanised chassis of BlueScope Australian steel supports the van, which also boasts Cruisemaster independent airbag suspension with disc brakes, which in addition to providing a comfortable ride, provides the convenience of using the airbags to easily level the van east to west when you're at camp. The underside of the van is extensively protected as well.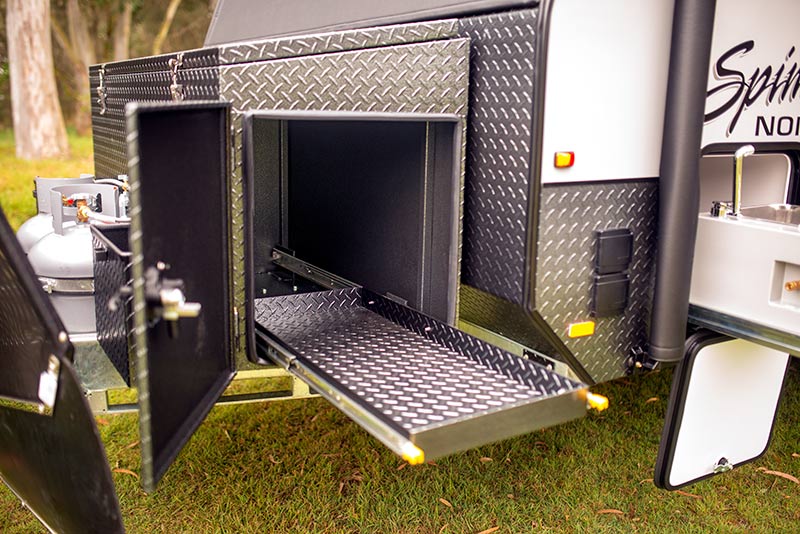 Up front, Spinifex Caravans has mounted two 9kg gas cylinders on the drawbar, flanked by two jerry can holders. The storage box contains two slide-out trays, one either side, and a small but usable tool tray above. Behind this box is a storage system containing multiple slimline Safiery lithium batteries, providing 600Ah of on-demand 48V power, along with a battery management system.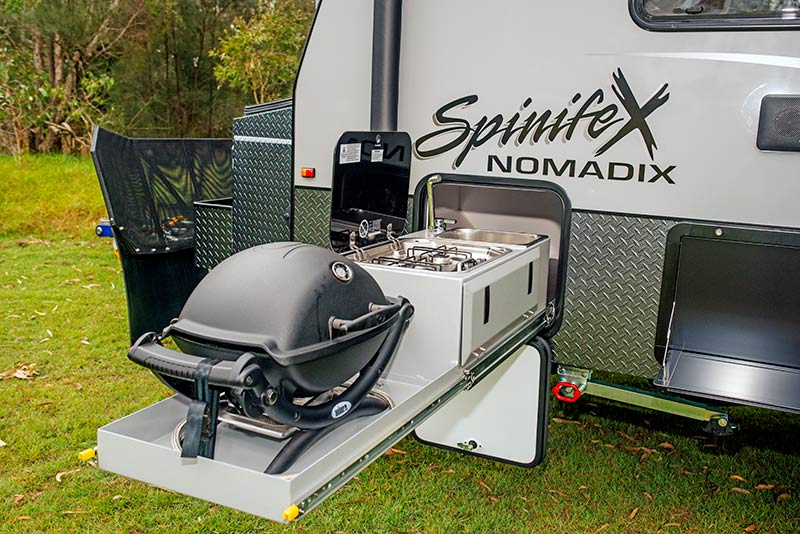 There's 1160W worth of solar panels mounted to the roof, while the Victron 3000W inverter will give you plenty of scope to run your 240V appliances, from the toaster to the kettle to the hairdryer, not to mention the air-conditioner. There's also a Victron digital display inside, which provides at-a-glance information concerning the van's various levels, from water to the batteries' state of charge, not to mention 240V power load.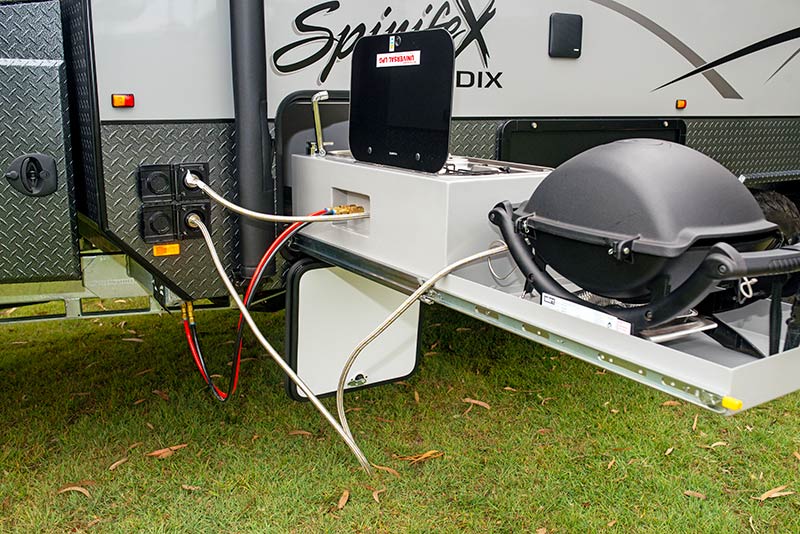 On the nearside, Spinifex Caravans has fitted a quality slide-out exterior kitchen, which features a separate gas cooktop, a sink, and a shelf for a barbecue. Separate gas lines are provided for the stove and barbecue, of course, connecting to bayonet couplings integrated with the cladding, rather than being mounted on the chassis.
To the rear of the external kitchen is the airbag control panel, which allows easy levelling or ride-height adjustment. The user can have complete manual control of the system; then they can set it to automatic to achieve the correct ride height before travel.
The rear of the Spinifex Caravans Nomadix Premier offers a well-made pole storage box with tinder carrier and spare tyre. All up, the exterior build and the quality of the finish is first-rate and very difficult to fault.
STEPPING INSIDE
While the exterior of the Spinifex Caravans is largely about all the rough and tumble that a well-made caravan can handle, the interior is about comfort and convenience.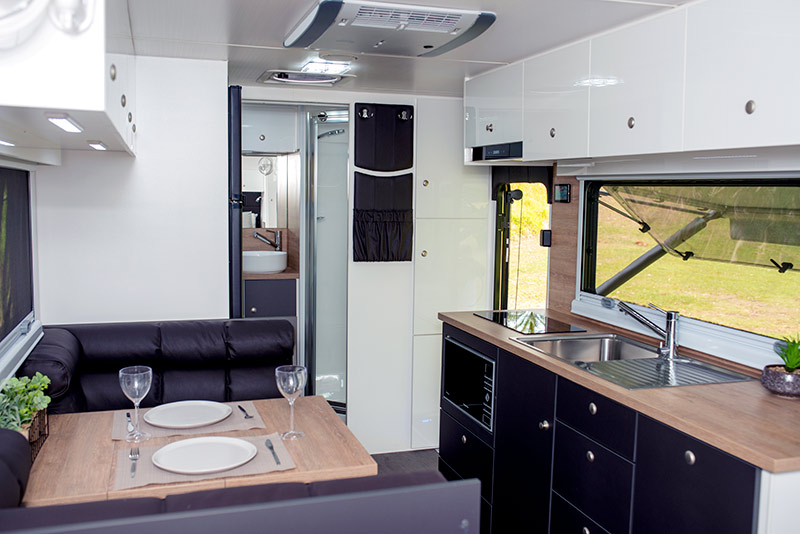 Those worried about wear and tear in high-traffic areas can take a breath as the floor has heavy duty vinyl covering the entire interior floor space. The drawers throughout feature a high grade soft-closing mechanism. 
The bed has a pocket spring bamboo mattress on a slatted lift-up base. So finding a good night's sleep is no problem. While much of the storage space has been taken up by the housing for the tunnel storage system (which contains the batteries and the kitchen), Spinifex Caravans has retained enough space for a couple of storage compartments. The bed base is neatly finished off, too.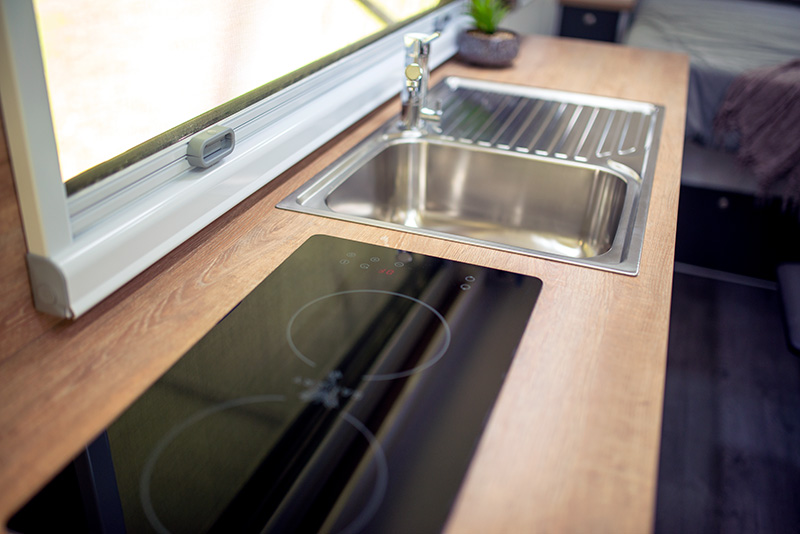 There's enough inside to keep travelling gourmets happy, featuring an electric induction cooktop, and a convection microwave, rather than the standard Swift oven that the range usually carries. You can keep the beer cold in the good-sized Bushman 285L compressor fridge-freezer.
When it comes to time to eat, you're sitting back and enjoying your dinner on the dinette's pillowtop genuine leather seats. The dinette's fold-out tabletop is very attractive, I'll add.
While the ensuite has an almost 'traditional' look, it is clearly a quality build. It boasts a vanity with a ceramic sink, flick-mixer tap and mirror. A nice-sized but not overly large shower helps finish the ensemble.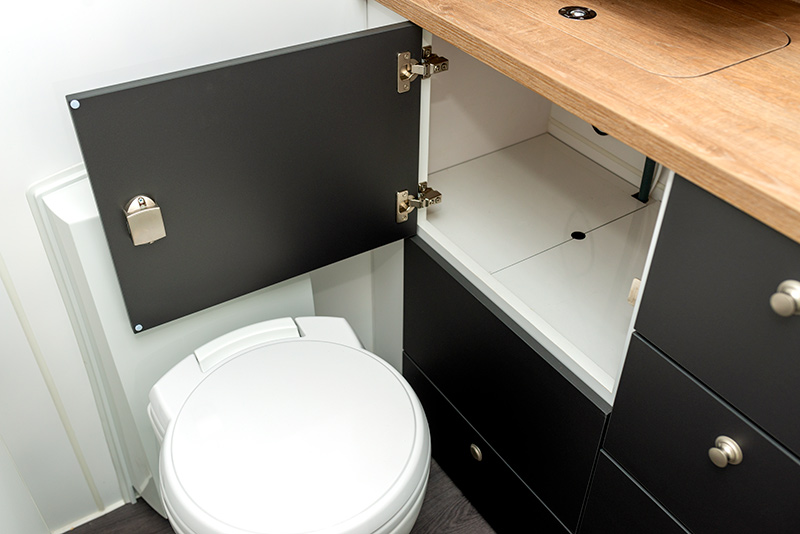 When it comes to water storage, our review Spinifex Nomadix Premier has ample. In fact, it comes with five 83L water tanks (for a combined 415L) dedicated for showering and other uses. And there's yet another 83L tank intended for drinking water only. As if that isn't enough, this van even sports an 83L grey water tank. As you can see, when it comes to being self-contained in remote areas, this van has a great deal to offer.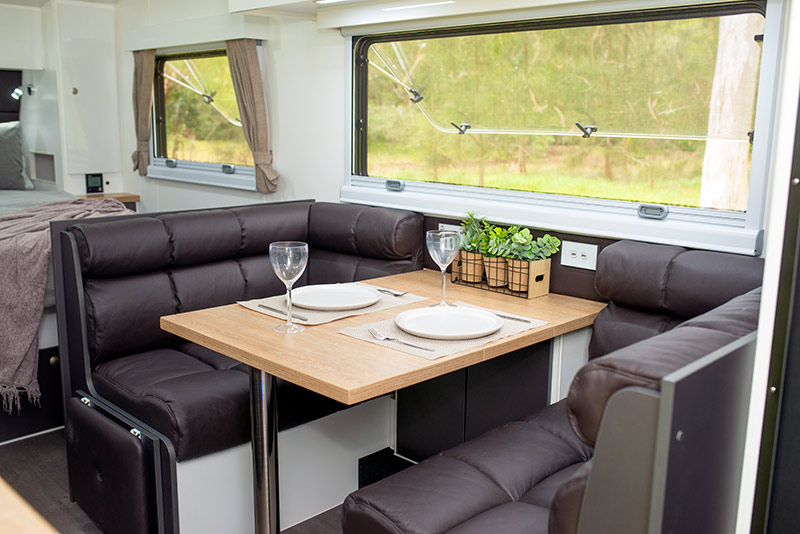 What's more, you're not going to have a problem with getting enough hot water for your shower, thanks to the Truma instantaneous hot water heater with electronic ignition that Spinifex provides on this van. There's a washing machine, too. Oh, and satellite TV and your choice of a gas or diesel heater. The list just seems to go on and on…
GORV'S VERDICT
The key points for this van are its genuine self-sufficiency, provided by the very generous water storage system and 48V system, along with its airbag suspension, ample well-built storage inside and out, and a very comfortable bed and dinette. That nice combo of a bamboo bed and leather upholstery really hit the mark.
Additionally, the finish is very impressive, and the list of features is fantastic, too, but I should point out that this van was optioned up quite a bit by its owner – Spinifex is no stranger to custom builds. 
While an electronic step at the door and larger windows by the bed may have been nice, there is no doubt that this is a high-end, quality rig that its owners are likely to treasure for years to come.
All of this comes at a cost, and not just in terms of dollars. Weight wise, our review Spinifex Caravans Nomadix Premier tipped the scales at 3040kg, with an ATM of 4000kg as standard, so the choice of tow vehicle is very important with this van. If necessary, you can upgrade this rig's ATM to 4500kg.
But if you are in the market for a genuinely self-contained off roader, this van is well and truly worth looking at.
THE SCORE
FIT AND FINISH –

LAYOUT –

INNOVATION –

HITS & MISSES