Finding an adventure is about taking the journey as much as it is about arriving at the unexpected destination. With that in mind, I was keen to see if the Spinifex Xscape has all it needs to turn any adventurous journey into a wonderful memory.'
ON THE OUTSIDE
Spinifex Caravans has gained a reputation of producing sturdy products; the Xscape is no exception.  From the ground up, it certainly has the stuff that a would-be caravanner should expect from a van that will take them to many of the far-flung corners of the continent.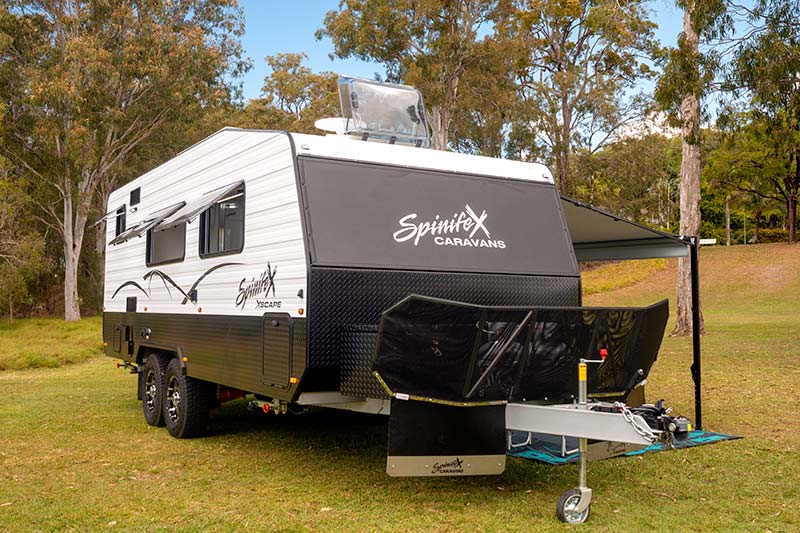 Now, the Spinifex Caravans Xscape is an 'entry level' caravan. However, there is nothing entry level about it, at least not in terms of spec level or build quality. Rather, when Spinifex says this caravan is entry level, it means in terms of its range. After all Spinifex is known for building high-end caravans that have been extensively fitted out for rough-road and offroad touring.
The aluminium-framed Xscape boasts a 150mm (6in) DuraGal chassis with a 2m (extended) drawbar, with a large storage box and drop-down legs. Other features include a mesh stoneguard on the drawbar, galvanised wheel arches and Cruisemaster's proven CRS semi offroad independent coil suspension with twin shock aborbers.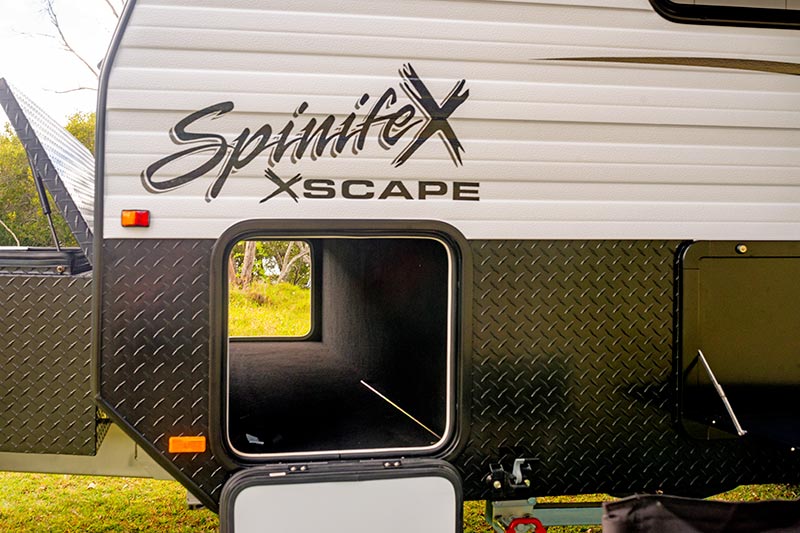 The term 'semi off-road' is often bandied about. However, for my money it should mean you're towing a van that can tackle most outback roads. That includes treks along stony gibber tracks out Winton way when you're tracking dinosaurs, or exploring the tricky sand tracks found around Queensland's Fraser coastline when you're looking for pristine, beautiful beaches. The Xscape ticks those boxes and more.
Spinifex Caravans has saved weight on the van where possible. One of these measures involves the lighter cladding used. Additionally, as Spinifex Caravans sales manager Mark Evans said, the company fitted 16in wheels rather than the 17in wheels fitted by some manufactures of comparable vans in order to save a little weight.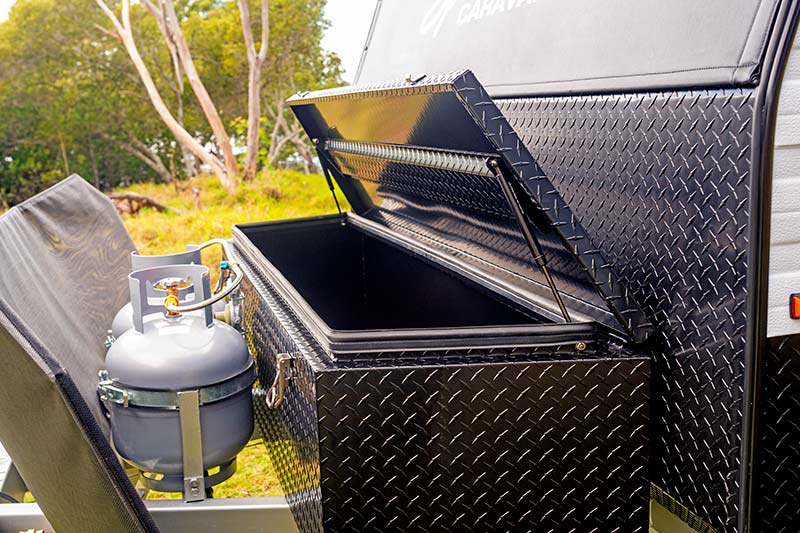 Storage-wise, the exterior has a sizeable storage box up front and, when combined with a handy front tunnel boot, means the van has a decent amount of room for tools, torches, poles and other bits and bobs.
And this brings us back to payload. With a Tare weight of 2360kg and an ATM rating of 3500kg, the Xscape offers 1140kg to account for water, food, your gear, etc.
A convenient dropdown table with TV port makes outdoor living a nice experience. Although the absence of an exterior slide-out kitchen keeps the weight and cost down, travelling outdoor chefs are likely to frown a little – unless they pack their own barbecue.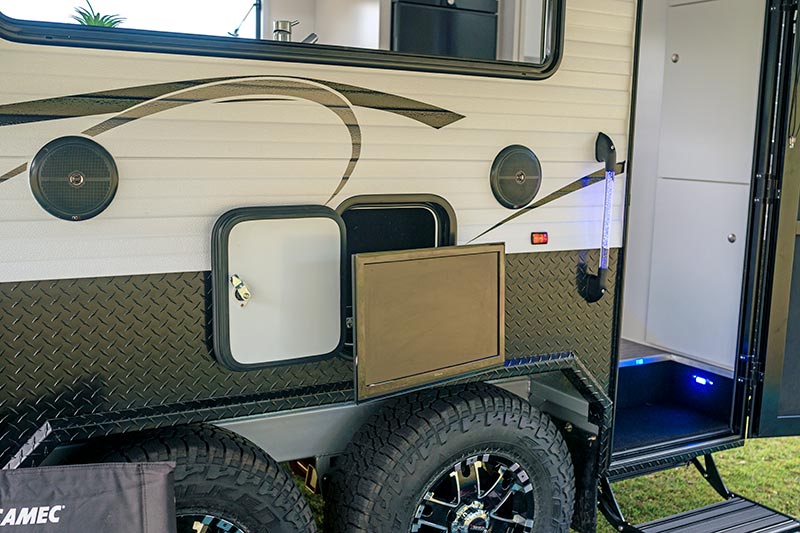 Just a little detail: this van has a guard protecting the freshwater tap on the drawbar – always worth noting.
SPINIFEX CARAVANS: ON THE INSIDE
On first impressions, the Spinifex Caravans Xscape is simple, stylish, with a clean look that won't date quickly.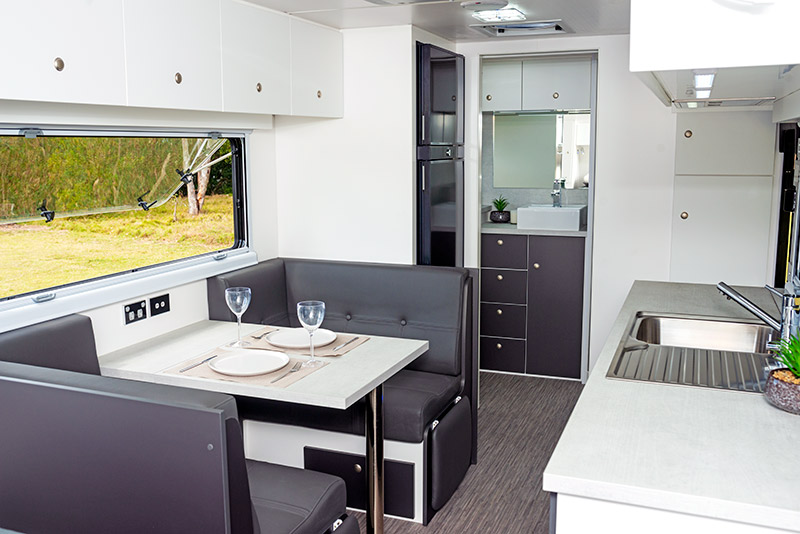 The dinette looks good dressed in microfibre leather, which is a fine option because it offers durability, style and comfort at a reasonable price.
Beside the dinette is a nicely appointed kitchen with a Swift gas-electric cooktop, griller and microwave. A good-size Dometic fridge, ample laminated benchtop space, and stainless-steel sink and flick mixer complete the picture.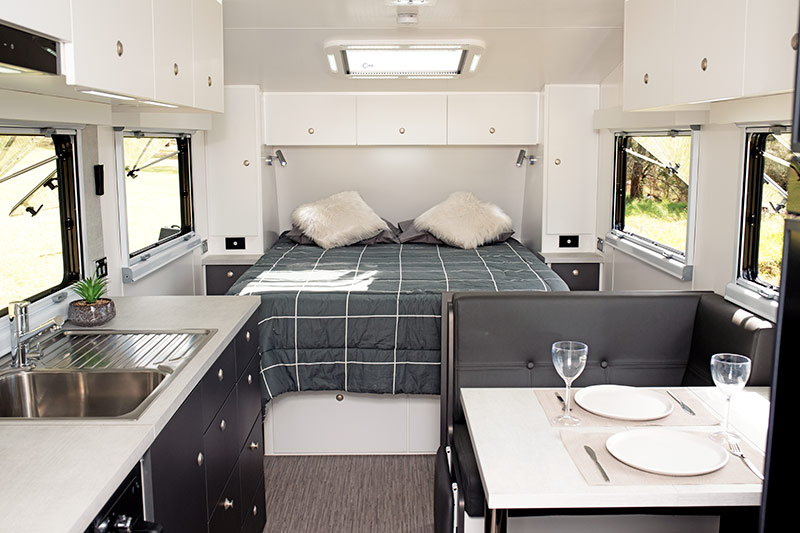 Although it might be argued that the kitchen is perhaps a little short on storage space, in reality for a few days away on the open road, I think there is plenty.
Entertainment-wise, the Xscape has a bluetooth stereo system, twin internal speakers and twin external speakers. There is also a 24in smart TV.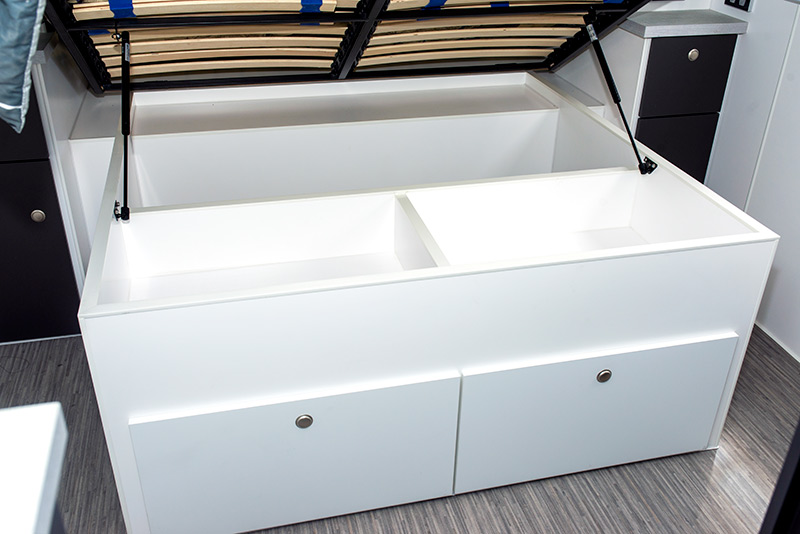 When it comes to getting a good night sleep, the quality here is fine. Plenty of under-bed storage supports a pocket spring mattress on a slatted lift-up bed base.
The ensuite/laundry includes a 3kg top-loading washing machine, ceramic toilet and vanity with flick mixer.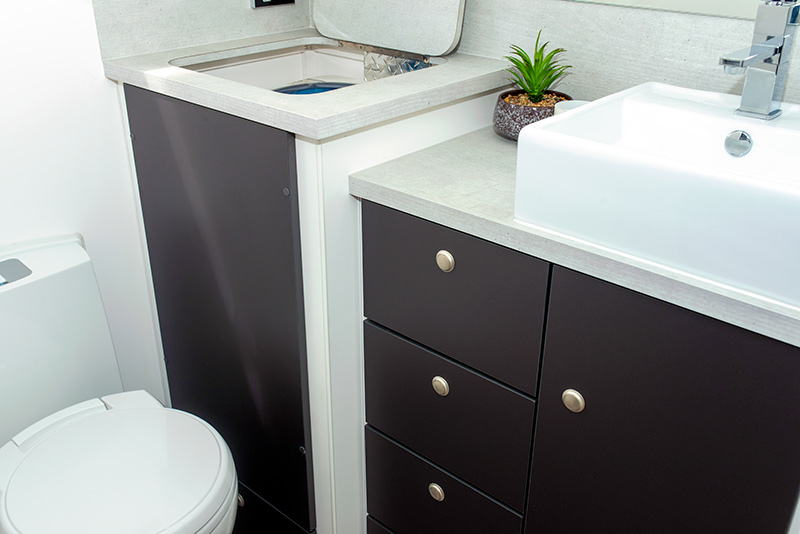 All up, the interior lines are clean and the design is straightforward and elegant.
As standard, the Xscape has two 83L freshwater tanks and an 83L grey water tank, with scope to upgrade the freshwater capacity by adding a couple of additional tanks. Power wise, the van is fitted with a 200Ah lithium battery, a BMPRO BatteryPlus35 battery management system, and dual 170W solar panels.
GORV'S VERDICT
Yes, the idea of 'entry level' is quite subjective and the idea of an 'entry level' caravan priced at near $90,000 is a little incongruous. However, this is an entry-level van in a high-end range of caravans that is very well regarded by caravanners, both on-road tourers and offroad enthusiasts alike.
What's more, Xscape is a van with a little longitude for customising. So if the price tag suits your budget, in terms of layout, style, build quality, ride height and more, the Xscape by Spinifex Caravans is certainly worth considering.
THE SCORE
FIT AND FINISH –

LAYOUT –  

INNOVATION –

HITS & MISSES