Mention offroad vans and campers and, London to a brick, Track Trailer would figure into the conversation.
Based in Bayswater North, Vic, in a purpose-built factory and showroom known as Outback HQ, Track Trailer builds the venerable Tvan. It's Track Trailer's flagship, the legendary rig for which the company is best known. But it has others in its line-up, including a range of hybrids that began in 2008 with the release of the Topaz.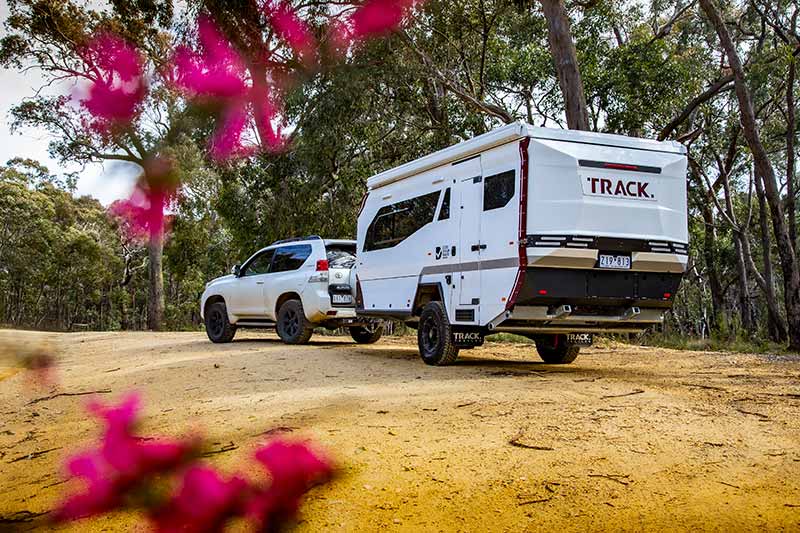 This unit has been refined over the years to its current iteration, known as the T4 and available in three variants: the Concerto, which is geared towards families, the Symphony, which is designed to be the flexible with a full interior kitchen, and our review van, the Rhapsody, which features an internal ensuite.
ENGINEERING PROWESS
Track Trailer doesn't just employ staff who know how to operate a CNC machine or even a staple gun. The company has engineers and a solutions-based work culture, not to mention the machinery, that results in some of the most capable and praise-worthy campers in Australia.
That's not just me saying it, by the way. In fact, the T4 won a Good Design Award for Engineering Design.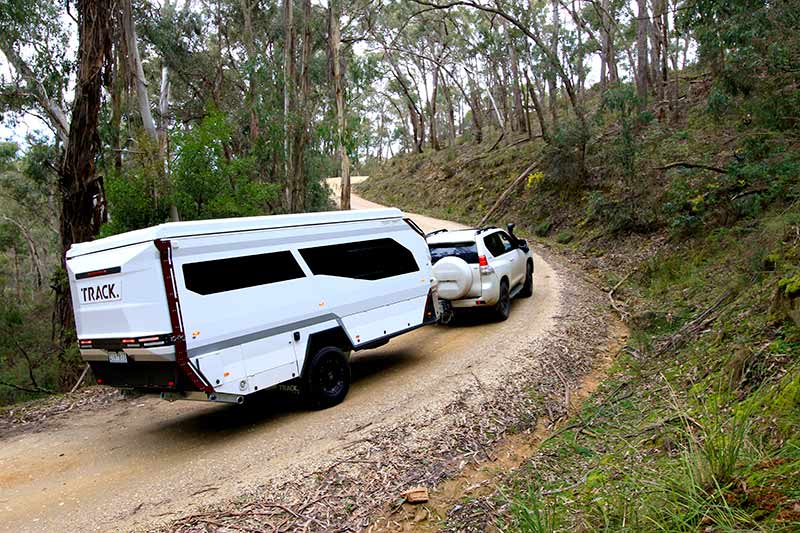 The T4 Rhapsody, like all Track Trailers, rides on the company's inhouse-built hot-dipped-galvanised chassis. It naturally has Track's legendary – there's that word again – MC2-R asymmetric link independent suspension, which the company originally built for our military. It offers 230mm of wheel travel through custom springs and shock absorbers. It has been uprated from 2.2 tonnes on the previous Topaz to 2.5 tonnes on the T4.
The wall panels are laser-cut aluminium and have longitudinal ridges which, Track Trailer's Lloyd Waldron told me, not only add a design difference but add to the camper's structural strength. 
Highlighting Track's engineering and design prowess, these panels incorporate seamlessly-integrated automotive-glass windows, rather than awning windows purchased from an industry supplier.
On that same note, Track doesn't fit the type of door found on most caravans in Australia – it builds its own.
A major benefit of the T4 stable that you won't find on its nearest competitors: the pop-top roof lifts automatically at the push of a button on a smartphone app via Bluetooth or the internal screen. The electric awning operates in the same way. Both can be operated manually, however, in the event the electrics fail.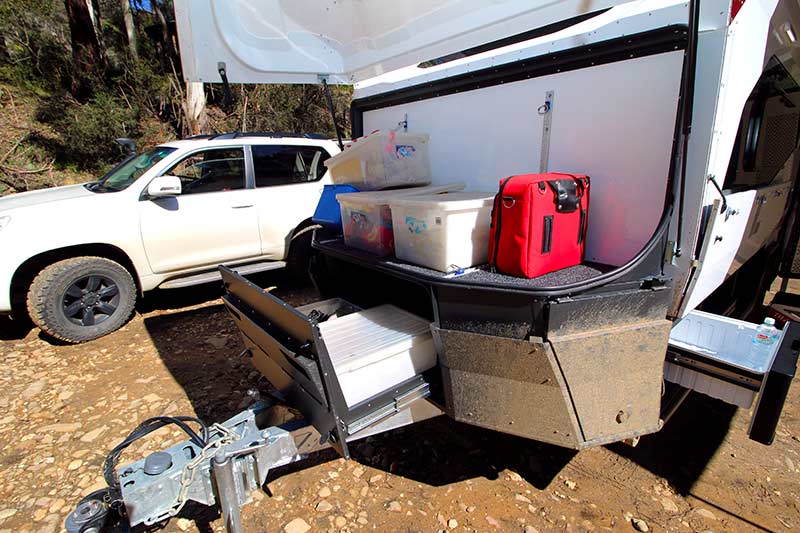 Up front, you'll find a fibreglass nose cone that lifts to reveal a massive storage space – in fact, external storage space is a distinct highpoint. The Rhapsody offers more of it than most 24ft caravans.
At the back, meanwhile, is another fibreglass clamshell-style pod. Being a Rhapsody, this area features a 'no-fly zone', essentially a tent with midge-proof screens that drops from the opened pod to offer respite from insects. Naturally, this area could also be used as camping accommodation – throw in some portable bunks and the kids are set.
The two other models in the T4 range have an external canvas bathroom instead, since the Rhapsody is the only model to have an internal bathroom.
At the rear, you'll also find a couple of hitch receivers to which you could mount your preferred accessories, such as a bike rack or a swing-away spare wheel carrier (the spare is located on an under-body winch). Twin lockers above give access to an external shower as well as the valves for the hot/cold water and gas.
On the nearside, Track fitted an optional 40L drawer fridge next to a cavernous storage space. This space, however, can be fitted instead with a generous stainless steel kitchen from the Tvan on the Symphony and Rhapsody models – it's standard on the Concerto.
All locker doors on the T4 not only fit with absolute precision, they get compression locks, making them suitable for water crossings and keeping the bull dust at bay. 
In terms of 12V power, the Rhapsody comes from the factory with a decent system that can be well and truly upgraded according to your needs and budget. As standard, it has dual 105Ah AGM batteries, dual 120W solar panels, a 300W pure sine wave inverter, a 25A DC-DC charger and MPPT solar regulator. Water wise, it has dual 75L fresh water tanks and a 39L grey tank.
Our Rhapsody was fitted with the so-called 1st Edition Pack. Among the extensive list of features included in this pack, it received a 130L water tank upgrade on the standard 75L and a complete Redarc upgrade to the electrics, including a 700W inverter and Redarc RedVision control hub.
INSIDE TRACK TRAILER T4 RHAPSODY
At first glance, the T4 Rhapsody looks on the 'slim' side. True, at 1990mm, it is narrower than any caravan, allowing it to travel neatly behind the 4WD. Furthermore, it is a perfectly acceptable 1811kg Tare (as reviewed), with an ATM of 2500kg – perfect for the Prado owners out there.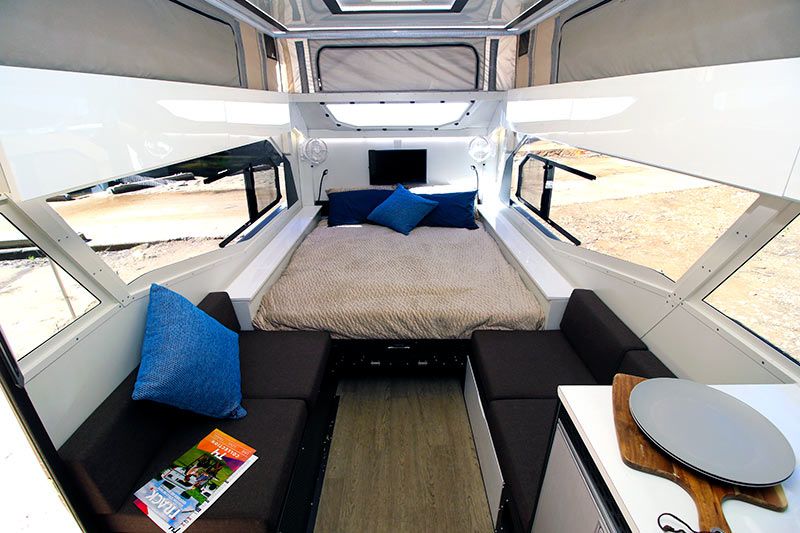 Step inside and you'll find one of the most refined interiors of any hybrid. Virtually all components are designed and built by Track, leading to a cohesive interior finish.
The layout incorporates a queen-size bed in the nose of the van, followed by two facing seats, a small kitchen tucked into the rear offside corner and a bathroom in the opposite corner. But this van has a few tricks up its sleeve.
First, the dinette table. It's another Track custom job that almost effortlessly slides out from under the bed before lifting into position on a special arm.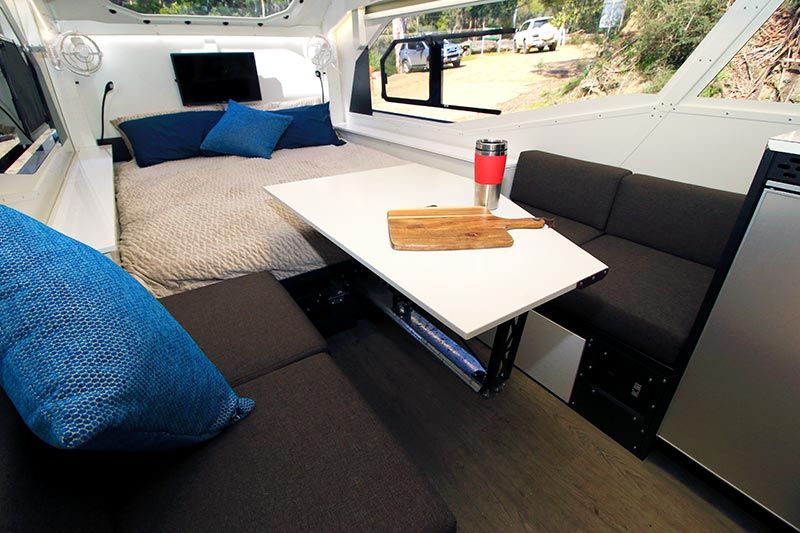 Then there's the 'hidden' pantry that, at the push of a button, rises from the rearmost kitchen corner – the perfect spot to put the 12V coffee machine.
What about the central locking system for the internal cupboard doors? Yes, central locking. Push a button on the Redarc RedVision control unit and you'll hear the locks engage – say goodbye to spilled cupboard contents. This feature, however, only works on internal cupboard doors at this stage. It would be brilliant if, in the future, it extended to the external lockers.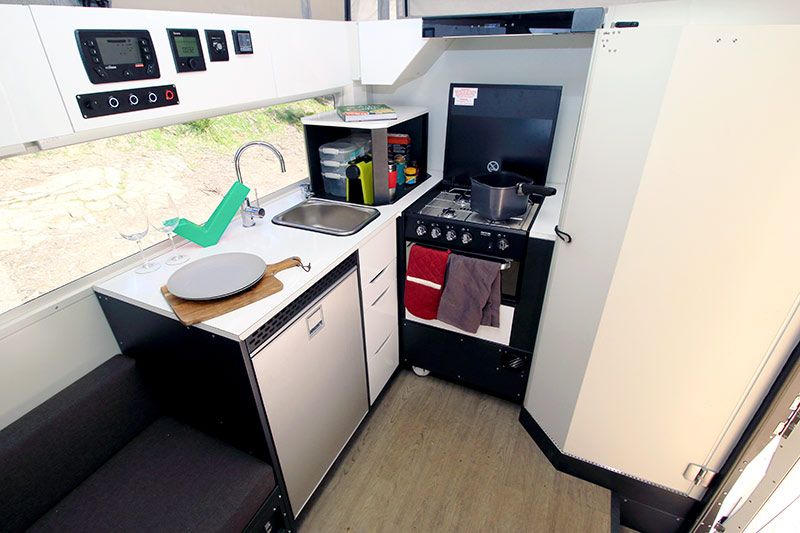 You can also control the lighting system via three buttons, each activating a separate lighting system, with a dimmer switch allowing you to control the brightness.
The bathroom is made of moulded fibreglass and contains a neat drainage system connected to the grey water tank. Equally neat are the bathroom wall extension pieces for complete privacy.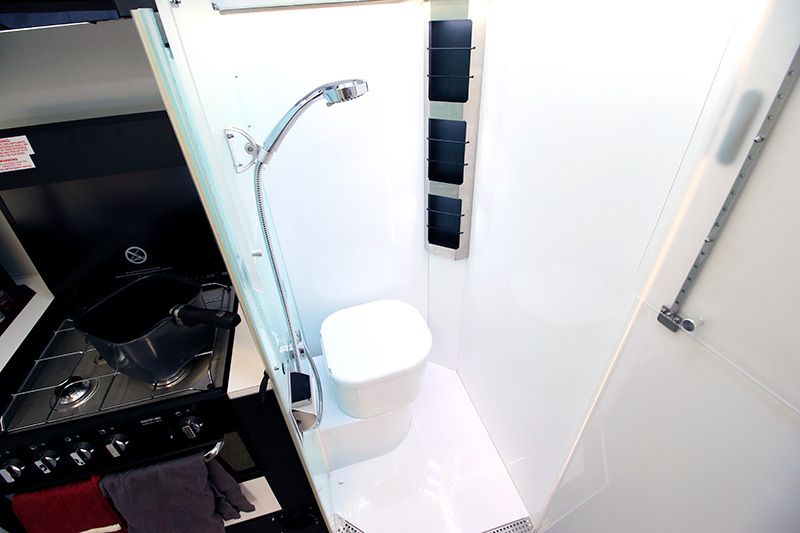 The best bit, though, is the fact Track Trailer has fitted a microswitch that will prevent the roof from being electrically lowered when these wall extensions are up. Brilliant.
GORV'S VERDICT
This review only scratches the surface of what is a highly engineered and refined unit. Is it perfect? That depends on your definition. I, for one, think it comes pretty close.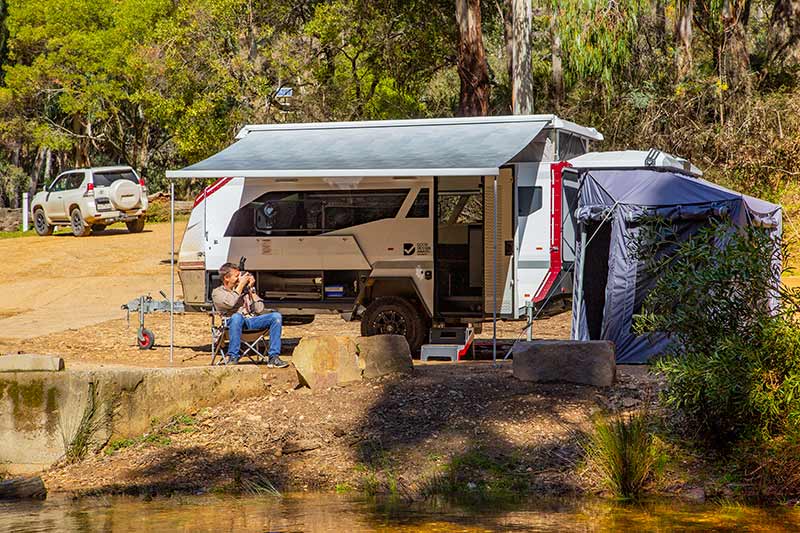 However, all of this precision and technology comes at a cost. In base format, the Rhapsody will run you $109,000, while you can expect to pay $123,500 if you fit it with Track Trailer's '1st Edition' pack (based on Victorian delivery).
For the money, you might expect to find air-con and a few other niceties as standard. But air-con and a vast range of other options can be fitted separately for a price.
The adage 'you get what you pay for' comes to mind. And with the T4 Rhapsody, which sets a new benchmark in the hybrid market, what you get is very good indeed.
THE SCORE
FIT AND FINISH –

LAYOUT –

INNOVATION –

HITS & MISSES