Rio Caravans is an up and coming manufacturer based in Australia's caravan manufacturing capital: Campbellfield, Vic. Operating out of an unassuming factory filled with vans under construction, Rio Caravans has been at it for about seven years, slowly building up a customer base.
The company, which also operates Great Alpine Caravans, has an emphasis on customisation. However, numerous designs are available 'off the shelf'. One such design is the semi-offroad 21ft 6in Rio Escape bunk van.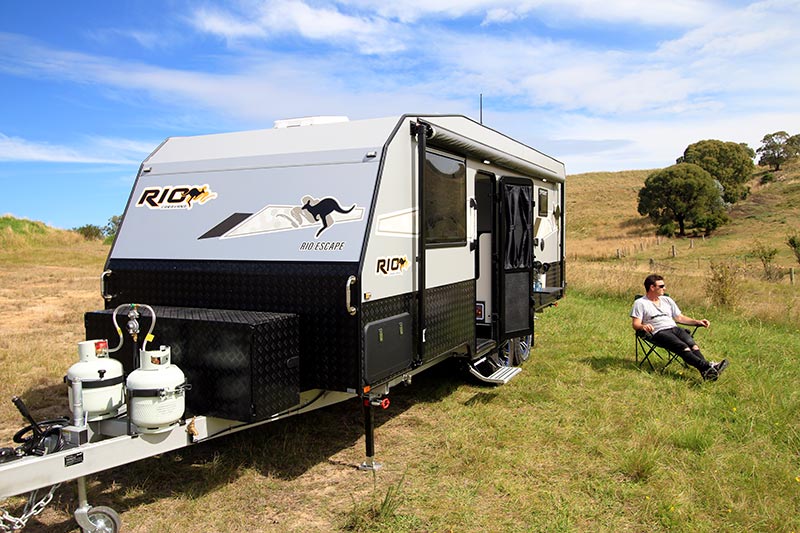 Available with two or three bunks and in three different framing materials, the Rio Escape offers spacious, comfortable touring, packaged with the gear you'll need to hit those awesome freedom camps.
STEP INSIDE
Our Rio Escape had a time-honoured layout featuring a rear kids' bedroom, with three bunks on the offside, a separate ensuite on the nearside, an amidships offside kitchen with adjacent dinette, and main bedroom in the nose. Because it offers distinct zones for the kids and the parents, with a curtain for privacy in the rear bedroom, it's an excellent family layout.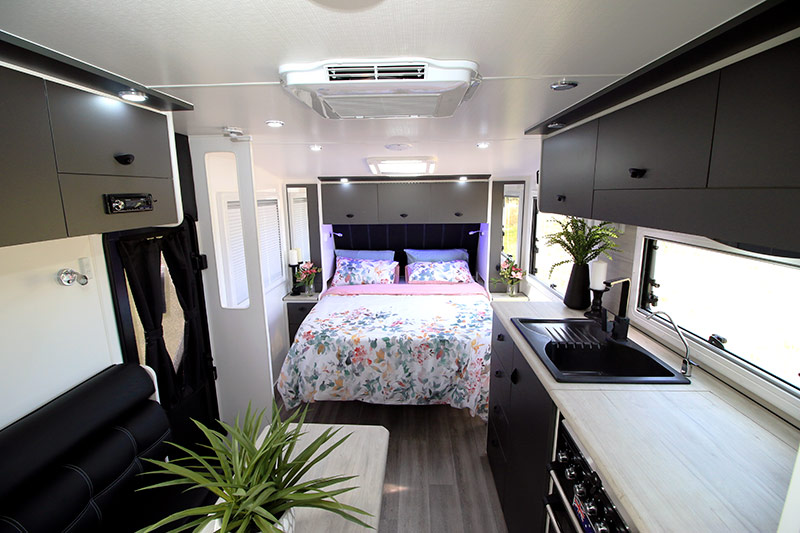 I noticed that despite three bunks being fitted, each had a generous amount of head room, while the bunks themselves were of a decent size. Each had its own reading light, 240V and 12V charging point.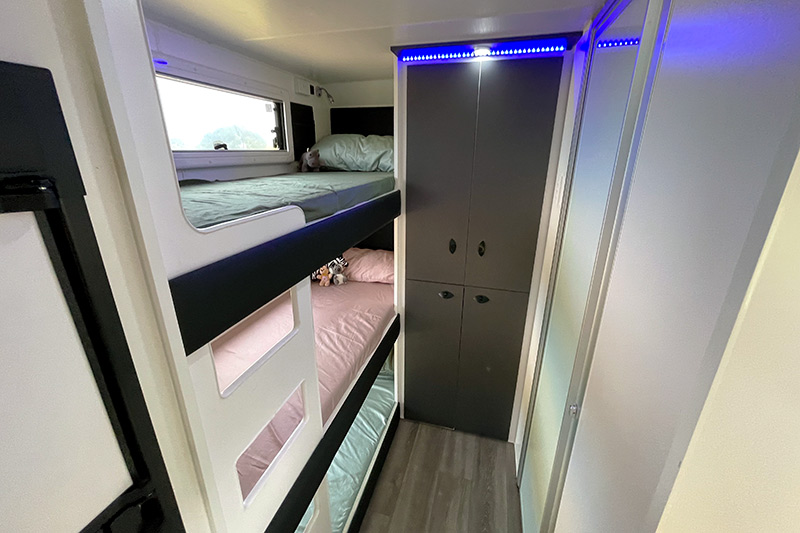 A cabinet fills out the space on the rear wall, with shelving for the kids' gear in the top half, and a front-loading washing machine at the bottom.
The ensuite is attractive. You'll find here a swivel cassette toilet, a vanity with mirror and storage space, and a separate fully-moulded fibreglass shower – the only join is at the top and it's neatly gapped with white silicone.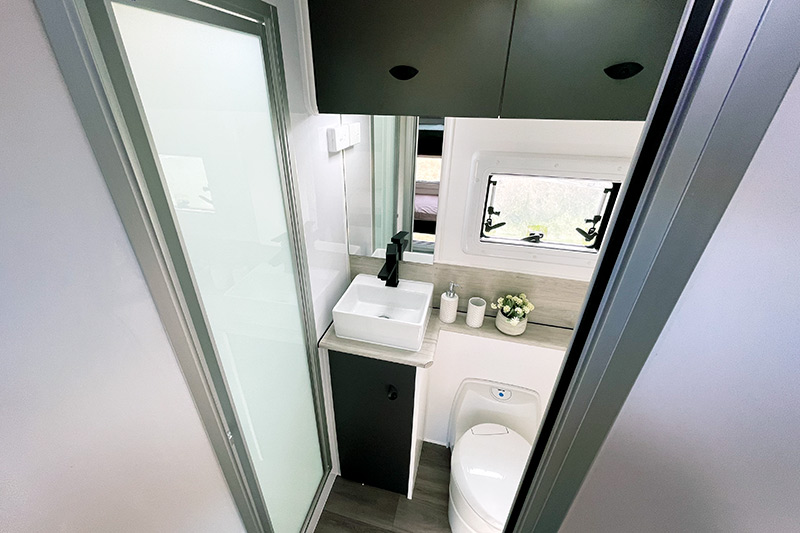 The kitchen, meanwhile, is equipped with a Thetford 182L three-way fridge with an NCE microwave recessed into the cabinetry above. The kitchen doesn't offer a great deal of bench space, though. Caravan design is always a trade-off – to fit a larger kitchen would've required a smaller front or rear bedroom, or increasing the length of the van. However, the Swift cooktop, griller and oven are recessed into the bench, with a hinged section of benchtop above that can be used for meal prep.
The van comes standard with Rio Caravans' 'Black Series' package. Among the inclusions, this includes a classy black kitchen sink and black tapware.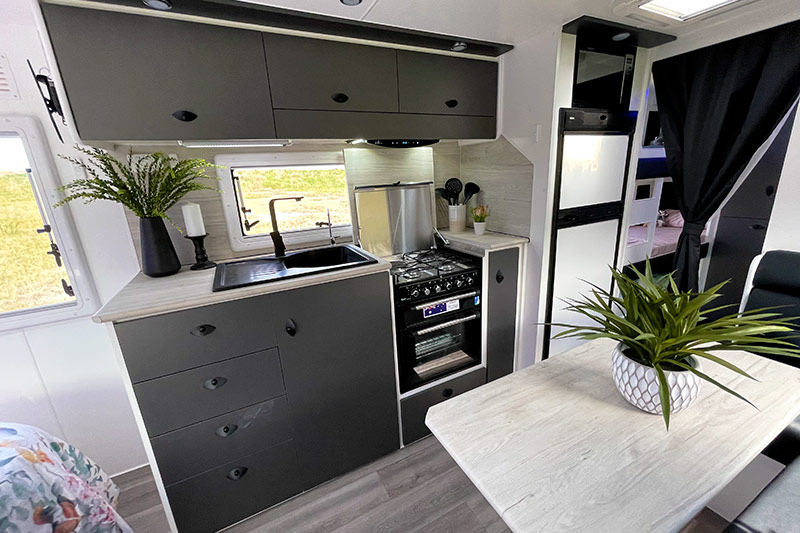 Rio Caravans has also included a pull-out pantry, numerous cupboards, drawers and overhead lockers. The lockers, which open on piano hinges, are finished in a matte laminate designed to not show up fingerprints. In one locker above the kitchen you'll find the 12V fuses, water level indicators, gas/electric hot water service switches, water pump switch, the regulator for the dual 170W solar panels mounted to the roof, as well as the battery charger. Centralising all of this equipment inside one locker just makes sense.
The L-shaped dinette is finished in a leather-look vinyl upholstery with attractive stitching. While there is a hatch to the space beneath, you'll need to lift the cushions to access most of this storage area. I appreciated that Rio had included a 240V and 12V point on the wall nearby, I might opt for these to be included in the leg space as well – that way, laptop cords, etc., are kept out of the way.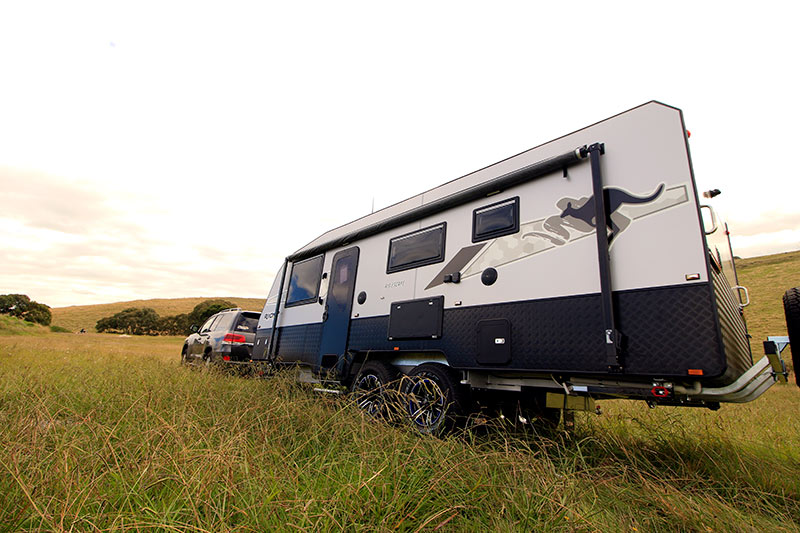 The front bedroom is open and filled with natural light, thanks to the roof hatch and large windows either side of the bed. The vertical mirrors mounted to each wardrobe door help, too. Each wardrobe is complete with hanging space, a small lower cupboard, and a bedside table and drawer. Often, a manufacturer will eschew the bedside table when they've also fitted a wardrobe niche; however, Rio Caravans includes both – each niche also gets 240V and 12V points.
Other features found throughout the van include a swivel arm for a flatscreen TV, a sound system with internal and external speakers, a Belaire reverse-cycle air-conditioner, a series of downlights and multidirectional reading lights with built-in blue nightlights.
OUTSIDE THE RIO CARAVANS ESCAPE
The 21ft 6in Rio Escape is built upon a 6in G&S SupaGal chassis with 2in raiser, with a 6in A-frame that runs back to the suspension.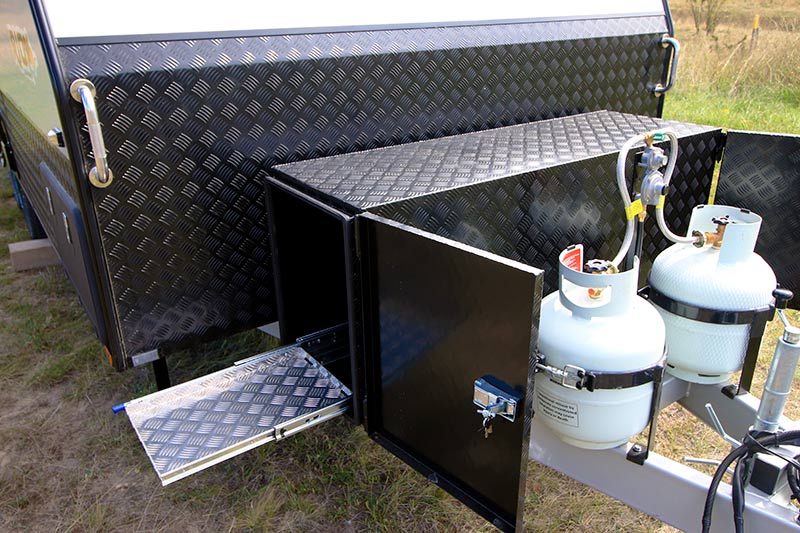 Being a semi-offroad van, it is equipped with Al-Ko's well-regarded Cross Country 2.0 independent coil trailing arm suspension system. The running gear also includes 16in alloy wheels and 12in electric brakes.
At the pointy end, you'll find a DO35 coupling, a 12-pin trailer plug, Anderson plug for charging the van's dual 100Ah deep-cycle batteries while under way, as well as the cable for the rear-view camera (the in-cab display is provided).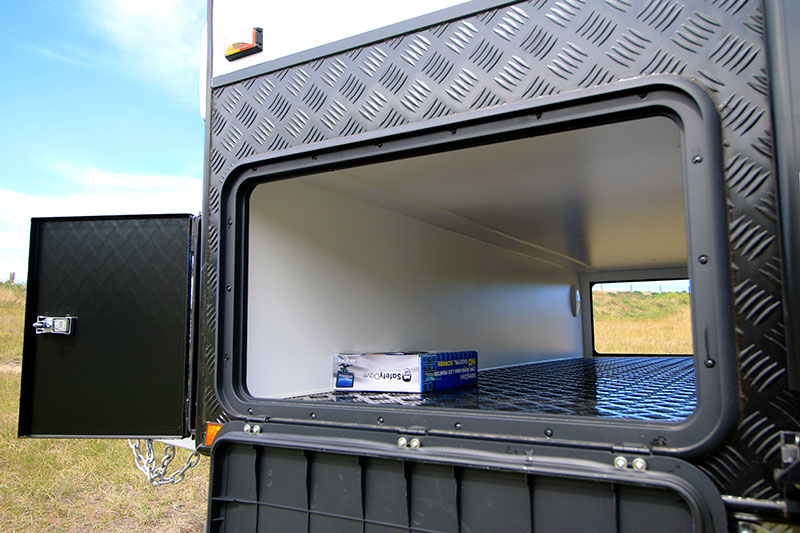 Two 9kg gas cylinders are mounted in front of a large checkerplate storage box that includes a slide-out tray on the offside to suit a small generator or portable fridge. While arguably not necessary for a van such as this, I'd still like a mesh stoneguard on the A-frame and a guard for the fresh water tap found on the nearside A-frame rail.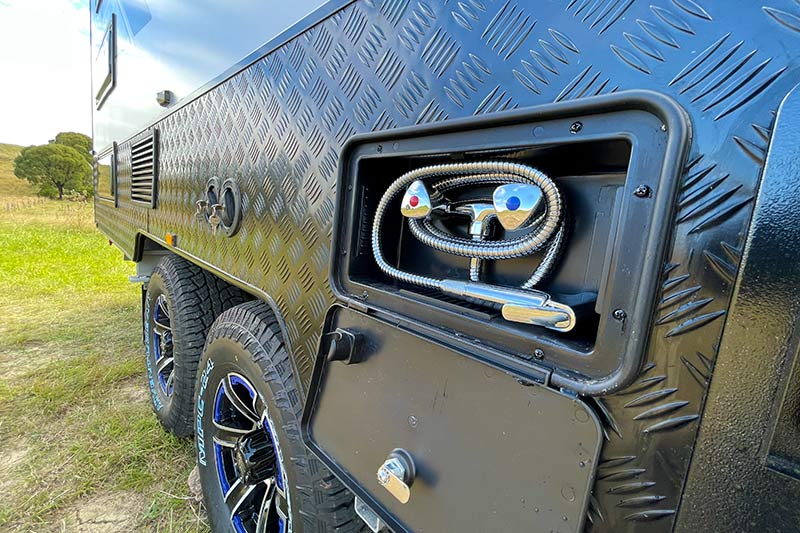 The Rio Escape has two 95L fresh water tanks forward of the axle set and a 95L grey water tank towards the rear. When full, the fresh water tanks will have a bearing on the van's ball weight and given its unladen weight of 250kg, the tow vehicle would probably need to be able to shoulder up to 350kg on the ball. In any event, the ATM of 3243kg suggests a muscular 4WD will be required.
While our review van had a meranti timber frame clad with smooth composite aluminium and black checkerplate, customers can opt for an aluminium frame or full CNC-routed 18mm ply. The ply construction method, while not common throughout the caravan manufacturing industry, offers a great deal of strength.
Other features of the van include a full-length awning and awning lights, a spacious tunnel boot, a shower on the offside, and even a nearside gas bayonet, near the tunnel boot. Later on, you could add a barbecue to the tunnel boot on a slide-out tray, or why not get them to add that at the factory?
GORV'S VERDICT
So where might you take the Rio Escape? Well, this van should be at home in any caravan park in Australia along with many of our amazing freedom camps. It's capable of moderate undulations negotiated with care, and with the right tow vehicle, it should provide many years of happy, comfortable touring.
THE SCORE
FIT AND FINISH –

LAYOUT –

INNOVATION –

HITS & MISSES