The Tanami Track is a 'bucket list' road for many. It puts your rig to the test, as well as your driving skills.
It's a relentlessly challenging, mentally exhausting, teeth-chattering, boob-jiggling, bladder-busting road, thanks to its famous rough corrugations. (Ladies, I recommend a sports bra to support 'the girls'!)
PREPARATION
Given its notoriety for rendering cars, caravans and trailers defective, a lot of time and energy went into preparing for the Tanami. Being a full-time travelling family, (with our entire lives on the road with us), we wanted to make it out the other end in one piece.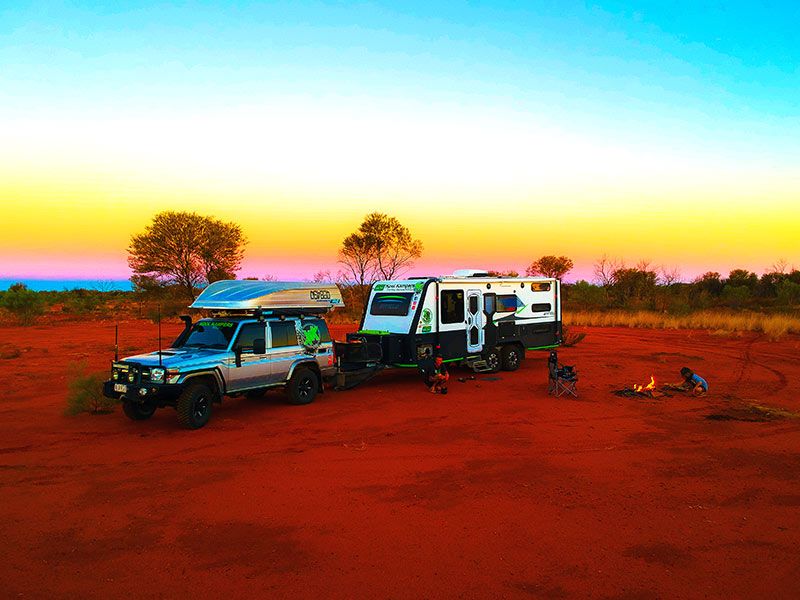 We assessed everything inside the van, learning how things moved around on rough roads by putting our GoPro in various positions to give us 'eyes' during transit, and adjusted things accordingly. 
Visual and audio checks were carried out around the 4WD and van, and tyre pressures and torque settings were researched and set.
The closure of Rabbit Flat Roadhouse meant the 600km between fuel stops was a major concern. Worst case scenario: our Cruiser would use 30L /100km, so we carried an extra 100L as well as a heap of spares – particularly nuts and bolts – (and a spare swivel hub kit as ours was on its way out).
TANAMI TRACK DESERT
Thick red dirt for as far as the eye can see. Random rows of naked, charcoaled trees curved forward, reaching in desperation for water in the dry conditions. Fragments of new life rose amongst their charred roots in fire-devastated patches.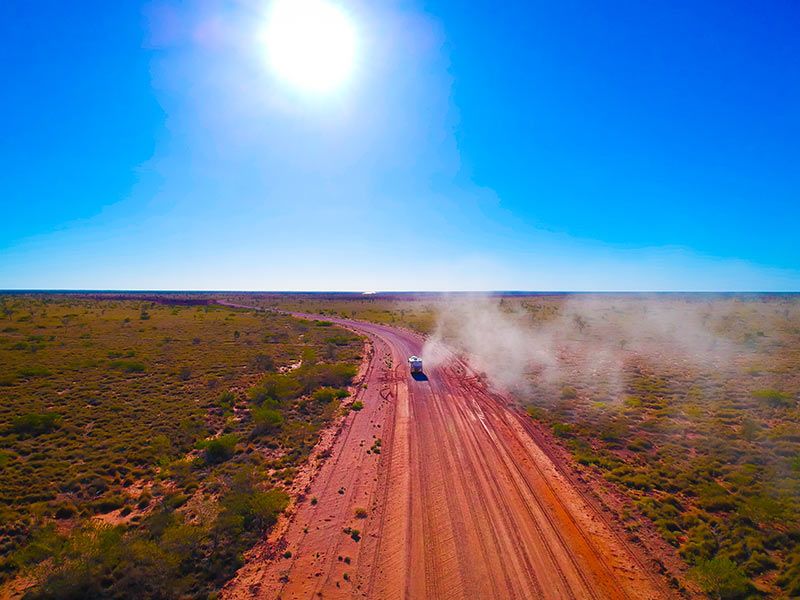 Bright yellow spinifex contrasted next to the sparse greenery – with a layer of red where the wind and passing vehicles had left a sprinkling of dirt in their midst.
The changing rugged landscape on the Tanami epitomises the outback. There is 'nothing' to see, yet so much to see – and that's part of its appeal.
Starting from the Alice Springs end, our first day saw us complete the first 200kms of tarmac, pulling up stumps in a free camp and relaxing by a fire while we watched the vibrant sunset turn into an incredibly bright star show.
We rose early, eager to tackle the rough stuff! Undertaking the necessary checks and readying items inside the van to endure some vibration and bounce from the corrugations, we made our way into the Yuendumu Aboriginal Community, throwing down $50 to top up 20L of fuel.
As soon as our tyres met the unsealed road, we second-guessed our decision. I swear I could fit my size 8 shoe in-between those humps in the rougher sections, and there was no way we were getting our 3.5-tonne caravan to 'glide' over the top of that washboard!
With Wayne tightly gripping the steering wheel as he did his best to swerve into the least impactful tracks along the deep corrugated track, I'd be lying if I said we weren't all feeling highly strung and a little sick in the stomach.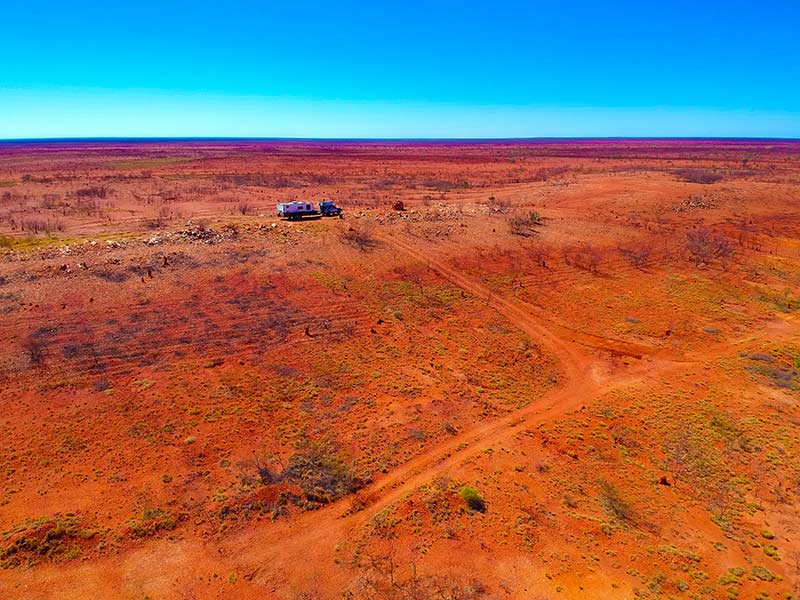 After eight hours on those unsealed roads with multiple stops to check everything, do nervous wees and make another coffee, we'd only made it 160kms (averaging a mere 20km/h)! We felt more than a little defeated, and considered turning around.
Sleeping on it, we decided to continue – we knew we'd regret it otherwise!
We further adjusted our placement of items in both the 4WD and van, which helped ease some of the horrid rattling noises that made our stomachs drop, and deflated the tyres another 5psi.
The conditions didn't really change until we passed the turn off to Balgo, but we seemed to relax as our confidence grew. Passing multiple car wrecks, shredded and popped tyres, vehicle parts, a pop-top caravan roof, a burnt-out camper trailer, car batteries, and various other items along the track, it gave us a constant reality check.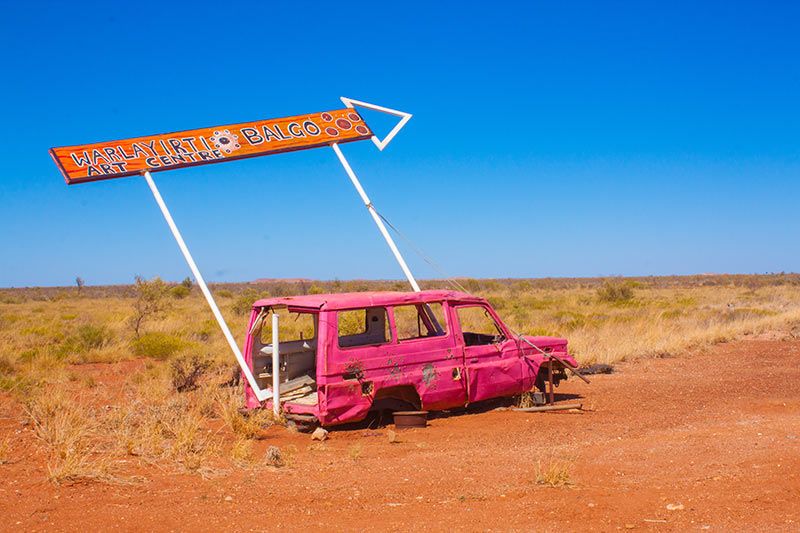 We realised that it didn't matter how long it took us to do the track – just that we were doing it! The beauty of indefinite travels meant we weren't pressed for time, and even though we could have gone faster, we chose not to as our main goal was the experience itself, with a preference to not break our 'home'.
We all cheered as we made it out the Western Australian end of the Tanami, after five days of adventure, a little sweaty – but 4WD, van, kids and adults alike all intact (we did, however, loose two screws and a door hinge from inside the van, and a bolt off the drawbar).
We were filled with memories, eager for some decent showers to scrub off the dirt!
FREE-CAMPING THE TANAMI
The Tanami Track is bursting with free-camping sites. The only thing we didn't enjoy about the campsites were the flies – (fly nets are definitely necessary!). Epic sunsets, stunning starry skies and quiet nights were the norm at the following camps: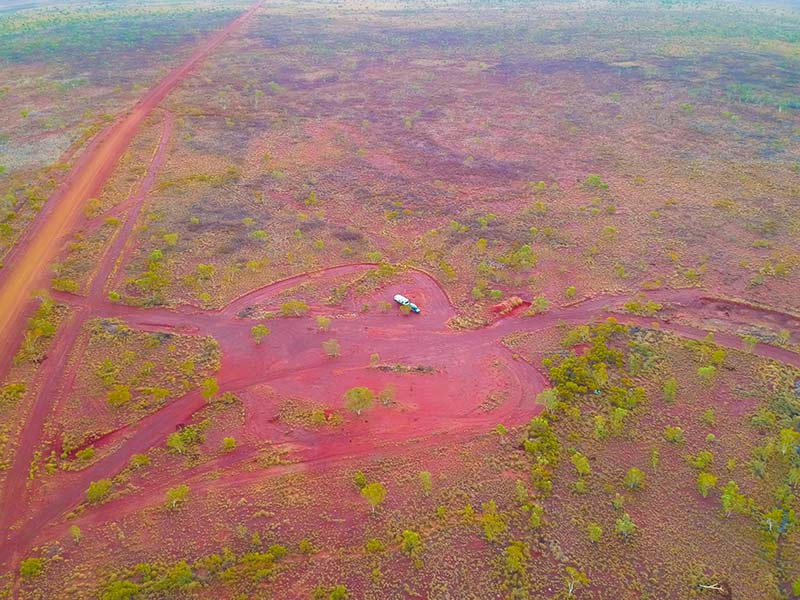 Diggers Rest: Open space, plenty of birdlife and apparently some local wild camels frequent the area.
Renahans Bore: An old windmill added a great touch to sunset.  
Quartz Ridge: A lunch stop for us with a gorgeous 360-degree view of the desert – and Telstra service!
Sunset Gravelpit: Large offroad area with lots of firewood lying around. 
Elsey Hills Camp: Another lunch stop for us; however, it would be an incredible camp if you're into astrophotography!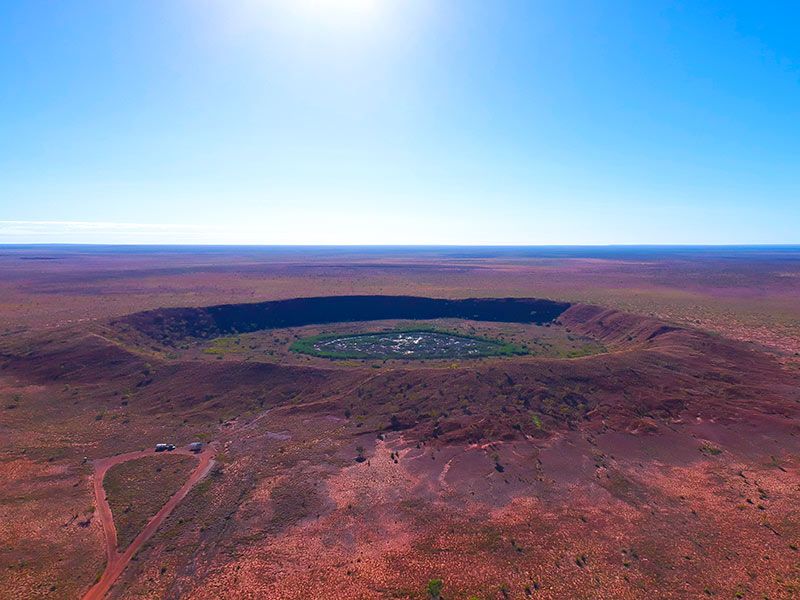 Wolfe Creek Crater: Amazing sunset and night sky, followed by a gorgeous sunrise over the crater.
OUR TIPS FOR VANNING THE TANAMI
Deflate tyres according to the terrain and your rig;
'Play around' with different speeds;
Complete regular checks;
Pop a GoPro inside the van to show what's going on;
Use channel 40 to ask about road conditions;
Ensure you have enough fuel and water; and
Take your time and enjoy it!
Every setup will travel differently, but we hope those with larger, heavier setups find some helpful information from our experience. It really is beautiful country out there — and a must-do adventure.
FOLLOW KOOL KAMPERS