If somebody were to mention 'toy haulers', it's a safe bet that dirt or quad bikes comes to mind. After all, that's why this particular style of caravan was made: to haul people's 'toys' inside the van.
This might seem like a limited market. But I'm starting to view toy haulers as being equally relevant to the family-caravan market. The versatility of their layouts, which include a large cargo area in the rear of the van – usually with a couple of bunk beds – make them perfect for two adults and two or three kids.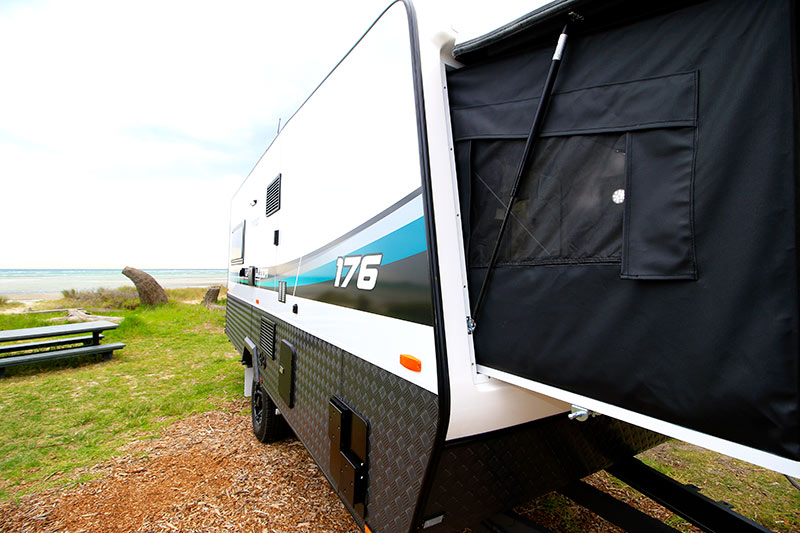 The brand new Paramount Caravans Tuff Mudda 176 is a case in point. Despite its relatively small on-road footprint, this single-axle rig offers a generous amount of internal living space. To my mind, it could be just as easily described as a family caravan.
ONE TUFF MUDDA
To be clear, the Paramount Caravans Tuff Mudda 176 is first and foremost a toy hauler. Witness the checkerplate-covered ramp that lowers effortlessly on the nearside. Just push a button (inside a lockable compartment at the rear) and the ramp will gently lower on an electric winch to whatever position you like, unlike the ramps on some toy haulers that have to be opened and closed manually.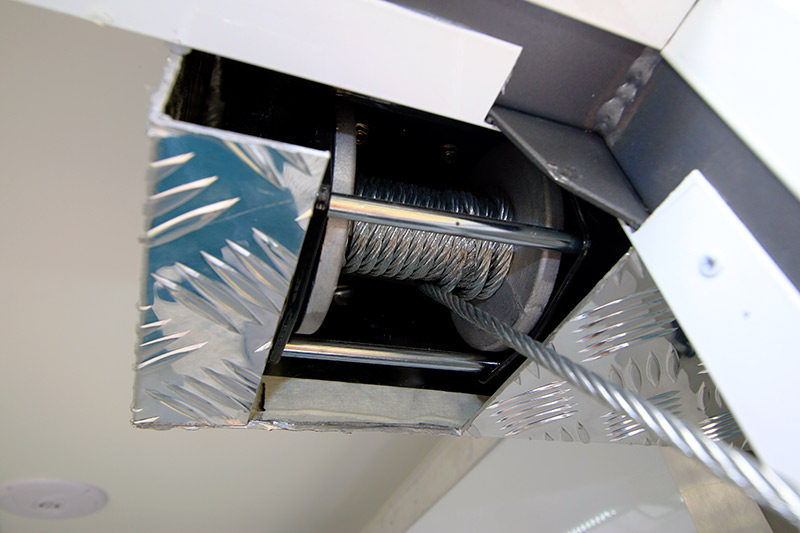 The best bit: you can lower the ramp to horizontal and use it as an elevated deck/outdoor sitting area.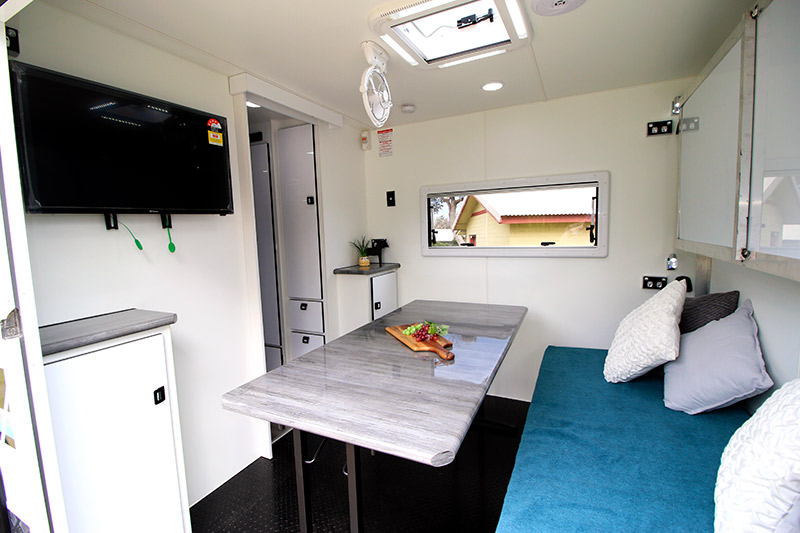 Inside the cargo space, Paramount Caravans has included a free-standing table that can be used inside or out, as well as a lounge across the back wall. This lounge doubles as a bunk bed, and there is a bunk above that folds effortlessly against the rear wall when not in use.
I liked the fact that Paramount Caravans had also included a reading light and 12V point on the offside for each bunch, not to mention a 12V Sirocco fan in the middle of this cargo/living space, as well as some cupboards and even a flatscreen TV.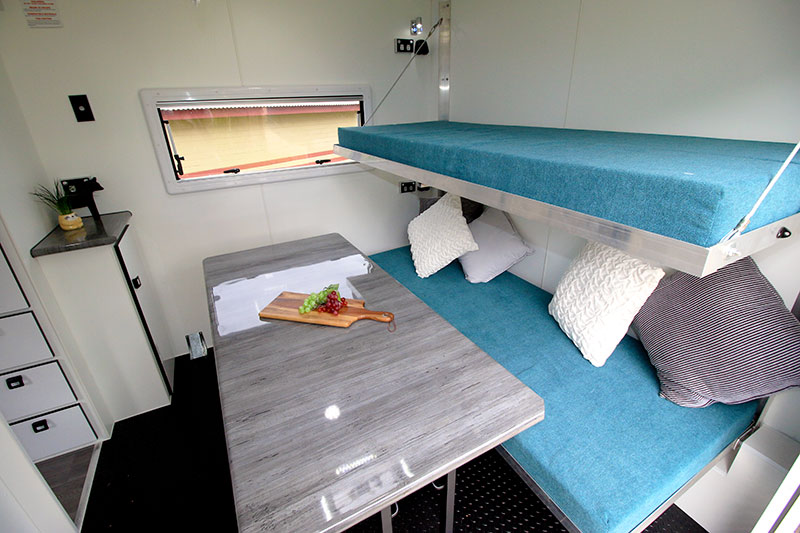 The middle of the van incorporates a nearside kitchen with, admittedly, minimal bench space, a four-burner cooktop with griller, sink with filtered drinking water, and some cupboards and overhead lockers. One of these lockers, however, is taken up by the Projecta charger for the two 100Ah AGM batteries secured inside protective checkerplate boxes mounted to the offside chassis rail.
A generous 184L three-way fridge comes as standard, and I loved the full-height pull-out pantry. This is what I mean about this van having potential as a family tourer: there's a lot of sensible food storage space.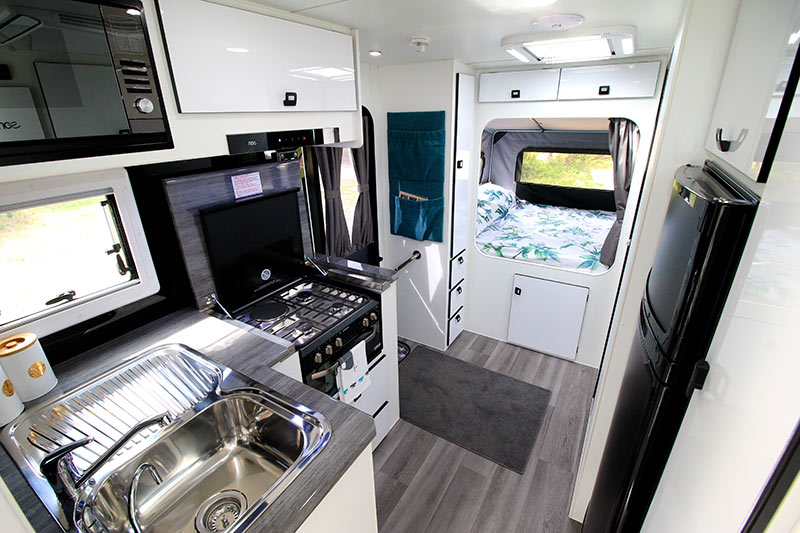 Next to the pantry, this van has been fitted with a combo shower/toilet fibreglass bathroom with a cassette toilet, variable-height shower and ventilation hatch. No surprises here, but it's certainly a welcome addition.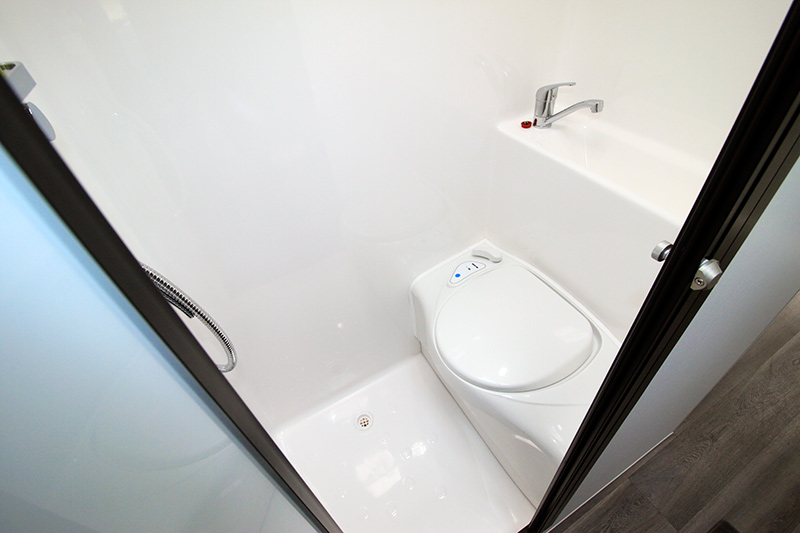 But where does mum and dad sleep in this van? you might be wondering. Well, Paramount has fitted a front fold-out bed end, complete with a boot storage system in the style of its very popular Duet range.
Essentially, you unlatch the fibreglass 'lid' of the bed end, and it will rise automatically on gas struts to reveal plenty of storage space for camp chairs and the like. It's then a matter of lowering the bed base, which is retained in the vertical travelling position by a sliding bolt. Inside, you simply need to raise a steel-tube 'hoop' to stretch the canvas walls taught, fit a couple of crossbars, tighten them up, and you're done. The entire process shouldn't take more than one minute.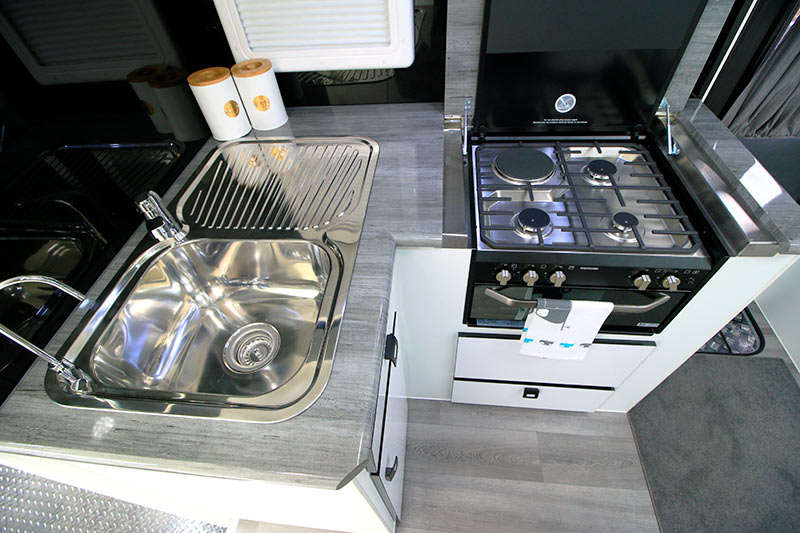 Despite being a canvas bedroom, mum and dad haven't been forgotten: Paramount has included a few 12V points, a light, a 240V powerpoint, and even the antenna connections for a TV. Not bad at all.
PARAMOUNT CARAVANS' SPECCED-UP TOY HAULER
We reviewed this van courtesy of Canterbury Caravans, Victoria's longstanding Paramount dealership. As usual, Canterbury had fitted out this rig with lots of options (fitted by the factory and accounted for in the Tare weight).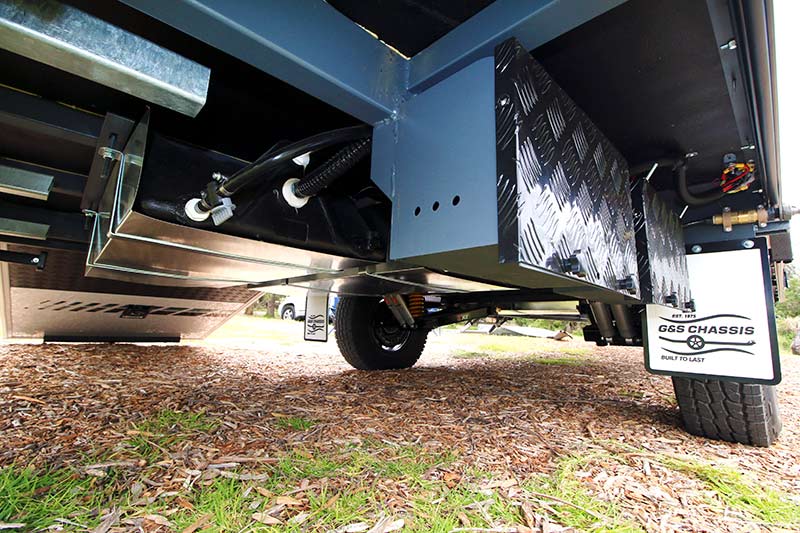 These include 16in alloy wheels, a 100L grey water tank, an extended A-frame, a suspension upgrade from Dexter rubber torsion to 2.8-tonne Cruisemaster XT, the aforementioned flatscreen TV and fan, an external shower with privacy tent, a DO35 coupling and more.
Naturally, this has increased the price of the van, but I reckon the Tuff Mudda 176, as presented here with all of these add-ons, is still priced well. 
It comes with two 95L fresh water tanks (in addition to the grey water tank), a roof-mounted 150W solar panel, reversing camera, a tunnel boot in addition to the boot behind the fibreglass bed lid, a roll-out awning, external lights and a 12V point, and much more.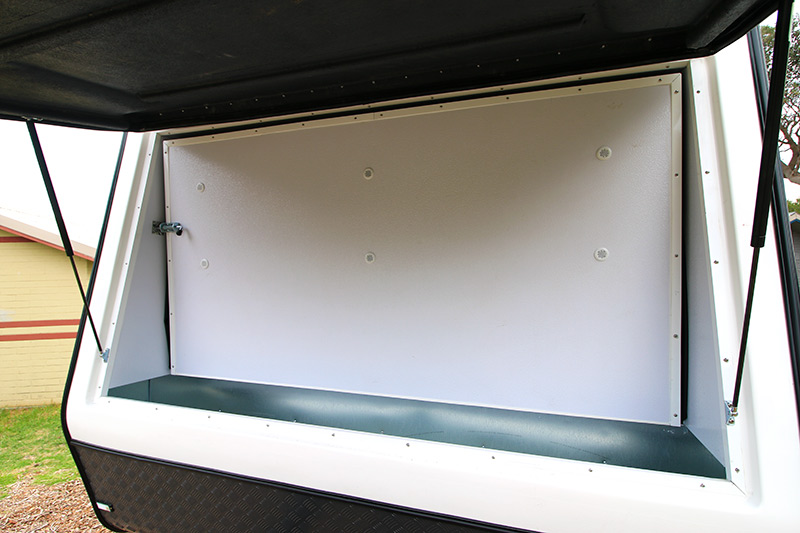 Externally, the Tuff Mudda 176 really is well-appointed, especially with the extra gear added by Canterbury Caravans.
The van is not as heavy as you might think. Its Tare of 2190kg is quite reasonable, in my opinion. The ATM of 2750kg gives it a payload capacity of 560kg, which should be plenty, even if you were to load up a dirt bike (a quick Google search told me the average weight of a dirt bike was 98kg).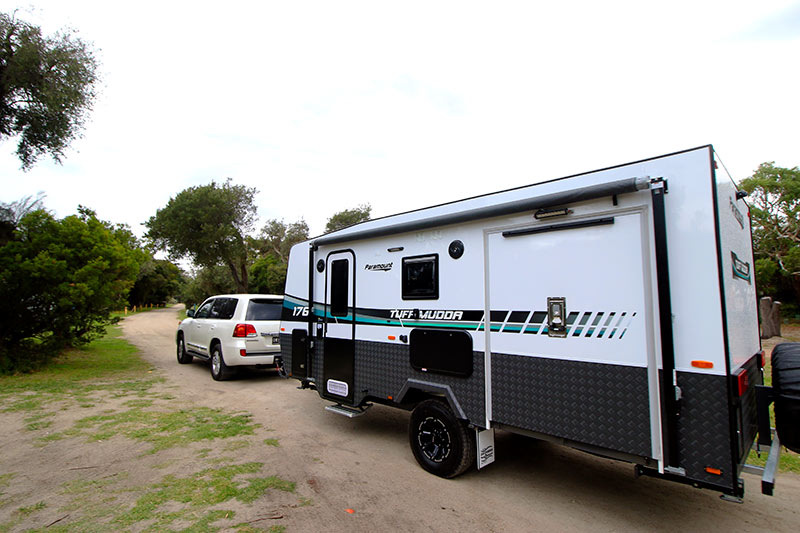 Having said that, the numbers would change based on the options you did or did not include. Remember, Canterbury Caravans had specced up this rig quite a bit.
GORV'S VERDICT
The longer I looked around this van, the more I saw its potential. Sure, if you've got a dirt bike or ATV, it should do the job as a toy hauler admirably. But as a couple's van, or as a family van, that is neither too heavy nor too large, it has genuine appeal.
I can see my wife and I sitting out on the ramp/deck sipping cold drinks and nibbling on chips and dip as we watch the sun set over the Devil's Marbles. In fact, I can't wait.
THE SCORE
FIT AND FINISH –

LAYOUT –

INNOVATION –

HITS & MISSES