Jayco's Crosshaul is a lightweight van that, while simple in its layout, offers multiple options for owners. Let's start with the tradie option. The Crosshaul offers a great space for lugging tools around and staying onsite or touring the country and working. There's plenty of space to store tools on one side and still have room to utilise one of the two beds available on the other. This makes it easy to leave the van set-up and the vehicle free to get to work in.
The touring options are numerous. A couple of mates could utilise the big area inside the van for 'toys', such as bikes or an ATV, and gear as well as basic accommodation. Similarly for families, there's plenty of room for bikes and all those camping essentials to keep kids entertained, with the beds available for either kids or parents and plenty of room to carry swags or a tent or two for everyone else.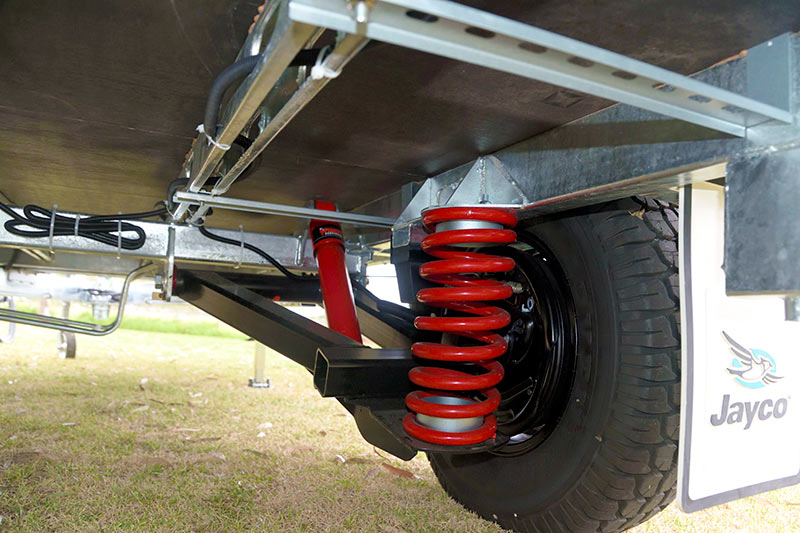 The ability to get offroad is handled thanks to the JTECH 2.0 independent suspension system, providing ground clearance and a rack on the roof for a boat or other gear. It's definitely a package that will suit a wide range of touring and working options.
I will point out that as this review van was a prototype, not everything was fitted. The tie-down strip was missing in the middle of the floor, the spare wheel and gas cylinder weren't fitted, and the stool to access the back easily was not supplied. This didn't affect our review aside from being missing from the images.
JAYCO CROSSHAUL BODYWORK
The body of the Crosshaul is made from Jayco's fully insulated Toughframe, while the one-piece roof is fibreglass sandwich construction for durability. The body is mounted on a hot-dipped galvanised chassis engineered to handle offroad work, and it incorporates plenty of plenty of protective checkerplate.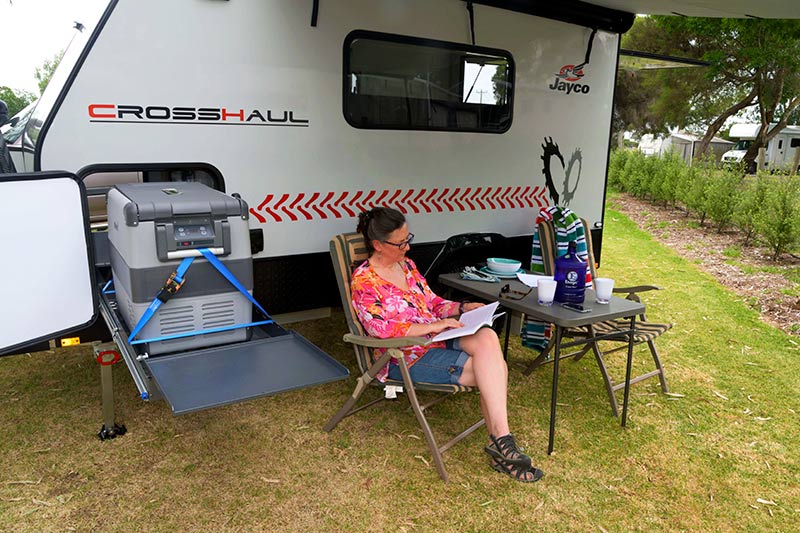 Jayco's own JTECH 2.0 independent suspension system incorporates coils and shocks. It should prove particularly beneficial in offroad situations. The van comes as standard with 15in AT tyres – I believe the Crosshaul will handle offroad conditions quite well.
Underneath, almost under the external forward nearside fridge slide, is where the spare wheel is kept. Placing it under the van was probably a necessity, since the rear door needs to be kept clear to be opened easily.
There is a full-width tunnel boot at the front of the van divided into two sections. The first is the battery compartment on the offside. This houses a 100Ah battery with a BMPro J35 battery management system, and a solar controller for the optional 160W panel that was mounted on the roof.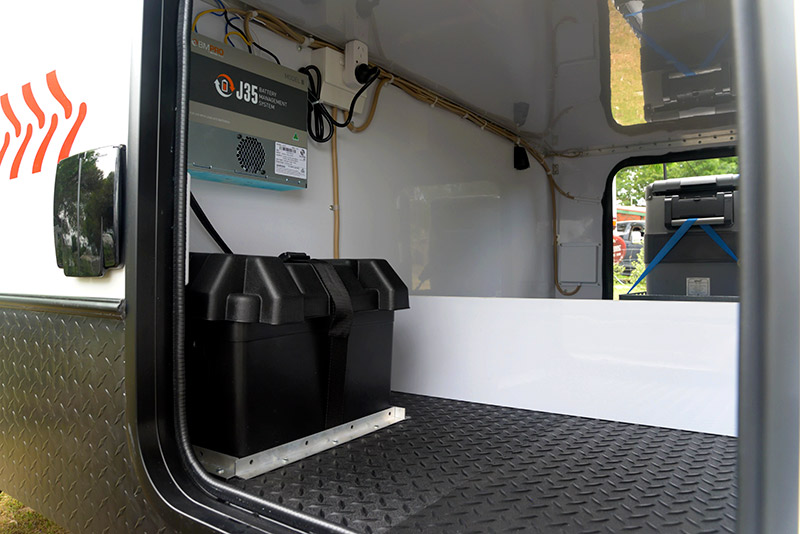 On the nearside is a slide-out tray housing the optional 55L Sphere 12V fridge as well as a drop-down tray for a gas barbecue. A gas bayonet located just under the body near the slide is standard.
Jayco has fitted a toolbox to the A-frame. This houses a 9kg gas cylinder and offers yet more storage space. I was concerned that this storage box had holes in the bottom that would allow dust and water into this storage area, so whatever is placed here must be resilient to that sort of ingress. The jockey wheel is mounted on the nearside of the A-frame. An awning is standard for protection from the elements.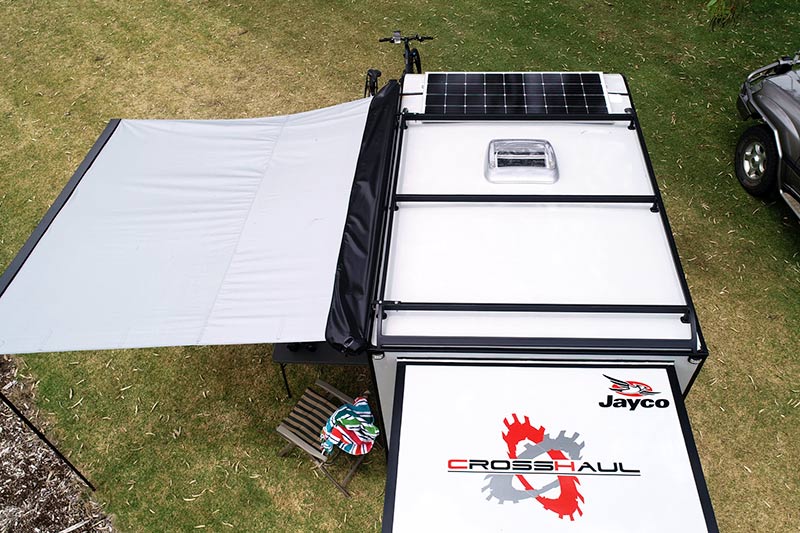 I would describe the exterior and mechanical package as straightforward yet versatile enough for work, rest and play. In standard format, the Crosshaul is quite basic, but there is a range of options is available: a tyre pressure monitoring system; a lithium battery; stereo and speakers; continuous gas hot water; a 12V water pump; an external shower with pop-up tent; dual 80L water tanks; a picnic table with LED lighting; and a rear annexe.
Some of these items, especially the water tanks, will no doubt need to be factored in as additional costs at the time of purchase; however, Jayco is clearly trying to offer a base package for a good price that customers can add to as needed.
ON THE INSIDE
The inside of the Crosshaul is basic; however that seems to be the entire point with this van. It is certainly set up for ease of use. On each wall is a bed that drops down when needed. These beds are 1.95m long and 650mm wide – just wide enough to be comfortable as a single bed and great for a bench seat or lounging.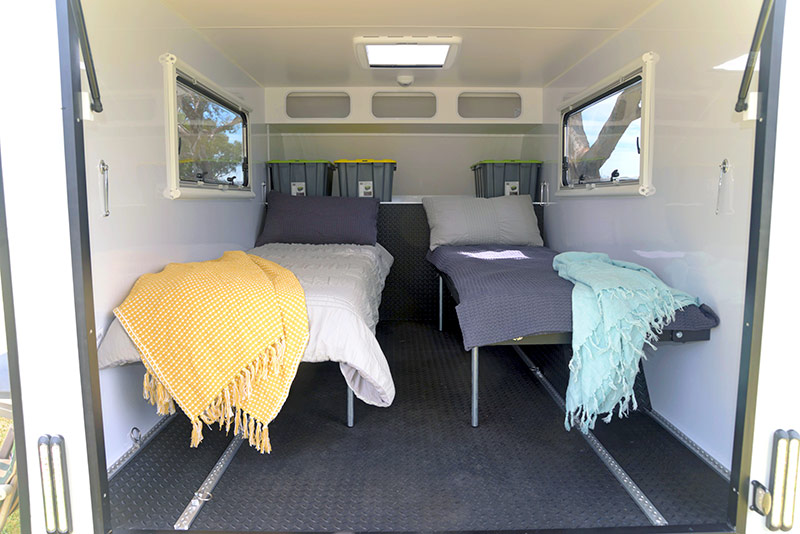 Ventilation and natural light are provided by a window in each wall above the bed and a hatch in the roof. An LED light between the beds near the front of the van offers a white or blue light at the flick of a switch.
The rubber material used for the floor appears to be durable, and multiple tie-down tracks run from front to back to ensure all the toys can be secured properly while travelling.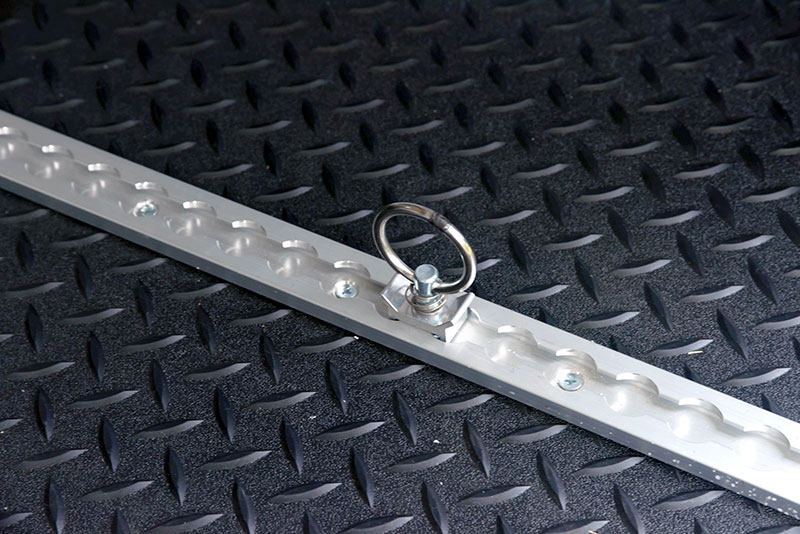 On the front wall is a raised shelf where multiple storage boxes are fitted. These are ideal for foodstuffs, clothes and other camping gear. For longer items, Jayco has provided a storage section underneath that will easily handle tent poles and fishing gear.
The interior height is 1.52m – a tall person may struggle a bit; however, it's worth remembering that this van is much more about the outdoor lifestyle, rather than hanging about inside. Additionally, the Crosshaul is designed to offer suitable ground clearance while simultaneously allowing its owner to access the roof rack. This is a compromise which may or may not suit some people; however, it's a great layout that is practical for its purpose.
GORV'S VERDICT
With a starting price of $23,990, this basic Crosshaul will suit the budget of many touring families and tradespeople who want to work during the week and play hard on the weekends.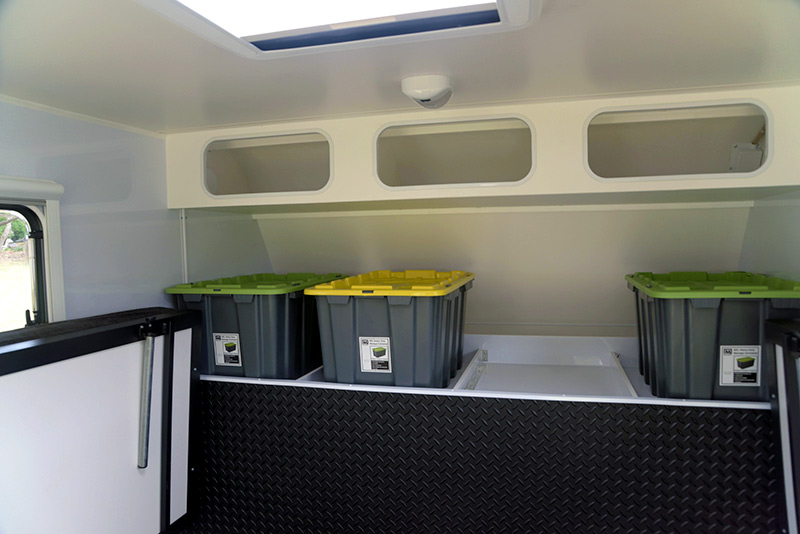 It can be up spec'd to make it a good little touring van for some extra bucks and really is lightweight enough to get into some fun locations with your mates or the family.
THE SCORE
FIT AND FINISH:

LAYOUT :

INNOVATION:

HITS & MISSES