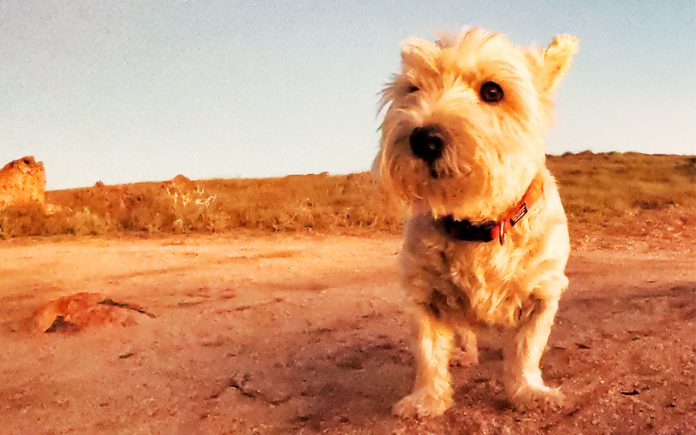 They say a dog is man's best friend. Personally, I couldn't agree more. They have a way of getting under your skin and working their way to your heart. So much so that many dog owners, myself included, regard them as more than just a pet. They are our fur-babies and we treat them just as we would any other member of the family.
Which brings me to the subject at hand. If you regard your dog (or dogs) as a fully-fledged member of your family, you will probably want to take them with you on your caravanning and camping adventures. In this series, we will take an in-depth look at what's involved in taking your faithful friend away with you on your next holiday.
BEFORE YOU LEAVE
Now, before you go and pack yourselves and your dogs into the car and drive off into the sunset, you need to ask yourself some questions about your dog and its suitability for travel. Here are a few to get you thinking.
How well does your dog travel?
I've spoken to many people who want to travel with their dogs but can't because the dog doesn't cope with being in the car. Some dogs suffer motion sickness, just as human do. Many dogs cannot stay calm in the car for long drives. Some dogs have anxiety issues when in the car. Being about to leave for a holiday is not the time to discover your dog is not a good traveller.
We highly recommend taking your dog for a few day outings and some short-term trips before committing to a holiday that may involve hours of travel in the car. If your dog suffers these complications, hope is not lost. There are ways you can get your dog used to travelling in the car. Many times, it involves a process of taking the dog away on short trips and gradually extending the time away. Sometimes it is just that the dog is not comfortable or secure. Providing a place where the dog can nestle into, such as a box or a crate, can make all the difference. As a last resort, you can talk to your vet about medications.
Does your dog have a medical history?
As any dog owner will tell you, dogs can have just as many medical issues as humans. These issues can be managed when you're at home but, when you're away, you may need to take your dog to a vet for whatever reason. It's important to keep your dog's complete medical history with you. That includes any prescriptions for medication it requires and any details of previous ailments or operations. Any vet that is unfamiliar with your dog's medical history will request this information when you first visit them. It is very important as it will affect any treatment they require.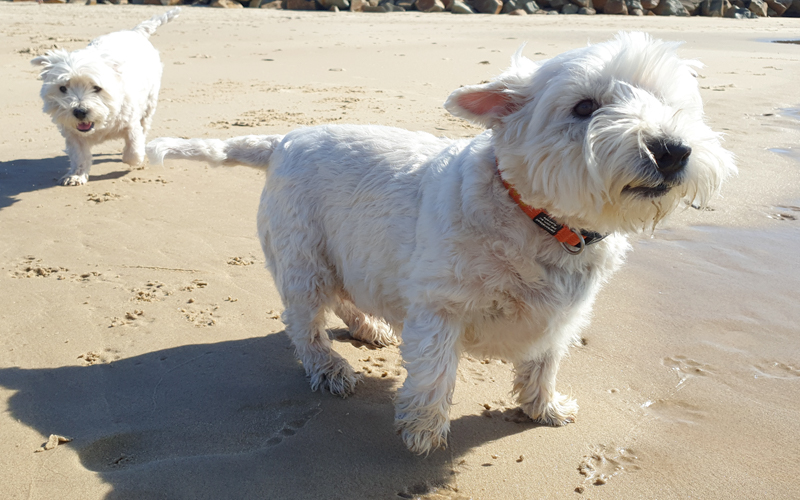 Are your dog's vaccinations up to date?
Just like humans, dogs require regular vaccinations against a wide variety of diseases. These include Canine Hepatitis, Canine Distemper, Canine Parainfluenza and Canine Parvovirus. If your dog is interacting with other dogs or you want to travel to remote areas, you will need to ensure your dog's vaccinations are up to date.
Check with your local vet before you leave. If you need to place your dog in a kennel for a period of time, they will insist on you having proof that you have kept up its vaccinations – another good reason to keep your dog's medical history with you when you travel.
Dogs can limit your travel options.
You need to be aware that having a dog with you will limit accommodation options as well as the places you can visit. Many caravan parks do not accept dogs. Some have seasonal restrictions on accepting travellers with dogs such as during peak times. Some parks will only accept a certain number of dogs per visitor. Some may even have restrictions on the breed of dogs they will accept.
In any case, it pays to ring ahead and let the manager know that you are travelling with a dog or dogs, what breed they are and that you are responsible dog owners familiar with the restrictions and rules that may be in place. You also need to be aware that dogs are not permitted in any national parks in Australia. If you want to visit national parks while on your holiday, you may need to put your dog into daycare or a boarding kennel for the duration of your visit.

THE GEAR YOU WILL NEED
If you think you and your kids require a truckload of gear to go on holidays, wait until you start collecting the gear your pooch will require. My wife and I travel with two dogs and I would estimate almost one-third of the gear we carry is exclusively for the dogs! Before you head off on your holiday, it's a good idea to get all the gear you will need for your pooch. Here's a brief list of the gear we carry for our dogs. Keep in mind what works for our dogs may not necessarily be suitable for your dog but it gives you a place to start:
Car harness
A dog that is unrestrained in a car can be dangerous and, in some states, it may well be illegal. A dog that wanders around the car can be a distraction to the driver, especially if it wants to interact with the driver or attempt to sit on the driver's lap. In the event of an accident, a dog can become a 'missile'.
It will fly through the car and can impact on front-seat passengers. Not to mention what can happen to a dog that is thrown from the car through a windscreen or if the car is involved in a rollover. Having a harness that can be secured to an anchor point or seat belt will prevent these issues and increase the dog's chances of survival should you be involved in a crash.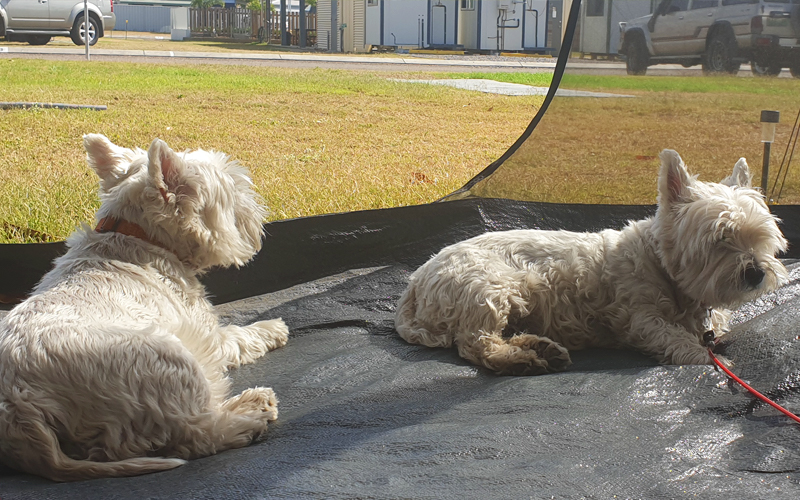 Dog seats
I can imagine there are a few readers thinking I've gone mad with the idea of car seats for dogs but I assure you such things exist and they are an amazing accessory that can assist in making your dog safe and comfortable, especially on long drives. They are little more than a soft box that is attached to the rear seats by sturdy straps.
They also have an attachment point for your dog's harness. Dog's feel safe when they have their own space to rest in and these dog seats do just that. Our dogs love their car seats and will travel all day with barely a peep out of them. If you have a dog that is not a good traveller, these are worth a try.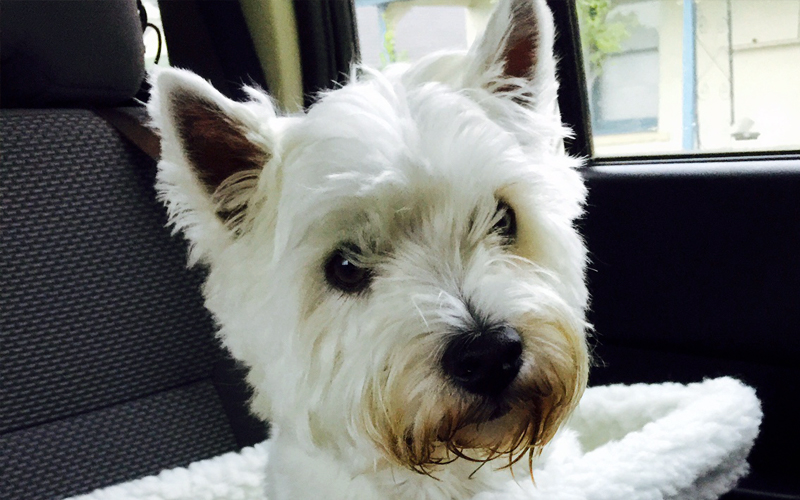 Leads
It almost goes without saying that you must have leads for your dogs; however, it is surprising how many dog owners feel they do not require them. For a start, pretty much all caravan parks that accept dogs will require that they be kept on leads at all times. You should have a lead for walks and a lead that is attached to an anchor point and enables them to sit outside your van restrained.
An extra word on leads. You may have seen or used those retracting leads that allow your dog to get some distance from you while you walk them. These are, in my opinion, unsuitable for travelling dogs because you have very little control over them, especially if they are threatened by another dog that is off its lead or if they decide to run across a road. You need to have full control over your dog, especially in unfamiliar surrounds.
Identification
All dogs should be microchipped so their owners can be identified if they are presented to a vet; however, you can also have dog tags made up with your contact details engraved on them. We purchased special collars that have the dog's name and our phone number embroidered into the fabric so we can be contacted immediately if the dogs are found wandering.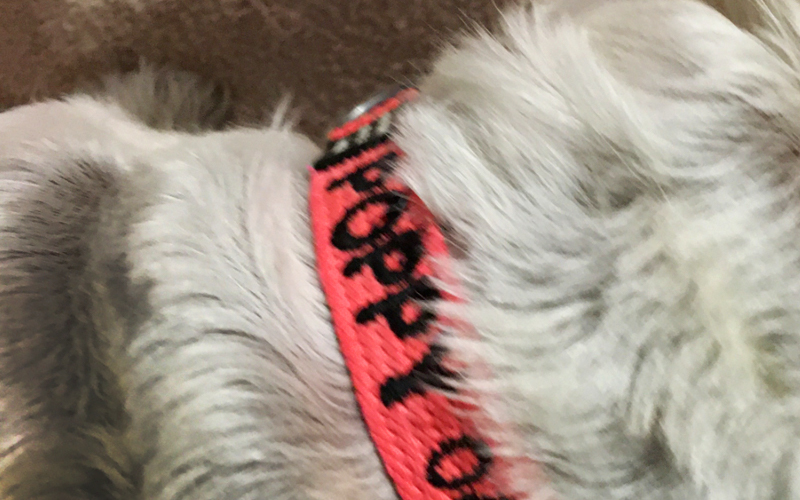 Shelter
I've mentioned this a few times. Dogs like to feel secure and safe in their own space. Having a dog shelter not only protects them from the elements but it gives them a familiar place to hide in and rest. It can also restrain small dogs from running off from your site. There are many variations of these but we have found the soft, collapsible style of shelter most effective. They are small, lightweight and pack away easily.
Bedding
You may have a king-sized bed at home that provides plenty of room for you and your dog to sleep on together, but caravan and camper beds are usually much smaller than the household type. As such, you will find the novelty of having your dog sleeping with you will wear off fairly quickly.
Having a proper place for your dogs to sleep, and training them to use it, will make life easier for all of you. Many dogs are crate-trained and are quite happy to sleep in one. Others may have a special blanket or another type of bedding that they use at home. Whatever your circumstances are, make sure you carry bedding for your pooch. We have found the small, fold-up travel crates ideal as they fit in the space under the bed overhang.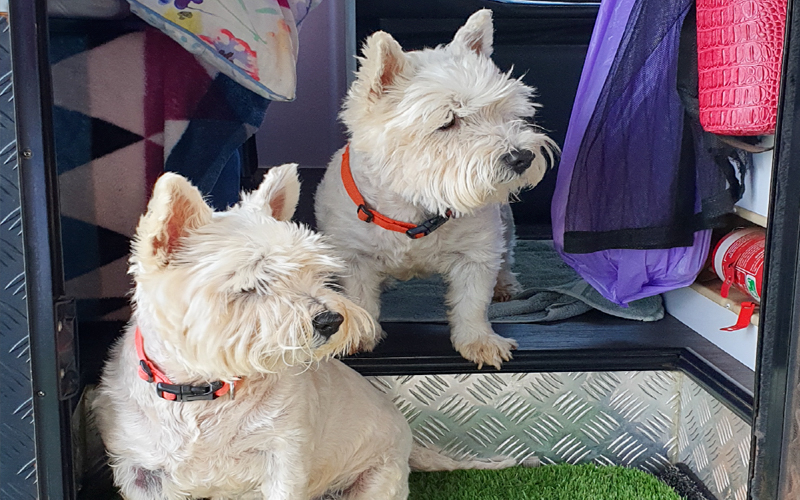 Cleaning and grooming
Dogs have a marvellous ability to get filthy when you're away on holidays. Trust me when I tell you that a dirty dog is the last thing you want in your caravan or camper. Some dogs require regular brushing, otherwise they drop fur everywhere. Having the necessary gear to clean and groom your dog while you're travelling is essential.
Many towns and cities have public dog wash facilities but if you're free-camping or in remote areas, you will need a way to clean your dogs at your campsite. Now that you have considered the suitability of your furry friend to travel with you and you have all the necessary gear, the next thing to do is to start planning your trips away. Next month, we will look at some tips and tricks to planning a hassle-free holiday with your dog and also what dangers lurk out there that can have serious consequences for them.