I've said it before but when it comes to offroad caravans, I believe that smaller is better. Mars Campers, a company that seems to have gone from strength to strength in recent years, last year released a hybrid rig called the Ranger X.
The launch received little fanfare, given the restrictions much of the country faced at the time. Following some minor changes to the van, Mars Campers has just re-launched the Ranger X and hopes to make a much bigger splash with this intriguing rig.
And it really is intriguing. It's well priced, too. The Mars Campers Ranger X is a compact, relatively light offroader with an obvious focus on outdoor living. We dropped its DO35 hitch onto our MU-X's towbar and hit the freeway in search of a testing ground on Victoria's Mornington Peninsula.
TOWING AND EXTERNAL FEATURES
I had no issues with the weight of the Ranger X. With its Tare of 1600kg and ATM of 2200kg, it offers a reasonable payload capacity of 600kg, and its unladen ball weight of 180kg is manageable for most mid-size 4WDs.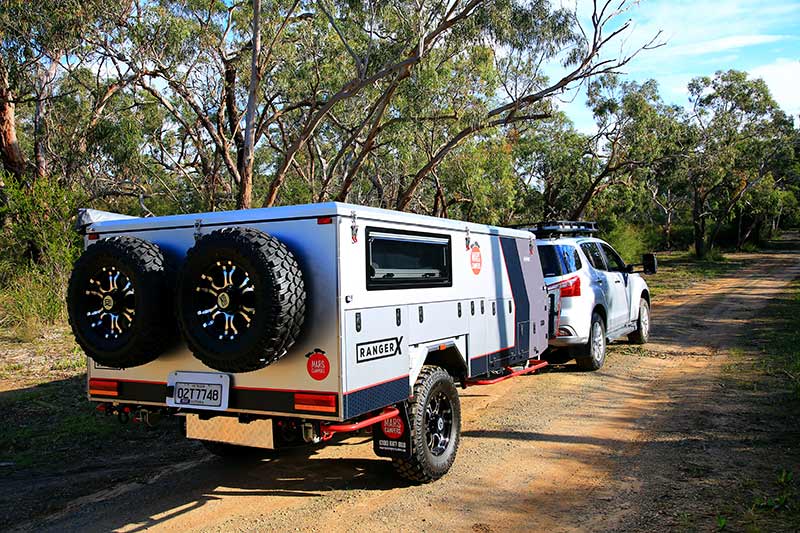 In fact, my Isuzu hauled the Ranger X as though it wasn't there. I cruised at highway speeds without drama and, thanks to the van's compact footprint, I found it easy to negotiate traffic on the open road as well as in built-up areas.
I poked my nose down a few unmade roads and hauled the van over some lumps and bumps – the independent trailing arm coil suspension did its job as expected, and the Ranger X's low centre of gravity instilled some confidence, particularly when reversing the camper over some sharply scalloped sections of track. The Ranger X offers a 24.5-degree departure angle.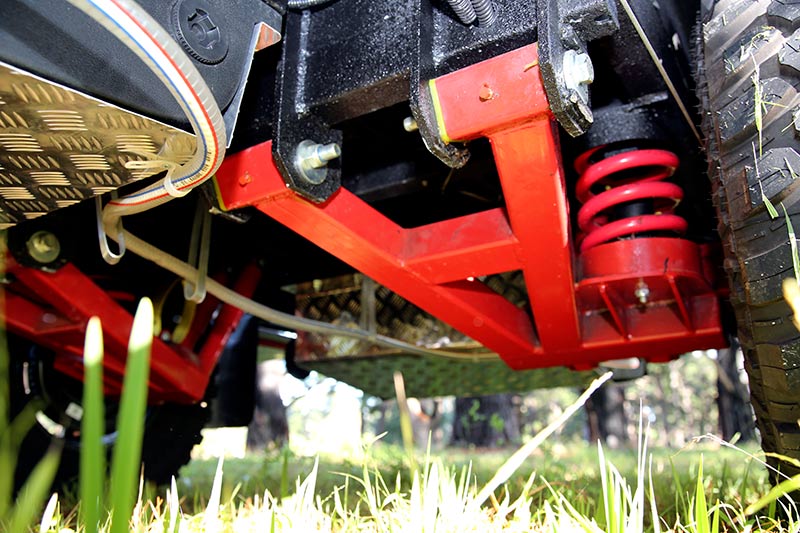 This rig is built on a 4in hot-dipped-galvanised chassis, with a steel frame clad with composite aluminium finished in a silver baked enamel. The fit and finish of the body of the van appeared fine. Underneath, everything looked in order, with both the 120L and 75L water tanks sensibly protected by checkerplate. However, I did wonder if the pipe connecting the tanks was hanging a little low.
Up front, the Ranger X is equipped with a decent guard to protect the dual 9kg gas cylinders. Mars Campers has also given the Ranger X an Ark XO 750 10in swing-up jockey wheel – great! I did, however, skin my knuckles a couple of times on the checkerplate on the stoneguard when winding the jockey wheel's handle. There's just enough room to wind it – but it's a tight fit.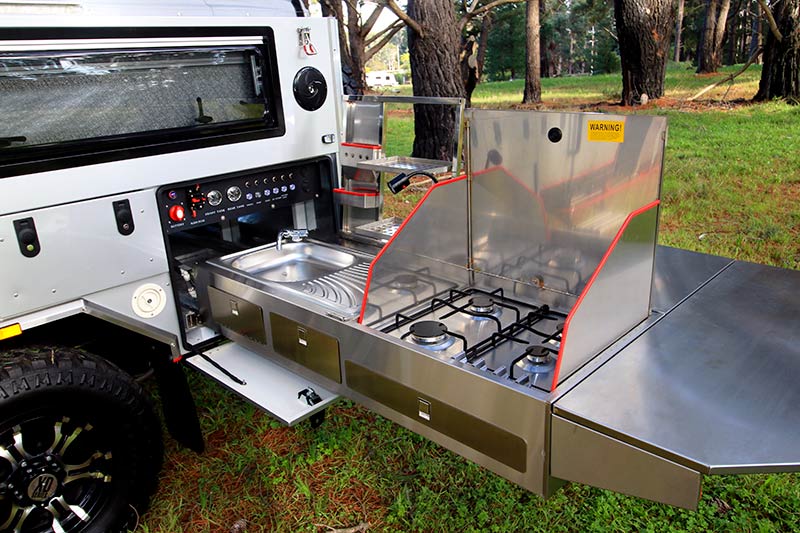 At the rear, on the nearside, Mars Campers has fitted a generous stainless steel kitchen on a slide-out tray. It also comes with a bench extension piece that would probably have to sit on the bed inside when towing the van. But it is a well-equipped kitchen that's easy to connect to the van's onboard gas supply via a bayonet. I also liked that the kitchen remains permanently connected to the water tanks – no need to hook up separate water lines.
Near the kitchen, you'll also find a series of switches to allow you to isolate the van's various 12V functions, including a main switch that will cut all 12V power to the van. I loved the 'analog' gauges for the water tanks, too. A nice touch.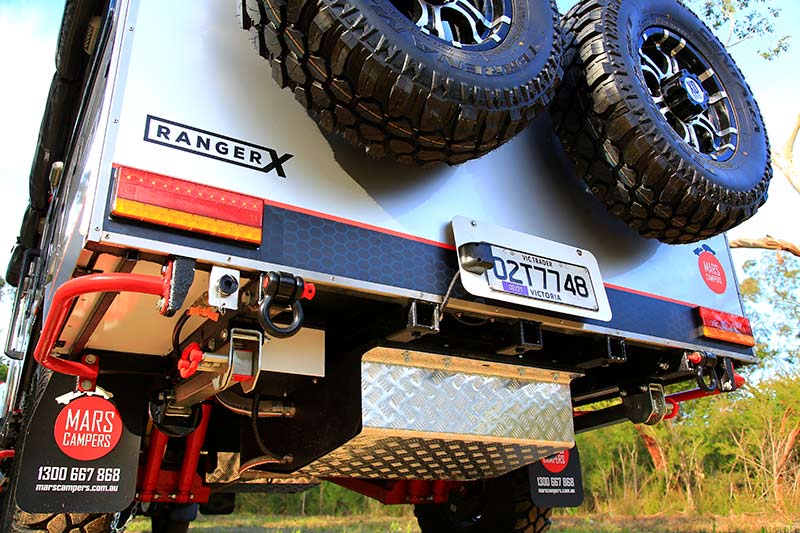 A huge point in this rig's favour: the amount of external storage on offer. There is a series of storage lockers along both sides of the camper, a tunnel boot, and even a small front boot. All the catches and hinges appear strong.
As standard, the Mars Campers Ranger X is very well equipped – there are even three 100Ah deep-cycle batteries, a 30A charger and a 1000W inverter. However, while there is a 50A Anderson plug to charge the batteries while towing, you'll need to option in a solar panel in order to charge the batteries when free-camping.
It's worth pointing out that the Mars Campers Ranger X comes standard with a 4.7m annexe, as well as an external ensuite area, to go with the 4m awning. However, time precluded me from setting this up – I would recommend talking with your nearest dealer for more information on this.
INSIDE THE MARS CAMPERS RANGER X
Setting up the Ranger X is simply a matter of releasing a series of over-centre catches but it's a slight squeeze to climb inside in order to lift the roof. Mars has fitted a couple of handles to the roof to allow you to push it up (or pull it down). While it's easy to close the roof, pushing it open is a little awkward.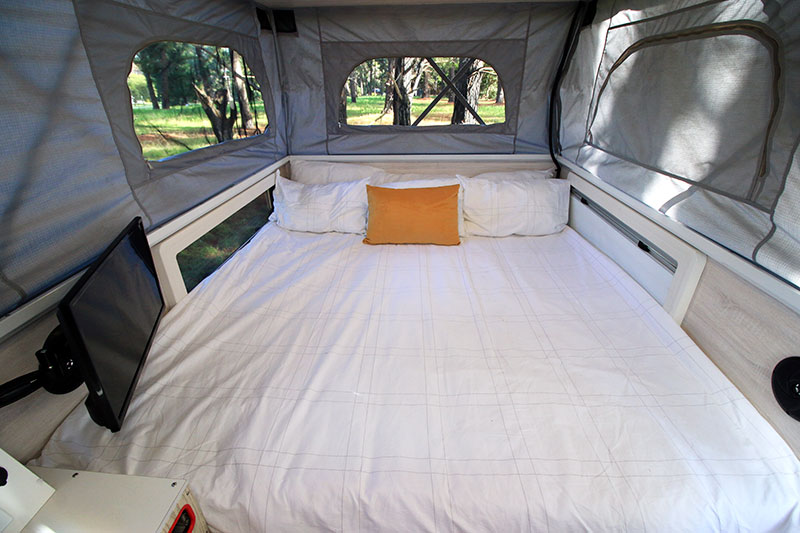 Having said that, I think the interior does a number of things very well. There are 12V points in all the right places, a massive bed for the parent, a couple of bunks across the front, and even a pull-out dinette table.
The canvas walls offer plenty of zippered windows, and the canvas section above the entry door is a good fit and easy to open and close.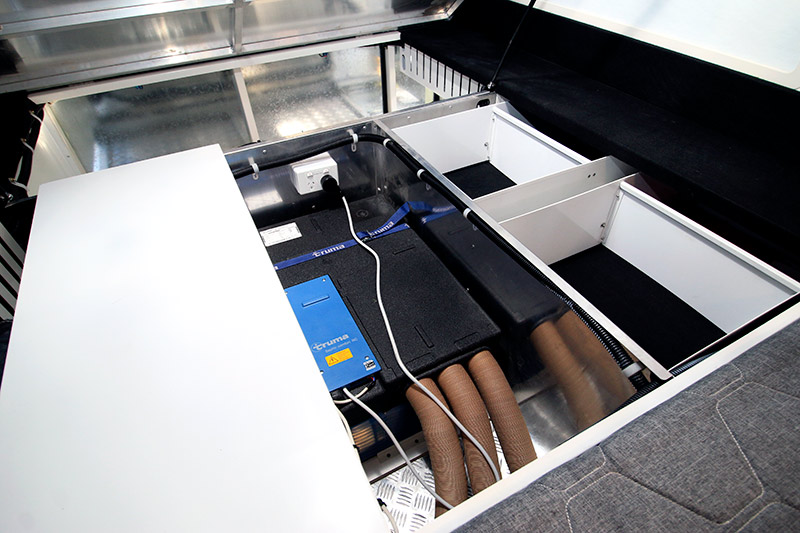 The base of the main bed lifts on gas struts to reveal a Truma Saphir reverse-cycle air-conditioner – which is supplied as standard and not something you'd find very often on vans such as this. With the bed base lifted up, you can raise the back rest of a small seat that is fitted at the end of the bed.
The top bunk can be lowered so that it rests across the front wall when not in use, which opens things up a little inside. Underneath the bottom bunk, however, you'll find what is perhaps this rig's biggest compromise: a slide-out tray for a portable fridge.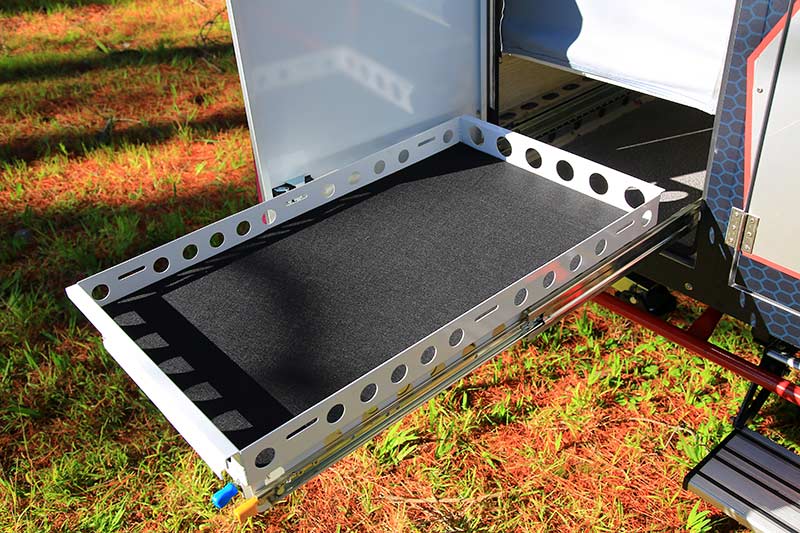 Effectively, when a fridge is fitted and the tray is pushed inside the camper – such as at night time – the bottom bunk can't be used. If you are camping with two kids, this creates the dilemma of whether to leave the fridge outside overnight (perhaps not such an issue if you have the annexe setup) or to move it to the 4WD.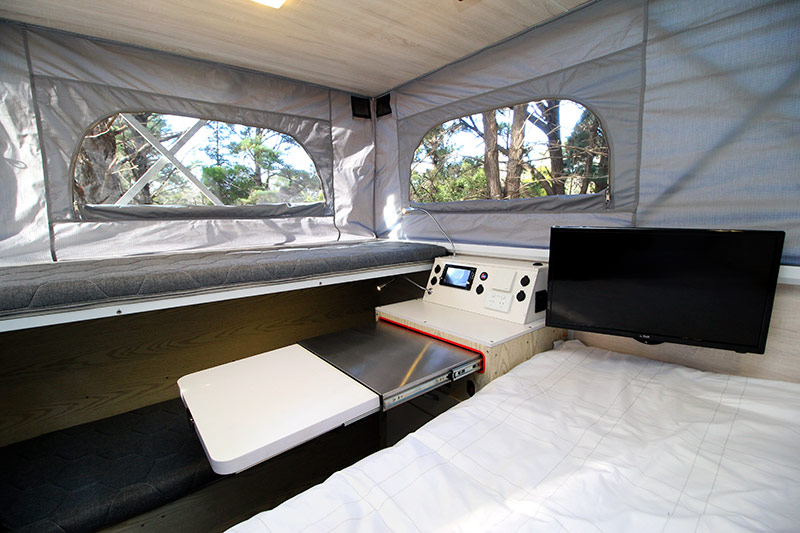 That aside, it's worth remembering that the Ranger X is built to allow you to access some of the best campsites in Australia, places you couldn't reach with a 20ft caravan. Mars has, in my opinion, addressed the resulting trade-offs quite well. Further, the company hasn't skimped on the  entertainment factor: a 22in flatscreen TV, internal an external speakers, an a media player with 6in touch screen are all included.
GORV'S VERDICT
Let's be honest: the interior of the Mars Ranger X is not big on interior living space. But that's the point. The emphasis is on being in the great outdoors, with the van facilitating a comfortable lifestyle when you're out amongst it.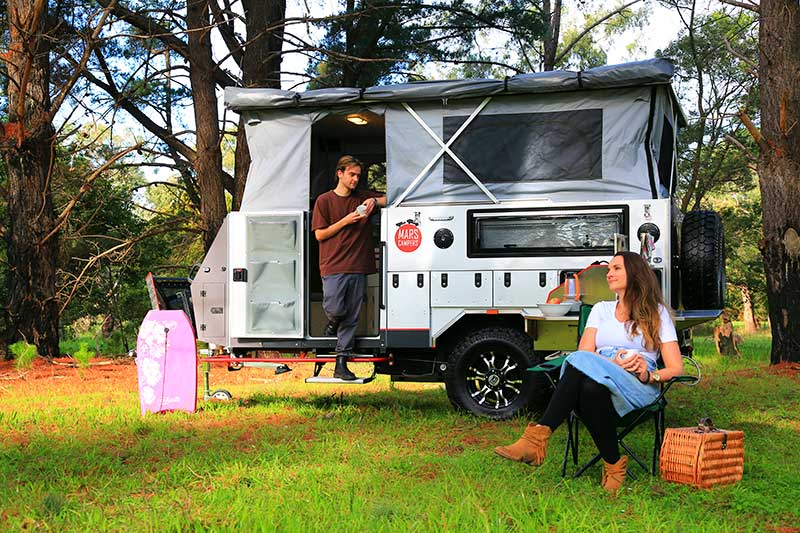 When packed down, it's no bigger than the average rear-fold camper trailer, which should make it easy to store. It's a pleasure to tow, reasonably easy to set-up, and offers good value for money.
Frankly, I wasn't sure what to expect when I picked this van up. But after spending some quality time with it, I decided that the Ranger X was a valuable offering to the market – I really liked it.
THE SCORE
FIT AND FINISH –

LAYOUT –

INNOVATION –

HITS & MISSES