My experience with Lagoon Caravans was limited. I'd heard of this manufacturer, tucked away in Campbellfield, Vic, but had spent little time checking out this company's goods.
That changed in mid November when I arrived to review the 20ft Lagoon Caravans Pasadena semi-offroader, which was being launched for 2020.
For such a boutique manufacturer, there are quite a number of vans in the range, from the diminutive Little Humi at 17ft, to the 23ft Oasis and Pegasus. There's even a Lagoon family van available.
The Pasadena, however, is Lagoon's flagship and it's available in a more compact 19ft 4in package as well as a 20ft 7in variant.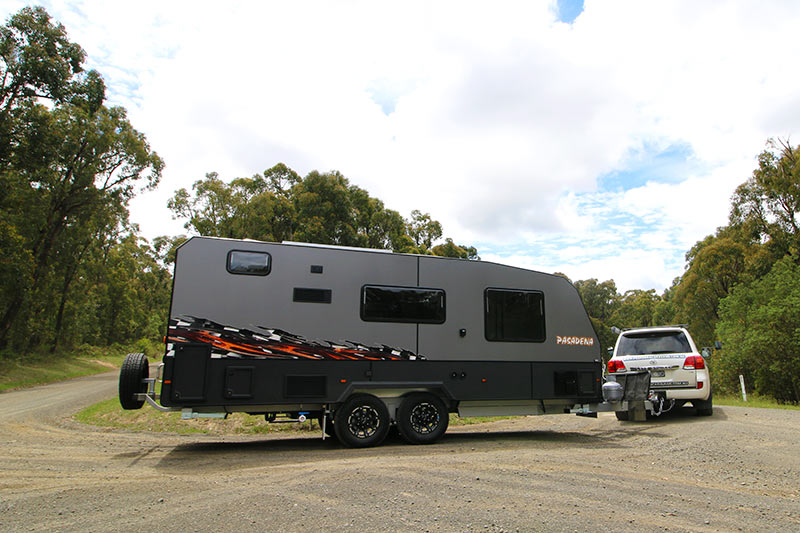 Our 20-footer, however, sits squarely in the middle of the range. And at first glance, it appeared to have all the equipment and the decent build quality of a van you'd expect for its price point. 
STEP INSIDE THE LAGOON CARAVANS PASADENA
Stepping inside the 20ft Lagoon Pasadena, I was met with a functional layout and attractive decor. It features an offside kitchen comprised of a stainless steel sink aft of a full Swift oven with griller and four-burner cooktop.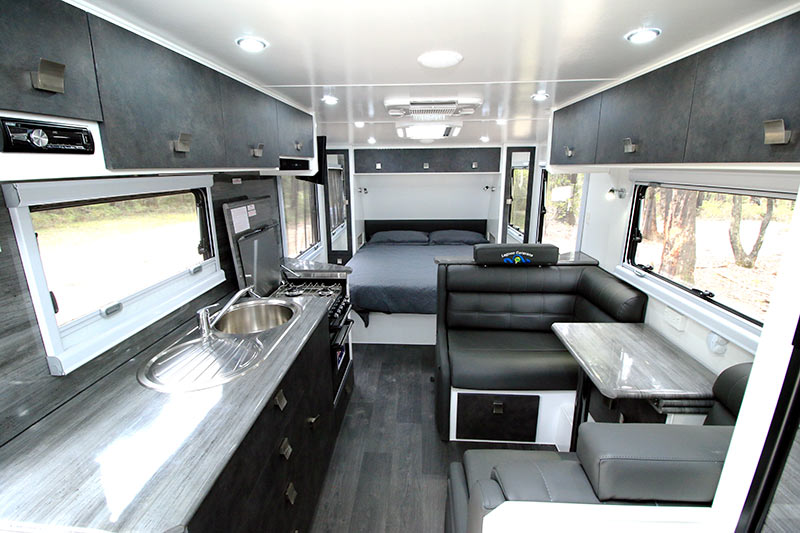 It has a pull-out pantry, overhead lockers with doors that open on gas struts, and even a small LED light bar beneath the overhead cabinetry to light up the ample bench space.
Opposite, on the offside, Lagoon Caravans has fitted a leather-upholstered cafe-style dinette with tri-fold table, complete with 240V/12V powerpoints and overhead lockers.
A single deep-cycle battery is mounted to the floor beneath the rear dinette seat. Accessing it is a matter of removing the cushion and the ply hatch beneath, though there is a hatch in the leg well for accessing general items that may have been stored next to the battery.
It's a similar story with the forward dinette seat, though instead of a battery, you'll find the 12V water pump.
A north-south queen-size bed is provided in the front bedroom, along with the expected overhead lockers and wardrobes. Each wardrobe has niche, where you might put your reading glasses and book, etc., and there are also 240V/12V powerpoints inside.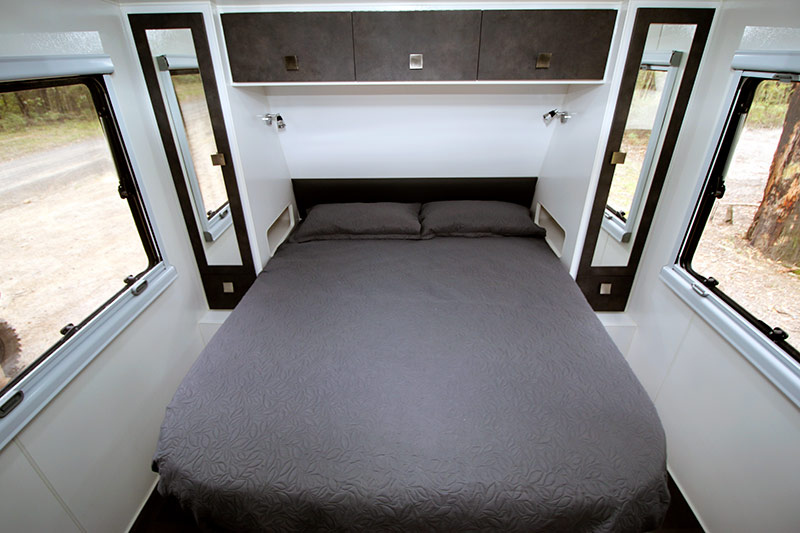 A flatscreen TV is mounted to a swivel arm on the nearside, at the foot of the bed, so you can watch the morning news without getting up. Or swivel the telly to watch from the rear seat of the dinette.
The rear bathroom is reasonably generous in terms of space – in fact, each of the van's 'zone's' feels quite spacious – and even comes with a linen cupboard in the offside-rear corner, next to the cassette toilet.
You'll also find a rear vanity, storage cupboards, a separate moulded-fibreglass shower cubicle, and a washing machine. This is beneath the vanity bench, with a hinged section of bench providing access.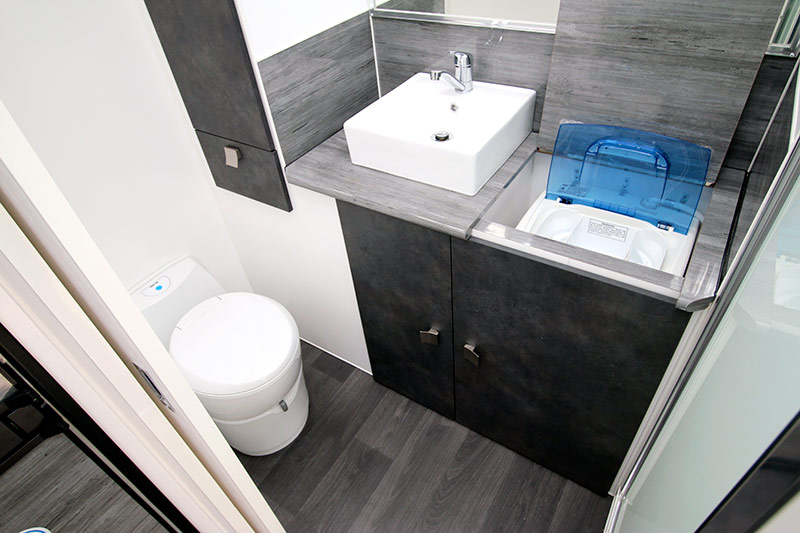 When lifting and lowering this section of bench, I noticed it was a tight fit on one size – it tended to bind on the rest of the bench and was in need of just one millimetre of additional clearance.
On a similar subject, the hole in the shelf accommodating the kitchen sink's drain was a little splintery. These two points reflect the fact that caravans are, by and large, hand-built vehicles and, in one case, nothing that a bit of sandpaper wouldn't fix.
I did note, however, that the silicone work was done by a skilled hand – no giant gobs of silastic that I could find, unlike in plenty of other new vans on the market.
The 20ft Pasadena is certainly equipped with the necessary equipment for comfortable long-term travels. An Ibis 4 reverse-cycle air-conditioner is part of the package, as is a sound-system and speakers, a microwave, and a 184L Thetford three-way fridge.
Overall, it presents as a decent, if somewhat conventional, interior. It might not break new ground, but it does offer all of the features and comforts in a thoughtful, well-executed layout.
OUTSIDE PASADENA
The 20ft Lagoon Caravans Pasadena is built on a 6in box-section chassis with a 6in drawbar running back to the mounts of the tandem-axle leaf-spring suspension.
The frame is made of traditional meranti timber that's clad with smooth composite 4mm aluminium, a one-piece aluminium roof, and a 12mm marine-grade ply floor glued and screwed to the chassis rails.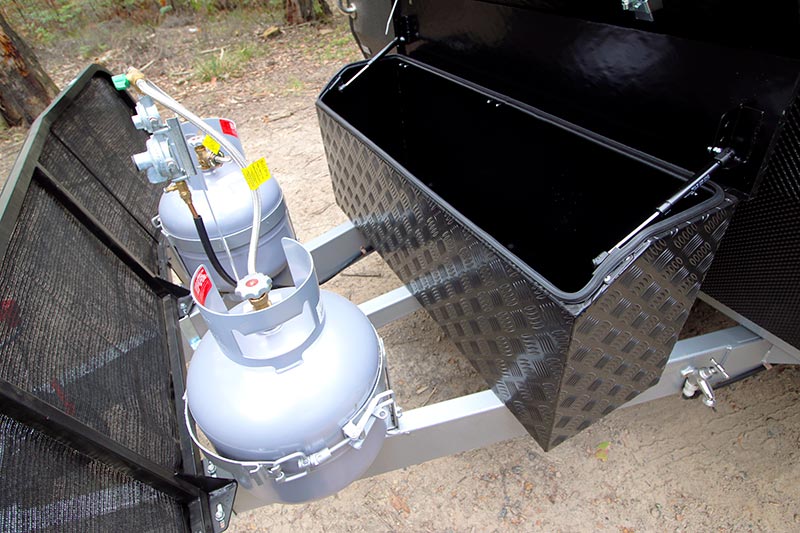 It comes with a ball coupling as standard, a mesh stoneguard, a couple of 9kg gas cylinders and a medium-sized toolbox made of black checkerplate.
In fact, this van does quite well in terms of external storage. The front of the van has a right-through tunnel boot with access either side in addition to a rear-offside locker.
Features of the nearside include a fold-down picnic table and an entertainment locker – just bring the flatscreen telly outside and plug it in.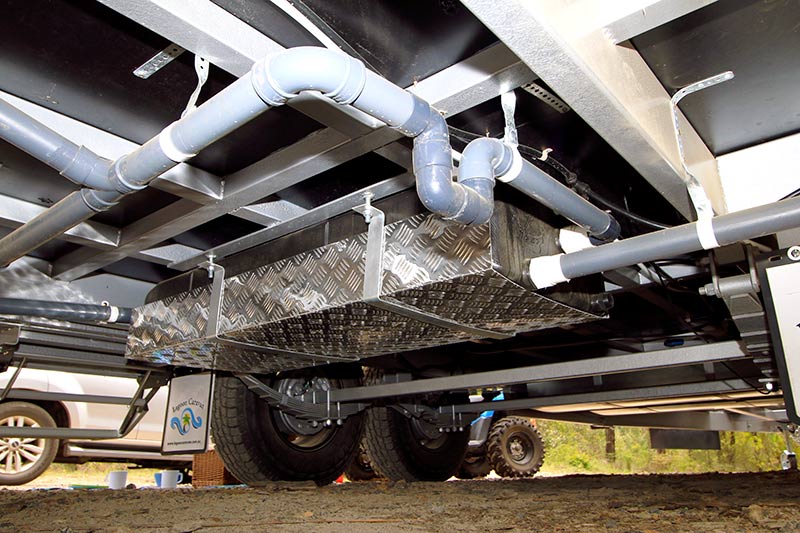 Now, the Pasadena is billed as a semi-offroad caravan, and it should indeed be fine to travel on some of the dirt roads you might encounter in Australia's national parks; however, I'd consider wrapping the unprotected PVC plumbing underneath in carpet offcuts or similar before travelling on anything more aggressive.
It is fitted with a generous water supply – two 95L water tanks protected by sheet metal – and our van even had an optional grey water tank. Naturally, you can connect to town water, with the inlet mounted on an offside chassis rail out of harm's.
Lagoon has also fitted a gas bayonet to a chassis rail, near the tunnel boot, allowing you to tap into the van's gas supply when it's time to fire up your portable Weber.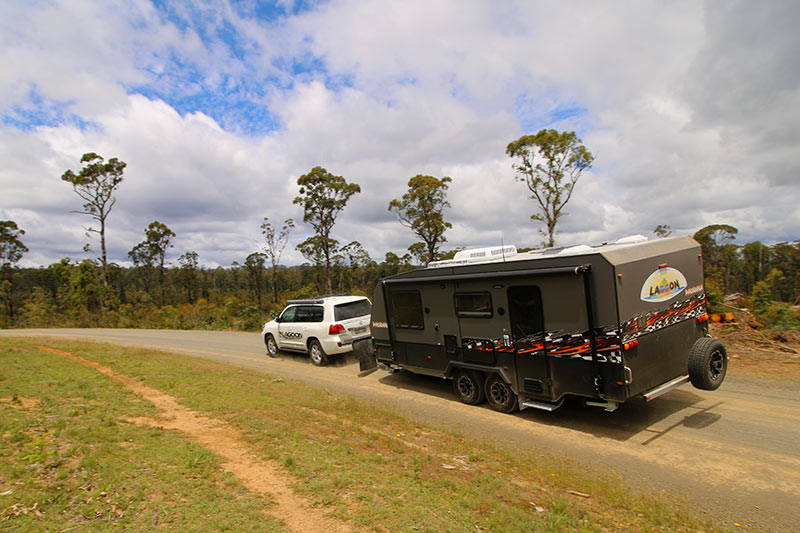 The 20ft Lagoon Pasadena tips the scales at a reasonable 2160kg Tare, and thanks to its ATM of 2660kg it has a payload capacity of 500kg, which I also think is quite reasonable for a van of this size and type.
On the assumption that simply filling the two front water tanks will add 60kg to 80kg to the towball download, the ball weight, thanks to its light(ish) mass at Tare, will still be well below the maximum of many of the mid-size 4WDs that would realistically used to tow this van.
GORV'S VERDICT
Not knowing what to expect, I was quite pleased by the mid-level Lagoon Caravans Pasadena. With its thoughtful layout and standard inclusions, which also includes a 160W solar panel, it should suit touring couples in need of a van to accommodate them as they explore the best country in the world.
THE SCORE
FIT AND FINISH –

LAYOUT –

INNOVATION –

HITS & MISSES