The Force is Kokoda Caravans' top-end offroad range of caravans. They're large and luxurious, fitted out with all that essential gear families or couples (and their grandkids) are likely to need. In short, the Kokoda Force is set-up to hit the road from the factory.
There are some family layouts, complete with two or three bunks in a separate bedroom, and a layout just for couples – as seen in this Kokoda Force 2.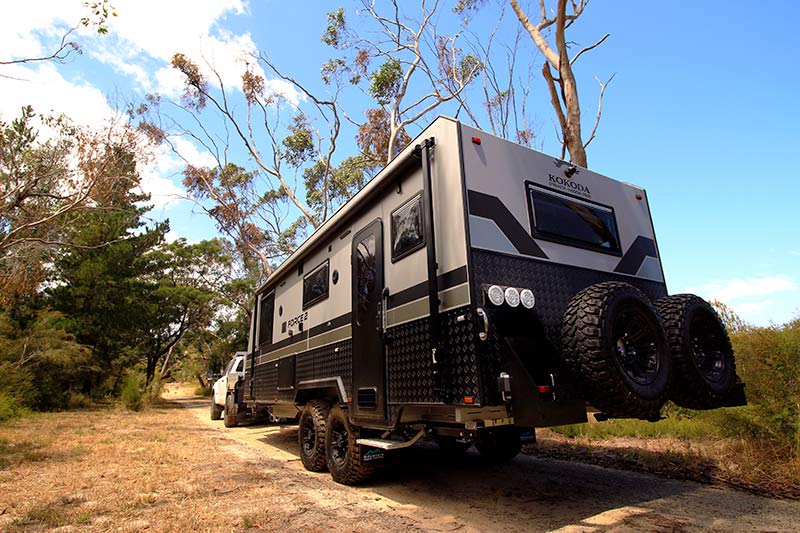 We had been cruising around the High Country in an Isuzu D-Max for the week and decided to hang onto the vehicle for a little longer when the opportunity to hitch up the Kokoda Force 2 arose. We swapped the towball over for a DO35 pin, lowered the coupling, extended the tow mirrors, and headed down Victoria's Mornington Peninsula for a good look through the van.
INSIDE THE KOKODA FORCE 2
First, I was grateful that this caravan eschewed the timeless layout of a front bedroom and rear bathroom.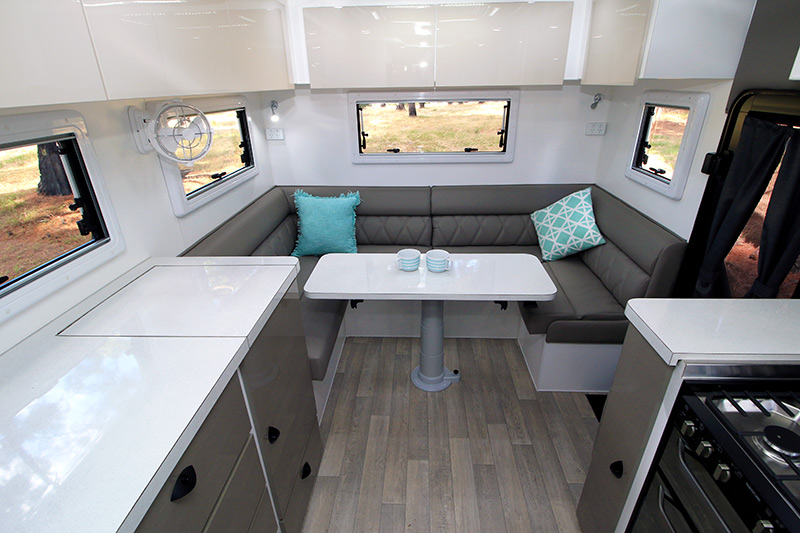 Given its 22ft external body length, the Kokoda Force 2 instead embraces the space and offers something much more. Onboard, you'll find a rear club lounge upholstered in 'vinyl leather' and a nearside kitchen with opposing bench that hides a 2.5kg top-loader washing machine.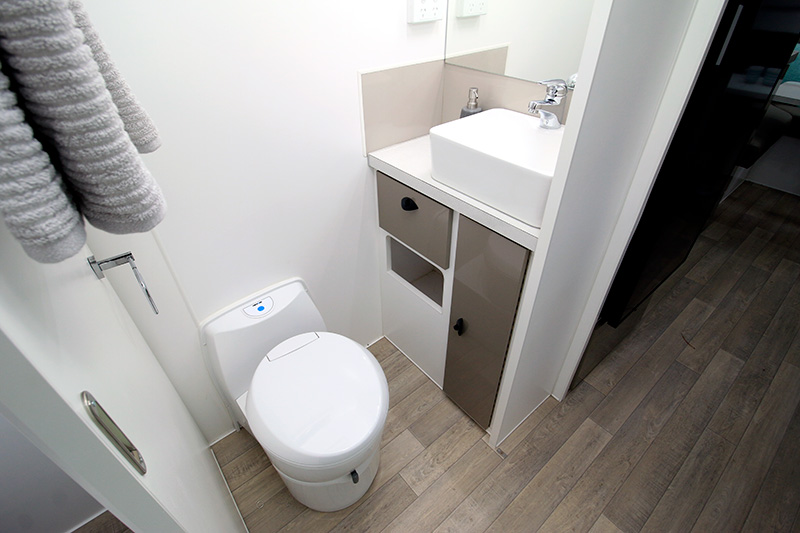 The bedroom is separated from the main living quarters by a split bathroom comprised of an offside toilet and nearside fully-moulded fibreglass shower cubicle. I noted that the split bathroom has two sliding doors, one for entering from the bedroom and one for entering from the kitchen.
Space is perhaps a little tight either side of the bed, but it's manageable. Kokoda has fitted multidirectional reading lights, a couple of 12V Sirocco fans (there's one near the dinette too), a swivel bracket for a flatscreen TV, and bedside niches complete with USB and 240V powerpoints.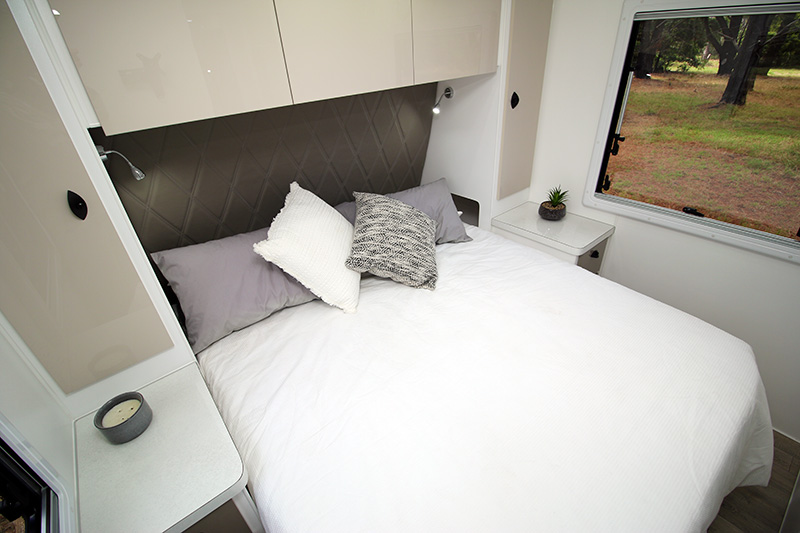 Storage space in the offside wardrobe is partially compromised by the water heater; however, storage in general throughout this van is not in short supply.
The layout is visually impressive and very liveable. The amount of standard equipment found inside is quite generous as well. There's a four-burner cooktop, griller and oven in the kitchen, a 188L Dometic three-way fridge, a microwave, a reverse-cycle air-conditioner, a Bluetooth/MP3 stereo system complete with speakers inside and out, a 24in TV with AntennaTek antenna, and more.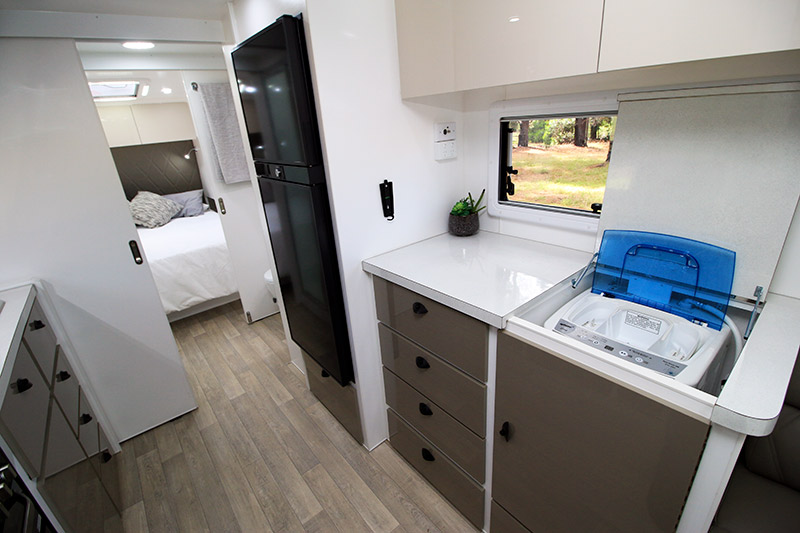 On the 12V front, Kokoda has fitted the Force 2 with dual 100Ah deep cycle batteries, which have been mounted to the offside chassis rail behind protective checkerplate. A reasonably generous 340W worth of solar panels have been mounted to the roof, too, while in a locker above the bench that hides the washing machine, you'll find a BMPRO Genius 30-35 battery management system, along with a 30A solar regulator, an RV Electronics water level monitor, and the gas/electric switches for the hot water service.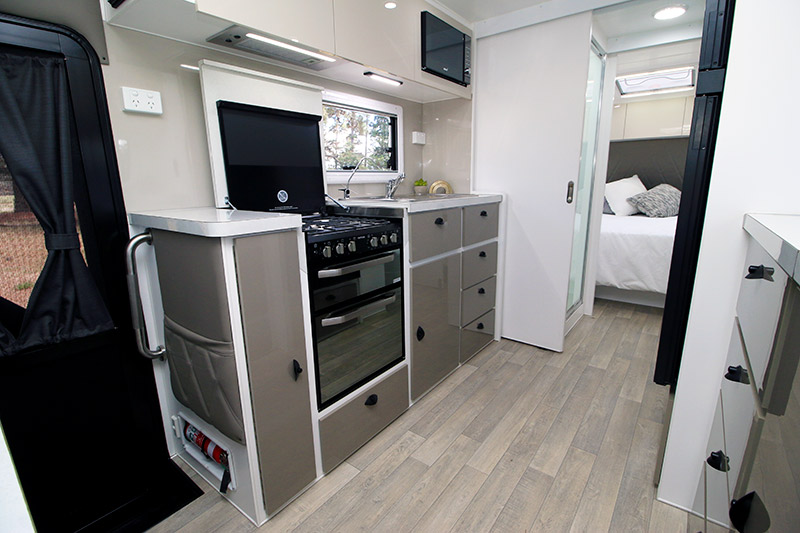 If I was to point out some areas for improvement, I'd nominate the vast amount of silastic used to seal up the cabin entry/exit points for plumbing and the exposed screw heads on the bathroom bulkheads.
That said, the interior does a lot of things well – I particularly liked that piano hinges were used on all locker doors.
TOWING AND STRUCTURE
The Kokoda Force 2 is built upon a 6in DuraGal chassis, complete with 2in chassis raiser and 6in A-frame. The frame is constructed from meranti timber clad with silver composite aluminium and protective black checkerplate along the sides (500mm), back (700mm) and front (900mm).
External storage is one of this van's high points. A large rectangular box sits atop the A-frame, housing dual slide-out trays. The nearside tray would suit a portable fridge or perhaps a barbecue – a gas bayonet is mounted to the chassis nearby – while the offside tray could suit a generator. Between this storage box and the mesh stoneguard are two 9kg gas cylinders.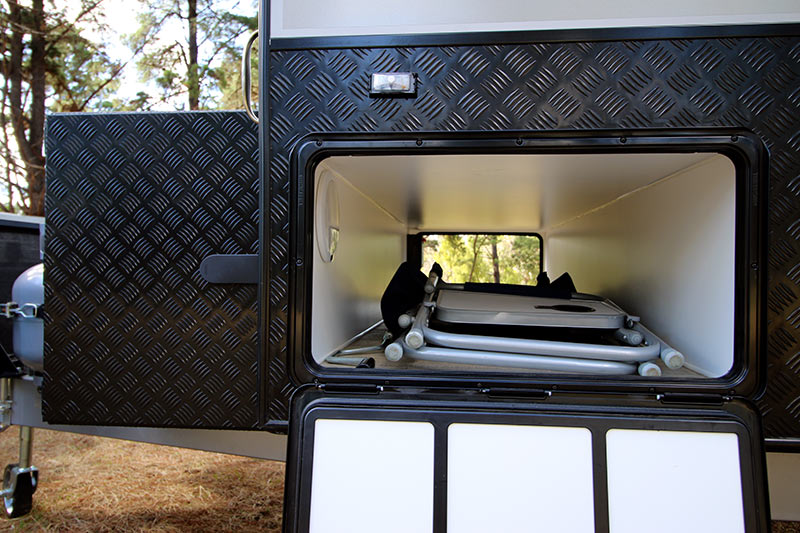 A tunnel boot has been fitted at the front of the van and as if that wasn't enough, you'll find a very large locker at the rear-offside providing access to storage space beneath the club lounge.
Along the nearside, Kokoda has fitted a roll-out awning, a picnic table, LED awning lights, speakers and a 12V powerpoint.
The back of the van, meanwhile, is fitted out with a rear bumper complete with jerry can holders either side of dual spare wheels.
Beneath the van, mounted to the rear of the axles, are two 95L water tanks protected by galvanised sheeting; however, the dump valves protrude and might be vulnerable in offroad conditions.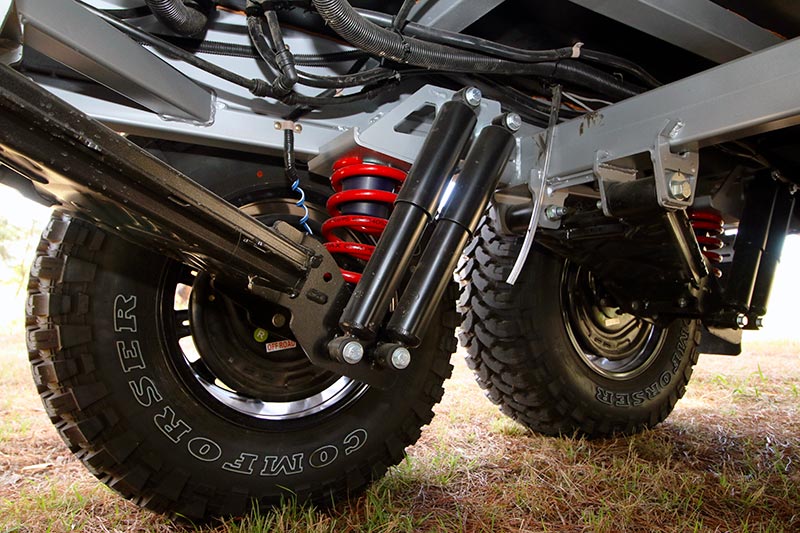 I towed the Kokoda Force 2 at highway speeds, without any load levelling equipment, behind the D-Max and it was a pleasure. The ute had no problems towing the caravan and the van itself was a picture of composure. I also had some fun towing it through some deeply scalloped tracks and almost bogged in one section – fortunately, shifting to low range quickly sorted that out. The Al-Ko Enduro X offroad suspension system fared well, too.
Now, this van is not a lightweight. It has a Tare of 2699kg and an unladen ball weight of 241kg. The ATM, meanwhile, is 3500kg. This equates to an excellent load-carrying capacity, of course, but you'll need the tow vehicle to match.
GORV'S VERDICT
Riding on 16in alloy wheels with mud terrain tyres and a quality suspension system, I can easily see this van travelling along various offroad tracks as you search for that perfect campsite. With its large club lounge and private bathroom and bedroom spaces, the Kokoda Force 2 also has a lot to offer in terms of entertaining guests.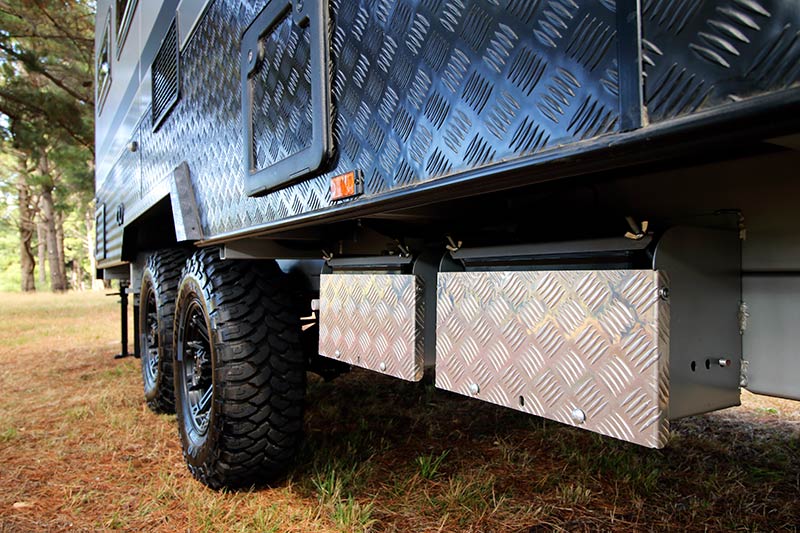 There's really not much, if anything at all, to fit yourself here. It's ready to hit the road from the get-go. The Kokoda Force 2 appears as though it would be a faithful companion, whether for quick weekend getaways or full-time touring.
THE SCORE
FIT AND FINISH –

LAYOUT –

INNOVATION –

HITS & MISSES