Kokoda Caravans has carved itself a solid reputation amongst Australia's RVing public since it was established in 2011. In 2019, Kokoda was purchased by the Victoria-based Price family. Now, the Price family had its manufacturing roots in horse floats; however, being long-time campers and with three boys of their own, taking on Kokoda Caravans seemed like a natural fit for Trevor and his wife.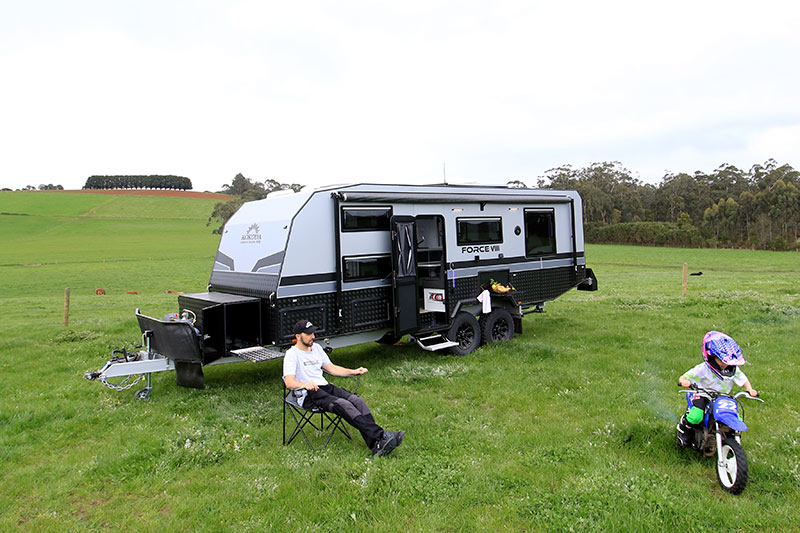 On the face of it, the caravans have not changed drastically under the Price family. They remain attractive, solid units that are fit for purpose. We recently had the opportunity to climb aboard Kokoda Caravans' top-end offroad family van, the 20ft 6in (external body length) Force 8. Does it have what it takes to keep the family entertained and comfortable for long hauls around Australia? Let's find out…
INSIDE THE KOKODA CARAVANS FORCE 8
The layout of our review Force 8 differs from many comparable vans in the 20ft-plus family van market. While manufacturers of many such caravans place the bunks and bathroom in the back of the van, the layout of this Force 8 had them in the front. This, to me, makes a whole lot of sense in a front-door caravan, since kids have a tendency to run in and out. By putting the bunks near the door, Kokoda is limiting the amount of dirt and general chaos being traipsed inside by kids.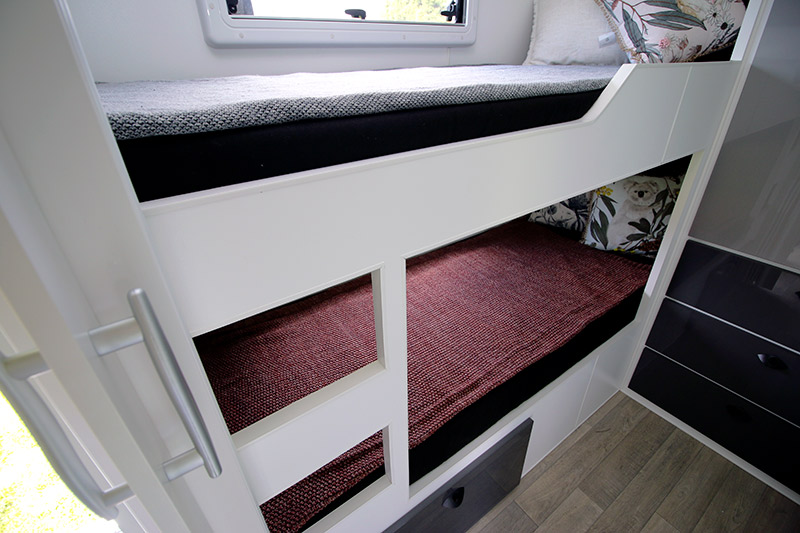 The front kids' room is well thought out, too, with two bunks – each with plenty of head room – on the nearside, a bathroom in the front-offside corner, and a sizeable wardrobe between with lots of usable storage space.
Each bunk gets a multi-directional reading light with inbuilt USB charging point, along with an optional 12V Sirocco fan, and there's easily accessible storage space beneath the bottom bunk.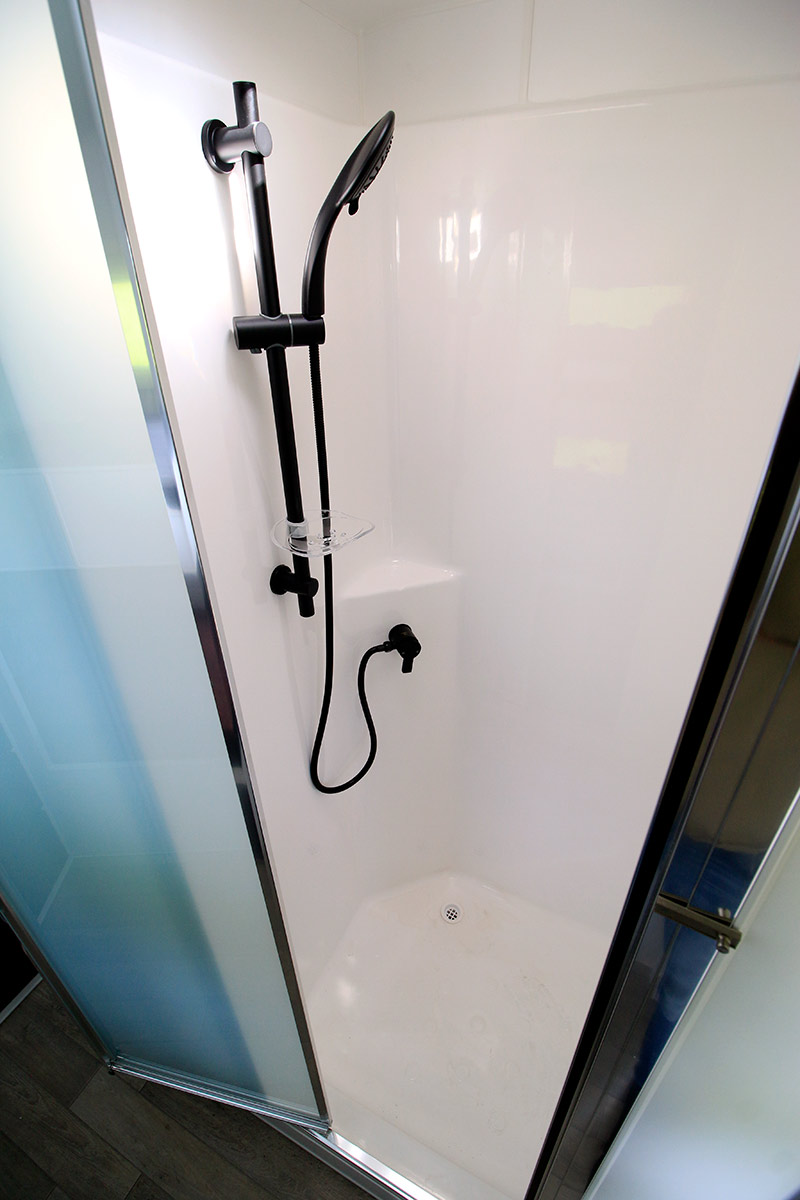 The bathroom is as neatly presented as the rest of the van. Interestingly, it is divided into two separate cubicles: one for the fully-moulded shower, and a separate one for the swivel cassette toilet and vanity/washbasin. I would prefer for both toilet/vanity area and shower to be behind the one door, as that would make things a little more private; however, any bathroom privacy issues here can be alleviated by closing off the entire front of the van via the optional concertina screen that Kokoda provides.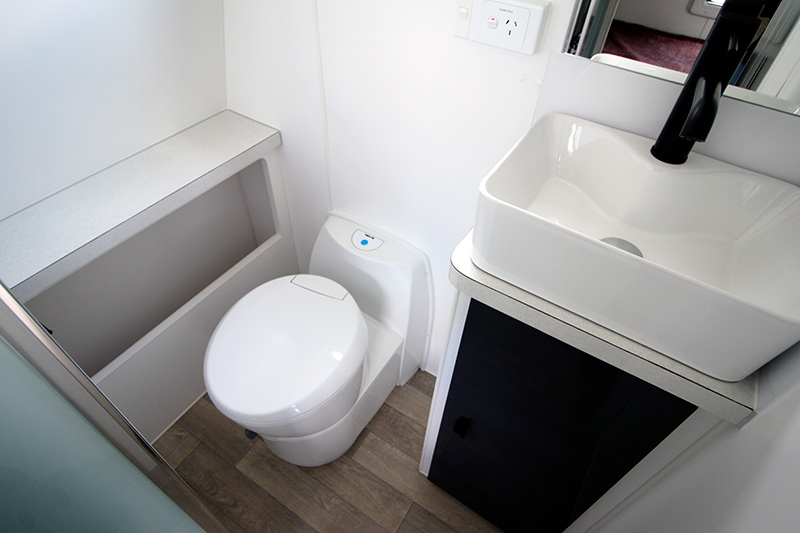 The parents gets a queen-size bed in the back of the van, surrounded by overhead lockers and wardrobes. There are reading lights with inbuilt USB points, a couple of fans, a 24in TV on a swing-arm, as well as loads of storage space beneath the bed itself.
The amidships kitchen, positioned on the offside, is equipped with a stylish black sink, a Thetford four-burner cooktop complete with griller and oven, a Sphere microwave and a 188L Dometic three-way fridge. There's also a below-bench pantry and some general drawers/cabinets.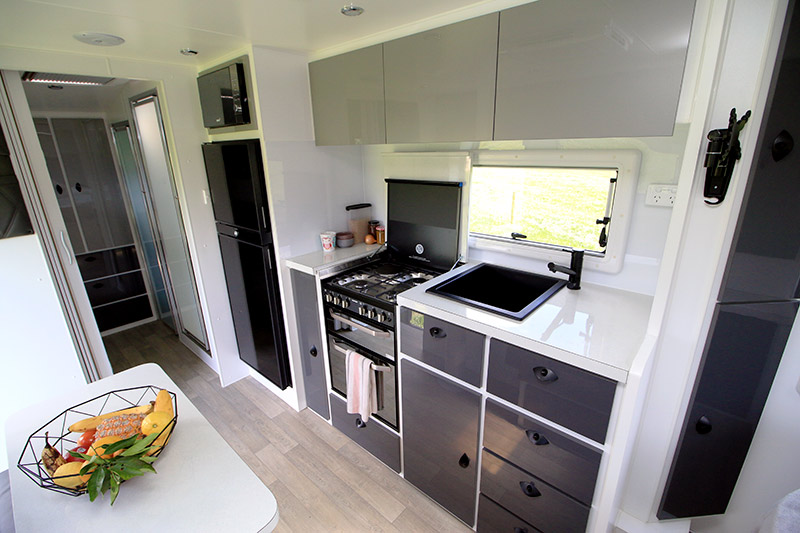 However, one of the kitchen's overhead lockers is occupied by the BMPRO BatteryPlus35 lithium-ready battery management system. This system is connected to a BMPRO OdysseyLink, a 'communication centre' for certain features of the caravan, including temperatures and water tank levels. This information is displayed on an optional digital monitor in the cabinetry near the entrance.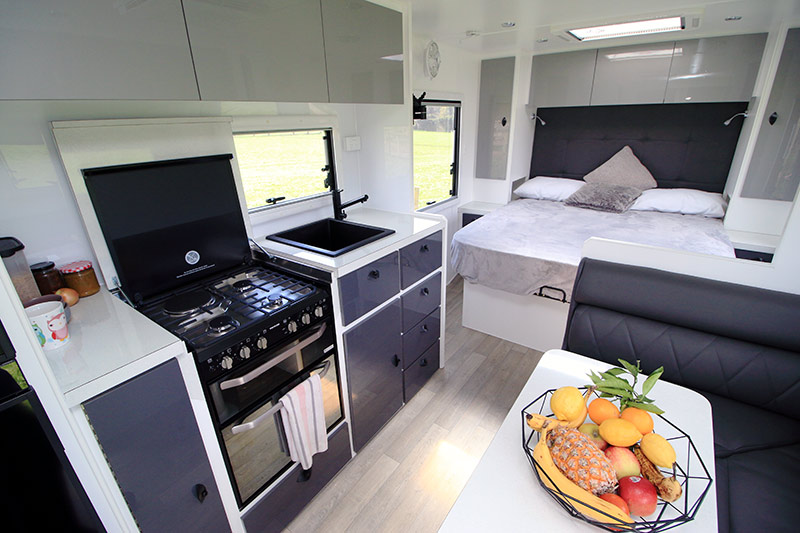 Overall, I felt that the interior of the Kokoda Force 8 was well presented and durable. Piano hinges have been used for all locker doors and I spotted no poor joinery or other areas of concern in terms of the finish.
CHASSIS AND SUSPENSION
Like all Kokoda vans, the Force 8 is built with a meranti timber frame clad with aluminium. Our review van had smooth composite aluminium and black checkerplate protection. It has a 6in DuraGal chassis and 6in A-frame.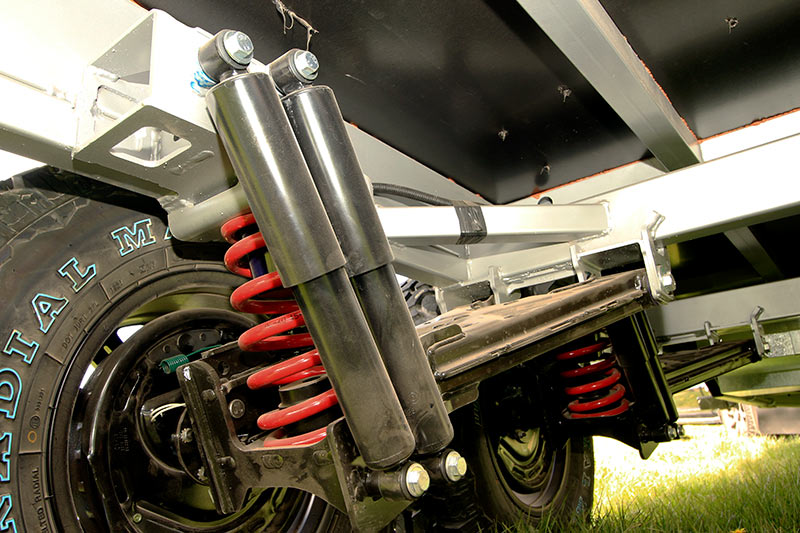 Our review van sported AL-KO's 3500kg-rated Enduro X suspension, which was launched by Al-Ko a few months ago to replace its Outback suspension system. The wheels are 16in alloys wearing mud terrain tyres. 
Both of the van's 95L water tanks are mounted forward of the axle set, and naturally they will add somewhat to the van's ball weight when filled up. But given this van would require a muscular 4WD (the ATM is 3500kg), the tow vehicle would likely have a maximum towball mass of 350kg, which would accommodate the van's ball weight nicely.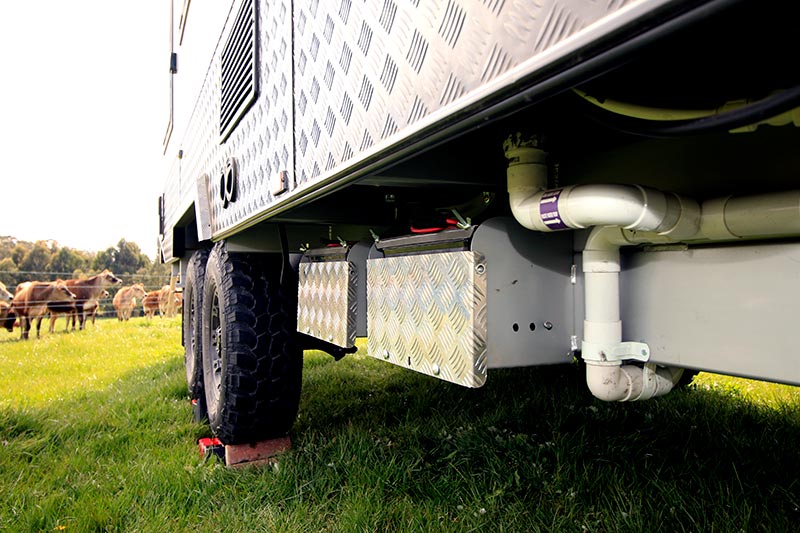 Among the Force 8's external features are a storage box on the A-frame, set behind a mesh stone guard. This box contains a slide-out tray either side. The nearside tray would suit a portable fridge, given there's a 12V point within the box. The offside tray might be used for a 2kVA generator.
No family van would be complete without a bike carrier, and our Force 8 didn't disappoint – Kokoda had mounted a two-bike carrier the back of the van, along with an optional reversing camera and a couple of spare wheels with a jerry can holder either side.
On the offside, at the back, there's an external shower – perfect for washing the sand or dirt off the feet before heading inside. Mounted to a chassis rail, behind the rearmost offside wheel, is the mains water inlet.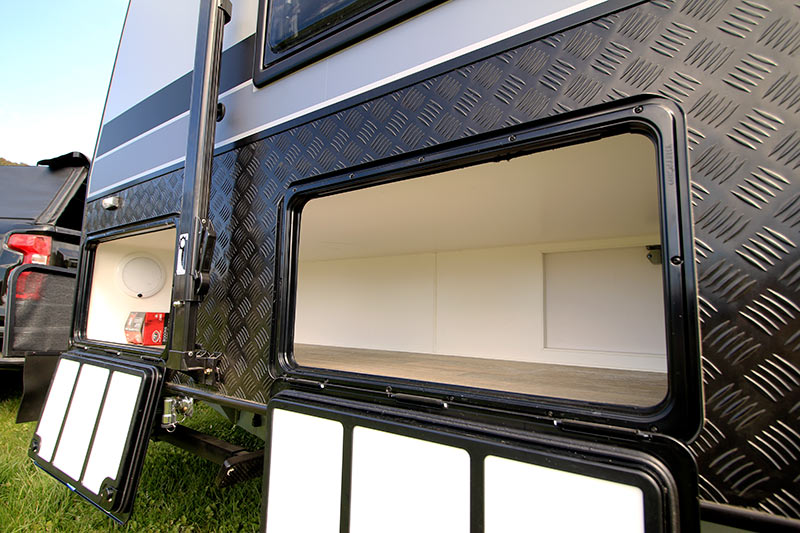 This van's 12V system seems pretty decent. There are two 100Ah deep-cycle batteries mounted to the offside chassis, behind some protective checkerplate. These batteries are wired to two 170W roof-mounted solar panels. There's also a AntennaTek antenna on the roof. 
Some of the other features include a tap on the A-frame and a grey water tank, mounted behind the axles. Of course, there's a roll-out awning, awning lights, and external speakers, too.
But one of this van's real highlights is the amount of external storage space on offer. There's a large nearside boot up front, while behind that is access to the storage space under the bunk.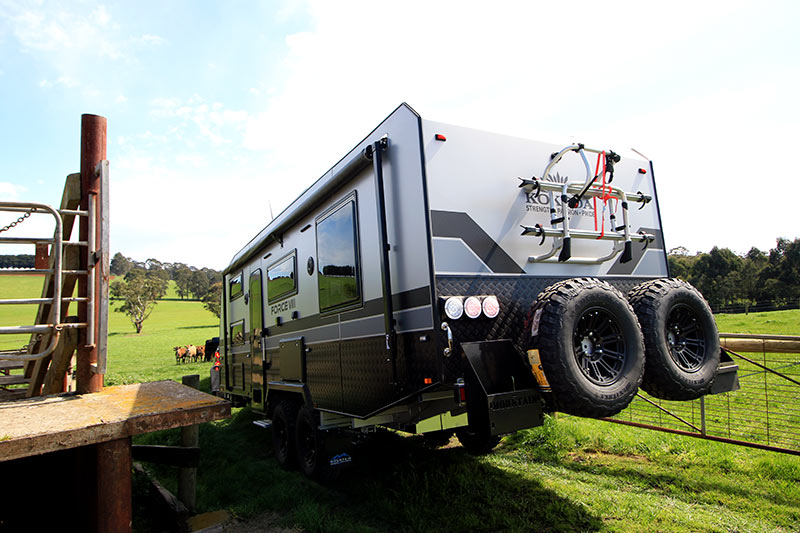 Overall, it's an attractive van with that distinct 'Kokoda look', including the grey cladding and angular front profile. It's quite well equipped for its price point, too.
GORV'S VERDICT
Now, the Kokoda Caravans Force 8 is not a lightweight. Our particular van had a Tare of 2705kg but, to be honest, that's on par with many comparable vans on the market. It is built with comfortable and convenient long-term family touring in mind, so the weight is no surprise.
Having said that, the ATM gives this van a very reasonable 795kg payload capacity. Coupled with suitable tow vehicle, I see no reason the well-appointed Force 8 wouldn't give years of faithful service as you explore remote Australia.
THE SCORE
FIT AND FINISH –

LAYOUT –

INNOVATION –

HITS & MISSES