Evernew Caravans. Is there any name in Australian caravanning more well known and loved?
Under its previous owner, Evernew developed a loyal customer base. Sure, they were built in the traditional way, with a meranti timber frame and aluminium cladding, but they were very well loved.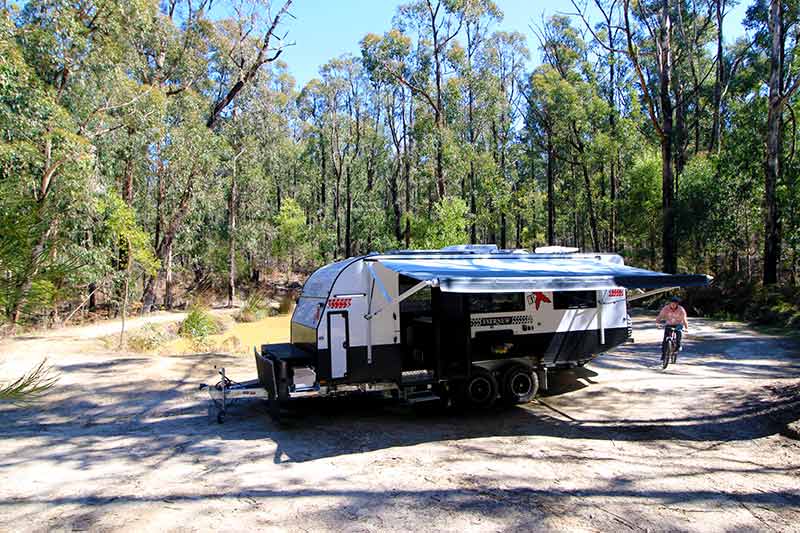 The company dates back to 1963 and has never really strayed from its roots: good value, well-built, comfortable caravans that should last a family a lifetime.
In 2017, this renowned brand was bought by Dani Bib, and its safe to say that he is keen to build on that reputation with the launch of Evernew's first all-new model in many years.
HEAVY-DUTY CHASSIS
The E2000 RTX 40 seeks to take on the big players in the offroad caravan market. It is built on a 6in hot-dipped galvanised chassis, with a 2in raiser, with extra supports to strengthen the entire structure.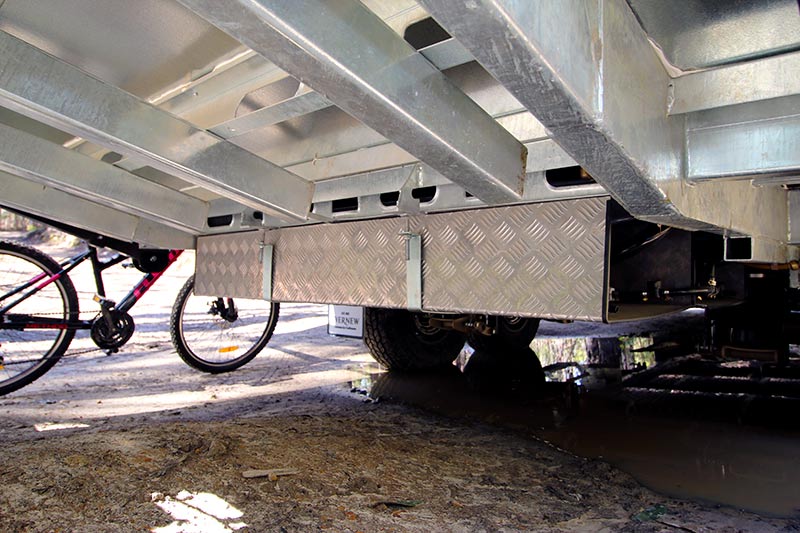 Being an offroader, there's an impressive cutaway rear, too, and what would an offroad van be without a serious suspension system? In this case, it's Cruisemaster ATX airbag suspension, which in addition to its automatic ride height feature can be used to level the van east-west when setting up camp.
The undercarriage is one of the best I've seen in some time. All components are protected, and nothing is out of place – you should be able to traverse undulating terrain and travel long stretches of gravel road with confidence. I towed it over some serious lumps and bumps and nothing snagged or broke.
The RTX is undeniably a hefty van, with its Tare of 3150kg, but it does offer a very generous 850kg payload capacity. Evernew has opted for Cruisemaster's 4.5-tonne-rated DO-45 coupling to suit. While we towed the van with a D-MAX ute, a better bet would be a Silverado or similar.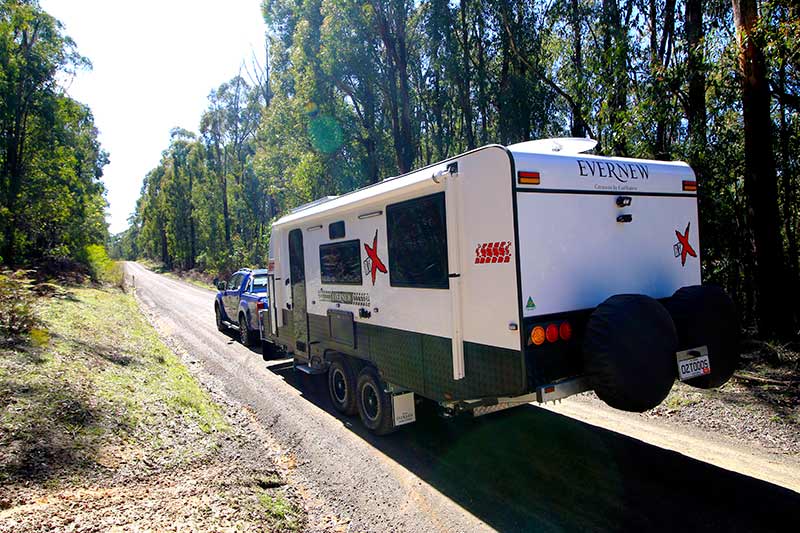 Evernew has mounted a well-built checkerplate box to the A-frame comprised of an offside slide-out tray to suit a portable fridge, space for dual 9kg gas cylinders in the middle, and a nearside slide-out barbecue. A generous storage locker is fitted aft of the barbecue, and the nearside also gets a fold-down picnic table, LED awning lights, and a full-length electric awning and electric entry step (just push a button for both!), while both the front and rear are fitted with LED spotlights.
The RTX 40 has a meranti timber frame and composite aluminium cladding, including checkerplate running high up the sides, front and rear. The joinery outside is done very well. 
The van also has a generous water storage system: two 95L tanks and a 65L dedicated drinking water tank plumbed to a separate 12V pump and water filtration system are standard. Evernew has also fitted a 95L grey water tank complete with a bypass valve.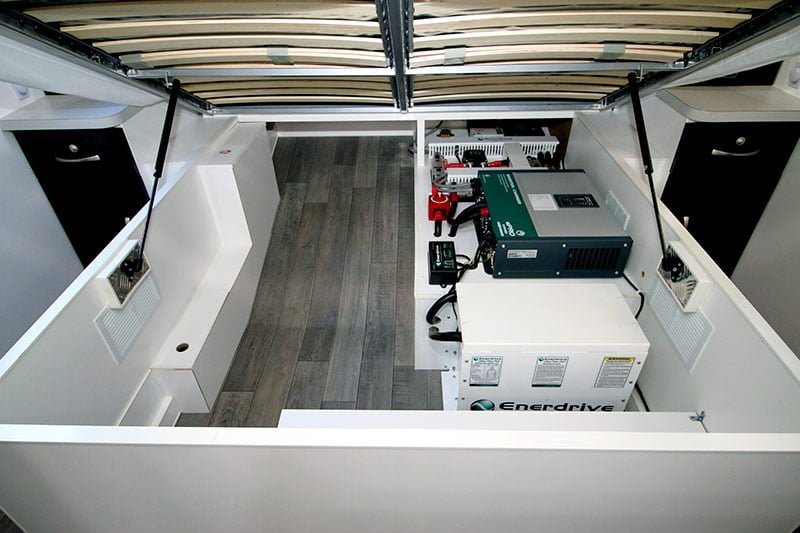 This van also has a top-end 12V system: three 150W solar panels, a 300Ah Enerdrive lithium battery with DC-DC charger and a 3000W inverter are all standard fitment. The bottom line: the RT is very well set-up for free-camping.
EVERNEW CARAVANS FIT AND FINISH
For the price, you'd expect this van to be fitted with a lot of gear. And you'd be right. Among the features, the RTX has Dexter stability control, a gas and smoke detector, a rearview camera, keyless entry, WiTi caravan alarm system and even a GPS security system. Did I mention the Intellisat S2 auto satellite system, high-end Apollo 770 audio system with four internal and two external speakers, 4kg Camec washing machine and Ibis 4 reverse-cycle air-conditioner?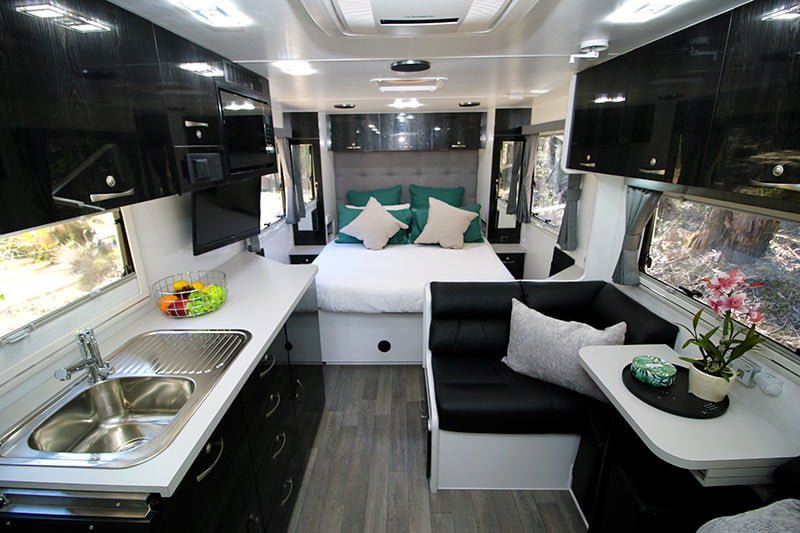 Inside, it's immediately obvious that the RTX 40 maintains the Evernew standard in terms of fit and finish. No dodgy joins, rough edges or poorly aligned cupboards. Indeed, the hand-built furniture, with a high-gloss black finish to the cupboard doors, looks rather glamorous.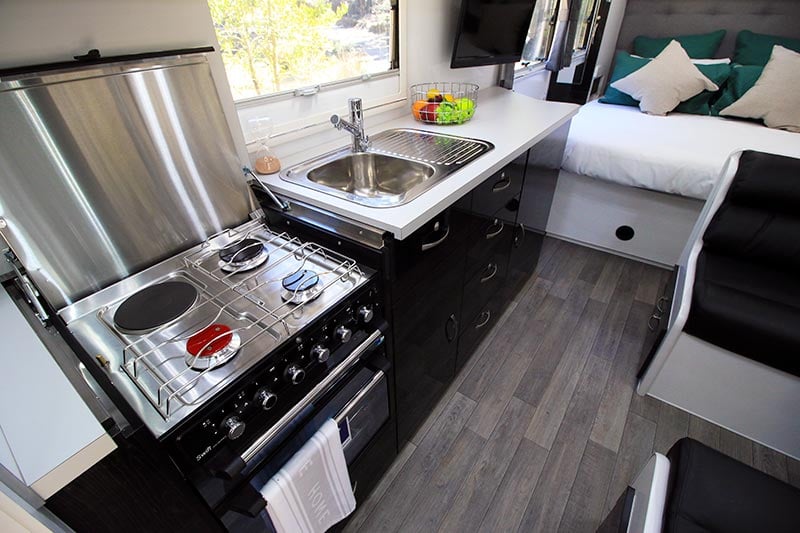 The layout is a little different in that the bathroom is positioned in the front of the van, with the bed in the rear, sitting over the body cutaway. The well-appointed kitchen fills out the offside, while a leather cafe-style dinette with pull-out footrests sits opposite.
The bathroom, with its nearside shower, offside cassette toilet, and rear vanity with cupboards above, is actually quite spacious. And it's certainly attractive and well-finished; happily, it has a solid sliding door with a downbolt to keep it open when underway.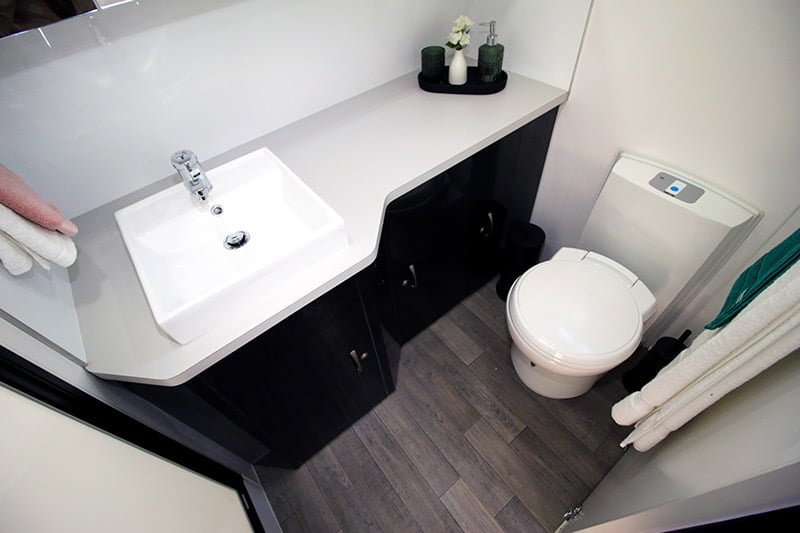 The bedroom has the usual features: overhead cupboards, side wardrobes, etc., but one small detail stood out: the gas struts that lift the mattress base are mounted to reinforcing timber blocks (finished in silver checkerplate). This little feature is characteristic of Evernew's habit of identifying areas of potential weakness and addressing them accordingly.
The lithium setup resides under the bed, though there is some space left over for general storage. Meanwhile, Evernew has fitted the side wardrobes with niches for easy access to the 240V and USB points inside.
The kitchen has the same attention to detail as the rest of the van, and there is plenty of bench space here. A 25L microwave has been neatly recessed into the cabinetry above.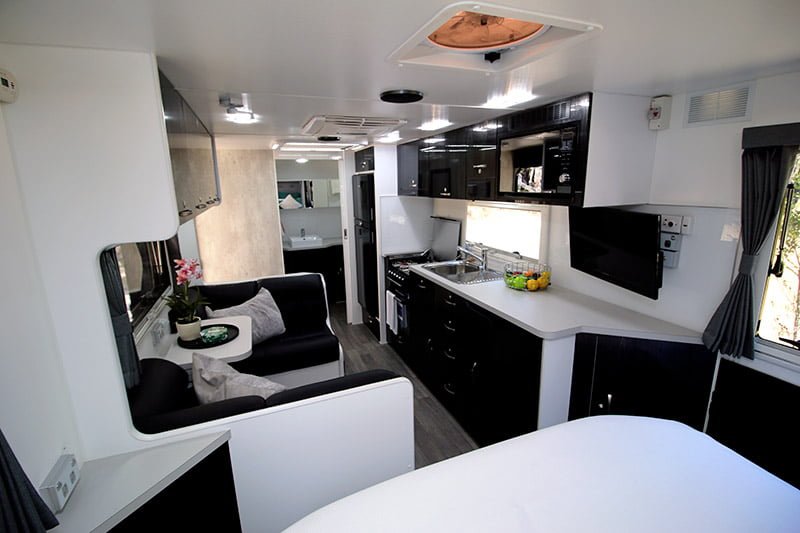 The dinette, with its tri-fold table, overhead lockers and nearby 240V/12V powerpoints, is good and comfortable, though I noticed the infill cushions for the footrests were too small for the pull-out support trays.
Other than that, there's very little to nitpick over. Everything is where it should be, making any extended caravan trip as comfortable and enjoyable as possible.
GORV'S VERDICT
With its overall length of 8.7m, this E2000 RTX is an impressive piece of equipment. It represents a departure from the Evernews of old. It's bold, rugged and aggressive. But yes, its 4000kg (ATM) will require a substantial tow vehicle.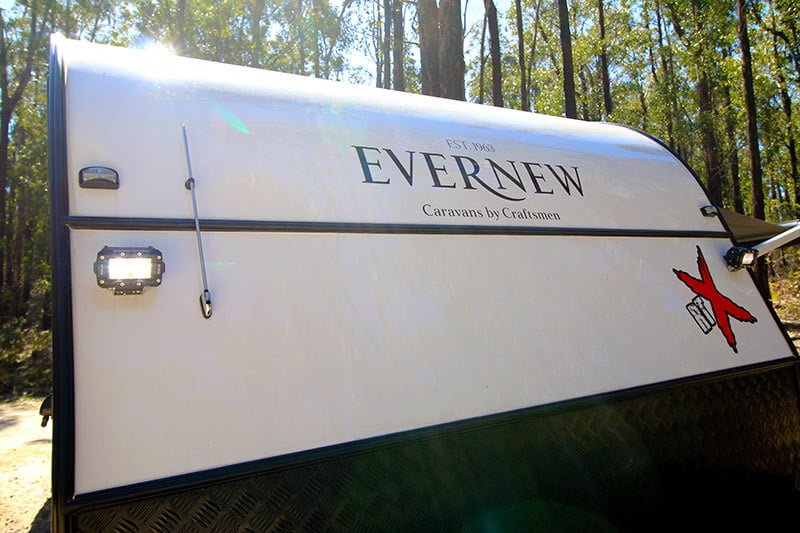 However, to meet the needs of owners of 3500kg-rated tow vehicles, Evernew has designed the E2000 RTX 35, which offers the same suspension, chassis, body and layout, but with a reduced Tare weight.
But this caravan is unquestionably loaded up with gear. While Evernew's vans have, in the past, been more traditional in look and fitout, the RTX puts the bigger names in this market on notice: there's a new player in town.
THE SCORE
FIT AND FINISH –

LAYOUT –

INNOVATION –

HITS & MISSES
Overall strength for offroad touring
Loads of standard equipment
Great layout
Fit and finish throughout
A 4000kg tow vehicle is required to make use of the full payload capacity
Pull-out footrest cushions weren't a close fit
The switch for the entry step isn't well positioned for quick access to the van