I left you last week as I headed to Adelaide for a few days with my son Chris and daughter-in-law Marijana. At least, it started as a few days but Yemmy managed to turn it into a week!
Parking outside Chris' home I noticed a leak of something under Yemmy's engine. At first it looked like water but it turned out to be diesel. It was leaking from the diesel pump and the repairer had to order some 'O' rings from Melbourne to fix it.
Chris was off work with broken bones in his foot and that meant we had more time together – a good thing from bad. It was a great week that included a visit to Chris' church where a lady from the RAA was giving a talk on South Australian road rules and tested our knowledge with a quiz. 
I've never seen a quiz like this. We were all given a little gadget, like a remote control, and the question appeared on the screen with three possible numbered answers. We clicked our choice of number and when the quiz was over, the screen showed the percentage of people who had voted for each answer. It was enlightening to see how many got the answers wrong! 
The weather was fine so I was able to keep my steps up – we were near the beaches so I took advantage of that to enjoy the views while keeping fit.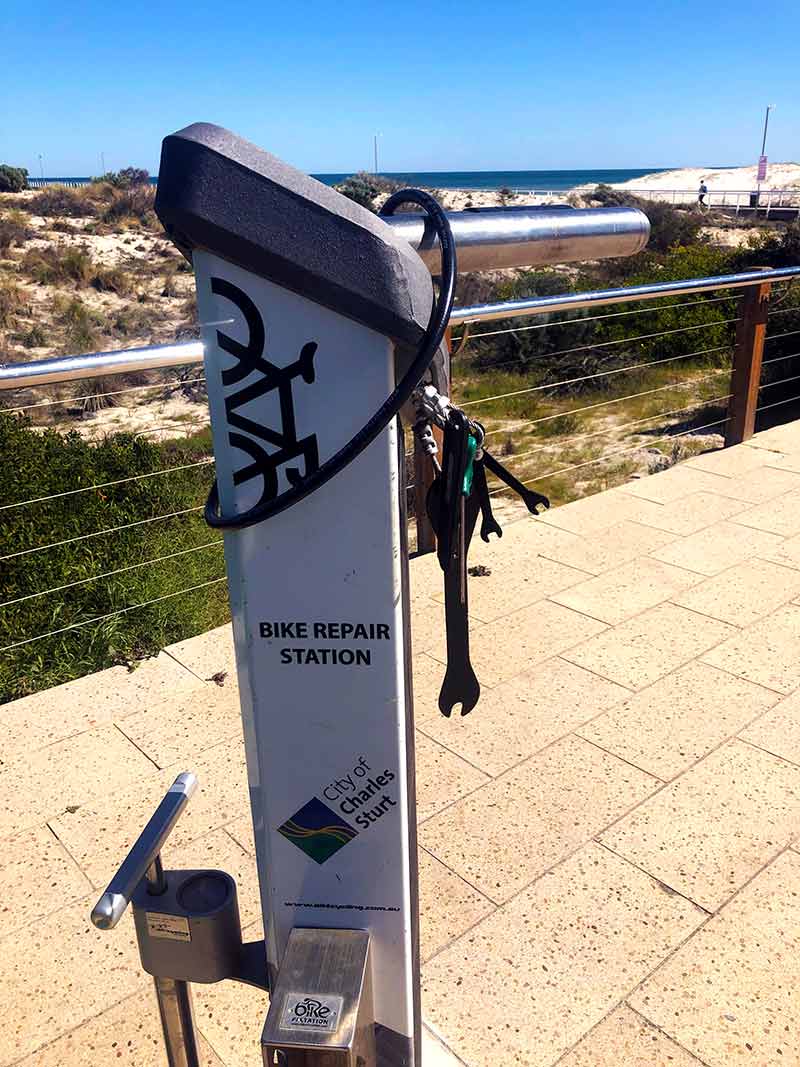 One thing surprised me – along many of the paths of the beachfront were bicycle repair stations. What a good idea. If your tyres look a bit flat there's a pump and connector to pump it up.
THE MARINA FOOD DISASTER
Adelaide's North Haven has beautiful views of the huge marina and I chose a couple of times to walk along the path that gives the lucky/rich home owners access to their yachts. We also went to North Haven for dinner on the Saturday night but our choice of restaurant was a disaster.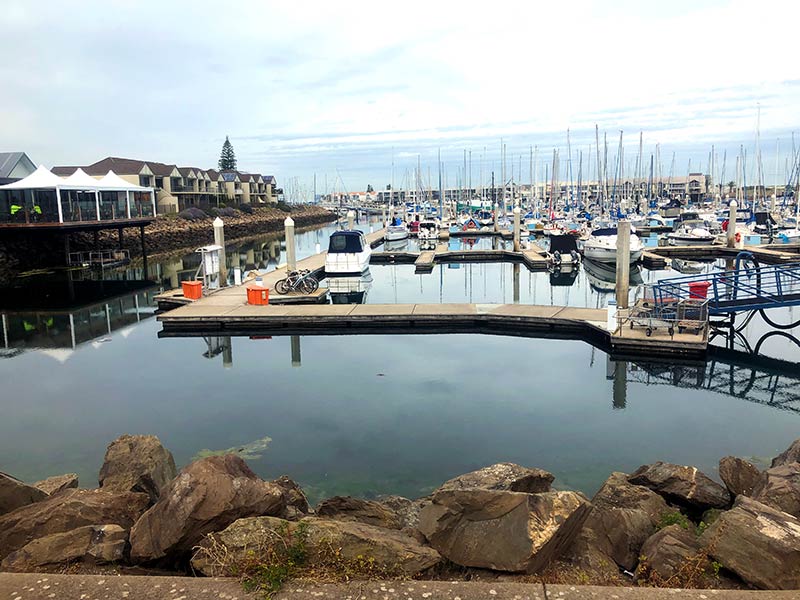 There was a TV in the crowded room and it was showing what must have been an exciting footy match judging from the loud cheers and boos. Add crying children to the mix and the noise level was atrocious! We left!
Nearby was a newly opened Indian restaurant and it was great. Personal service from the owner and scrumptious food with a few free samples thrown in and we all agreed it was a fortunate choice. 
CHOCOLATE!
Oh dear – what's the good of a restricted diet when visiting a chocolate factory? Not much, I hear you say, but that didn't stop us having a guided tour of the Haigs Factory and sampling some of their lovely products.
Although they have a number of outlets, the factory is the only place you can buy seconds so of course we had to buy some! Although Chris and I bought chocolate frogs, the two huge frogs in the picture were stolen just for the shot!
A MIGHTY MINI
While in Adelaide I cooked a lamb curry and Marijana's son came over to have dinner with us. He had just bought a Mini Cooper and took me for a burn in it. As well as looking good it's a herby little beast and I enjoyed the ride.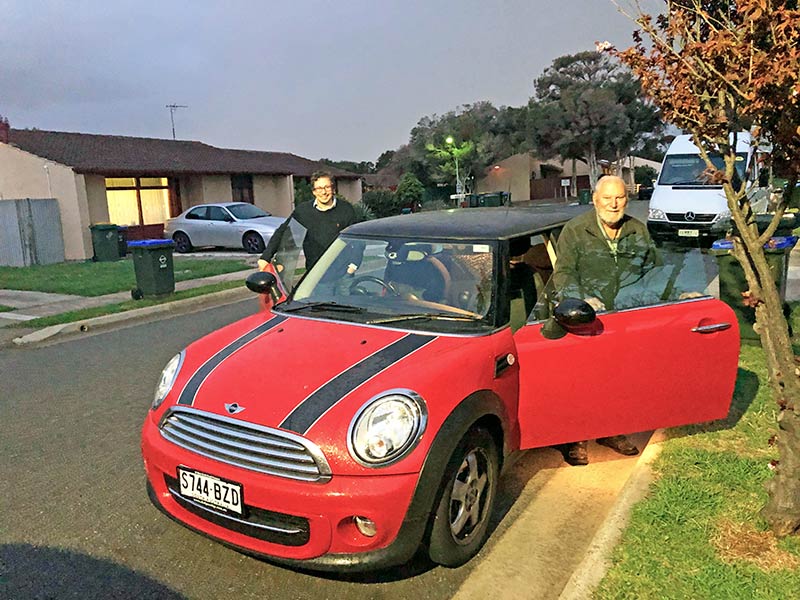 I once had an unfortunate incident with a Mini – I was working under the bonnet and caused a short circuit because a metal wrist-watch strap came in contact with a live wire on the starter motor!
I threw the watch and strap across the workshop and shouted words that I dare not put in this column! The burn went to the bone and I still have the scar! The lesson? Never wear a watch with a metal strap when working on engines!
TALENT!
I hadn't realised how talented my daughter-in-law was until I visited an Adelaide library where she had an exhibition of some of her paintings. She has just started a website showing her work at www.marijanasart.com and it's worth a look. It was hard to get a decent photo of the display because the bookshelves were in the way – it is a library after all!
MURPHY HAS ANOTHER PLAY!
Not content with delaying my home-coming for a few days in Adelaide, Murphy ensured I stayed alert by making Yemmy drop into 'limp home mode' every so often – particularly if I let the engine revs go too high when accelerating. Earlier this week I took him to my Sprinter genius friend in Gippsland, Vic, and we fitted another transmission computer that lives under the driver's seat. 
Then we did a scan that seemed to show all was well. After a road test when everything appeared to be fine, I drove home only to have a repeat limp-home episode when accelerating back up to cruising speed after Ballarat.
Fortunately, when that happens I can stop, switch off, wait a few minutes and everything is back to normal. It's done it again a couple of times since then so my friend is reconditioning an automatic transmission for a gearbox swap.
A GRAMPIANS TOUR
An ACC couple on their way to the ACC muster at Warnambool Vic, from Newcastle, NSW, came to stay with me for a few days this week and yesterday I took them on a guided tour of these lovely mountain vistas.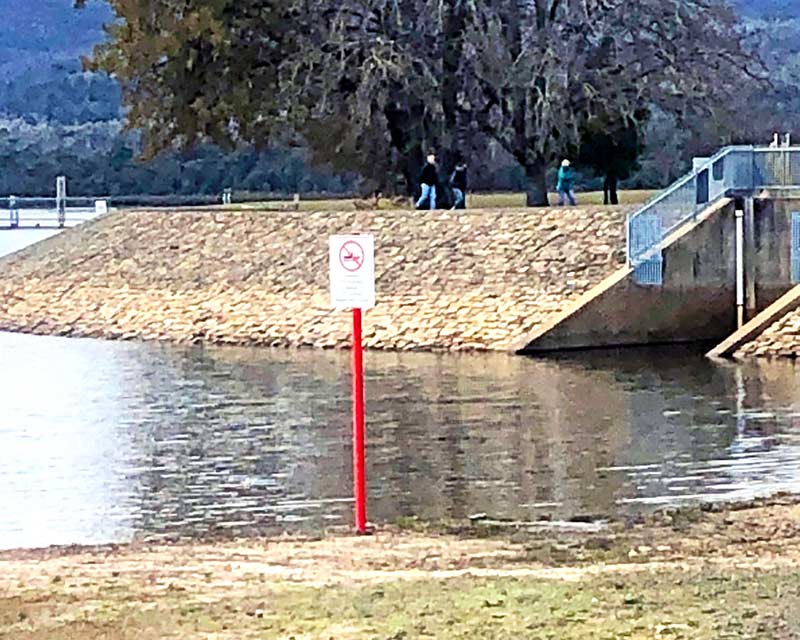 They were busy taking lots of photos but as I had often been there before I only took a shot of Lake Wartook.
THE THINGS YOU SEE WHEN YOU WALK
I got the results of my recent blood test today and the good news is that my walking and diet regime is keeping my blood glucose levels under the diabetes level. The pills I swallow every morning has a bit to do with it as well.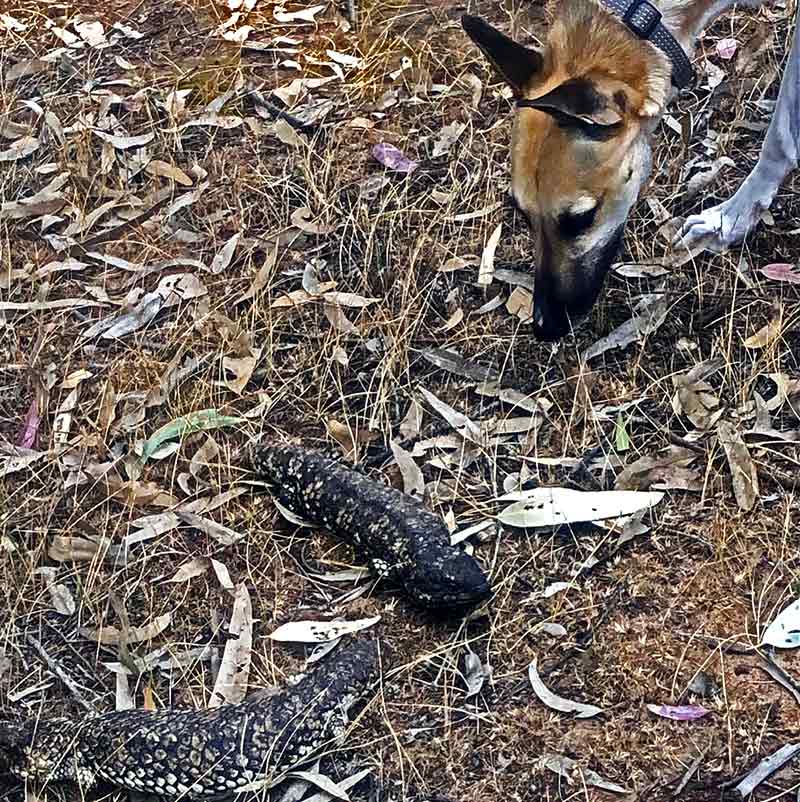 Today's walking included a turn around our paddocks and my friend Jeff – a three-legged staghound – found something interesting to bark at: two stumpy lizards. They blend in with the ground and leaves and are hard to photograph.
IT'S THAT TIME AGAIN
Time certainly goes faster as you get older and the Australian Caravan Club's National Muster and AGM is only days away. This will probably be the closest it will ever get for me as it's being held at Warnambool – about two hours away.
Last year it was held in Denmark, WA ,and I headed across the Nullarbor to attend. On the way home I added up my Nullarbor crossings and found that I was on my 11th crossing!