Australia has more than its fair share of excellent caravan manufacturers. I count Everest Caravans, a very small player in an unassuming factory in Campbellfield, Vic, among them.
Having reviewed three or four of this company's vans over the last couple of years, the husband and wife team of Louie and Aneta Dimitrovski have surprised me each time with a unique aspect to each build.
And here we were again. Mid November and they assured me they were onto something completely different. I had to check it out, they said. I've come to learn that when the Dimitrovskis promise something special, they are not joking.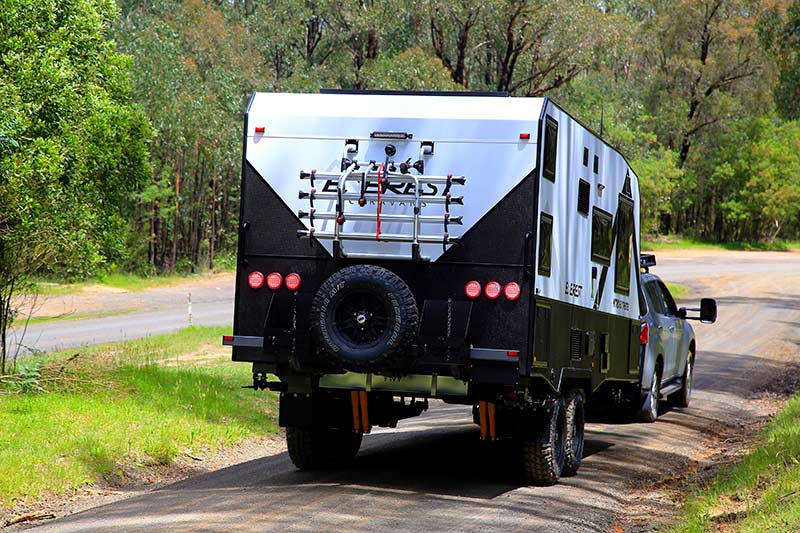 This van was the first of its kind and is based on Everest's Nitro platform and came about when a customer decided to option a basic Nitro to the hilt. That's when the company saw an opportunity to create this specced-up Nitro Extreme. It's 18ft 8in, comes with a couple of bunks, a split bathroom and is built to tackle any and all offroad conditions in Australia. But what sets it apart? Let's step inside…
EVEREST CARAVANS INNOVATION
Innovative layouts and clever use of space have become the hallmarks of Everest Caravans. In truth, I loved what I saw here.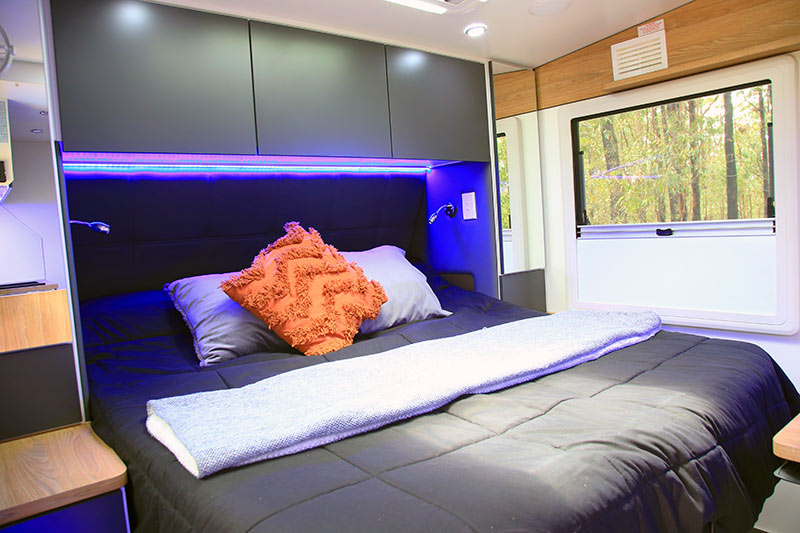 It contains a full island bed which Everest reckons is the first time a north-south queen-size bed has been fitted to an 18ft 8in caravan. I can't vouch for that personally, but I'll agree that it is an excellent use of space.
Across the rear of the van, Everest has fitted two bunks. So what? you might ask. Well, they are tucked behind a split bathroom (fibreglass shower cubicle on the offside, toilet/vanity on the nearside). The 800mm or so of space between these cubicles is the only access to the bunks, so yes, it's a little tight but it's also completely manageable for kids. Further, we're talking bunk beds in a sub-19ft caravan that contains an island bed, full kitchen and dinette, and a split bathroom – not bad at all.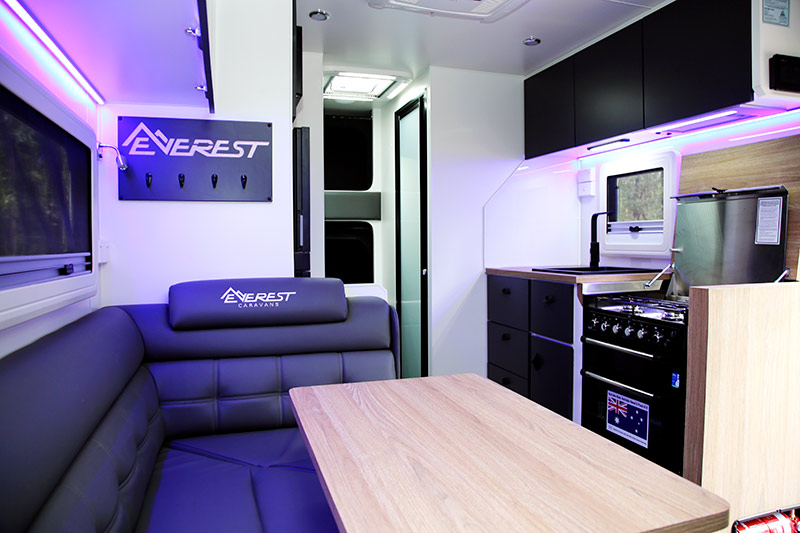 But there's more. Because the space around the bunks is tight, Everest intentionally left a gap of about 150mm between the bunks and the adjacent split bathroom so that parents can access both ends of each mattress – handy for changing sheets, etc. Each bunks also gets its own reading light with inbuilt USB point, optional 12V Sirocco fan and storage nook, not to mention the optional zip-up mesh safety barrier.
The kitchen comes with a four-burner cooktop, griller, (optional) oven and microwave, a range of storage options and in a welcome twist, Everest has even included a 'waterfall' bench – the square-edge laminate finish of the benchtop 'flows' down the leading edge to the floor. The use of blue LED strip lights provides a warm, classy ambience, too.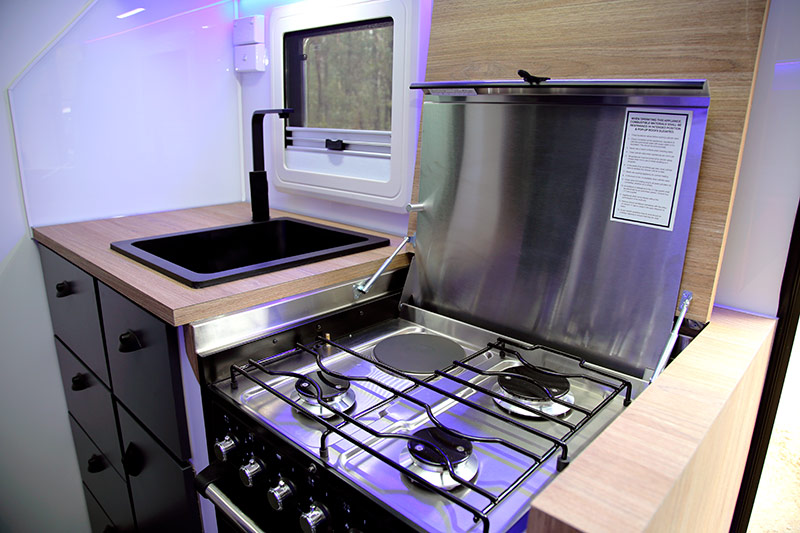 All overhead lockers lift on piano hinges. In one cupboard above the dinette, Everest Caravans has equipped the van with a BMPRO BatteryPlus35 battery management system as well as a BMPRO Mini Boost DC-DC charger – I have this device fitted to my personal van and can confirm it is very effective. A BMPRO OdysseyLink is also fitted here and Everest has even included an optional 2000W pure sine wave inverter.
The 12V system is comprised of dual (optional) 150Ah lithium batteries and dual 170W roof-mounted solar panels with a 30A regulator. As standard, this van comes with just the one 170W panel.
The van comes equipped with a couple of TV swivel brackets, a 24in HD TV and Furion sound system, an Ibis 4 reverse-cycle air-conditioner, a 28L gas-electric hot water system, a 25L microwave, and a 188L compressor fridge. In short, there's quite a lot of quality equipment on offer.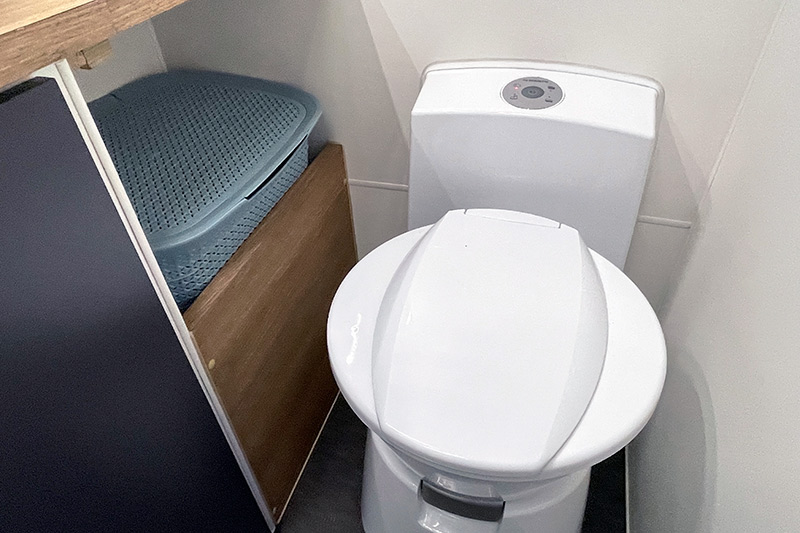 There's another detail that I particularly liked: the optional laundry basket that Everest fitted inside the toilet cubicle. It's small, sure, but it's very neatly finished off and – again – we're talking about a sub-19ft caravan. It goes to show that with some ingenuity and lateral thinking, interesting things can be achieved inside a caravan.
The overall fit and finish is pure Everest. By this, I mean that it presents as a painstaking labour of love. Sure, a bit more kitchen bench space would be nice, as would a larger dinette. But it's important to take the layout in context – appreciate the fact that it offers so much without having an over-sized on-road 'footprint'.
IMPRESSIVE EXTERIOR
The Everest Nitro Extreme rides on a 6in SupaGal chassis with 6in A-frame. It includes 3500kg-rated Oz Trekker airbag suspension. Now, this is not an automatic system – the airbags need to be inflated/deflated manually via the supplied air-compressor. It's just a matter of connecting the line to the relevant side and running the pump until the desired PSI is reached.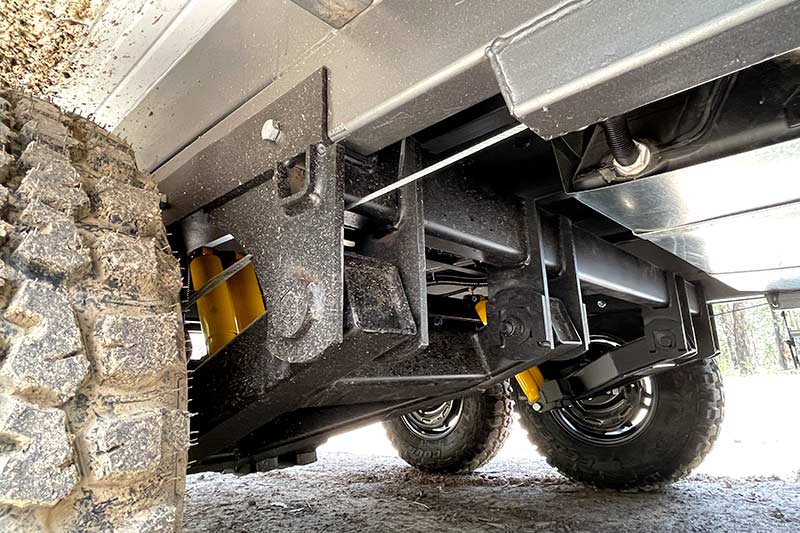 Everest used meranti timber for the framing, with studs at 300mm centres. The timber is bolted to the chassis and in all corners. Interestingly, Everest has opted for full aluminium sheeting (optional – standard composite aluminium is available) as the cladding material. It's the type you might see in a commercial construction application. It's 1.8mm thick and fireproof, though it does weigh slightly more than composite.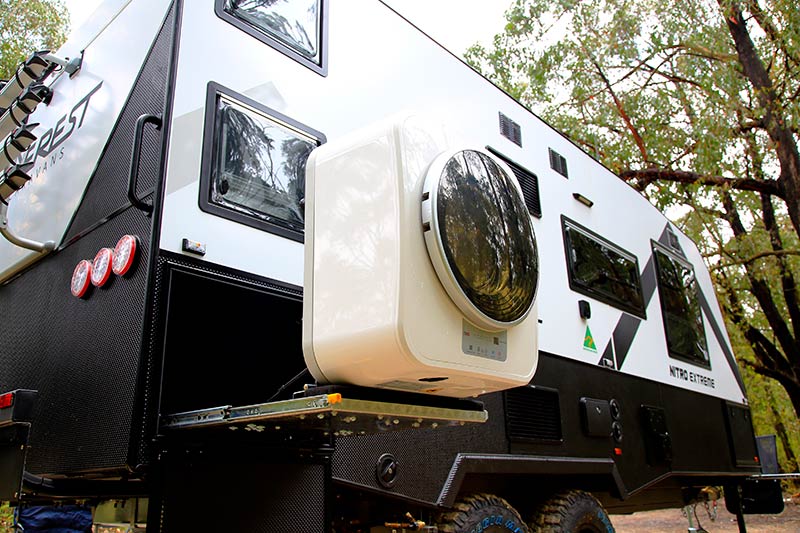 My favourite aspect of this van's exterior, though, is the (optional) external washing machine setup. It's yet another example of Everest Caravans' thinking laterally. The machine is actually a combined washer/dryer. Because dryers create humidity, Everest positioned the unit on a slide-out tray at the rear-offside behind a hatch door.
The machine folds flat on a hinge for stowage, and lifts upright on a gas strut when needed. Further, Everest has cleverly located an inlet to the grey water tank nearby so that the user can drain the machine directly to the tank, rather than letting the grey water dump on the ground. If I'm not mistaken, this is a first of its kind… and I love it.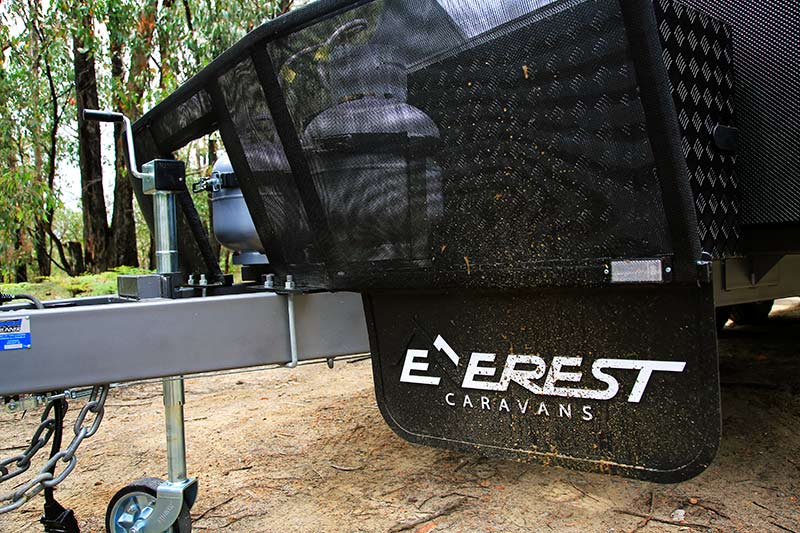 There are plenty of other features on the outside, too, include an optional bike rack for four bikes, loads of storage options, and even an optional storage box on the A-frame with twin slide-outs to suit a generator and portable fridge.
And then there's the optional slide-out kitchen, which is positioned just out from under the awning. It has an inbuilt sink with hot and cold water, and a separate tray area where the owner can position their Weber. A gas bayonet is located nearby, and Everest has even mounted an LED light bar just above to make cooking in the dark that much easier.
Along with the classy X-plate protection, Everest has also wrapped all lines under the van in unslotted Agi Pipe. This will afford the PVC, etc., a healthy measure of protection when the van is being hauled along the Oodnadatta Track and is easy to replace by the van's owner when needs be.
GORV'S VERDICT
The Everest Caravans Nitro Extreme is one classy unit that offers elegant solutions to common problems. The more you poke through the van, the more you realise the thought that has gone into it.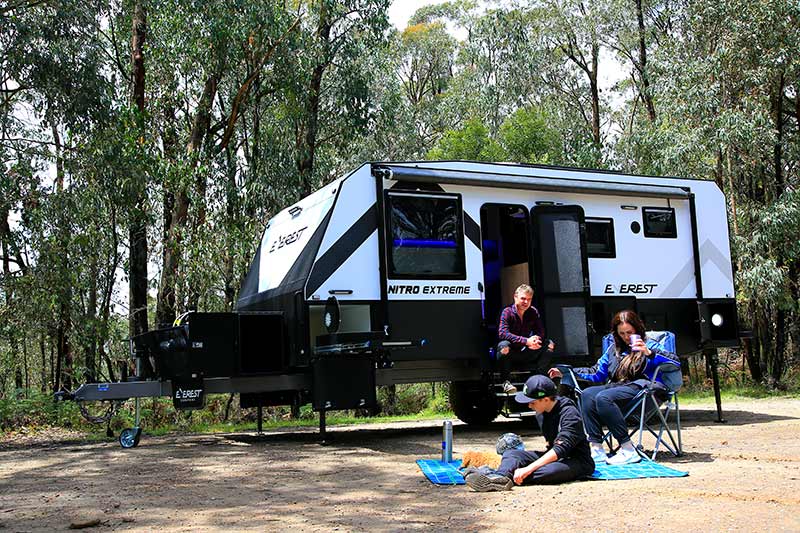 As mentioned, our review was heavily optioned up, and all of the equipment, the full aluminium sheeting, etc., comes not just at a price but there's also a weight component.
This van is heavier than others in its class, and we acknowledge that our MU-X was definitely not the ideal tow vehicle, though it was legal as we towed it completely unladen. However, the Land Cruiser that we had booked fell through at the last minute and we had no choice but to proceed. Having said that, coupled with the right tow vehicle, there's no reason this rig wouldn't give you decades of faithful service.
THE SCORE
FIT AND FINISH –

LAYOUT –

INNOVATION –

HITS & MISSES