Whether you consider yourself a masterchef or simply the type that cracks open a can to heat and eat when you're on the road, cooking gear comes in a range of forms. Over the years, we've travelled with all sorts of cookware – stainless steel, aluminium, titanium, enamel, and cast iron, to name a few.
As with most things, they all have their benefits. But about a year ago, we swapped out some cookware in our camper for a few pieces of pop-up silicone gear by Companion. At that time, we were looking for ways to reduce some of the weight we were carrying, and how to better utilise our available space. We set ourselves a challenge to find five pieces of pop-up silicone cookware that could cover most of our cooking scenarios.
Having grown up using Companion camping products, we started by taking a look through the company's extensive pop-up silicone range. Our aim was to find some suitable products that could have more than one use where possible…
COLLAPSIBLE COOKWARE: OUR SAUCEPAN
Whether we're heating up something to eat or simply boiling water, a saucepan of sorts is generally a camping basic. We went with a mid-sized type that holds 1.5L and is a lightweight 300 grams.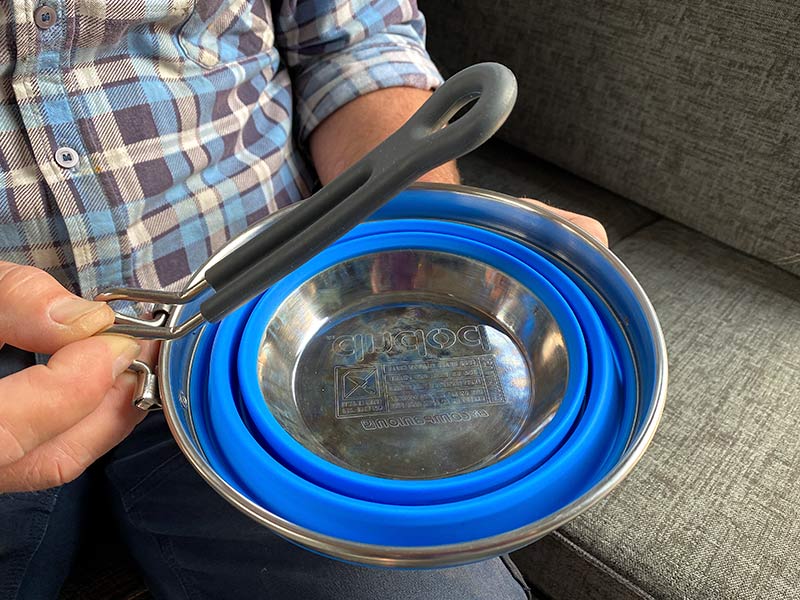 The saucepan itself is a mix of food grade silicone and 304 stainless steel, whereas the walls and handle grip are made of silicone. The base and handle are stainless steel.
A feature we like is how the handle cleverly folds away when the saucepan's not in use. And the entire saucepan collapses down to a very compact 33mm in height. 
STOCKPOT
We find the larger 5L stockpot is just a good all-round pot. Its size works well for cooking things like pasta, rice, stews and sauces, and it's also the perfect size for simply heating a couple of our homemade vacuum-sealed meals when we're on the road. But we also like how it can double as a large bowl.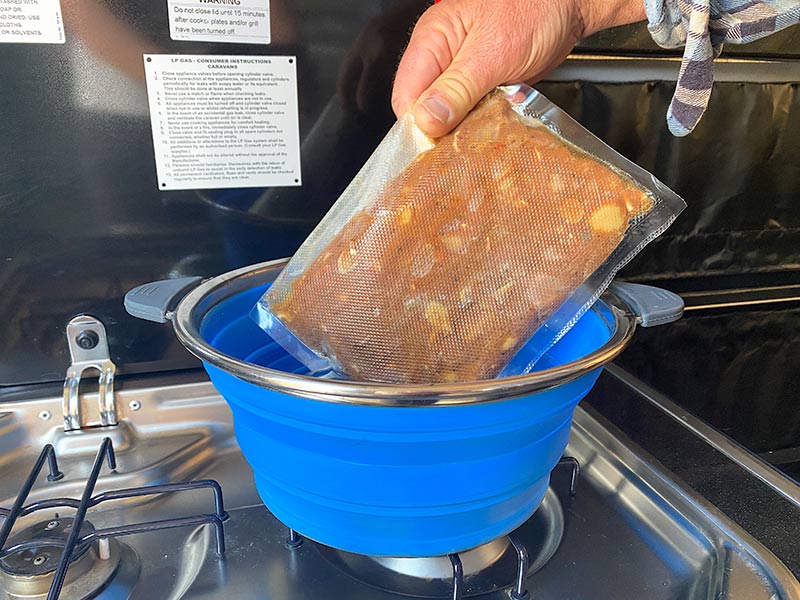 The base is made from 304 stainless steel and the stockpot has two silicone handles for lifting. It also comes with a lid that's a silicone/stainless steel combo and a vent on the lid helps any steam to escape.
The entire stockpot weighs in at well under 1kg and collapses to a neat height of 55mm.
COLANDER AND BOWL
This is one item we're glad to have in our camping set up as it makes draining and serving so easy. The colander gets a regular workout when we're cooking pasta, but it also comes in handy for draining cooked vegetables or simply when used for rinsing salad veg.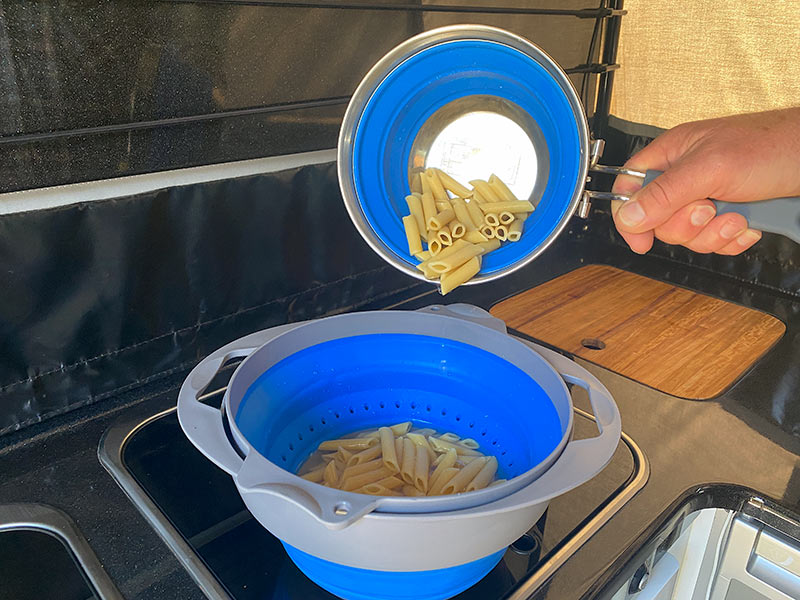 The bowl is useful as a mixing bowl or when simply used as a salad bowl. These two come as a nested combo and collapse to less than 100mm high.
SQUARE TUB
This 8L tub would be one of our camp accessory favourites – we've found many uses for it. While it's a good size for doing the dishes (340L x 295W x 145H), its sturdy construction means it's well suited for just the simple job of being able to carry some gear.
Things like cutlery, crockery and ingredients all get thrown into our tub and carried over to the fire from our camper when we're having a campfire dinner. And we'll then use the tub to take things back to the camper.
We'll also use the tub to collect water from a river, and use it at home when needing something to help us when packing or unpacking the camper.
We have found this tub so useful that we ended up getting another specifically to use for having a light wash in between showers when camping. These tubs weigh just over 400 grams each and are 50mm high when collapsed.
KETTLE
Like our saucepan and stockpot, the kettle that goes on a burner is a stainless steel/silicone combo. The frame and base are 304 stainless steel and silicone is found on the lid, grab handle and kettle wall.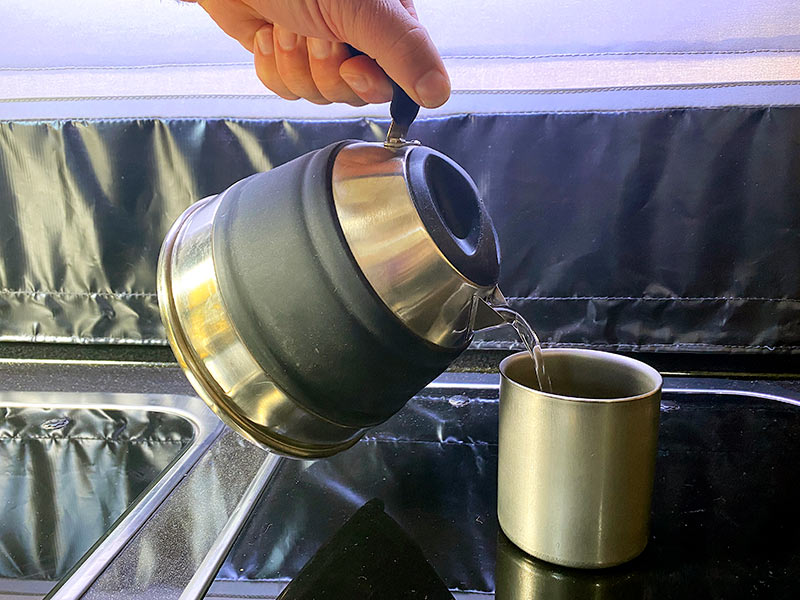 We really like the sturdiness of this kettle when you're dealing with hot water. Unlike some other silicone kettles we've seen, this one has a wide base to improve stability while on the burner.
The grab handle is strong and makes the kettle comfortable to hold while pouring via the kettle's stainless steel spout.
The collapsible kettle comes in two sizes – we're using the 1.5L model that weighs just under 500 grams. A larger 2.5L model is also available.
240V KETTLE
This is one item where we bent (broke) the rules for sticking to our target of five silicone products.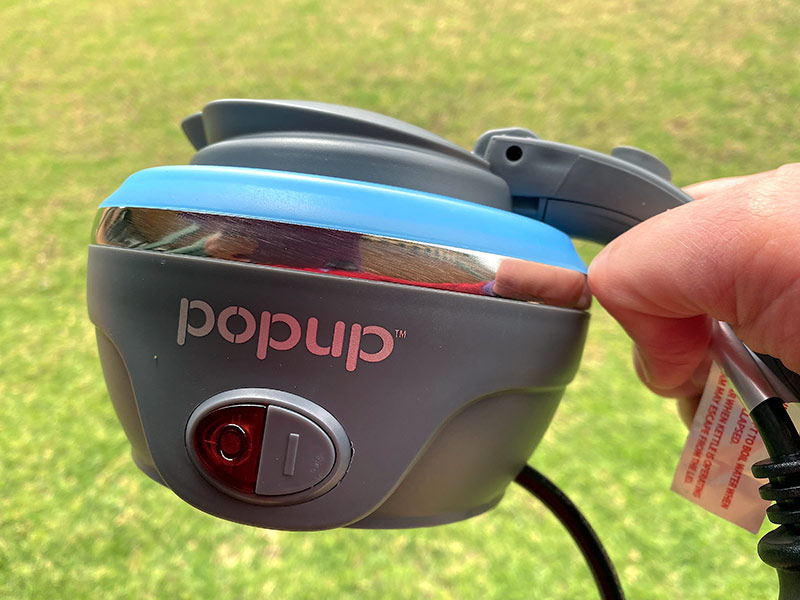 Spending most of our time off the grid, we have found ourselves in the occasional caravan park and having access to power. So we ended up getting a second pop-up silicone type of kettle, but one which works on 240V.
This version is a beauty for the two of us. The kettle's collapsed size is only 95mm high and weighs just over 500 grams. Having something that size to store was never going to be a problem, and we keep it in its original box for ease of access.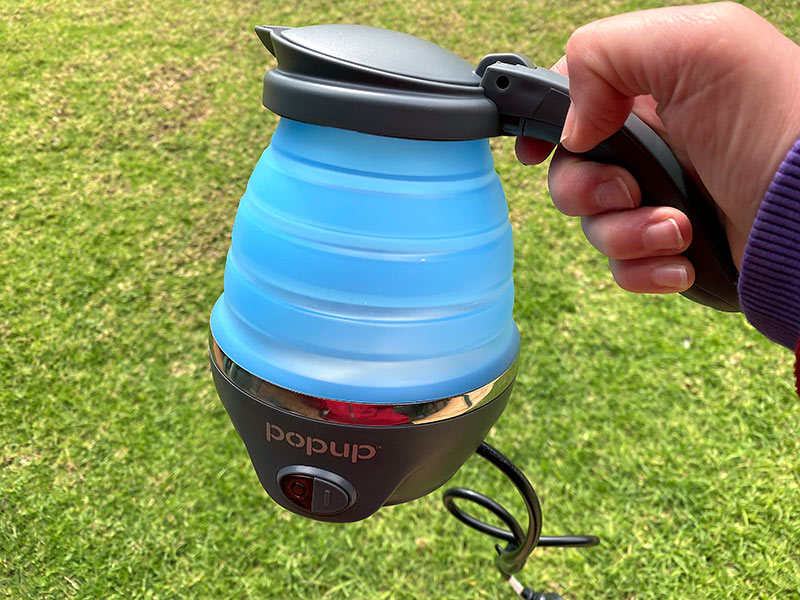 It is isn't a large kettle but its 800ml capacity provides enough hot water for a morning cuppa or two. We also use it for filling our thermos for a cuppa later in the day.
The kettle features dry boil protection and automatically switches off when the water has boiled.
SUMMING UP
Our Companion pop-up silicone gear has now been with us for well over 12 months, and we're pleased to say it is still part of our touring set-up. The products we chose have easily met our initial criteria when looking to reduce weight, improve space, and can be used for more than one application.
Since making the swap to silicone, we've saved several kilos in weight alone. But unlike our previous cooking gear that I struggled to fit into one of our camper's drawers, all our pop-up silicone gear now fits neatly with room left over to add other items.
We've also found the silicone cookware to be very practical and versatile, making it easy to use no matter where we are.
They say when you're on a good thing to stick to it, and we don't see us swapping out the Companion pop-up silicone cookware in our camper any time soon.