Every caravan needs a TV, especially if you're travelling for longer than a weekend getaway. But let's be honest: they're not all created equally.
But one brand of caravan TV has developed a very decent reputation over the last 15 years: Englaon. It's rare to see a bad word said about Englaon products on social media or other internet forums. The Englaon X70 flatscreen smart TV for caravans was released in September 2022. It was the first dedicated caravan television set available in Australia to be certified by Google, and it came with features such as Google Assistant, voice activation, and built in Chromecast, which allowed users to 'cast' whatever they were viewing on their smartphone to the larger TV screen.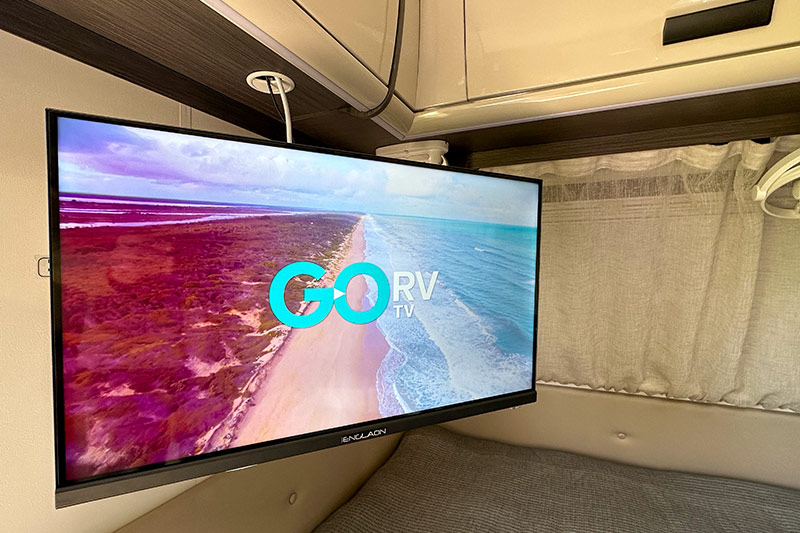 Now, Englaon has launched a larger, smarter version of the X70: the X90. We had the chance to spend some time surfing through the menus, the built-in apps, and watch some telly during a recent quick getaway.
THE BEST ENGLAON TV YET
Englaon touts the X90 as its best 12V TV yet. Remember, all of Englaon's caravan TVs operate on 12V and are built to tolerate the vibrations that travel through the caravan on undulating and rough terrain. However, these TVs also come with a 240V adaptor, meaning that when the caravan is in storage, you can use the TV in your home – removable 'feet' are provided so that the TV can be safely set on a tabletop when it's not mounted to the caravan's swing-arm bracket.
"As fantastic as the X70 was, there is always room for innovation and improvement, and that is what has led us to the X90," Englaon managing director John Feng told GoRV.
"We took the success of the X70 and combined it with extensive R&D to produce the newest 12V smart television in the Australian market. We upgraded the software. We increased the screen resolution. We made it faster, and we made it louder. We even made it look better."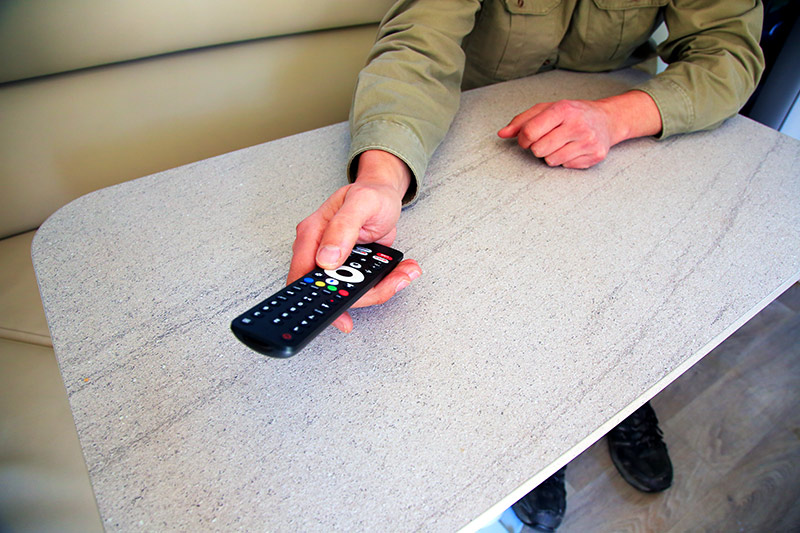 I have to agree with John on this. While I haven't spent a lot of time with the previous X70 model, I can say the X90 was pretty quick. While you can obviously watch free-to-air TV via a conventional antenna, we were particularly interested in its 'smart' functions, hot-spotting the TV off a smartphone for the required internet connection. The menu items, including for establishing an internet connection, are quite intuitive and I had no difficulty here.
KEY UPGRADES
Unlike the X70, the X90 ships with Google's official television operating system, Google TV – a giant leap forward for 12V caravan TVs. It's also a distinct upgrade to the X70's Android TV system, offering a slicker interface with more functionality. Apart from allowing access to Google's Play Store for more apps, which now includes some games, you'll also be able to stream live videos from a variety of sources such as YouTube. As someone who watches an inordinate amount of YouTube, this is a winner in my book!
The Englaon X90 can even sync with smart homes devices such as lights, cameras and, yes, even your Roomba! Literally, you can fire up your robovac when your a few hundred kays from home!
Plus, if you're worried about what your kids will watch, you can set up parental controls to limit access to certain apps or features, which is helpful if your kids are the types to enjoy sitting inside instead of exploring the campsite.
The Random Access Memory (RAM) has been upgraded too, from 1GB in the X70 to 1.5GB in the X90. This improves the speed at which the X90 functions, facilitating faster opening of apps, faster access to data, and generally faster response times.
What else has been upgraded? The list continues. Englaon has improved the screen resolution from 720p HD to 1080p full HD, while the wattage of the two in-built speakers has gone from 5W to 8W in the X90.
Because Englaon also significantly reduced the size of the bezel on the X90, the company has been able to increase the screen size from 24in to 25in – a small but welcome increase. 
With a well-laid-out remote control, voice activation, the Google TV platform, and all of the other technical wizardry found in this slimline, lightweight TV, the X90 is a very promising television set for your caravan. 
More information: www.englaon.com.au