One of the best parts of my job is the opportunity to meet people who've just bought a new van and couldn't be happier with it. That was the case recently, when I learned about this Royal Flair EcoMate 23, a 23-footer with more equipment than you could shake a stick at. 
This van was the new pride and joy of Victorians Rob and Prue, who had owned a Royal Flair caravan before. They loved that van so much that, when the time came to upgrade, it was an easy choice to engage Royal Flair to build their next caravan.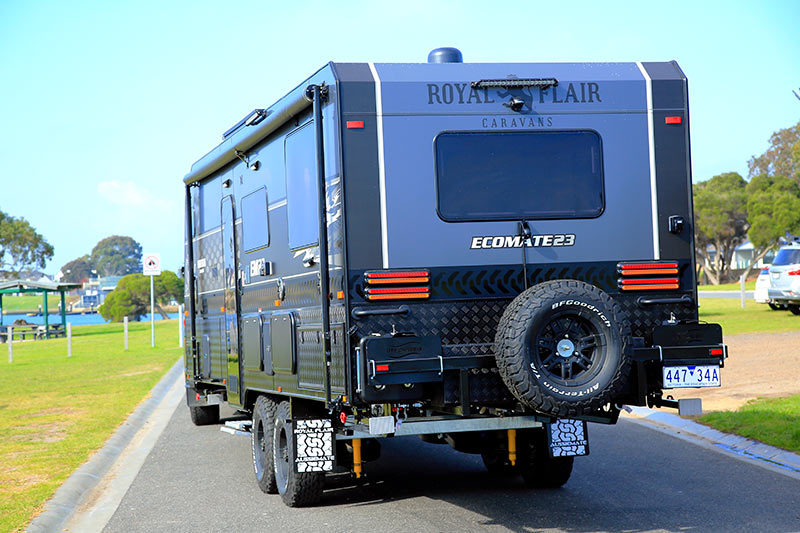 However, Royal Flair hadn't made such a large EcoMate before. In fact, this van was the first of its kind to roll off the production line. Without a doubt, it's a luxurious, carefully finished rig.
The EcoMate is designed to be a self-sufficient, off-grid tourer, backed by an extensive 12V system minimising the need for electrical hook-ups, and a large water storage capability. It's easy to see why Rob and Prue are so happy with their new purchase, but let's step inside so you can see it for yourself…
GLOWING INTERIOR
The first thing you'd notice is the rear club lounge with overhead bed system. This bed is characteristic of Royal Flair. It lowers electrically from the roof to any height you like over the dinette. It's an incredible space-saver. The dinette can be converted to a bed, too, so theoretically you could sleep four adults in the rear of this caravan. This area is complete with 12V fans, charging points, reading lights… it's hard not to be impressed, in truth.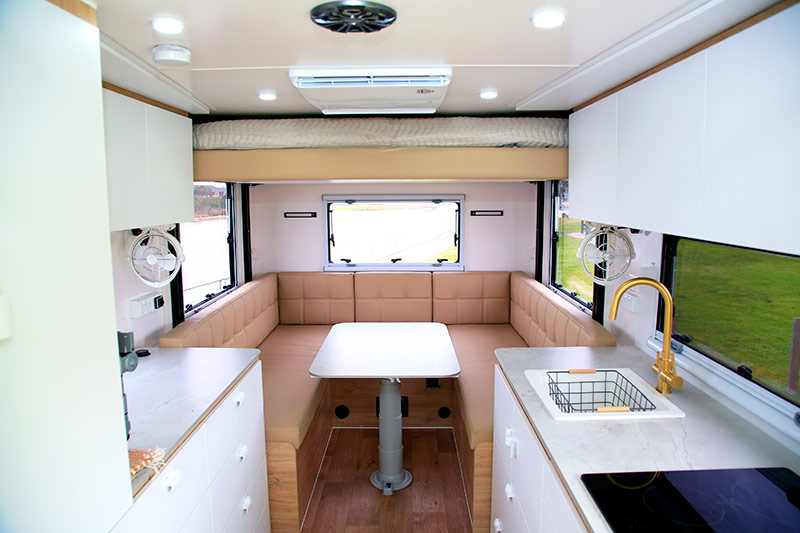 Amidships, the EcoMate 23 is equipped with a kitchen on the nearside and a bench on the offside. The nearside features gear such as a wireless phone charging point, the controller for the onboard diesel heater, and even a large wardrobe space on top of the many drawers, cupboards and overhead lockers. Rob and Prue certainly won't struggle for space to put things.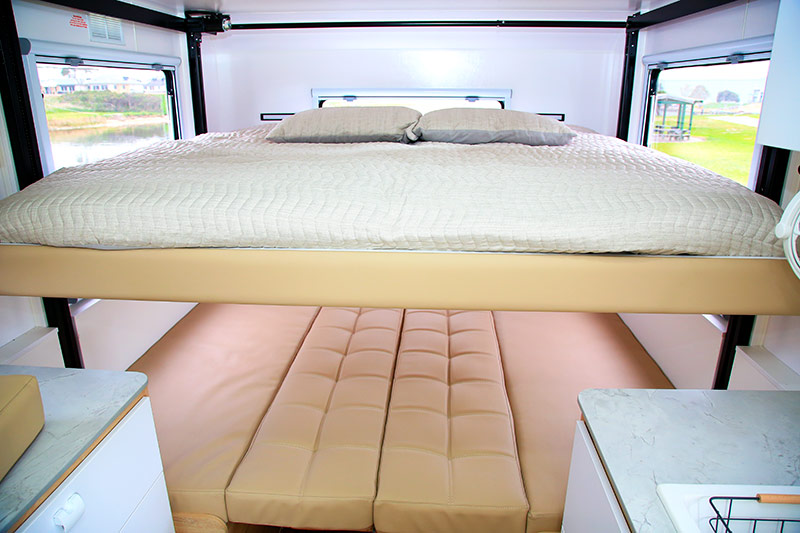 The kitchen is fitted with an induction cooktop but Rob and Prue omitted a griller and oven in their build – an understandable move given the battery setup of this van and the fact they've got an excellent barbecue setup outside. Filtered drinking water, a pull-out pantry, drawers and cupboards… this kitchen is large and very well-equipped. Meanwhile, on the nearside, there's a large 274L compressor fridge-freezer and a microwave neatly recessed into the cabinetry above. A truly beautiful setup.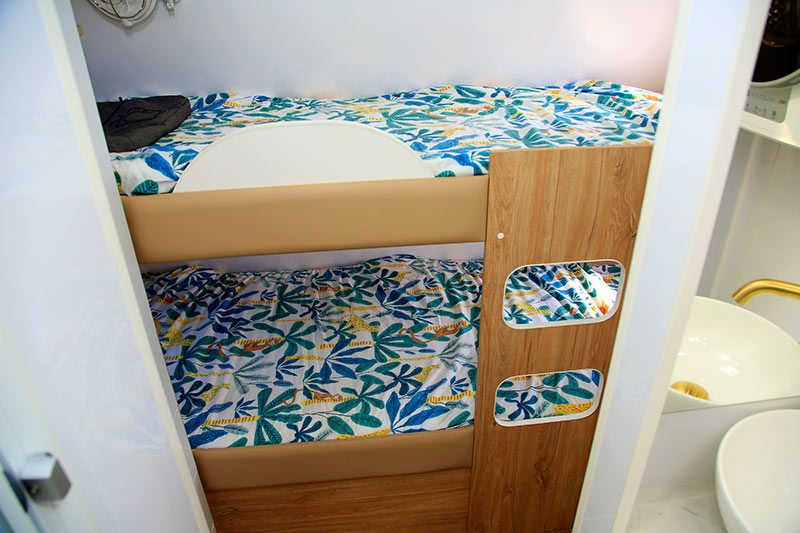 And then there's the kids' room and bathroom in the nose of the van. With two bunks, some storage space, offside ensuite, it's as practical as it attractive. The bathroom is split across either side of the van, incorporating a wall-mounted washing machine above the cassette toilet, as well as a small vanity with washbasin, on the offside, and a separate shower cubicle on the nearside. The beauty of this setup is that the bathroom has the effect of providing additional separation between the main living quarters and the bunks in the front.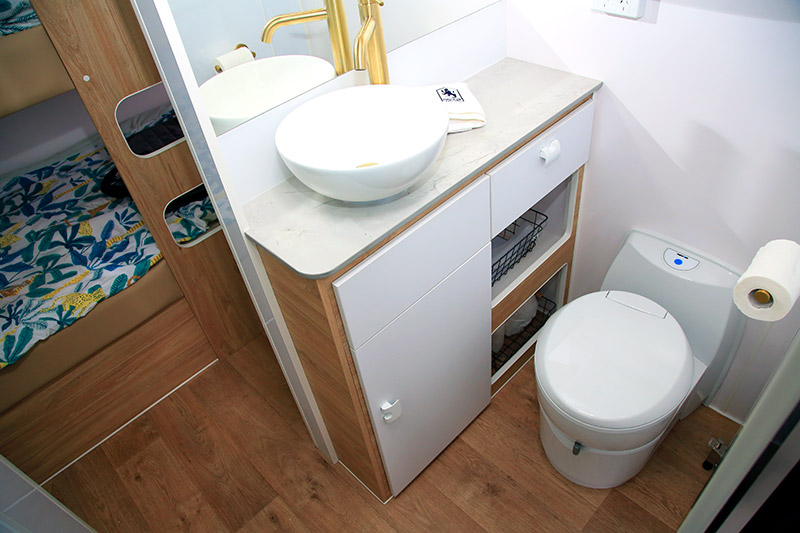 The list of equipment inside this caravan is very long, and it even includes a Carafan pressurisation system, which will keep road dust out, and a  Gree reverse-cycle air-conditioner.
In case it isn't clear, I was pretty impressed by the interior fitout, from the general finish and workmanship to the layout and features. The elevating bed system is brilliant. Though it adds weight to the van, the space it saves, not to mention the layout flexibility it provides, are not to be sneezed at. Rob and Prue have done very well.
IMPRESSIVE ECOMATE BATTERY SETUP
Let's talk about the 12V system. Royal Flair has fitted this rig with 600Ah worth of Enerdrive lithium batteries and a 2600W Enerdrive inverter, which would allow the van's owners to run the AC unit while off-grid, use a toaster, a hair-dryer and much more. But as impressive as that sounds, it's the solar setup that really stands out.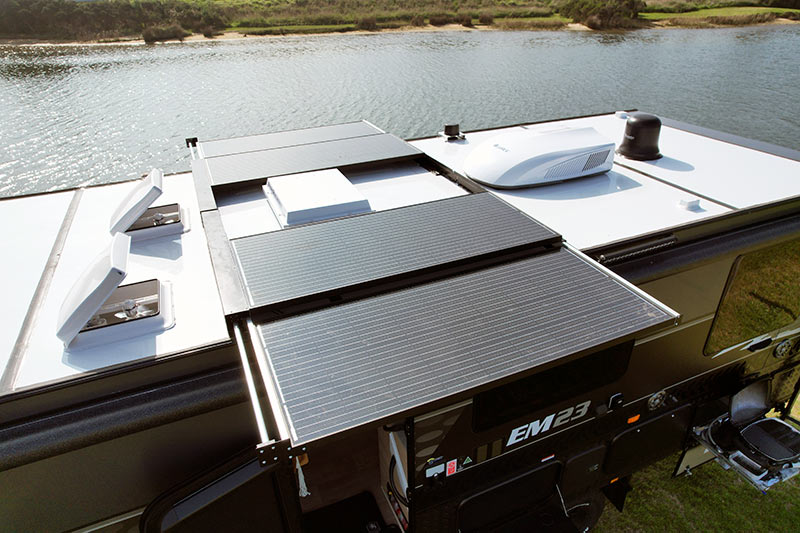 Royal Flair was one of the early-adopters of a slide-out system in which four solar panels are 'stacked', with two either side of the van. The upper panels are on rails that electrically slide out at the push of a button. The effect is to provide 840W worth of solar – four panels at 210W each – without taking up all of the roof space. These panels are backed by two MPPT solar regulators. This means that down the track, Rob and Prue could add more panels as required.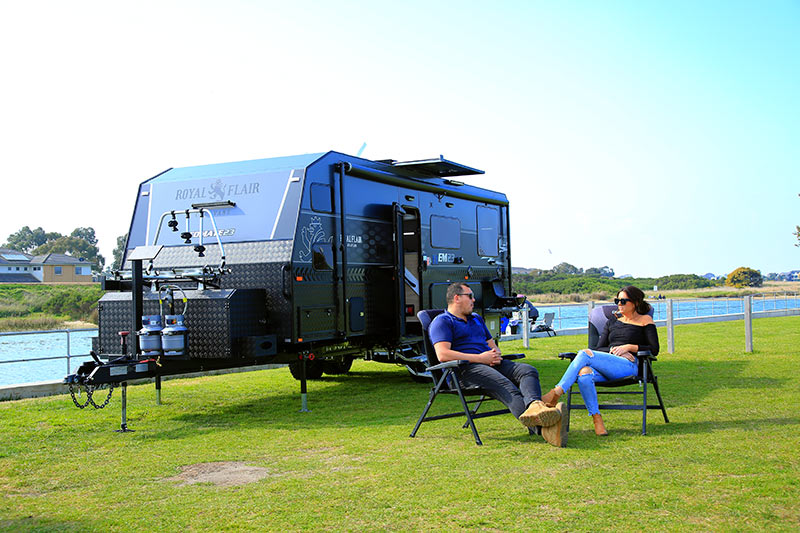 This van rides on Al-Ko airbag suspension, which can independently raise one side of the van as required, and it also has an auto-levelling feature. The 6in SupaGal chassis is coated in X-Gard, a rubberised compound that provides additional protection.
It truly is a comprehensive exterior. The storage box on the A-frame has dual slide-outs but it is also home to a bike carrier and a couple of jerry can holders.
Along the nearside, there's a tunnel boot storage system, more storage at the rear – although you need to unclick the rear awning arm to access it – the control panel for the airbag suspension, and let's not forget the slide-out barbecue. Brilliant.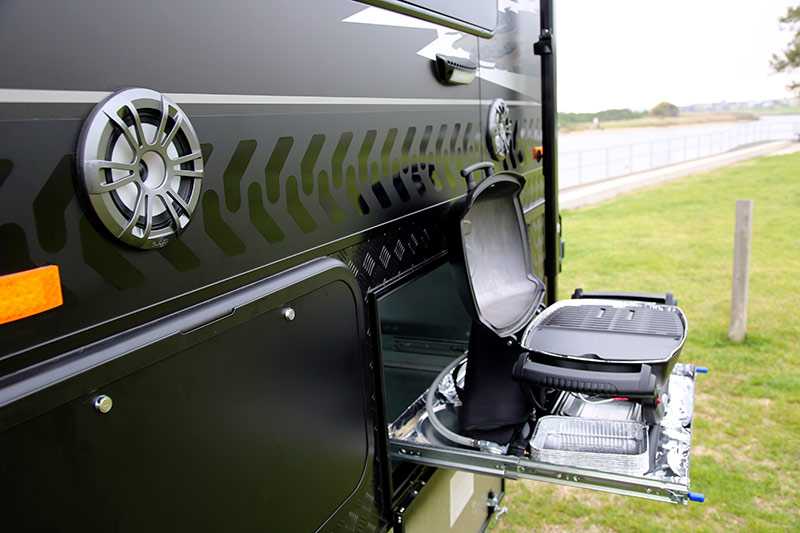 Royal Flair frames the EcoMate in a different way to what you might expect. There's no meranti timber or aluminium studs. Instead, the walls are CNC-routed 18mm ply clad with smooth aluminium – a very sturdy construction method.
Underneath, there's numerous protected water tanks: two 95L tanks, a 50L tank for drinking water, with a separate pump, and a 50L grey water tank. I was intrigued, too, by the reversing camera. Because Rob and Prue tow this van with their Chevy Silverado, Royal Flair fitted a special Chev camera that allows them to use their car's original display screen, rather than mounting a separate screen to their windshield. Another excellent idea.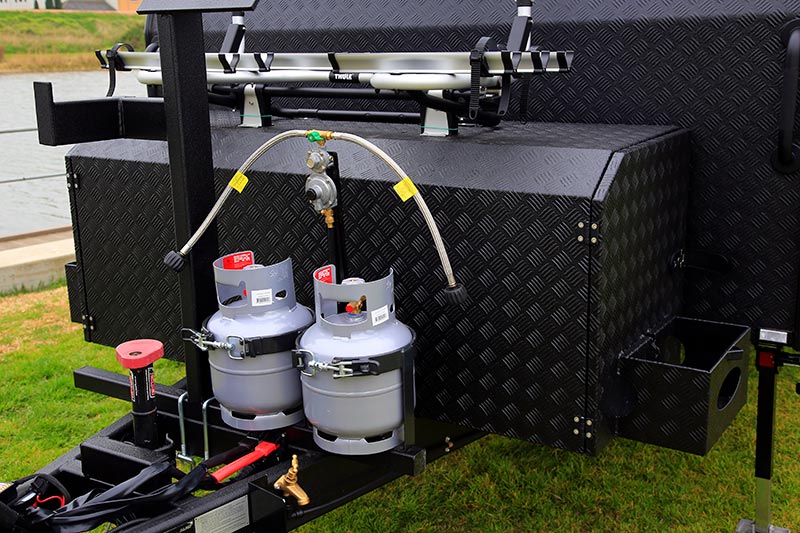 Now, in case it isn't clear, this is a highly functional off-grid caravan that's as comprehensive as they come. However, it all comes at a cost in terms of weight. In fact, the Tare is 3474kg, while the unladen ball weight is 326kg, so this caravan is no lightweight. The ATM of 4074kg gives the EcoMate 23 a payload capacity of 600kg.
GORV'S VERDICT
It's big. It's beautiful. It's a true off-grid warrior. This EcoMate 23 brooks no compromise. Sure, it's a heavy beast but when you're talking a 23-footer with this level of specification, that's to be expected. Besides, Rob and Prue's Chev is more than up to the task.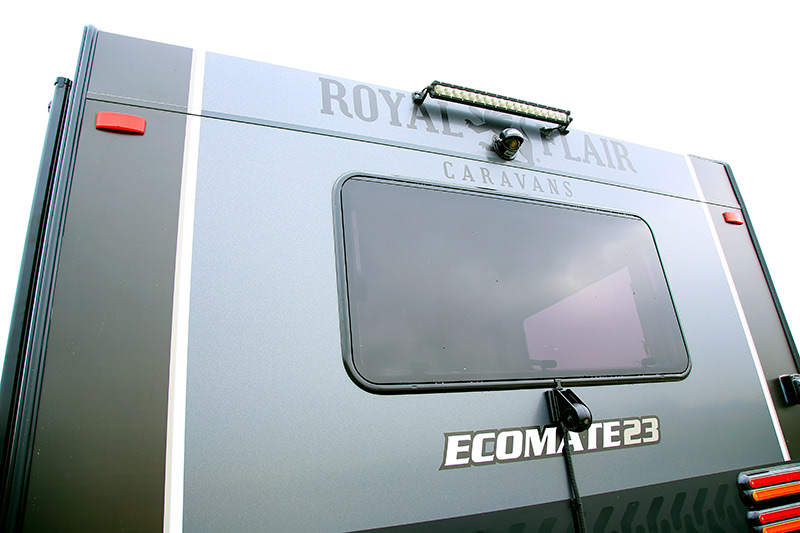 Well done, Royal Flair – it's a ripper caravan. I'm sure it'll bring its happy owners, and their kids, many years of awesome memories.
THE SCORE
FIT AND FINISH –

LAYOUT –

INNOVATION –

HITS & MISSES
ROYAL FLAIR ECOMATE 23 SPECS