There are camper trailers. And then there are camper trailers. Emphasis on the word 'camper'. You see, the BRS Pursuit Platinum, the top-end rig in the Pursuit line-up that's built in Newcastle, NSW, is one of the most refined, well-sorted hybrids that I've laid my ageing blue eyes on.
TOO ENTHUSIASTIC?
We met up with Mike and Anita Pavey from The Dirt Off Road Campers, SA Dealers for BRS Offroad, knowing that BRS was making a splash in the camper trailer market. Mike and Anita had been touring with this camper for a few weeks and we wanted to find out how it was performing.
The Pursuit is almost conceptual in appearance, without being too outlandish. It seems to embrace the best of technology while remembering it has a job to do; that is, to keep its occupants comfortable and follow the 4WD into inhospitable corners of the country. Indeed, this hybrid camper is about as convenient, practical and solid as they come. Do I sound a little too enthusiastic?
The body is in two parts. The top 'cone' comprises a once-piece composite, hand-laminated fibreglass outer layer, a high-density foam core, and a smooth, high-gloss internal skin that's made in Italy. The lower portion of the body, meanwhile, is made of a marine-grade alloy plate that's CNC cut and fully welded.
The body sits atop a 3x150x50mm RHS hot-dipped-galvanised chassis complete with rear recovery points, Cruisemaster XT air suspension, 85L and 127L water tanks, a 70L grey water tank, and about as much under-body protection as a camper can get. Truly, there is nothing beneath that could break on a rough track.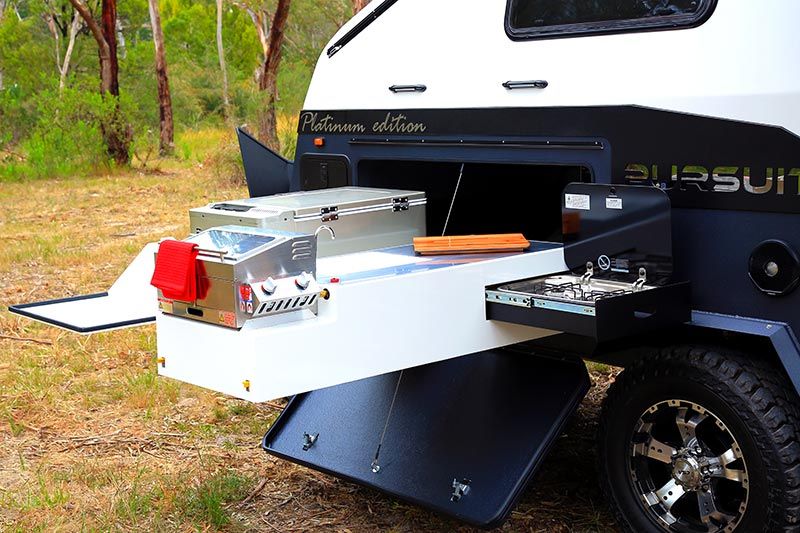 Two external cooking options are available. A simple-slide-out barbecue and fold-over shelf is standard, or you can option in the premium model seen on this camper. This kitchen gets a gas barbecue as well as a two-burner Dometic cooktop that slides out of the main slide-out. Oh, there's a sink with hot and cold water, too. There's also a separate slide-out fridge with fold-over shelf.
The awning, however, isn't quite as easy as everything else. In true hybrid fashion, there's a sail track for securing the supplied awning canvas. Then, it's a matter of rigging up a few awning poles and guy ropes and fitting the supplied front canvas wall. A draft skirt and awning sides are standard, too.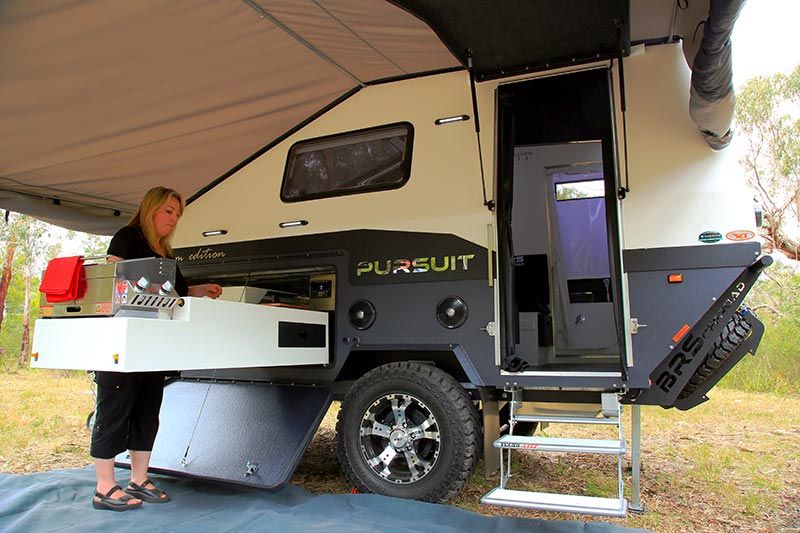 Up front, there's a range of storage options on the drawbar-mounted box. There's even a couple of jerry can holders, a well-protected fresh water tap, separate pole storage in the body of the camper and yet another storage compartment above that. The offside, meanwhile, has a massive storage compartment.
There are speakers, LED lights, a rear-mounted spare wheel, an electric twin step for easy camper entry… and even an electric door. Yes, just press the button on a fob and the door will rise, DeLorean-style, on gas struts. And to keep the mozzies out, just zip up the mesh screen.
SLIDE-OUT SHOWER
You're probably thinking that this all sounds well and good, but has BRS at least fitted an external shower? In fact, they've gone one (much) better. A special shower base slides out from the rear offside! Just lift a hatch from inside, slide out the base, and zip the supplied privacy screen into position.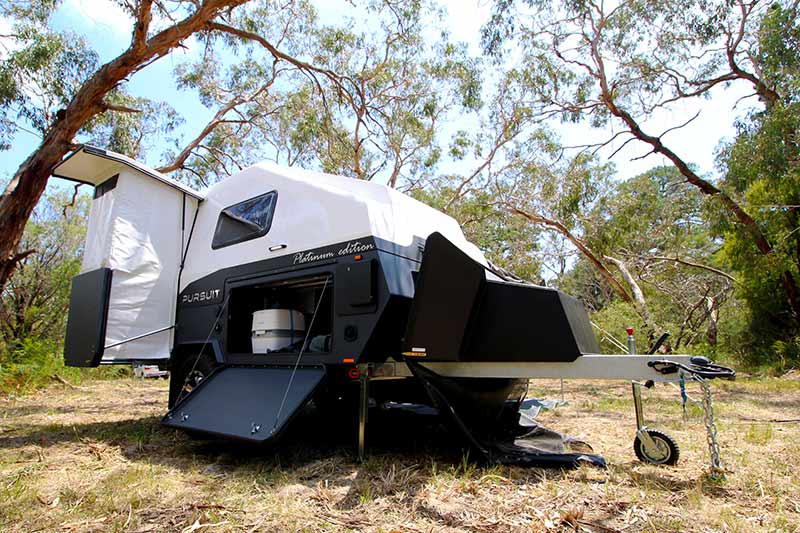 The neat thing is, this is almost a full bathroom that doesn't add to the length (or significantly to the weight) of the camper – and the shower water still drains to the grey water tank. Zipping on the bathroom screen is, probably, the fiddliest aspect of the entire camper. I wondered if a future version might instead use press studs or – better yet – have the screen as a permanent attachment that folded out with the hatch and shower base.
However, such is the elegant nature of this camper that, were it possible, it would probably have already been done.
INSIDE THE BRS OFFROAD
With a bed in the front of the camper, a small dinette at the base of the bed, and a kitchen across the rear, the layout of the Pursuit makes decent use of the available space.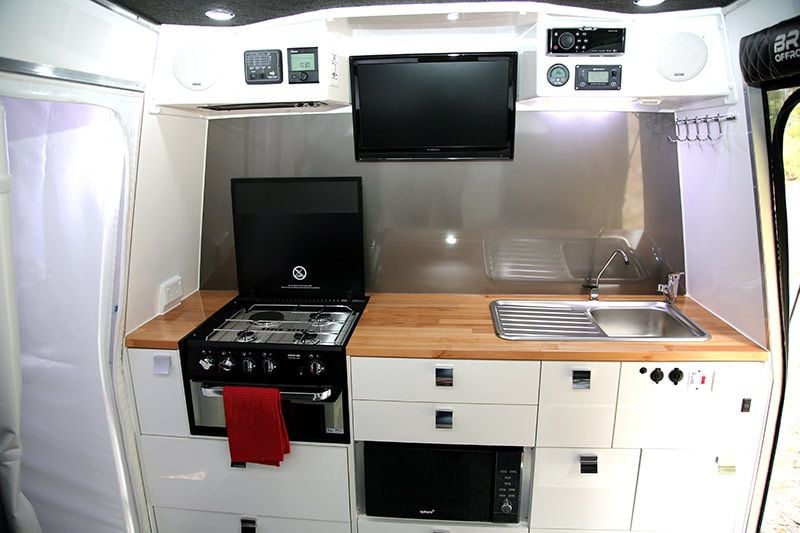 Often enough, a hybrid camper will provide very little in the way of internal kitchen, on the basis that most people would do their cooking outdoors. The Pursuit Platinum, however, sports full cooking facilities – even a microwave – as well as the kind of cabinet storage you'd find in an 18ft caravan.
A flatscreen TV is mounted in a bulkhead recess, next to the Fusion sound system, speakers and a range of controls for items such as the Enerdrive 12V system – a 200Ah lithium battery is standard, as is 320W worth of solar. It's hooked to an ePRO Combi1600W/60A automatic-transfer inverter charger, allowing you to power your coffee machine, the microwave, etc., when you're off mains power. There's a 40A DC-DC charger, too, providing maximum charge off the tow vehicle during transport stages of a trip.
Truma Saphir ducted air-conditioning, a Cel-Fi Go data antenna (a mobile phone signal booster), a six-layer epoxy floor, and even a portable toilet – they're all provided in the Pursuit Platinum. All the features of this camper come together in a cohesive way, rather than being bolted on like an afterthought. 
The small dinette has a table that slides out from the bed base and I loved the two small drawer fridges that slide out from the chair bases. These fridges mean you can keep the perishable items you'll use in the internal kitchen inside, rather than in the larger outdoor fridge.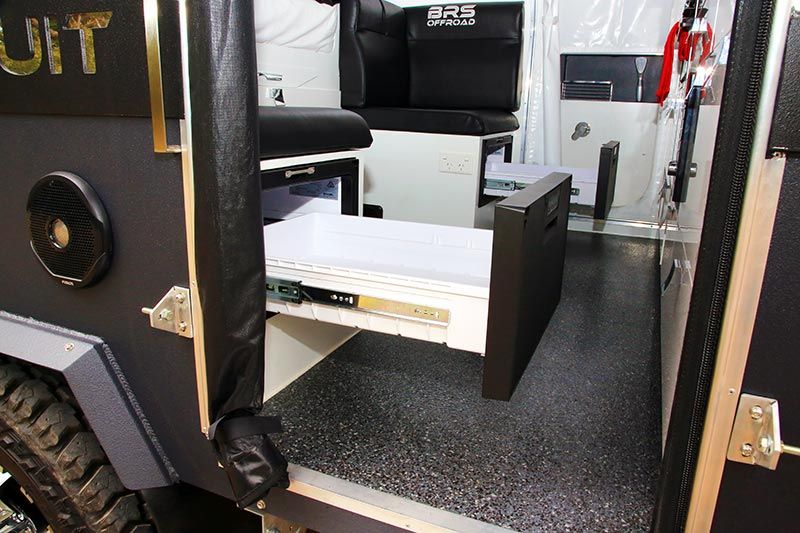 A 12V fan, coat racks either side of the camper, and storage nooks either side of the bed, are also provided, as is a Truma VarioHeat 2400W gas space heater.
I could go on but suffice it to say that I want one.
GORV'S VERDICT
Often enough, you can tell plenty about a van or camper by paying attention to the details. Poor joins, unsightly silicone and dodgy welds usually tell the story. But the Pursuit Platinum has none of these.
If price is a consideration, the standard Pursuit comes with a little less 'fruit' but it's still essentially the same robust camper.
However, if a well-rounded, comfortable, clever and well-built camper is what you're after, don't overlook the BRS Pursuit Platinum.
THE SCORE
FIT AND FINISH –

LAYOUT –

INNOVATION –

HITS & MISSES