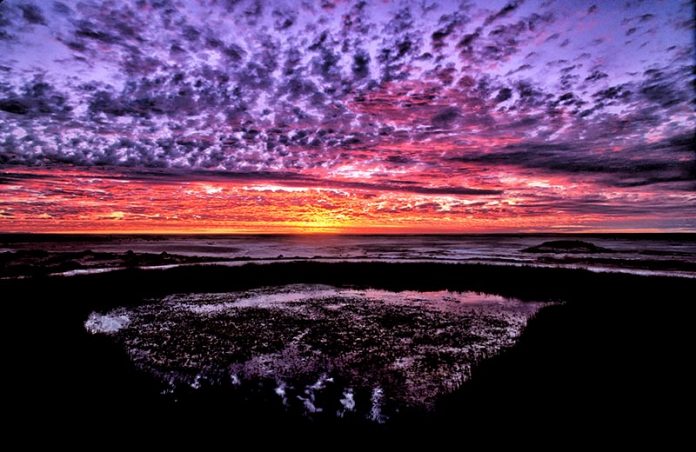 Every offroad RVer in Australia must, at some point, treat themselves to three of the great iconic, historic adventures of the outback: the Strzelecki Track, the Birdsville Track and the Oodnadatta Track. These have now been incorporated into a journey called The Outback Loop; the printed map (which is not suitable for navigation) and this website, provide a great deal of information, advice and history. 
While each track can be done on its own, combining the three into a superb, never-to-be-forgotten desert holiday, makes a lot of sense. Once you come this far, you might as well connect them into a glorious zigzag through the Strzelecki Desert, the Simpson Desert, the Sturt Stony Desert, the Tirari Desert and the Painted Desert.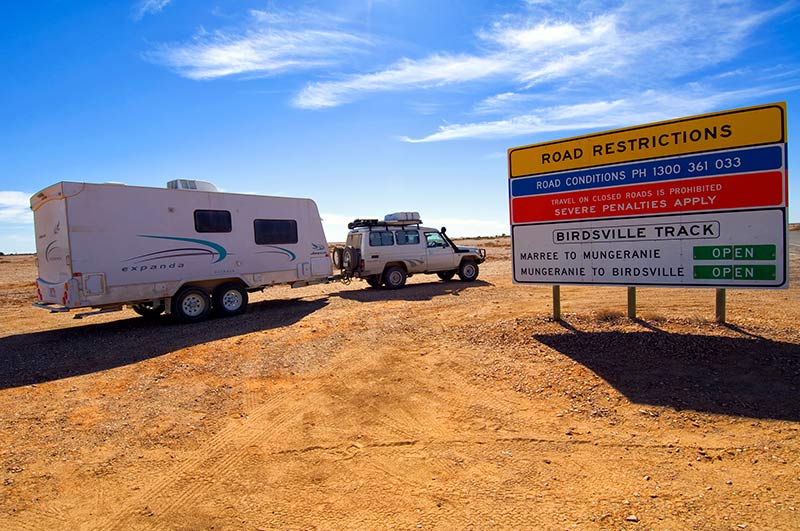 The ideal starting point is Port Augusta, where there are food and hardware stores along with facilities for any last-minute repairs. 4WDs must be in tiptop shape with spare parts and tyres; the Discovery Caravan Park is not a bad spot to make any final preparations to a vehicle and offroad camper trailer or caravan.
The longest distance without fuel is between Innamincka and Birdsville at up to 525km. If your fuel tank cannot cover this range, jerry cans for spare fuel are required. Stock up on as many groceries and as much drinking water as possible; you will be able to top-up with some supplies along the way, but these are limited. Fill all water tanks and jerry cans in Port Augusta.
An essential task is to stop at the Wadlata Outback Centre where the maps, guides and brochures mentioned below are available along with critical, current track information. If your itinerary includes some of the more demanding optional 4WD tracks, like Walkers Crossing or the Inside (Birdsville) Track, then up-to-date advice is of the essence. The centre's fascinating, interactive 'Tunnel of Time' exhibit introduces the geology, ethnology and history of the region. For those interested in flora and botany, the Australian Arid Lands Botanic Gardens is also worthwhile.
STRZELECKI TRACK
The quickest route from Port Augusta to the start of the Strzelecki is straight up sealed B83. If time is not an issue, it would be a pity to miss the superb Flinders Ranges, Vulkathuna-Gammon Ranges and Arkaroola (see our Essential Flinders Rangers Guide). After lingering in Arkaroola, cut west from Balcanoona to Copley.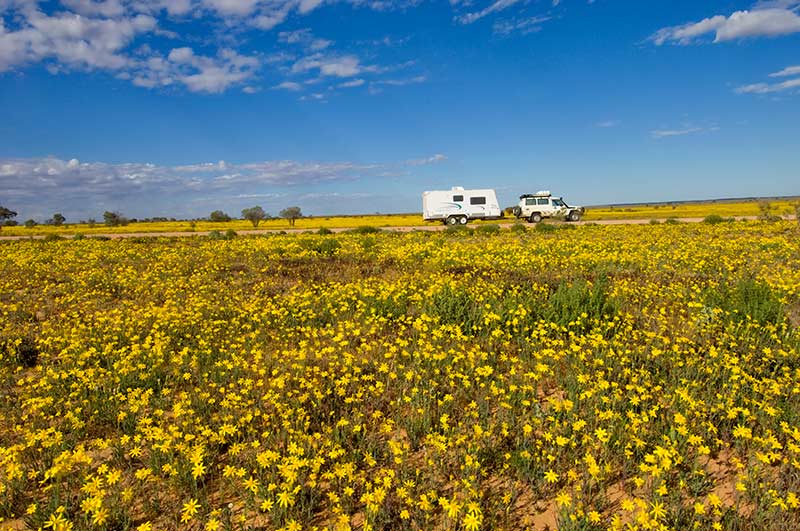 In Copley, stay at The Copley Caravan Park and top up all water tanks; also stop in at the Copley Bush Bakery and Quandong Café to stock up on rock cakes for the journey ahead.
Just 33km north is Lyndhurst and the southern end of the Strzelecki. The original track ran along Strzelecki Creek and was a well-known trading route to the regional Aboriginal groups. Charles Sturt journeyed along it in 1844 on an expedition that nearly killed him.
Augustus Gregory followed the creek for a while on an 1858 expedition to look for Leichhardt, who had vanished a decade earlier attempting to bisect Australia from Brisbane to Perth. The 1860-61 Burke and Wills expedition, with a base camp along the Cooper Creek, killed both those men along with Grey, who died near Coongie Lakes.
The fourth member of the group, King, only survived because he accepted help from local Aboriginals, but he never recovered from the catastrophic ordeal. Memorials to the men, including the historic Dig Tree, can be seen in the Innamincka area.
It was Captain Starlight (Harry Redford) though, a gifted and audacious cattle duffer, who opened up a legendary new stock route in 1870 when he drove a mob of 1000 stolen cattle along the creek to Blanchwater, where he sold the beasts to a station owner for $10,000. He was arrested for his efforts and acquitted by a jury of awestruck peers, going on to lead some of the most famous cattle drives in droving history.
The track no longer follows the creek; it has shifted to the west and now meets the needs of the Moomba gas and oil fields that pump upwards of a million dollars worth of product per day.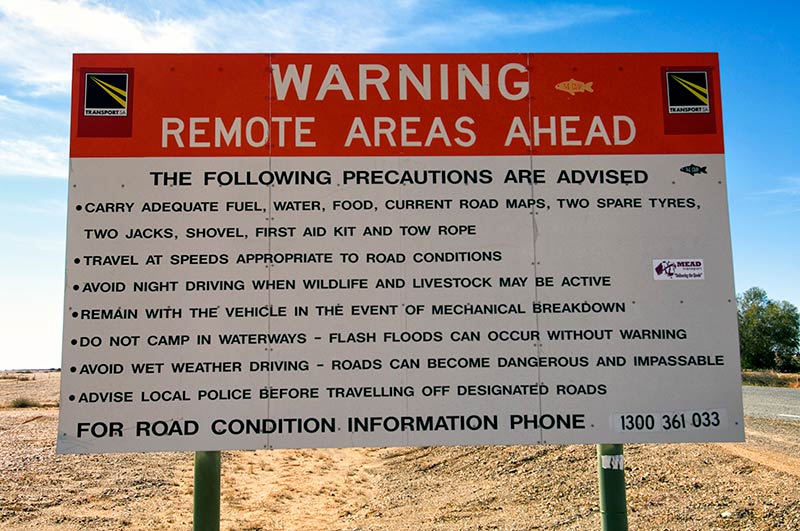 At Lyndhurst, fuel up and turn right onto the track. Road trains and heavy trucks will be sharing the road with you so use extreme caution, especially when clouds of bulldust reduce the visibility to zero. At 26km is a monument on the right: it is a memorial to the early settlers and not-so-early travellers who have perished in the area.
Mount Lyndhurst Homestead and then a bore follow – take it easy through the Frome Creek and Tent Hill Creek floodways. The Mount Fitton Talc Mine turn-off is on the right at 80km.
A series of floodways and cattle grids follow, along with signs for station homesteads. At 197km is a right turn to Arkaroola and Vulkathuna-Gammon Ranges National Park (151km to Balcanoona). Heed the 'wandering stock' signs.
At 210km is the Art Baker Lookout, a rest area on the right that makes a perfect cuppa break. If you are looking for a one-night bushcamp, continue for another 12km to the Montecollina Bore Campground.
The Strzelecki Creek Floodway is at 276km, and this is a great spot for a break under the shade of a river gum tree (do not camp under these as they sometimes drop heavy branches). While the track looks pretty smooth on up to Moomba, the shoulders are soft and there can be deep potholes camouflaged by bulldust.
The turn-off on the right to Merty Merty Homestead (the Old Strzelecki Track), Bollards Lagoon Homestead (the Bore Track) and Cameron Corner is at 320km.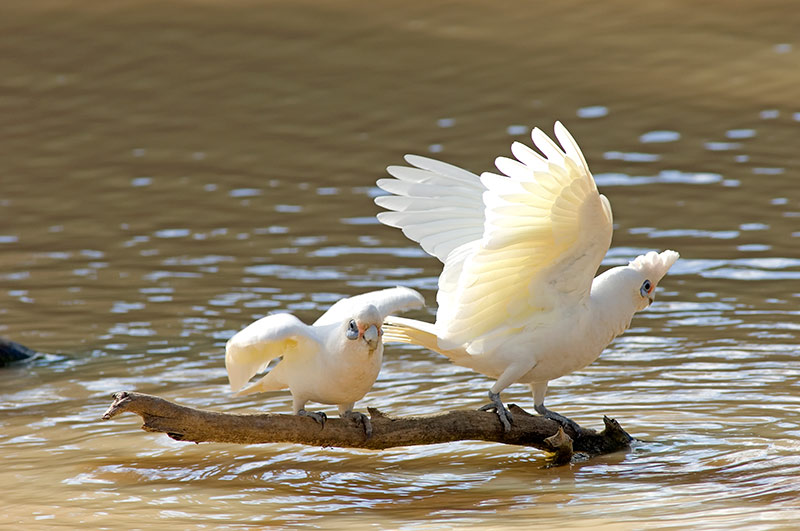 From this point, there are a number of gasfield tracks branching to the right and left. All of these are private, as is the turn-off to Moomba at 370km. Veer right and at 427km branch left for Innamincka, with another 3km to 'town'.
Innamincka Regional Reserve is a true outback wonder. Aside from the history, it is screaming with birdlife, most of it drawn to the Cooper Creek. Entry fees and camping permits are required for the reserve and Milkumba-Coongie Lakes National Park.
The Trading Post has daily entry and camping permits for both. To camp beside Cooper Creek, take a left on Fifteen Mile Track and continue to at least the second right to the Town Common Campground. This is the closest to the showers (in 'town') and the departure point of the must-do Cooper Creek Cruise (sign up at the Innamincka Hotel).
There are six campgrounds (four with drop toilets) along the creek, and you must book in advance. There is also camping at Cullyamurra Waterhole and Dig Tree (drop toilets only).
So, what is there to do? Visit the memorials to King and Wills, also to Burke (8km) east via Nappa Merrie-Dig Tree Road, and to the Burke and Wills Dig Tree 67km further. Visit or camp at Coongie Lakes. Do some birdwatching or even fishing along the Cooper Creek.
For the 4WDer, there is the Old Strzelecki Track and the Bore Track to rattle your bones and coat you in dust.
FAST FACTS
516km Lyndhurst to Innamincka, no fuel in between.
Leigh Creek and Copley have fuel, tyre and mechanical repairs, and limited supplies. Lyndhurst has fuel. Innamincka has fuel, tyre and mechanical repairs and limited supplies.
Innamincka Regional Reserve – Park Map
Innamincka Regional Reserve – Innamincka surrounds map
Malkumba-Coongie Lakes National Park map (pdf)
INNAMINCKA TO BIRDSVILLE
It is not easy to leave Innamincka, certainly one of the highlights of The Outback Loop, but at some stage one must. Top-up your fuel tank, re-stock supplies with whatever is available at The Trading Post, ask for track conditions ahead, and head north on the Cordillo Downs Road through the gorgeous Innamincka Regional Reserve.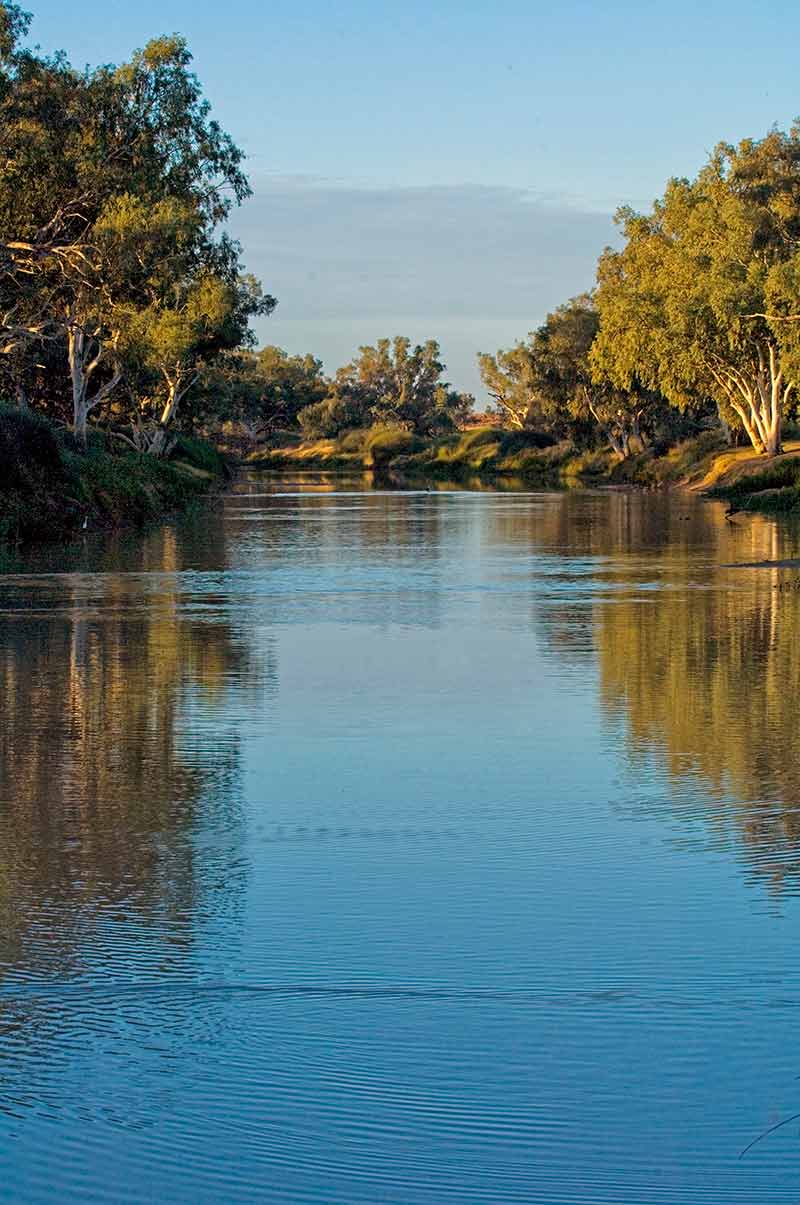 There are a number of narrow cattle grids and sandy creek crossings/floodways, but a true offroad camper trailer or caravan can be towed with care. There are numerous scenic places along the first 141km to stop for a rest or even a one-night stay.
The road will fork: to the left is a shorter but far rougher track via Cordillo Downs. This option is not suitable for caravans and extreme caution should be used at all creek crossing and floodways, especially at Providence Creek.
To the right is the longer and not-as-rough Arrabury Road: continue east for another 16km and turn left (157km from start); you are now in Queensland with a 30-minute time change (back). At 287km is the Birdsville Developmental Road; turn left.
If you are yearning for a rest or a nighttime stopover, there is a lookout area (with no facilities) at 316km on the right. The track via Cordillo Downs enters on the left at 393km and there is a rest area with toilets on the left at 414km. The road staggers through a series of dunes toward the end where it is impossible to see oncoming vehicles. At 509km, you will arrive – dazed, confused and relieved – at Birdsville.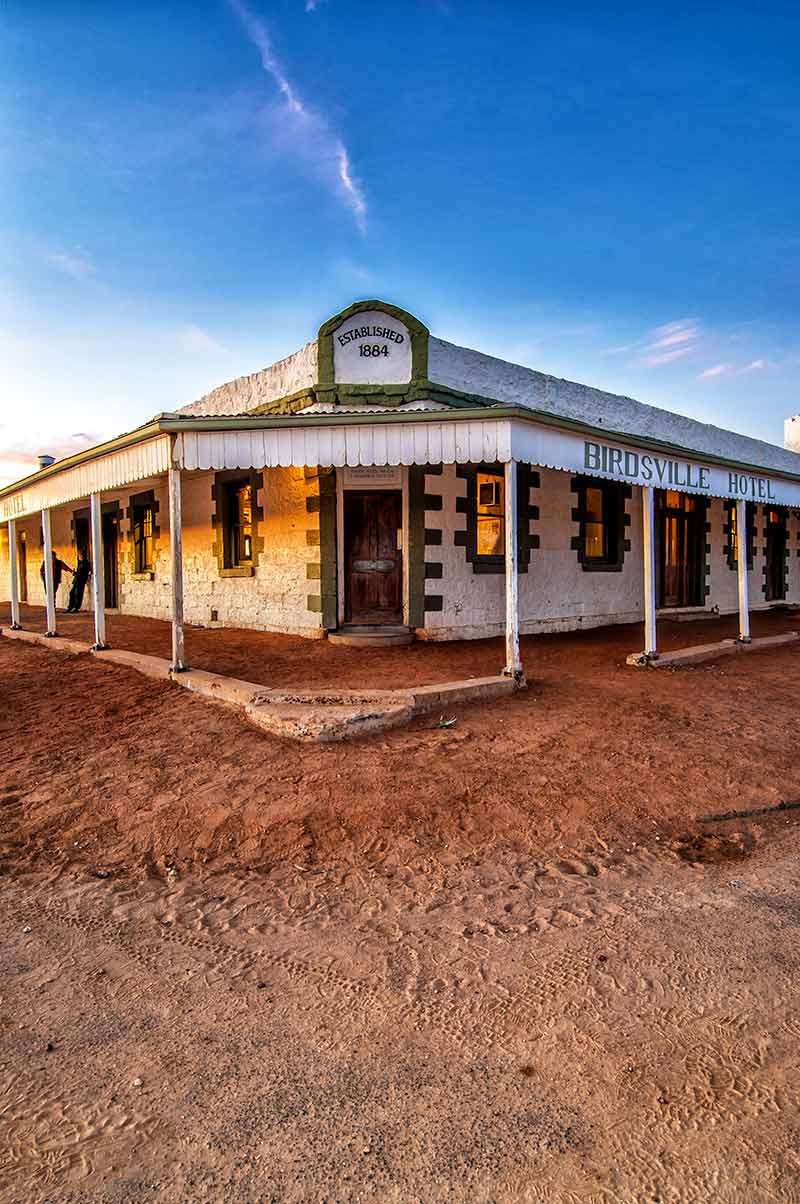 The Birdsville Caravan Park sits across from the Birdsville Roadhouse where windshield repairs (front and back) and tyre repairs are wildly lucrative for the owners. There are powered campsites, and further down by the Diamantina River are unpowered sites. Of course, it is mandatory to wander over to the Birdsville Hotel for a beer.
The Wirrarri Visitor Information Centre offers up-to-date information on the tracks; this is of particular importance if you plan to travel on the Inside Track. Every visitor will want to take the 34km track west to Big Red, the highest and most easterly dune on the Simpson Desert crossing from Mount Dare to Birdsville, and a superb spot from which to watch the sunset.
If you love chaos and mayhem, be in Birdsville in the first week of September for the Birdsville Races when the population of 100 soars to a bulging 5000. Other things to do include a scenic flight if the budget permits.
FAST FACTS
Distance: 417km via Cordillo Downs Road and Birdsville Developmental Road.
509km via Cordillo Downs Road, Planet Downs and Birdsville Developmental Road.
512km via Dig Tree, Arrabury and Birdsville Development Road.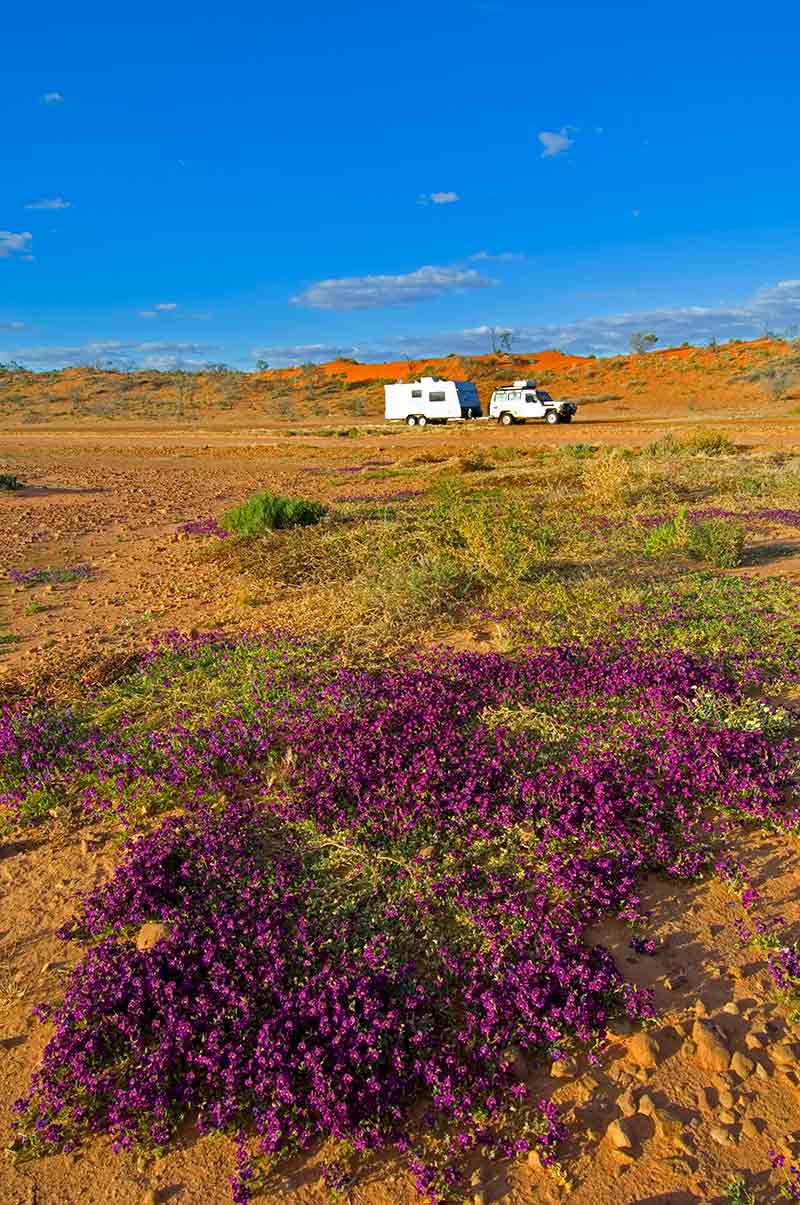 228km track via Walkers Crossing with another 104km to Birdsville; experienced 4WDers in a convoy of at least two with full recovery gear, emergency supplies, excellent navigation skills, long-range radio or satphone and a printed map. Watch for confusing mining tracks and a deep, steep crossing at Walkers Creek.
Supplies and fuel: Innamincka has fuel, limited repairs and supplies. Birdsville has tyre and mechanical repairs, fuel and two stores with some (very expensive) supplies. There is no fuel available between Birdsville and Innamincka.
BIRDSVILLE TRACK
And so, onto the Birdsville Track. In the past, cattle were driven along routes fanning out across the top of Australia and feeding down through the Channel Country, considered some of the best 'fattening up' land in the world.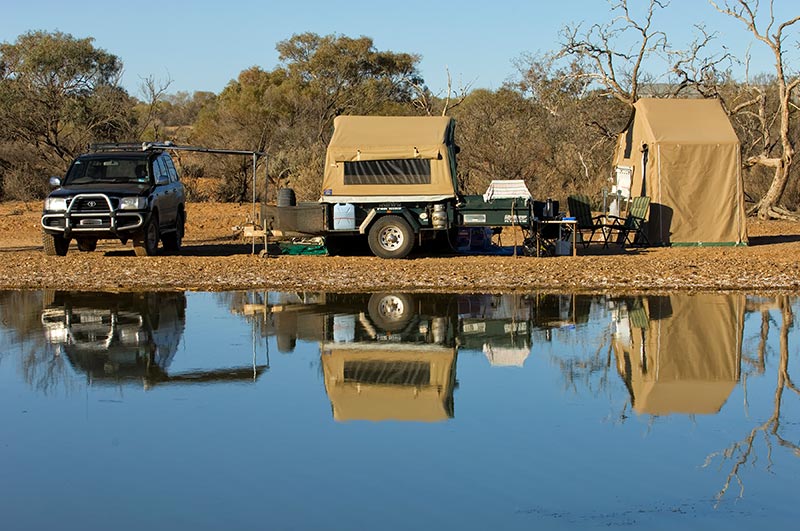 At Birdsville, these routes drew into one for a final 500km push to the railhead in Marree where cattle trains transported the beasts to Adelaide and Melbourne. By opening up this old Aboriginal trading route in 1870, drovers with their horses and dogs led an isolated life over the following century under a relentless blue sky that was dusty, hard and free from all modern inconveniences.
To water the drovers and cattle, bores were sunk into the Great Artesian Basin. The drovers and their families took up leases along the track that they still hold to this day. Afghan traders leading camel trains also used this track and the Oodnadatta to supply those families. The mail run from Marree to Birdsville, along the Inside Track, was one of the most gruelling in the land with, among others, a mailman known as Tom Kruse. The Birdsville, then, helped to build the nation.
Top-up your water tanks and jerry cans at the caravan park. Stock up with whatever goods are available at the two small stores. For experienced 4WDers with full emergency gear and only towing a true offroad camper trailer or tenting it, the Inside Track offers more of a challenge along the same mail run mentioned earlier. Otherwise, head down the main track to the racecourse and Betoota junction and continue straight.
Use extreme caution through the dunes as oncoming vehicles are not visible. At 30km is the Pandie Pandie airfield; you have crossed the border back into South Australia and watches should be set forward by 30 minutes.
Take it easy through floodways and over cattle grids; the Walkers Crossing track enters on the left at 124km and 14km further is Lake Surprise Creek, a nice spot for a rest.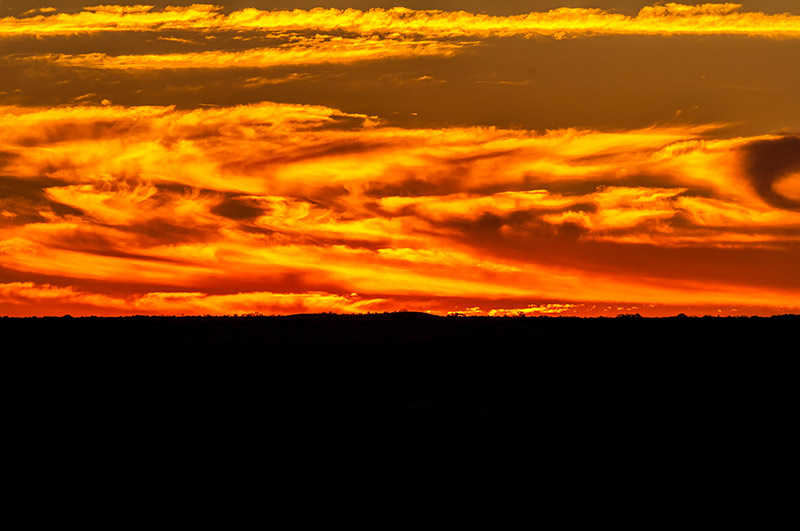 The Inside Track enters on the right at 183km (do not expect to see a sign for this); the Warburton Track enters on the right at 208km. After that, it is a fairly easy run, with several floodways and the Mirra Mitta bore wetland to brighten the scenery.
Wonderful Mungernie is at 317km, a delightful spot for one of those one-night stopovers that easily turns into two or three.
The pub serves meals and the artesian spa will melt away those rattled bones and muscles. Birdlife abounds, including brolgas, flocks of corellas and migratory waders dropping by for a feed. Mungeranie has to be the highlight of the entire track.
Picking up the track again, at 356km is a short jaunt on the right to the Old Mulka Ruins. One of those historic families, the Scobies, ran cattle and bred whalers here, the breed of horse that was used by diggers in the 1917 Australian Light Horse Brigade.
Further south at Clayton Station, one of the grandsons still breeds and trains those horses. The Cooper Creek Floodway starts at 377km and continues for 5km along a section of track that is impassable in rain and flooding. Take it easy through the following floodways until Clayton Station at 469km.
Even if you don't camp here, stop for a look at the Clayton River Wetland about 500m west of the campground and maybe take some time for an artesian hot tub. A failed date farm at Lake Harry is on the left at 492km and Marree is at 522km.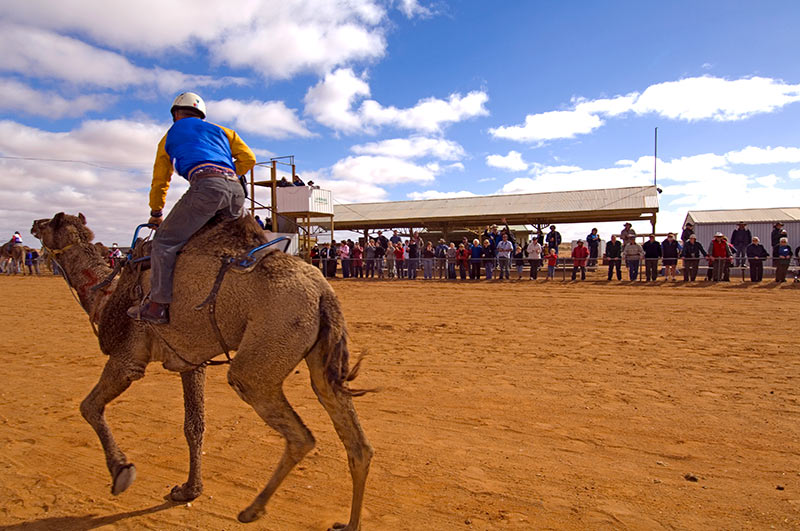 In the past, the greatest delight about visiting Marree was staying at the Drovers Rest Tourist Park and having a yarn with the owner, Eric Oldfield. Eric was a legend on the Birdsville; he was a drover for many years and once owned Mungeranie. The Oldfields, along with the Scobies, were as much a part of the track as the landscape.
Eric died in late 2010, and for us, Marree will never be the same. Today, Drovers Rest is now Drovers Run, with a second park called the Marree Caravan and Camping Park.
There are a few things to do in Marree; for ideas, visit the Aussie Towns website. The pub serves a great steak sandwich with the lot. If it is July and the Marree International Australasian Camel Cup is on, don't miss it. You might even meet members of the families living along the Birdsville Track.  
FAST FACTS
Distance: 521km, fuel at Mungeranie.
426km via Inside Track, experienced 4WDers with full recovery gear and emergency supplies, not suitable for caravans, serious off road camper trailers only. Carry a printed map suitable for navigation. Check on track conditions at the visitor centre.
Supplies and fuel: Birdsville has fuel, tyre and mechanical repairs, fuel and two stores with some (expensive) supplies. Mungeranie has fuel, tyre repairs, and great hamburgers. Marree has fuel, tyre repairs and limited supplies.
OODNADATTA TRACK
Fill up with fuel and pick up a copy of Travel the Oodnadatta Mudmap and Route Notes; there are more mudmaps on the website that correspond with a number of round, pink signs along the way.
Head north up the Oodnadatta; this track, like the other two, was once an Aboriginal trading route and indeed home to many groups who lived along the chain of mound springs bubbling up along the rim of the Great Artesian Basin. 
John McDoual Stuart journeyed along it between 1860-62, plunging north toward Finke. The Overland Telegraph Line was plotted in 1871 along Stuart's route.
Ernest Giles was next in 1876, and in 1890 the Old Ghan Railway was linked on from Adelaide to Marree to Oodnadatta.
As you travel, there will be numerous historic sites to stop at along the way, making the journey much more interesting. Expect sandy conditions, heavy corrugation and sharp rocks through rough floodways.
A track to Hergott Springs is within the first kilometre; this is followed by hundreds of springs branching north. At 3km is the 51km track to Muloorina Campground, a fabulous spot to spend a couple of nights.
The 45km, 4WD-only Level Post Bay Track continues to the edge of Kati Thanda-Lake Eyre National Park; leave the camper trailer at the campground if attempting the track (this adds up to 192km to the trip so either return to Marree for fuel, or be sure you have enough to make it to William Creek).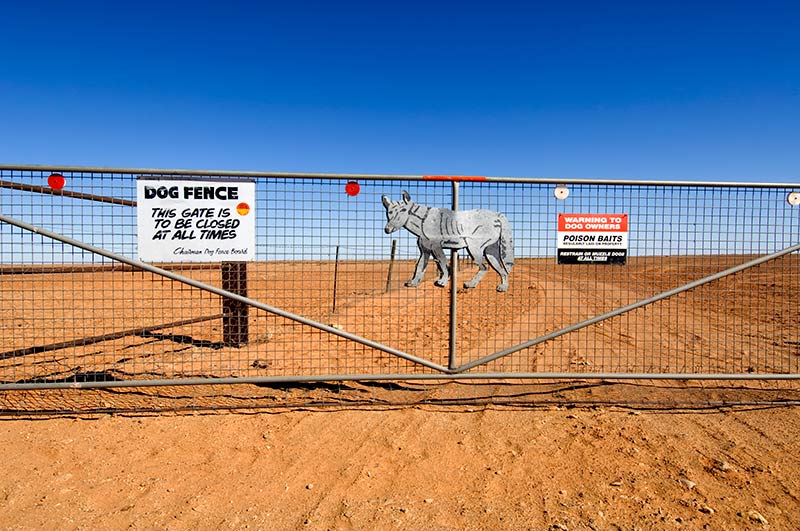 Excluding the track to Muloorina in this kilometre count, continue past the floodways and historic siding ruins of Callanna, Wangianna and Alberrie. The turn-off on Borefield Road to Roxby Downs is on the left at 69km and Screech Owl Creek floodway follows in 4km. At 92km is an information bay and lookout for Kati Thanda-Lake Eyre South; stop to gaze over a massive pan of sparkling white, or in flood years, a lake with water in it. The Curdimurka and Margaret railway sidings follow.
It would be silly to miss the Wabma Kadarbu Conservation Park at 126km to see Blanche Cup and The Bubbler mound springs. Another 6km brings you to the delightful Coward Springs Campground, a superb spot with an artesian spa, a wetland, a historic siding complete with a restored cottage and Ghan museum, and camel treks. A night or two here is a must, with a return to the mound springs for sunset.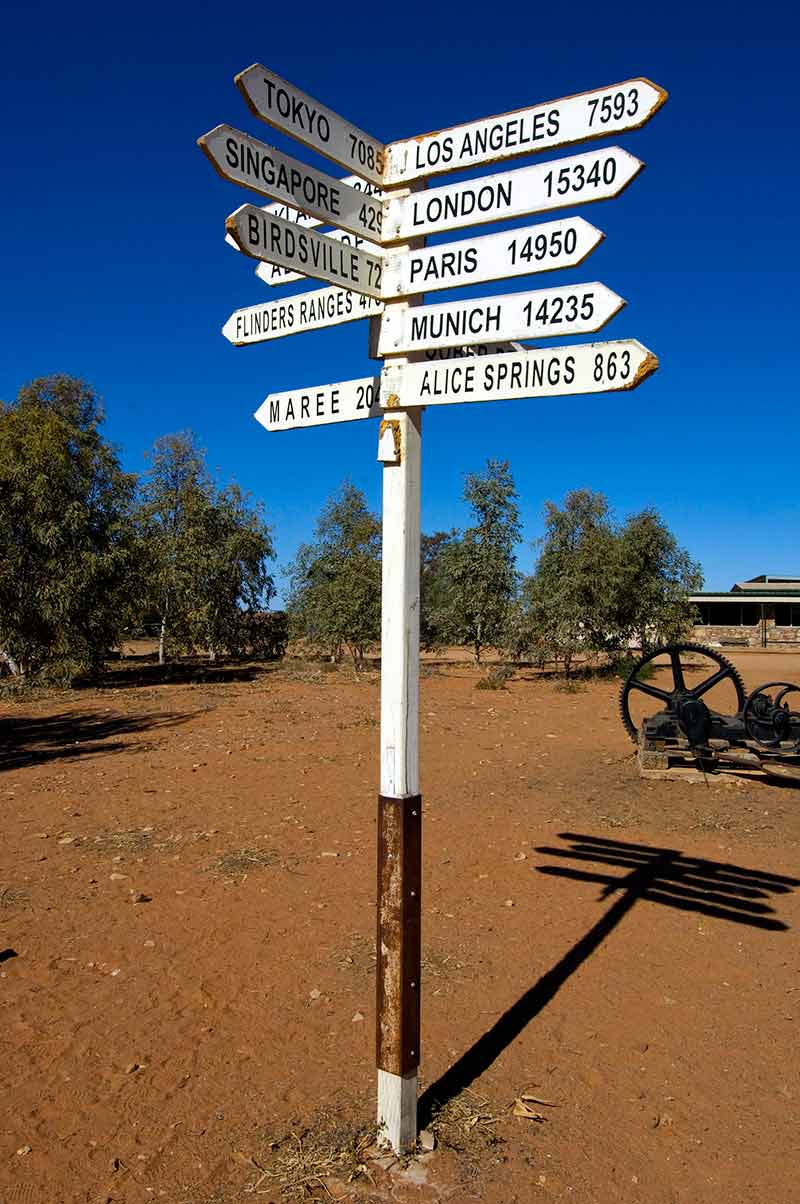 More historic sites continue, with Beresford Bore Siding and Strangeways. The ABC-Halligan Bay Track enters on the right at 198km; this is a 64km, strictly 4WD-only track to Kati Thanda-Lake Eyre: a Desert Parks Pass or a daily permit from the William Creek Hotel is required. The hotel is 7km further at 205km.
Fuel is available at William Creek, along with camping, meals, camel tours and scenic flights.
The William Creek Road enters 5km further on the left, with a rough 168km west to Coober Pedy.
The Oodnadatta Track often deteriorates after William Creek, so use caution through the floodways. More historic sidings follow, with Edwards Creek (294km), Warrina and Algebuckena at 348km, with a parking pull-out and rest area near a railway bridge and siding.
The track to Allendale enters on the right at 387km. The Hanns Creek floodway is followed by the North Creek floodway at 369km, a nice camping alternative to Oodnadatta. The track splits at 401km; turn right and Oodnadatta is at 407km. Fill up with fuel and whatever supplies are available at The Pink Roadhouse.
The actual Oodnadatta Track continues for 211km to Marla on the Stuart, or you can continue north to Mount Dare and Dalhousie Springs in Witjira National Park (the track deteriorates further and caution is required).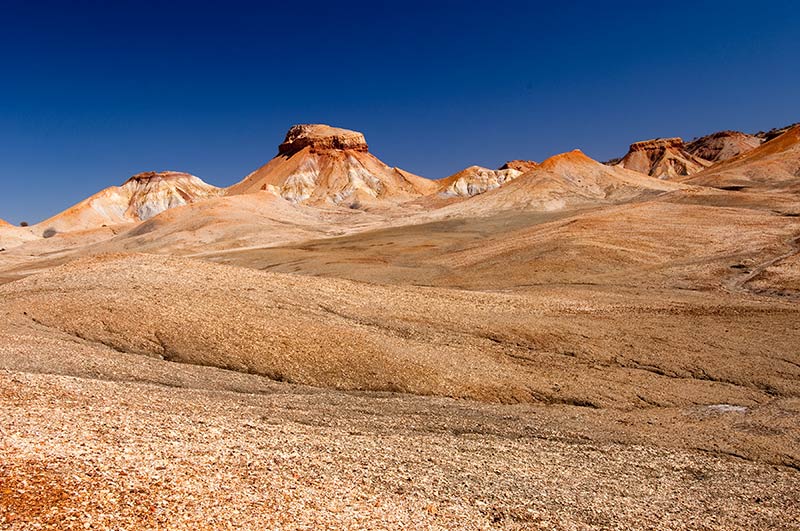 A much prettier route than the one to Marla is via The Painted Desert to Cadney Park on the Stuart. Linger through the magnificent scenery, and if possible spend a night camping at the Arckaringa Homestead to enjoy a sunset or sunrise over the desert. For this, turn west 6km south of Oodnadatta on the road to Coober Pedy. Travel southwest for 45km, turn right and continue toward Arckaringa and through the Painted Desert for 41km. Veer right toward Stuart Highway and proceed 34km, turn right toward Copper Hill and Cadney Park, continue for 36km, and then make a sharp right with 12km to the Stuart Highway.
From the Stuart it is either a right or left-hand turn. Regardless of your intended direction, this adventure along The Outback Loop is one you will never forget, and, one you can dine out on for many years to come.
FAST FACTS
Distance: 407km Marree to Oodnadatta, fuel at William Creek.
Add 108km return side trip to wonderful Muloorina Station with another 90km return track to Lake Eyre.
Supplies and fuel: If you are running short on food, you can take a run down to Leigh Creek and stock up on supplies at the Foodland – phone (08) 8675 2009 to make sure they are open and have the items you are looking for.
Marree has fuel, tyre repairs and limited supplies. William Creek has fuel, tyre repairs and meals. Oodnadatta has fuel, tyre and mechanical repairs, with limited supplies.
Kati Thanda-Lake Eyre National Park map.
Witjira National Park map.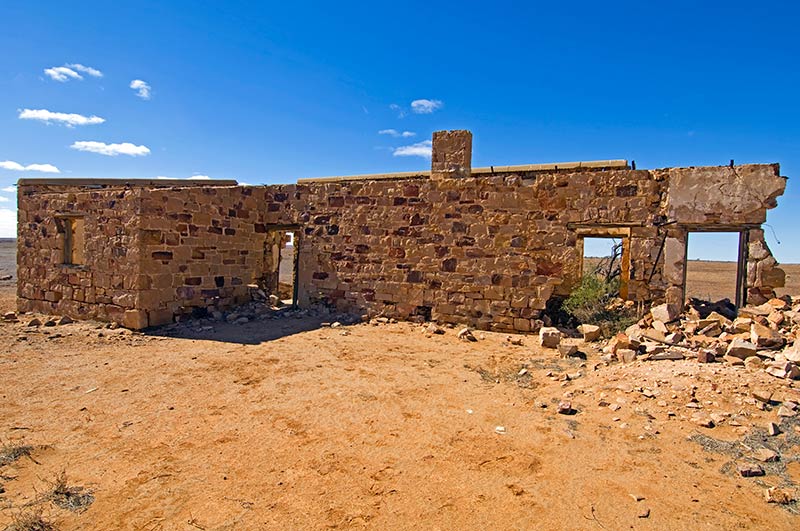 GENERAL INFORMATION
Public-access roads pass through private stations; any travel on private tracks requires prior permission.
Camping is prohibited within a radius of 1km of any building, or a radius of 500m of any dam or stock watering source, or within 10km of a commercial campground. Camping is permitted within 50m of any public-access road.
If towing, protect your rear windscreen from stone damage. Corrugated plastic sheets cut to cover the rear window can be made in advance, or order pre-made kits from Plasweld. In a pinch, sturdy cardboard and duct tape will do.
Fully protect PVC fittings, pipes, water tank and wiring on the undercarriage of your off road camper trailer or caravan. Expect stone damage.
A bit more about the pubs on The Outback Loop.
MAPS
Never rely solely on GPS navigation. Carry a sheet map such as:
The Desert Parks Pass with maps, historical and environmental information; the pass is not required for Strzelecki, Birdsville and Oodnadatta Tracks.
The Outback Travellers Track Guide Series 1: Oodnadatta, Strzelecki and Birdsville Tracks.
Westprint Birdsville & Strzelecki Tracks, also Oodnadatta Track.
SUPPLIES
Comprehensive supplies in Port Augusta. Scripts and medical supplies are not available anywhere else. Carry a first aid kit.
Limited supplies are available along the way.
No banks, though some banks trade through Australia Post agencies at Leigh Creek and Birdsville. Most businesses accept EFTPOS but do not give cash back.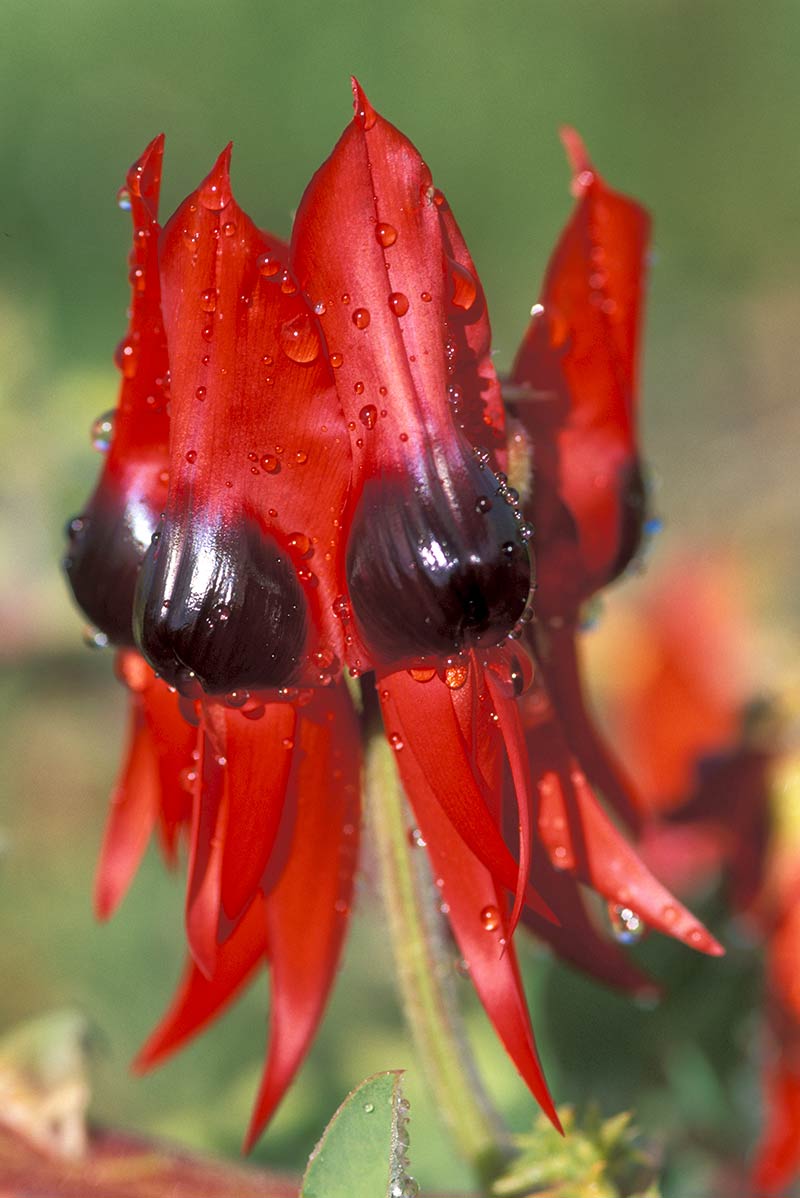 INFORMATION
Visit S.A. National Parks & Wildlife Service. Download PDF documents and maps of interest including the Desert Parks Bulletin.
Drop by the Wadlata Outback Centre in Port Augusta for essential track information. Also pick up a hard copy of:
Flinders & Outback Visitor Guide 
4WD Tracks & Repeater Towers brochure.
National park brochures.
The Outback Loop map
VEHICLE RECOVERY
RAA in South Australia: phone 13 11 11.
MOGAS Cookes Outback Motors in Copley: phone (08) 8675 2618.
Birdsville Roadhouse RACQ: phone (07) 4656 3226.
Pink Roadhouse Oodnadatta: phone 1800 802 074.
VEHICLE RECOMMENDATIONS
Any 4WD with high clearance. Vehicle must be in perfect mechanical condition. Drop the psi slightly on all tyres (vehicle and RV) to minimise damage from stones.
UHF radio. Duplex channels 1-8 and 31-38 are for emergency purposes only.
Offroad caravans or camper trailers are fine if towed with caution along the main tracks and the Painted Desert.
For your sake and the sake of others, drive to conditions and slow down for approaching vehicles so you don't throw up stones and cause expensive windshield damage.
Images: Steven David Miller / Natural Wanders