We know you love RVing, but how do you feel about geology? More to the point, what does one have to do with the other? Well, in the southern and northern Flinders Ranges, it's all about geology, otherwise known as really cool, and seriously old, rock formations.
STARTING A FLINDERS RANGES ADVENTURE
Most RVers will access Flinders from Port Augusta. A visit to the Wadlata Outback Centre is a must to pick up the 4WD Tracks & Repeater Towers map, the Flinders Ranges & Outback Visitor Guide, information on entry and camping fees for Ikara-Flinders Ranges NP and  Vulkathunha-Gammon Ranges NP, and private stations along the way that offer camping (and sometimes 4WDing). 
Fill water tanks and stock up on fuel and all supplies in town before departing.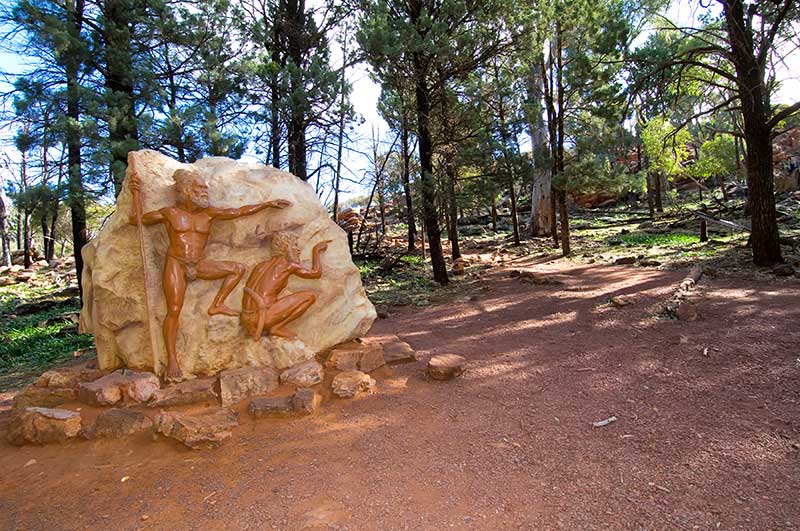 We begin with Ikara-Flinders Ranges NP because it comes first driving via Hawker. Rawnsley Park Station is just to the south of the park's boundary and plenty of RVers enjoy staying there with a larger van. However, basing yourself right in the park at Wilpena provides easy access to all those wonderful walks, day trips and outstanding wildlife viewing.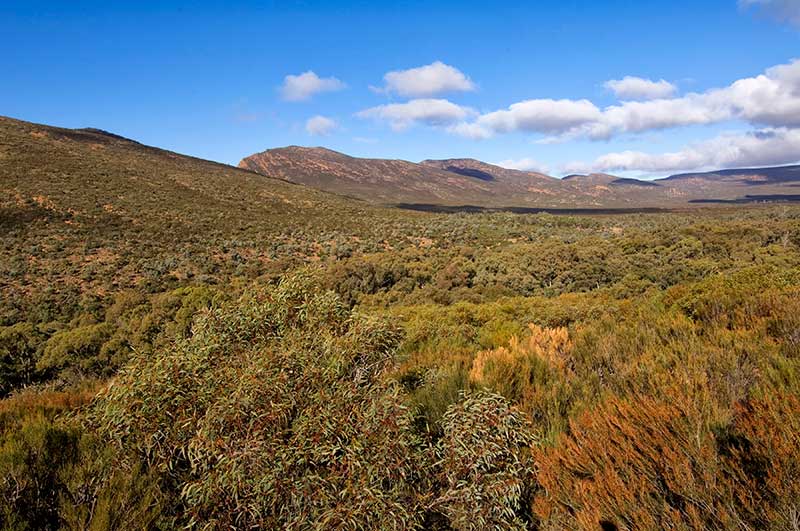 There is an information centre, a small shop and cafe, and a swimming pool at the resort. The bushwalking is outstanding, especially in Wilpena Pound; you can even walk or mountain bike a section of the Heysen Trail or the Mawson Trail. If you prefer a more secluded camping experience, there are several NP campgrounds along the Brachina Gorge Geological Trail and the drive through Bunyeroo Valley.
One terrific spot is at Brachina East with Brachina Creek probably-not-running beside it and a mob of rare (and shy) yellow-tailed rock wallabies living across the creek.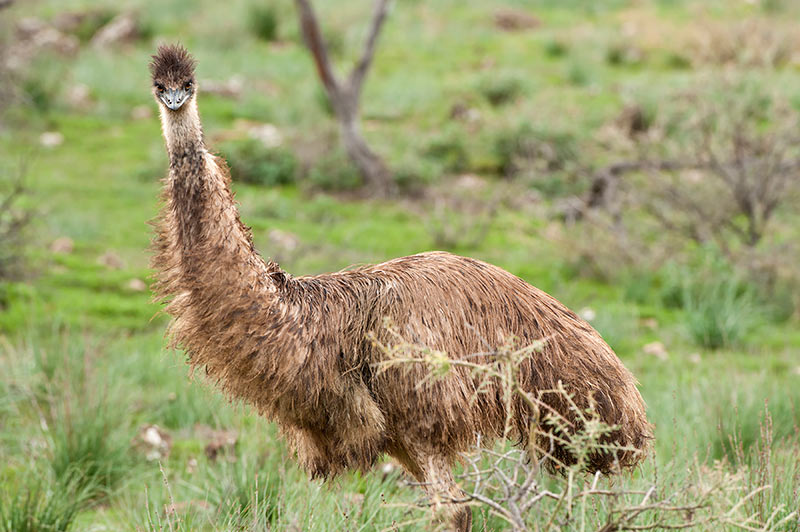 For a short drive, head back to the park's entrance, turning north and then south. Watch for the 300-year-old Cazneaux Tree to the left with an information plaque. The turn-off for Sacred Canyon will be on the right within 1km; this is a 28km unsealed drive to a car park with an information plaque and a walk up a creek bed to see some Adnyamathanha petroglyphs.
EXPLORING BRACHINA GORGE
For a full-day 4WD or AWD tour, pick up a copy of the Brachina Gorge Geological Trail at Wilpena (serious geologists can also download a more academic booklet). Four kilometres up the main road is a turn-off to Brachina and Bunyeroo; ignore this as it is better to return this way.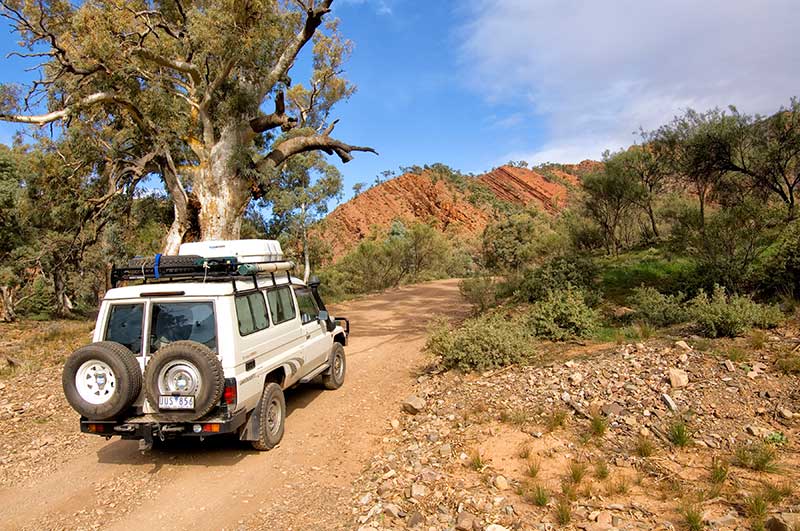 Continue north-west, stopping to take in Hucks Lookout and Stockes Hill Lookout. Oraparinna is 6km on, and there is camping 2km further at Dingley Dell. 
It is another 6km to the start of the actual Brachina Gorge Geological Trail, where you'll find an information bay. From here on, you are moving forward in geological time with postings at numerous locations explaining the astonishing rock formations: they are all worth a stop.
The trail continues for 25km, crossing Brachina Creek several times, and with a number of places to camp including Youngoona, Trezona, Brachina East and Teamsters. The track is easy, but caution is still required, especially along the creek beds (which will probably be dry). More than anything, be sure to take in that scenery wrapping around you like a panoramic landscape painting. The trail ends at the boundary of the national park.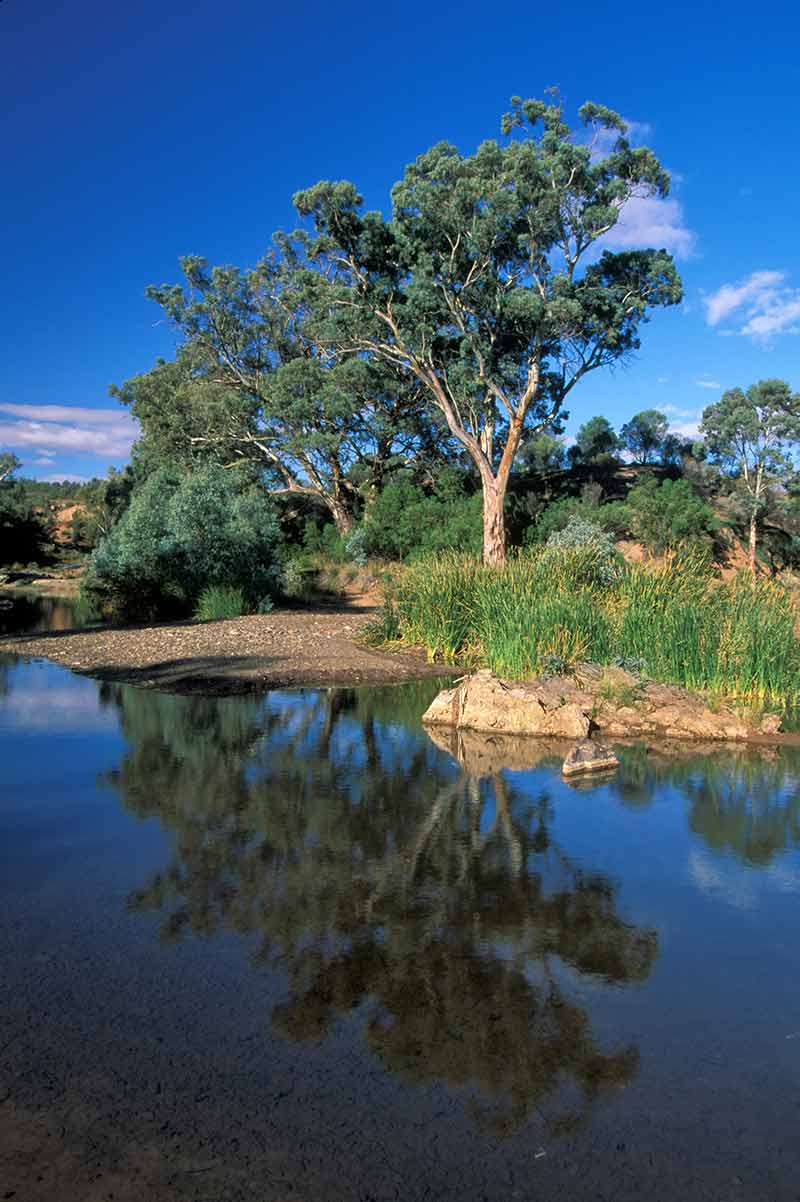 Backtrack for 1km to the Wilkawillina information sign; on the right of the creek bed are several huge river boulders. If you look closely and pour some water over the rock, you'll see 520-million-year-old marine life fossils 'magically' appear.
Looking at the gorge walls rising above, this has to be one of the scenic wonders of South Australia. At another 8km, still backtracking, turn south towards Bunyeroo Gorge. This drive drops and bends and climbs its way for 30km along the east slopes of the Heysen Range and through the Bunyeroo Valley with a number of abrupt pullouts to spectacular scenic lookouts, and to the start of various walks including a 7.5km return hike to Bunyeroo Gorge. 
Campgrounds include Cambrian and Acramen. This gorgeous drive ends at the main road you started on, with another 5km south to the Wilpena turn-off. 
HEADING NORTH
After taking time to enjoy all that the Flinders Ranges has to offer, especially a must-do walk in the Pound, you can proceed north to Vulkathunha-Gammon Ranges and Arkaroola (the Gammon Ranges are also known as the Northern Flinders Ranges).
Your choice is 152km of a gravel road from Wilpena to Balcanoona, or 158km of sealed road from Hawker to Copley, with another 97km of gravel road to Balcanoona.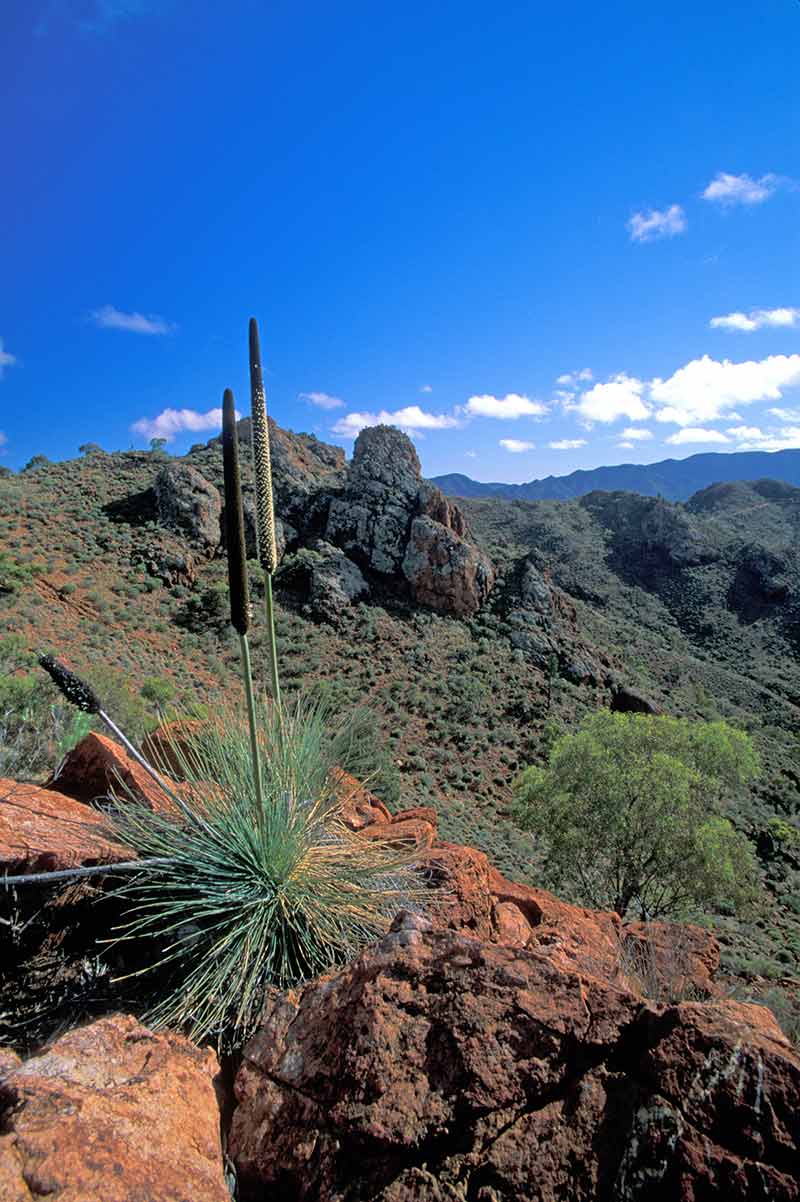 Let's take the short way. If you have time for a couple of nights of camping and the six-hour 4WD Skytrek trail at Willow Springs Homestead, then you'll find the access track 15km north of the Wilpena turn-off (phone first to book). The junction to Arkaroola is 22km from the Wilpena turn-off, turn right and continue for 36km to the northeast; expect numerous dips, jump-ups, creek crossings, corrugation and dust.
At the Arkaroola/Martins Well junction, turn north and drive for 52km. There will be a sign on the right indicating 9km to Chambers Gorge with tent camping and a walk up to a major Adnyamathanha rock art site. The road narrows through Wearing Gorge with plenty of dips and bends, then continues east for another 20km to a junction where you will turn north.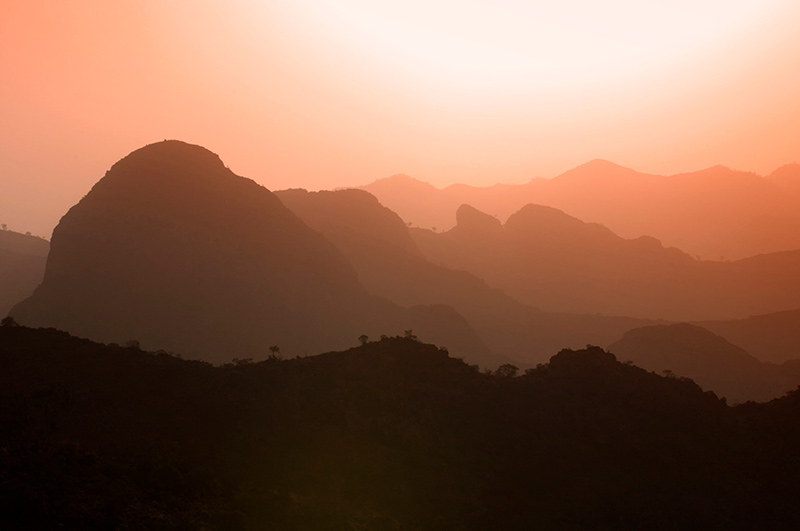 If the wind is blowing across the 32km of road through this open plain, be ready for choking clouds of white powder-dust; things tend to settle down once you reach the Vulkathunha-Gammon Ranges NP boundary.
The Balcanoona park headquarters is 6km along on the right; be sure to stop here if you want to do some camping and 4WDing in the park. Basic camping grounds with pit toilets, or no toilets, are available in the park, though you can return to Balcanoona for a shower.
This park demands self-sufficiency, a 4WD and a thorough look at the Bushwalking, Camping and 4WD sections of the NP website.
The scenery is spectacular—and if you yearn to experience the area but prefer a few creature comforts and guided 4WD tours, head up the road to sensational Arkaroola Wilderness Sanctuary. It is 29km along with access on the way to sites in the national park including the 5km track to Weetootla Gorge campground and hike, and the 17km track to Grindells Hut and campground with two gorge hikes and the Wortupa Loop 4WD track.
ARKAROOLA
And then there you are at Arkaroola. There is accommodation at the village, or you can set up at the campground on the top of a perpetually windy hill (bush camping is also available in designated areas).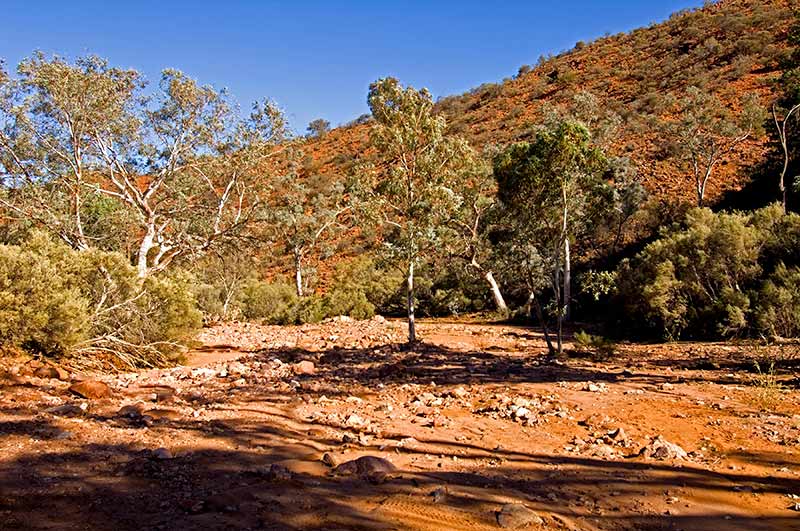 The ragged terrain may appear desolate and barren, but look closer and find rocks sparkling with veins of quartz, tourmaline and malachite, not to mention creek beds littered with amethysts, rubies and sapphires.
Everything about Arkaroola is fascinating. The owners, Margaret and Doug, are the daughter and son of Reg and Griselda Sprigg, a couple whose life story would make an impossible-to-believe romance/adventure novel. Margaret is a geologist, like her father, and Doug is an astronomer as well as a pilot and diesel mechanic.
They offer scenic flights over Lake Eyre, guided or self-guided waterhole tours and walks, tagalong or self-guided 4WD tours, the thrilling (guided only) 4WD Ridgetop tour, geology talks and walks, astronomy tours of the sky in one of the three observatories… or you can just camp and drive on your own.
Once you have checked in at the village, caught up with what there is to do, and picked up route notes for all the tracks, a great introductory four-wheel-drive (rated easy by Arkaroola) is out to Nooldoonooldoona Waterhole with a stop afterwards at Bolla Bollana Spring to look for yellow-footed rock wallabies in the late afternoon.
Book in for the guided 4WD Ridgetop Tour: a buckling roller-coaster ride in slow motion with passengers seated at the back of an open Toyota being tossed into the laps of complete strangers (this can be good or bad, depending on the lap).
If the Ridgetop Tour gets you revved up enough to do an extreme track on your own, and if you are totally sure of your skills, you have a high-clearance 4WD with low range, two spares and full recovery gear, then go to reception to find out about the Echo Camp Backtrack. 
The Backtrack is also available as a guided or tagalong tour, which is a good option for those of us happy to admit we aren't up to doing it on our own.
By now you will have eaten enough dust and ridden enough corrugations to make you want to go home, or simply keep going. Back down the road from Arkaroola, turn west on unsealed Copley Road and drive 99km to access Copley, Leigh Creek and sealed B83.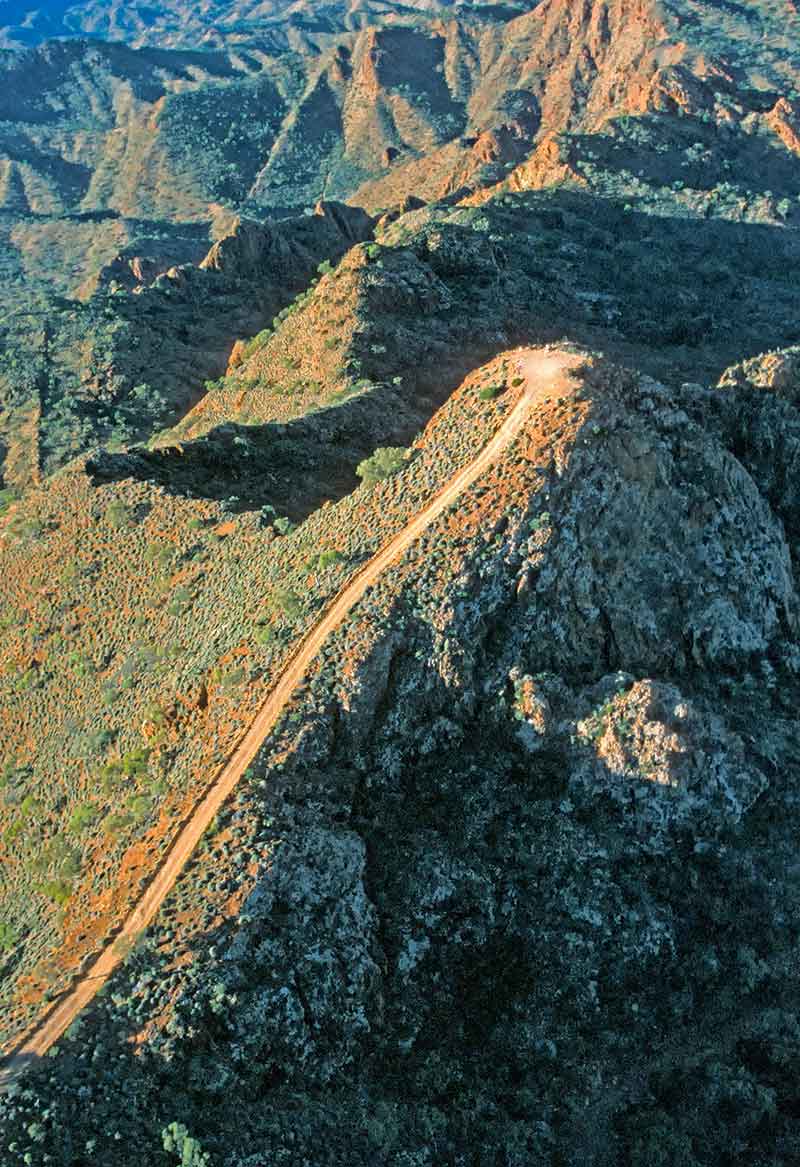 Better yet, turn north-east on Copley Road for 98km to join the Strzelecki Track leading to sensational Innamincka, Coongie Lakes, the road to Birdsville… these are temptations beyond enduring and the boss may simply have to do without you for a bit longer.
On the other hand, maybe it's time to retire. Oh, and when passing through Copley, be sure to stock up on rock cakes at the Copley Bush Bakery & Quandong Café.
– Images: Steven David Miller/Natural Wanders
SUPPLIES
Hawker, Leigh Creek, Wilpena and Arkaroola have fuel and limited supplies.