Unending red dirt, unfolding like a blanket towards the horizon. Saltbush inching towards the bitumen, which rolls on. And on. That's the coast of Western Australia. We were pushing north from Perth towards Kalbarri, a Jayco Adventurer hitched to the BMPRO Discovery 4. We'd hitched a ride with BMPRO's chief roamer, David Bayliss, to see this offroad rig in action.
In 2017, Jayco set the cat amongst the pigeons in the offroad caravan segment when it announced it was building a dedicated offroad caravan.
After all, though it sells more vans that any other Australian manufacturer, Jayco had never been known for offroad caravans.
Would the Adventurer live up to its promise? The early reviews were positive. Now, with three caravan layouts available, and also available in a pop-top variant, the Adventurer is well-established among vanners.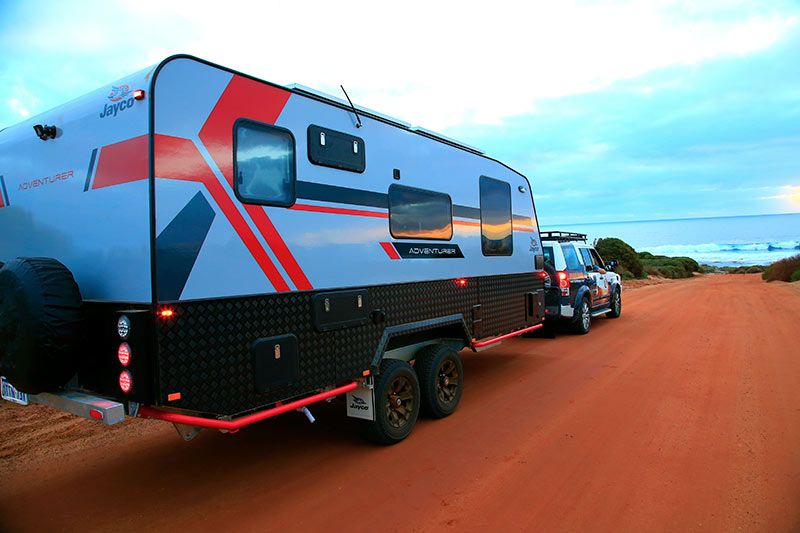 The Adventurer spent two years in R&D, so we had high hopes for our 19.60-2 rig as we wound our way along the Indian Ocean Drive towards Kalbarri.
JAYCO ADVENTURER: TOWING PERFORMANCE
Our adventure included a mix of highway touring, red gravel roads leading to pristine beaches, and sandy tracks. The Adventurer was unperturbed by each terrain type. The Jayco-made JTech suspension, an independent coil setup incorporating dual Pedders shock absorbers, performed well, keeping the van controlled as it traversed mild offroad conditions.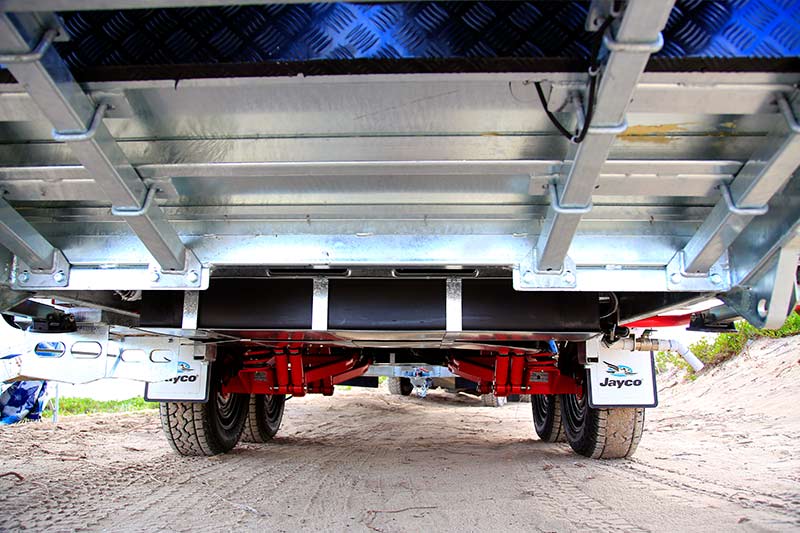 It's worth pointing out that as part of its warranty policy, Jayco applies some conditions on how an Adventurer can be used. These vans – among some other sensible conditions – are "not designed for tight, undulating or extreme 4WD tracks that are unsuitable for trailers" and, due to regulations that require a vent to be fitted at the lowest internal point of a van, the Adventurer can't be towed through water crossings where the depth is at or above floor level.
But that doesn't mean you can't have some fun. In fact, we towed the van to some amazing out-of-the-way spots, by the beach, that required off-bitumen travel.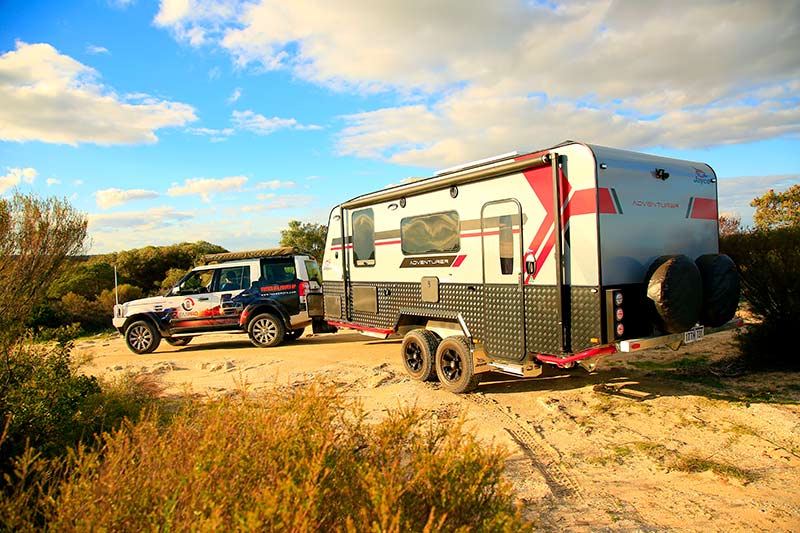 The Adventurer uses Jayco's 'Tough Frame'. This incorporates multi-layered, vacuum-bonded walls that Jayco says provide greater thermal and acoustic insulation compared to a standard 'stick and tin' rig. The Tough Frame is comprised of a hail and dent-resistant fibreglass exterior (with a gel coat finish); external 3mm ply for increased structural integrity; an aluminium frame; high-density polystyrene foam, and 3mm internal ply.
The chassis, meanwhile, is Jayco's own 'Endurance' chassis, a hot-dipped-galvanised construction that provides a solid foundation for the entire van.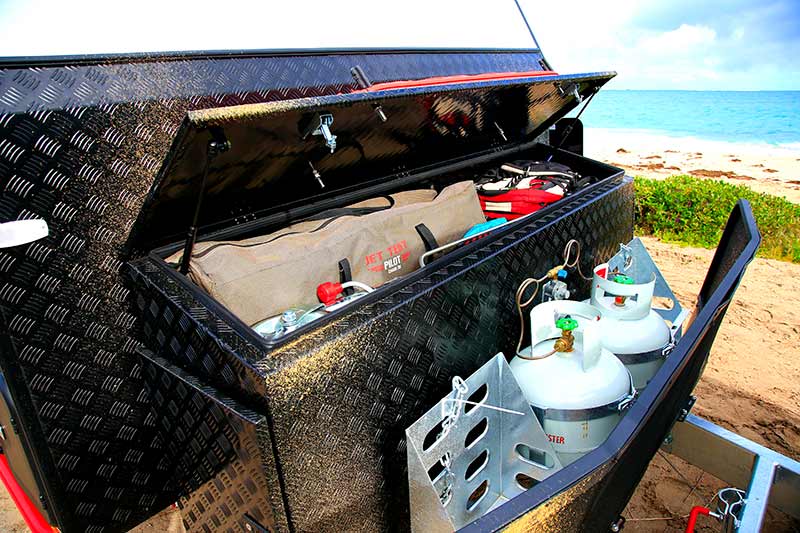 On the drawbar, the Adventurer sports a checkerplate storage box, complete with MaxTrax recovery boards, behind a mesh stoneguard. This storage box alone provides a reasonable amount of external storage; however, there's also a gal-lined tunnel boot just behind. This tunnel boot, I should point out, is not accessible from the nearside, as it's also home to a slide-out kitchen that comes complete with a two-burner stove, sink and some shelf/storage space.
While the slide-out kitchen is a winner, the gas bayonet is difficult to access – we had to lie on the the ground to connect the gas line.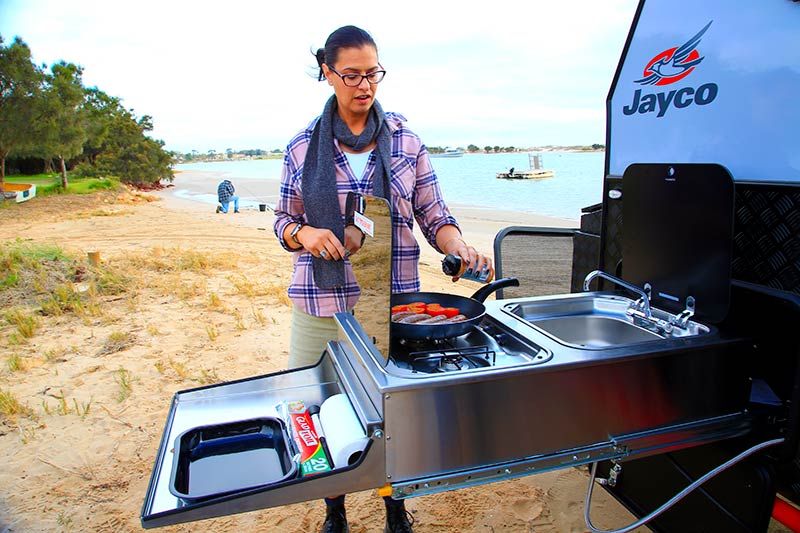 A couple of speakers, awning lights (including LED strip lighting), and a fold-down picnic table are also included as part of the nearside features. I particularly liked the scrub rails either side of the van. Naturally, being an offroad van, the Adventurer gets a decent waist of black checkerplate.
Two spare wheels are mounted to the rear bumper, and a rear-view camera and small spotlight are mounted to the paneling above.
INNER GLOW
The interior of the Adventurer is characterised by ample kitchen bench space, a generous dinette for two, a spacious bathroom and a number of other thoughtful touches.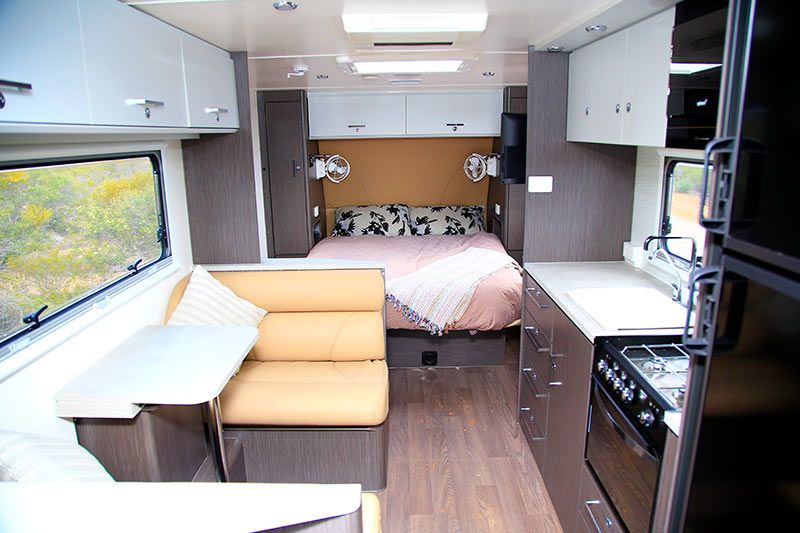 Admittedly, BMPRO's David Bayliss did all the living inside the van during our trip while the rest of us 'roughed it', and it's fair to say he was impressed.
"The layout worked well," he said as we parted ways. "There's lots of head room for tall people, and I really liked the bedside lights and storage hole compartments in the wardrobes."
And despite the aforementioned gas vent requirements, the van took in virtually no WA dust, despite the generous dust baths we traversed – the pressure hatch did its job.
There were, however, one or two instances where a soft-close drawer came off its runner, and there must've been some air in the water pipe, as when we turned on the water pump, water splattered over the kitchen window – an easy fix.
On the positive side, the three 160W solar panels did a great job – we were never short on 12V power.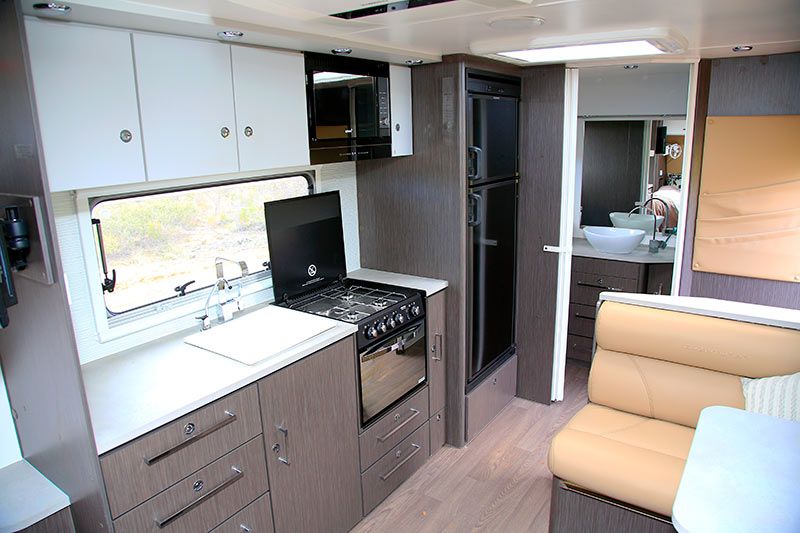 The kitchen is equipped with a 218L Dometic compressor fridge-freezer, a microwave, plenty of storage space, and a four-burner cooktop with griller and oven.
The dinette, meanwhile, is quite comfortable. It has a tri-fold table and overhead lockers; however, a number of cables run through these lockers. These cables are tied together but I felt a cover of some description would be called for.
The bedroom offers a decent amount of storage. There are two overhead lockers, side wardrobes, and space beneath the mattress – a special hatch beneath the bed provides access to the tunnel boot. But sometimes, it's the little things that get you. And I loved the twin Sirocco fans, one for each partner. In my experience, these fans work a treat.
Taking everything into account, including the features in the bathroom – which include a top-loading washing machine and separate shower – the interior of the Jayco Adventurer has a lot to offer adventurous couples.
Did I mention the technical wizardry in the form of the JHub system? This is a battery management system with a 7in android tablet mounted above the entrance. The tablet provides at-a-glance information on battery and water levels, and more. It also has the capability to remotely control various functions of the van, from the lights, hot water switch and even the water pump. That's the 21st century for you.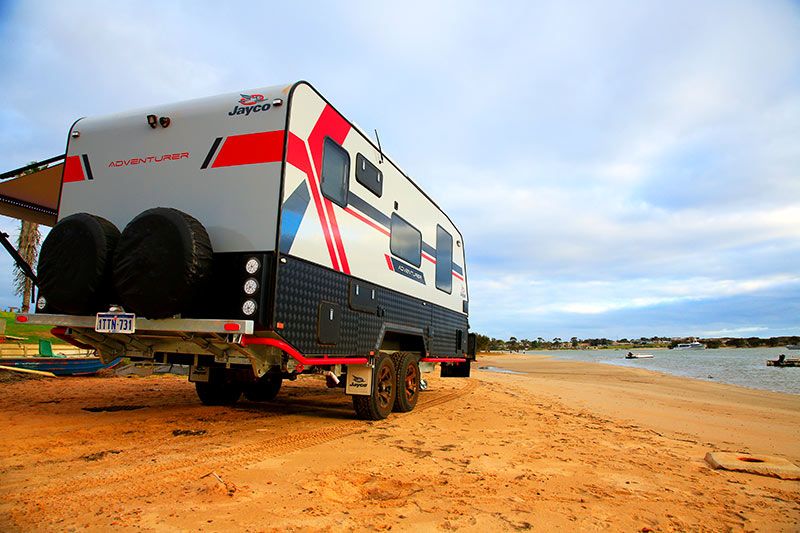 Other features include a Dometic Harrier reverse-cycle air-conditioner, a flatscreen telly, and even chopping board that can sit over the sink to increase work space. The interior design is cohesive and thoughtful.
GORV'S VERDICT
There are no two ways about it: this is a substantial caravan, both in terms of the features on offer, the bang for buck, its size and its weight.
There's no escaping the fact that it requires an equally substantial tow vehicle. The BMPRO Disco 4, however, was well and truly up to the task.
On highways, sand, gravel and mild corrugations, the Adventurer was as happy as a kid on Christmas. It was a rock-solid companion to our wild western adventure.
THE SCORE
FIT & FINISH –

LAYOUT –

INNOVATION –

HITS & MISSES
Towing performance
Very good value for money
Internal and external storage options
Long list of standard features
Gas bayonet was difficult to access
Some visible cables in nearside overhead lockers – I'd like to see a cover for them
Air was apparently trapped in the water line – an easy fix