Not all offroad caravans are created equally. Some are little more than rebadged blacktop tourers with independent suspension bolted underneath and a DO35 coupling whacked on up front. Others, though, are purpose-built machines, rigs built from the ground up to follow your 4WD anywhere you're game to travel.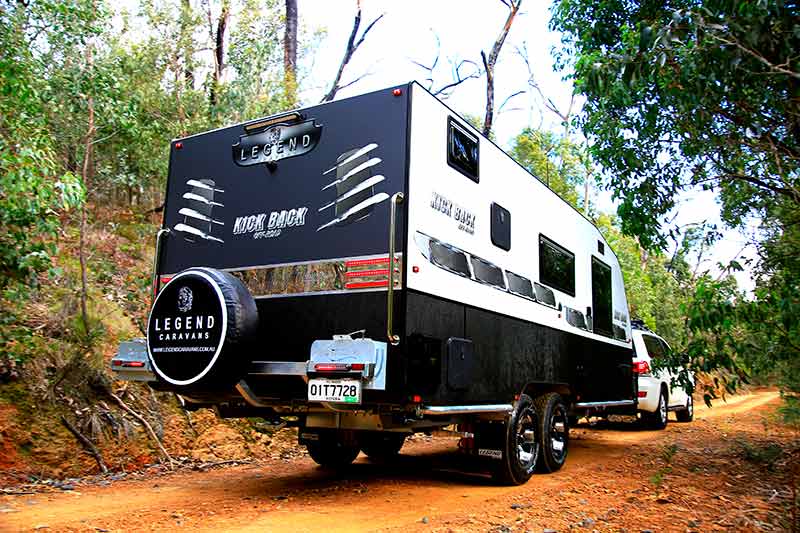 The Kick Back Off-Road by Legend Caravans falls squarely in the latter category. And to cater for a wide range of wants, needs and towing capacities, it's available in a range of sizes, from 13ft to 22ft 6in. The most popular in the Kick Back Off-Road stable, however, is our review van. With its 20ft 6in external body length, it balances living space with an ability to traverse bush tracks, though as with all large caravans, tight corners can prove challenging.
On a cold but dry winter's day, we hitched up to a 200 Series Land Cruiser and headed north out of Campbellfield, Vic, in search of some rough-and-tumble roads to put this tandem-axle unit through its paces.
LEGEND CARAVANS ON THE OFFROAD
The Legend Caravans Kick Back Off-Road doesn't have a rear cutaway; however, it does offer decent ground clearance, with a 6in chassis fitted with a 4in raiser. Control Rider TS independent coil suspension is fitted, too.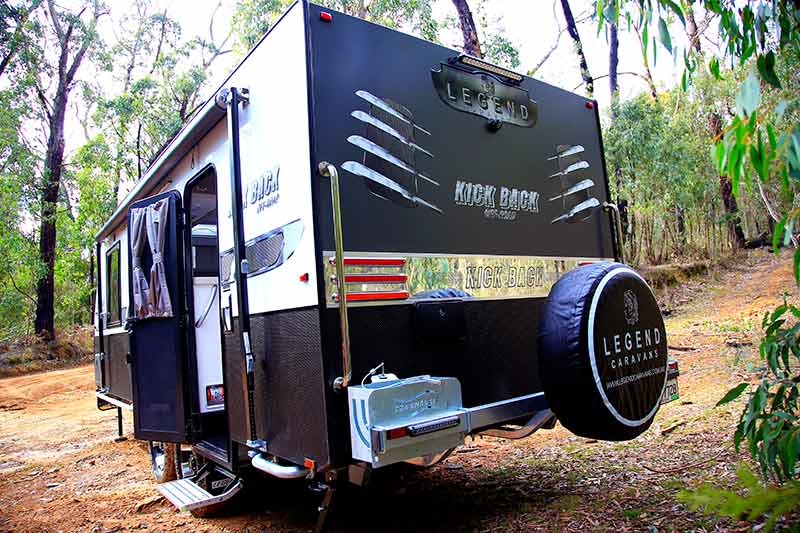 The van has a riveted aluminium frame and aluminium composite panels – the van certainly looks like it means business. And as we wound along the tracks, up and down hills and over various lumps and bumps, it gave no hint of instability.
In terms of 12V power, the Legend Caravans Kick Back Off-Road gets dual 120Ah deep-cycle batteries, a 60A Victron charger, and 320W worth of solar on the roof, not to mention an MPPT solar regulator. It appears to be a decent setup.
A true offroader, in my opinion, has to have adequate water storage, and on this front the Kick Back Off-Road does well, with dual 95L tanks standard. There's even a 110L grey water tank. This van has a generous payload capacity – 800kg – so carrying more water, whether in jerry cans (two holders are fitted to the rear bumper) or a water bladder, shouldn't be a problem.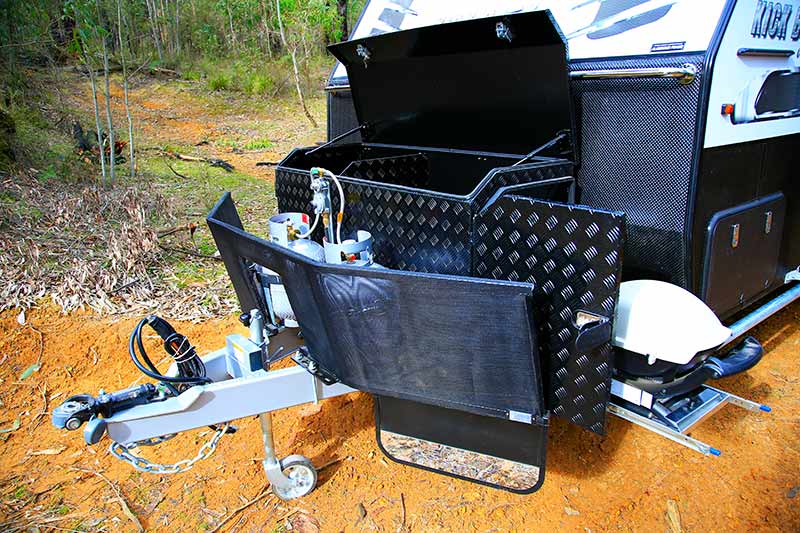 A checkerplate storage box is mounted on the drawbar, behind a mesh stoneguard which also protects dual 9kg gas cylinders. The storage box also contains a nearside slide-out tray on which you could mount a portable barbecue – our review van was fitted with an optional Weber Q. A slide-out tray on the offside could be used for a 2kVA generator. A tunnel boot, meanwhile, is just behind the checkerplate box.
An LED light bar is mounted to the front and rear which, coupled with the dual LED awning lights, will allow you to really light up the campsite at night. On the nearside, you'll also find the obligatory fold-down picnic table, a couple of speakers, a full-length roll-out awning, and a 12V powerpoint.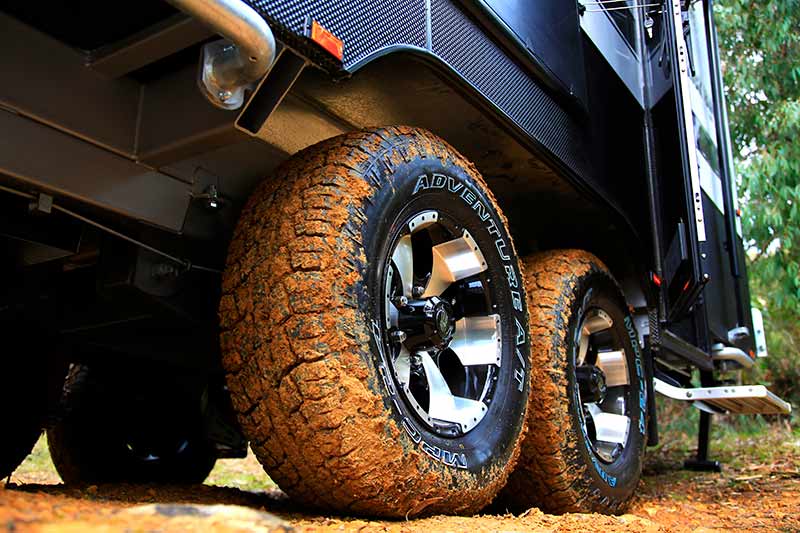 The van also has scrub rails either side for protection. Speaking of which, the underside appears quite well protected and while there is some exposed PVC plumbing at the rear, it's mounted quite high and out of the line of fire.
Numerous design touches help to set the Legend Caravans Kick Back Off-Road apart, such as the tail lights built into the rear bumper and the reflective silver material etched with the Legend logo that's fitted to the front stoneguard flaps. This van certainly doesn't look cheap or low-rent.
FORM AND FUNCTION
The appealing aesthetics continue inside. The interior is warm and inviting, set off by downlights and LED strip lighting above the overhead cabinets. There's a certain sophistication to the design that's further enhanced by small touches, such as the silver fascia surrounding the microwave, and the stitched leather dinette.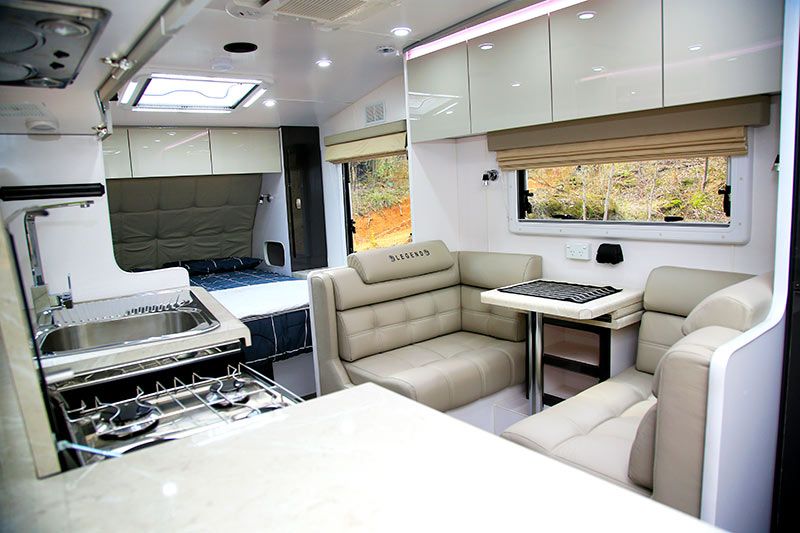 The overhead cupboards throughout aren't marred by handles; rather, they can be opened by the bottom edge of each door as the doors extend slightly below the inner boxes.
The  layout doesn't break new ground but in the Kick Back Off-Road, it is particularly well executed. Up front, the van has a queen-size bed with plenty of walk-around space. The dual batteries are kept in the storage space beneath but there's still lots of room for your gear. The wardrobes are generous and each has a 240V and 12V powerpoint, not to mention a side 'nook'  for easy access – always a welcome touch.
The dinette has a tri-fold table, yet more 240V and 12V points, overhead storage and more. Because each dinette seat has a snap-up footrest, to access the storage space underneath will require you to first remove the cushion.
The interior balances form and function well, and that's on display in the kitchen. Not only does it contain all of the essentials, including a full cooktop, griller and oven, not to mention pantry storage and a sink, there's even a decent amount of bench space – not always a given.
Between the dinette and bathroom, on the offside, Legend has fitted a large compressor fridge-freezer and a full-height pantry, the doors of which open on piano hinges like all the cupboard doors throughout.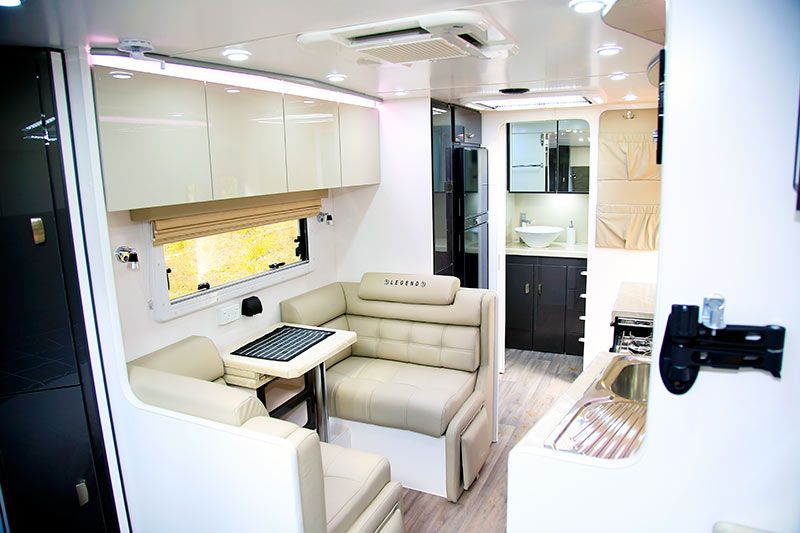 Finally, the bathroom. It's not the largest ensuite I've seen, but nor is it the smallest. It does, however, contain everything you'd expect, including a cassette toilet, central vanity with washbasin, a separate moulded-fibreglass shower, and even a front-loading washing machine. With a couple of cupboards and a range of drawers, I don't think storage space will be an issue in the bathroom.
Other features worth noting: an Aircommand Ibis 3 reverse-cycle air-conditioner is standard, as is a Suburban gas-electric hot water service.
GORV'S VERDICT
The Legend Kick Back Off-Road comes out of the factory geared up for adventure. There is very little you'd need to add to get out there and start exploring.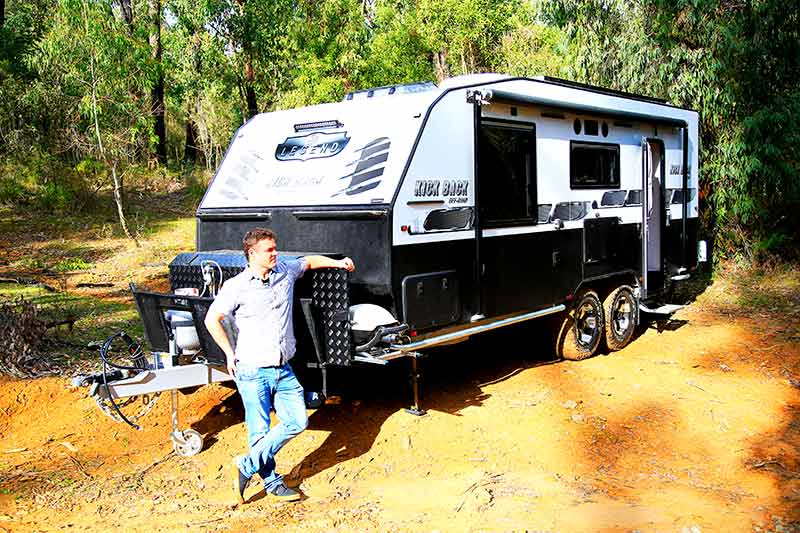 It will, however, require a substantial tow vehicle. This is not really a Prado-friendly rig, with its Tare of 2700kg and ATM of 3500kg.
Having said that, with the right tow tug the Kick Back Off-Road should be a faithful companion as you explore remote Australia.
THE SCORE
FIT AND FINISH –

LAYOUT –

INNOVATION –

HITS & MISSES