When I was asked to review a couple sets of towing mirrors, my interest was immediately sparked. I have been in need of some new towing mirrors but have not been able to decide which brand. The only thing I was sure of was that I was definitely after a great set by a reputable brand!
I was therefore excited to find out I was reviewing OCAM's new TM2 and TM3 extendable towing mirrors. I had heard some great things about them but had not seen them in action. I knew they were cheaper than most extendable mirrors, so I was curious to see how they fared.
SEAMLESS APPEARANCE
Our crew arrived at OCAM 4×4 Accessories in Epping, Vic, to find out they had generously prepared two vehicles, a Ford Ranger fitted with the smaller TM3 extendable mirrors, and a Land Cruiser 200 Series fitted with the larger, more popular TM2 mirrors. We hitched up a 20ft Highline twin-axle caravan to these vehicles to give these mirrors a fair dinkum test.
What grabbed my attention initially was that these extendable mirrors did not look like an add-on; they looked like they were always part of the vehicle and I was surprised to learn these are a DIY kit, so if you're handy with some basic tools, you won't require a mechanic to install either of these sets of mirrors.
Both TM2 and TM3 mirrors come in a chrome and satin black option, both have a two-piece mirror section, with the bottom being convex to give greater visibility, and come fitted with or without indicators, depending on the vehicle.
The mirrors are definitely larger than a standard side mirror, so as I jumped into the driver's seat, I expected to have my vision beyond these mirrors impacted. However, fact these mirrors did not impede my vision at all. They were both perfectly mounted, with just the right amount of offset so my focus when looking to the rear was outstanding. I couldn't wait to get moving and test them on road.
OCAM TEST
The car up for the test was the 200 Series Cruiser, fitted with the TM2 mirrors, and they were impressive. Fully extended, there was no shaking about, and the 200mm-wide mirrors gave more than enough rear vision.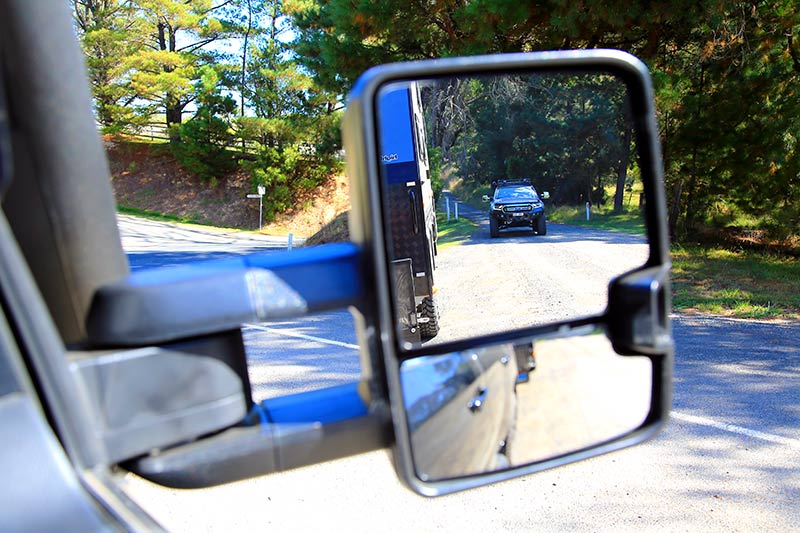 While driving, I felt extremely comfortable. My usual glances in the mirrors while driving didn't require a double check – I saw exactly what I needed effortlessly.
We pulled into a side street to swap the caravan to the Ranger with the TM3 mirrors, but I thought I'd do one more test and that was to reverse park the caravan along the kerb, and it was seriously too easy! I had full vision without having to stretch like a giraffe to see the wheel placement.
Lastly, it was the Ranger's turn. Now, the first thing I noticed when I jumped into the driver's seat was the passenger side window sill obscured my view of part of the convex mirror – probably not an issue for taller folks. Although the TM3 mirrors are smaller in size than the TM2, they still offered a massive viewing area.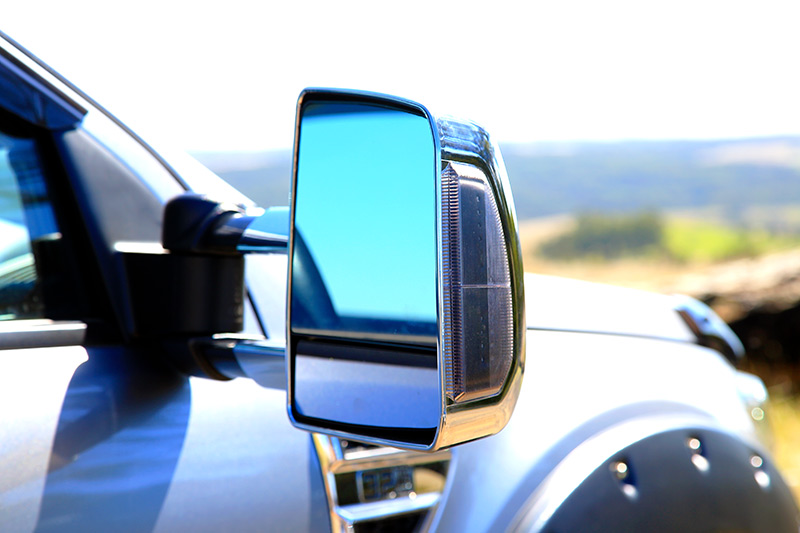 We went up the Hume Highway and had some road trains fly by us, but these OCAM TM3's did not vibrate at all.
We made our way back to OCAM 4×4 Accessories and I was convinced there was no need to shop around – my mind was made up.
At half the price of reputable competitors and Australian made, the TM2 extendable mirrors was the preference for my Nissan.
Note: the price of each set of mirrors varies depending on the vehicle they're for. Click the 'More Info' link for pricing according to your needs.
More information: https://www.ocamindustries.com.au/towing-mirrors/