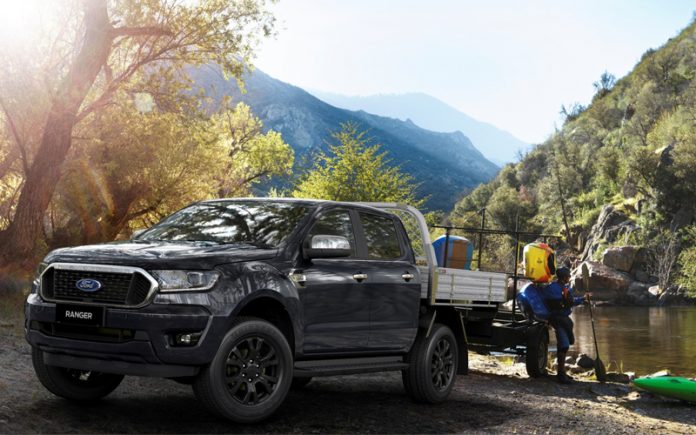 Just because a new tow vehicle is bargain-priced doesn't mean it'll do the job well. There are some other, more affordable, tow vehicles than these five, but these are the best value, best for towing new vehicles on the market for up to about $50,000.
While the best value in the dual-cab ute category, be aware that you can't carry a full payload and tow right up to full capacity in any of them. A fine balance of weights has to be calculated in most of them to not exceed their legal weight limits.
SSANGYONG MUSSO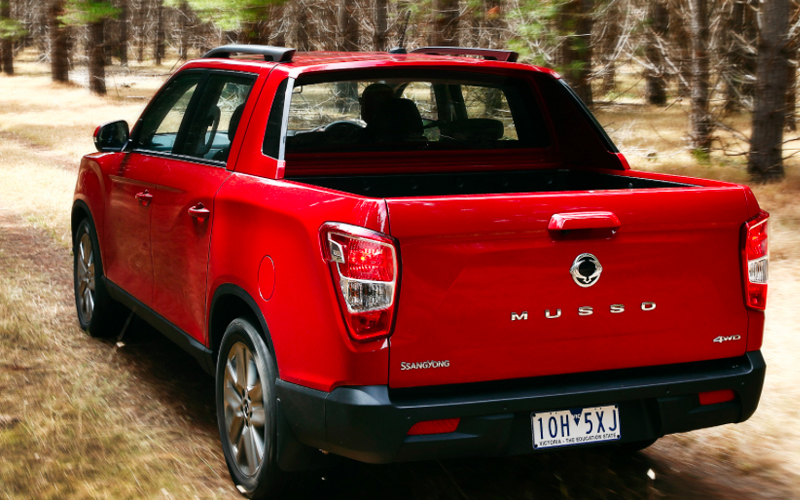 The SsangYong Musso EX series is the stand-out 3500kg tow vehicle that is great at towing for a great price. Even the top line in the EX series (the $39,990 plus on-road costs Ultimate) is cheaper than anything else here, most of which are entry-level models. The EX series has a short tub, which is likely too small for tradies (there is a longer-tray XLV version, though). You also get a better (coil-spring) rear axle set-up for ride comfort, and the EX models are a bit cheaper than the XLV too.
The SsangYong appears to be one of the more composed tow vehicles in its class. There was no yawing or pitching when we towed a 3000kg van and ride quality was also good in the SsangYong when towing, if perhaps a little firm. Except for when under load at around 3000rpm, the engine is smooth and quiet. Engine braking is not particularly strong and the transmission will upshift at around 4000rpm, 500rpm short of redline, regardless of whether you are holding a gear or not.
The SsangYong surprises with its stability and composure when towing. Add to that its superb value (and seven-year factory warranty) and you have a very good, great-value heavyduty tow vehicle.
QUICK SPECS
• Priced from: $30,490
(2.2 EX, plus on-road costs)
• Engine: 2.2L turbodiesel
• Output: 133kW/400Nm
• Transmission: Six-speed automatic
• Towing capacity: 3500kg/350kg
• Kerb weight: 2180kg
• GVM: 2970kg
• GCM: 5980kg
FORD RANGER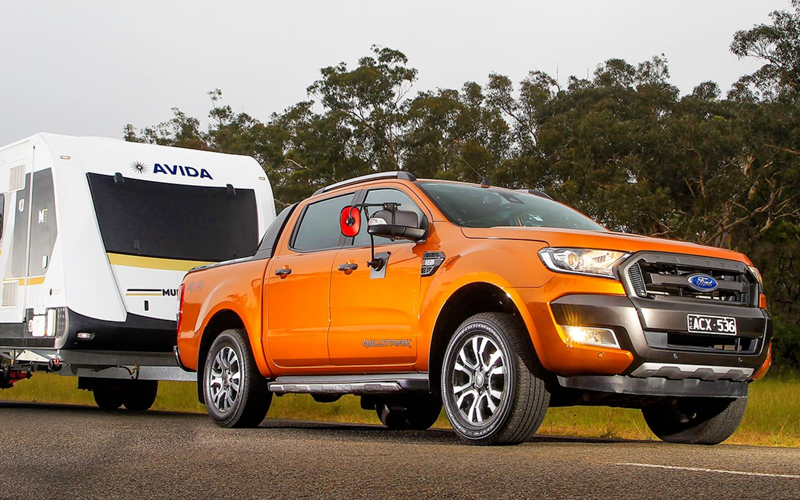 The Ranger is getting on for 10 years in the market, although it has had multiple significant revisions in that time. The 3.2L inline five feels old school but is nonetheless a great engine for overall performance and for towing. It fires up to a relatively quiet idle but, like all five-cylinder diesels, it is not turbine-smooth as you increase revs.
The throttle response between 2000 and 3500rpm is fantastic, even when you're lugging a heavy van behind it. Steering turn-in is quick and direct and the Ranger holds a chosen line surprisingly well. It actually rides well too, for a ute. The Ranger is a stable towing platform, barely moving at all with a van behind, and towing performance is very good.
QUICK SPECS
• Priced from: $48,990 (3.2 XL
Double Cab, plus on-road costs)
• Engine: 3.2L turbodiesel
• Output: 147kW/470Nm
• Transmission: Automatic
• Towing capacity: 3500kg/350kg
• Kerb weight: 2135kg
• GVM: 3200kg
• GCM: 6000kg
VOLKSWAGEN AMAROK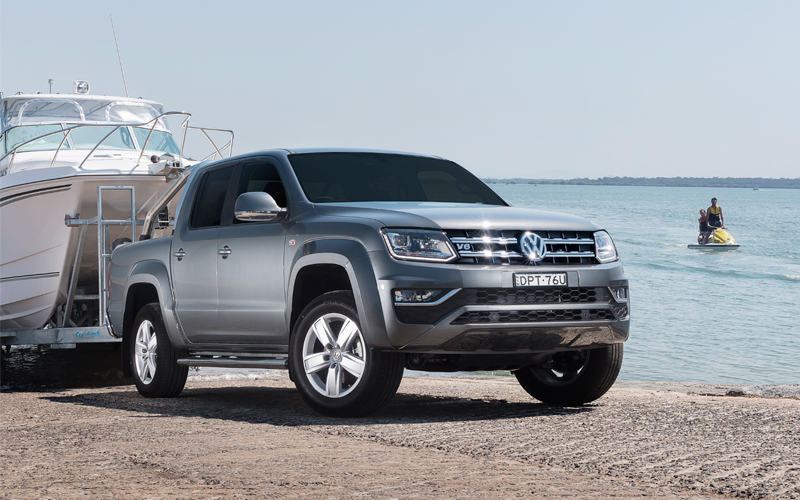 Like the Ranger, the Amarok is getting on in years, but also like Ranger it is still one of the best utes out there for towing, despite the many newer arrivals. The 2L engine is great, easing away from idle with little hesitation and, as the tachometer needle swings in its arc towards redline, the near-perfect linear torque delivery is unlike the Amarok's competitors. You expect turbo lag in a turbodiesel engine, but the Amarok has almost none.
The Amarok 2L Core is the best value but doesn't have quite the towing capacity of its V6 brother – it's 3000kg versus 3500kg. However, for a couple more thousand dollars, you can slip into a TDI 500 V6 Core, and while you'll use slightly more fuel, you'll have as much towing capacity and performance as you'll probably ever need. There can be some fore-aft pitching when towing but, otherwise, the Amarok tows a van almost as if it is not there. It is very stable and offers strong performance and good fuel economy and range.
QUICK SPECS
• Priced from: $47,590
(TDI420 Core, plus on-road costs)
• Engine: 2L biturbo-diesel
• Output: 132kW/420Nm
• Transmission: Eight-speed automatic
• Towing capacity: 3000kg/300kg
• Kerb weight: 2022kg
• GVM: 3040kg
• GCM: 5550kg
ISUZU MU-X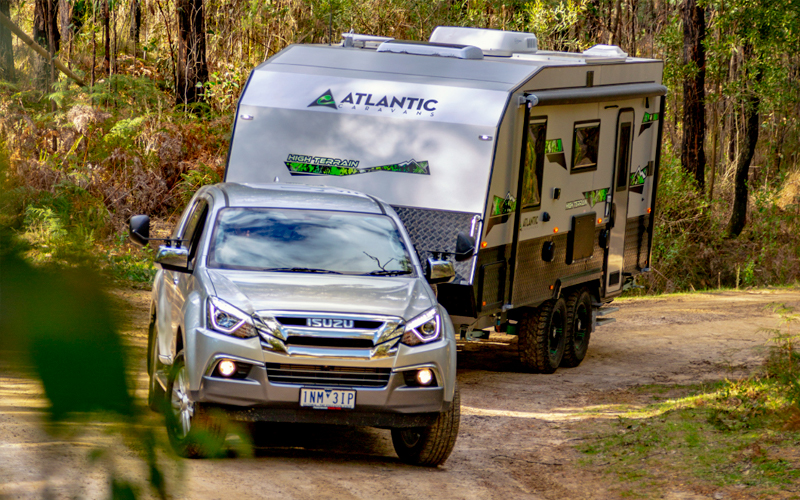 Soon to be pensioned off as an all new model arrives, the Isuzu MU-X on paper would seem to not offer anything exceptional in size or weight in its class, yet its towing stability is one of the best in the business. Yes, the MU-X is getting on: it's gone through several revisions but it has remained essentially the same since 2012. In several towing tests, the MUX didn't yaw at all and pitching was minimal. On some surfaces, the suspension feels a little too soft when towing, the front in particular taking a while to settle.
The only other issue is that the MUX has only a 65L fuel tank, so towing a heavy van into a headwind is going to require a bit more planning for refuelling. The MU-X is one of few heavy-duty tow vehicles that can be at its GVM and tow a trailer at its maximum capacity. Of course, you have to allow for towball mass as vehicle payload, but it's still one of the easier vehicles for keeping legal on weights.
While Isuzu MU-X is a bit dated, there are not many other tow wagons that get on with the business of towing as well as the MU-X. With a heavy trailer behind it, the MU-X has outstanding stability, excellent fuel economy and good performance.
QUICK SPECS
• Priced from: $50,200
(LS-M, plus on-road costs)
• Engine: 3L turbodiesel
• Output: 130kW/430Nm
• Transmission: Six-speed automatic
• Towing capacity: 3000kg/300kg
• Kerb weight: 2045kg
VGVM: 2750kg
• GCM: 5750kg
MITSUBISHI PAJERO SPORT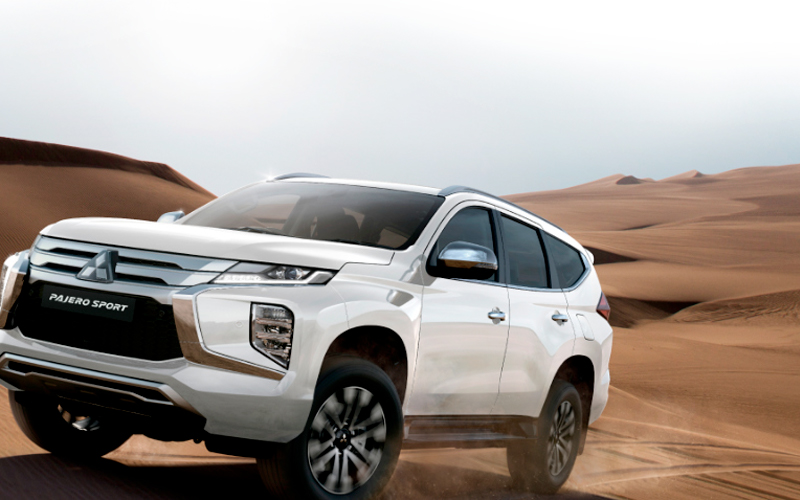 The Pajero Sport has a smaller displacement engine than the MU-X, a relatively low kerb weight and two extra gear ratios on its side. The 2.4L four is also a smooth free-revving engine, which it needs to be given that its power and torque figures peak relatively high in the rev range.
It can get a little thirsty when towing and its fuel tank capacity (68L) is not great for those long transport stages with a van behind. Yet the Pajero Sport is one of the smoothest and quietest towing wagons in the business, and it's high on features and low on price. Combined with its excellent, stable towing characteristics, the Pajero Sport makes for a relaxed long distance towing tug.
QUICK SPECS
• Priced from: $47,490
(plus on-road costs)
• Engine: 2.4L turbodiesel
• Output: 133kW/430Nm
• Transmission: Eight-speed automatic
• Towing capacity: 3100kg/310kg
• Kerb weight: 2070kg
• GVM: 2710kg
• GCM: 5400kg