"Oh yeah, that's known as the worst road in Australia!"
Not exactly what you want to hear when you're about to tow a 21ft caravan down a particular road but, unfortunately for us, this is what we consistently heard from locals and fellow travellers regarding the southern track in to the Ningaloo Coast campground from Exmouth Road.
MOST CHALLENGING DRIVE YET
The Ningaloo Marine Reserve is a World Heritage Area that covers over 300km of coastline from Red Bluff all the way up to the North West Cape of Exmouth. It is one of the world's largest fringing reefs, as well as one of the healthiest, thanks to its remote location, and it houses a staggering amount of biodiversity. Previously known as Ningaloo Station, the Ningaloo Coast campground, now run by National Parks WA, is one of the most popular campgrounds from which to experience this one-of-a-kind marine park.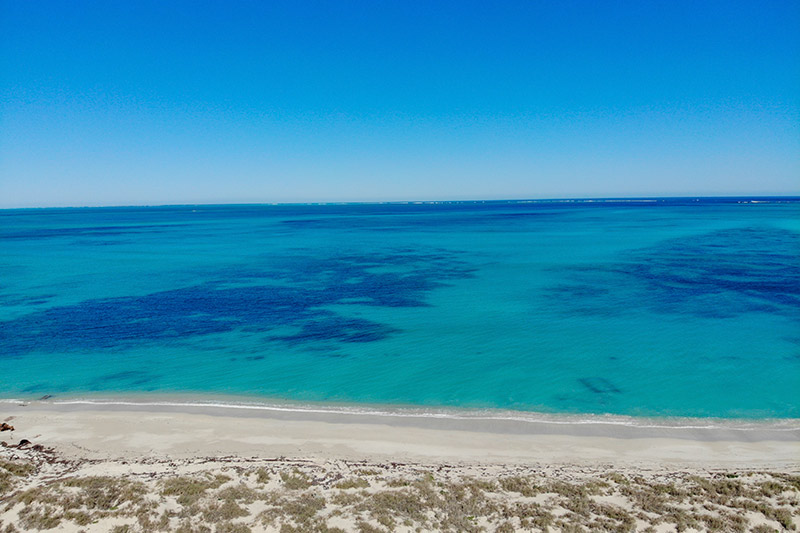 However, because of a bit of debate between National Parks and the local council about who exactly is responsible for the upkeep of the road, the track tends to be neglected and worsens in condition. It is now widely known as one of the worst roads in the country and a tough ordeal for RV, driver, and passenger(s) alike. However, not a single person said it wasn't worth the effort.
Moreover, there is another option available to access the Ningaloo Coast campground: entering from the north via Cape Range National Park. This way, however, requires crossing Yardie Creek which, as a tidal river, isn't always accessible, and when it is, it's strictly 4WD-only and for those who are confident with sand-driving. We'd taken the van down some tough tracks before, but this would likely be our most challenging yet.
CROSSING YARDIE CREEK
The day before, we went down to Yardie Creek to check out the track and make a plan of attack. Despite a small drop-off to get down into the creek bed, the rest looked relatively easy to navigate since the creek was completely dry. So the next day we got to the carpark, aired down our tyres, took a deep breath, and got ready to go: Marc behind the wheel, Sandy outside on the handheld radio spotting.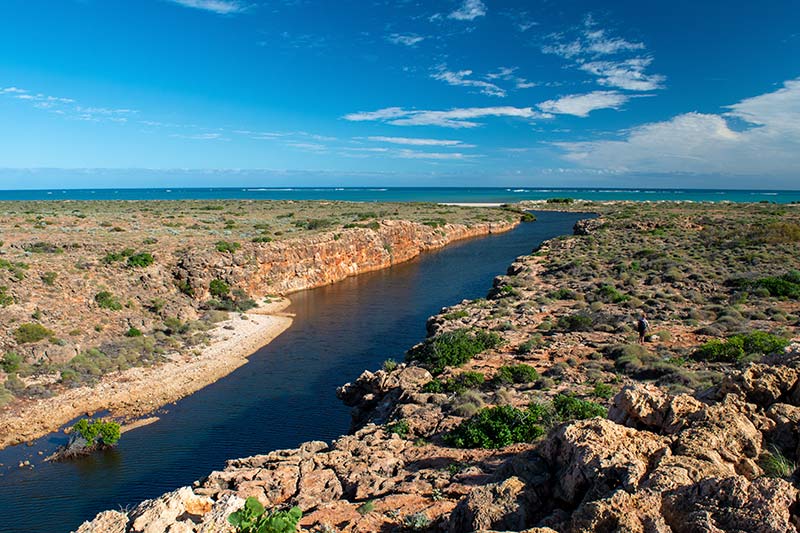 We navigated the drop-off easily enough, thanks to the extra clearance of our offroad van and by taking it slow, but as soon as we hit the sandy creek bed, we were bogged. Thankfully, there were a few cars around, and one quickly came over to give us a snatch out. However, as Marc got back in the car to prepare for the recovery, he looked down and, to his dismay, saw that he had neglected the number one rule when you get bogged – check that you're in 4WD!
He had been so preoccupied with navigating the drop-off at the start that he had accidentally left the car in 2WD, so it was no wonder we got stuck as soon as the car hit sand. At least it made for a very easy recovery and we were across Yardie Creek in no time. 
REACHING NINGALOO COAST CAMPGROUND
Unfortunately, our relief was fleeting as the track quickly became extremely narrow and bumpy. On some parts of the track, car and van were scraping bushes on both sides. Miraculously, even though it was the tail-end of school holidays, we only came across one other large caravan and a couple of camper trailers going the other way that we had to negotiate, which was done easily enough with communication via UHF.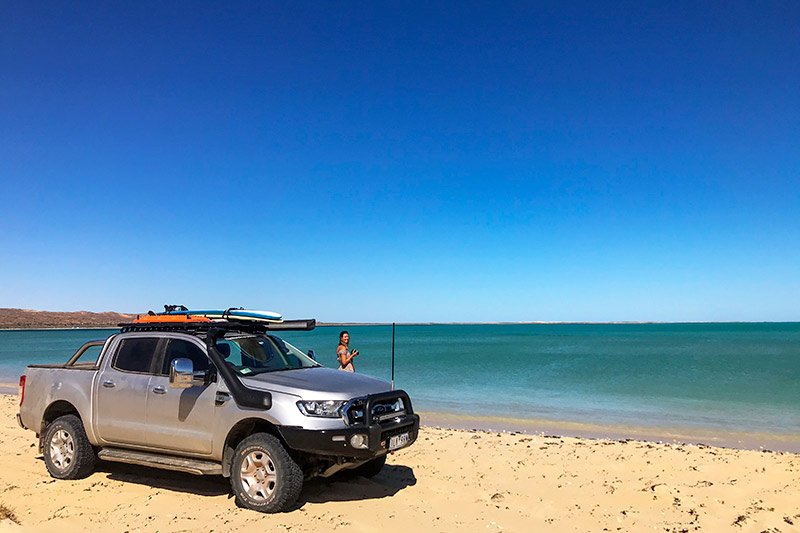 Occasionally we had some respite from the narrow track, across open plains, but mostly it was rough and slow-going. After a couple hours, we eventually made it to the turn-off for South Lefroy, where we'd be camped for the next seven days. As we were making our way to camp, we got a bad feeling when we noticed a young kid at the top of a dune call out to his mates, who all came running up to join him in watching us make our way to camp – there's nothing like having an audience when towing down a challenging track!
Nevertheless, we expertly navigated through the dunes and got within eyesight of the beach and our camp… and then, for the second time that day, down we went into the soft sand. We tried our best to make our own way out by lowering our tyre pressures and digging, but the van wouldn't budge. And yes, this time we were definitely in 4WD!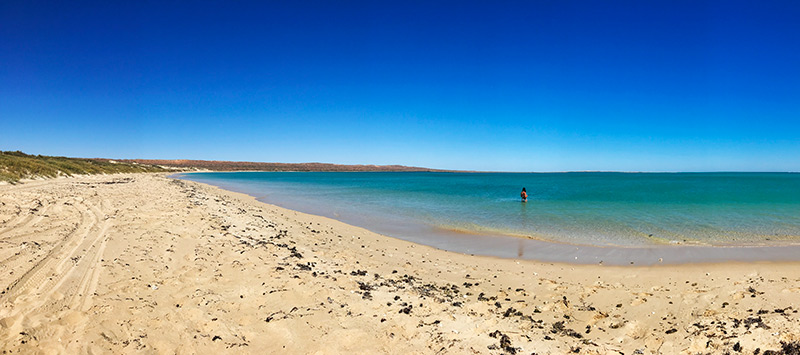 Not wanting to tear up the track any more than we already had, we again received some assistance for an easy snatch recovery from our camp neighbour; then, exhausted and covered in sand and sweat from our attempted recovery, we pulled up at our camp where we could finally relax.
And over the next seven days, relax we did! Our days were filled with swimming, snorkelling, fishing, paddle-boarding, exploring the Ningaloo coastline, or sitting back and enjoying the scenery. Best of all, all of this beauty was within steps of our campsite. We were definitely thankful we had a long stay to make the strenuous journey worthwhile. But like all good things, eventually our time at South Lefroy came to an end.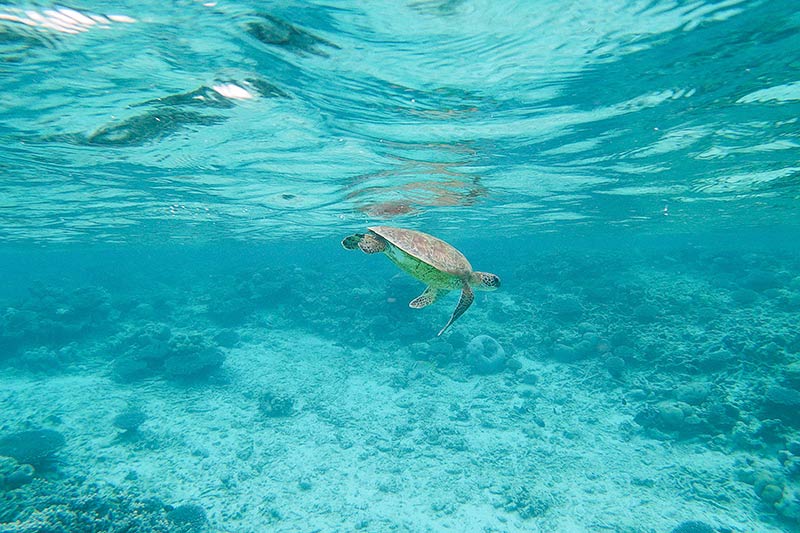 After discussing with fellow campers, we decided to take the south road out; it was going to be more corrugated but at least the track was wide. The 30km track ended up taking close to 3.5 hours to complete. Like a long journey on a boat, we felt like we could still feel the corrugations for hours afterwards. Nevertheless, nothing could spoil our incredible experience of staying on the edge of one of the world's most spectacular reefs.
QUICK TIPS
Get in early to book a campsite, especially if you want to be beachfront during peak times. Bookings usually open six months beforehand and can book out within minutes;
You must have your own chemical toilet with you as there are no facilities whatsoever at the campground. There is, however, a dump point a short drive from camp;
Campfires are permitted but all wood must be brought in and fires must be contained in a fire pit;
Bring extra water as there is no drinking water available. This will most likely be the limiting factor for an extended stay, and you don't want to have to drive that road any more than you have to!
There is limited phone reception at a nearby tower about 10km from camp; and
Beware of king tides. They can reach up to the beachfront camps and wreak havoc on your setup.