When I fed my destination – Omeo, Vic –  into my GPS for my visit to the ACC Gippsland Gypsies muster, I didn't really look at the route and it wasn't until I was passing through such delightful towns as Bright and Harrietville that I realised I was heading for the climb up Mt Hotham. It didn't worry me as I had done it a few times before and I was enjoying the scenery.
Yemmy had been behaving and hadn't dropped into 'limp-home mode' once during the early part of the journey so I wasn't concerned when he decided to go into third gear for the climb – it was what I would have selected anyway.
However, when the road flattened out I stopped and turned the engine off expecting a return to normal. Wrong! I repeated the process a number of times but to no avail, so I did the next 60-plus kilometres at a modest 60km/h.
It was quite tedious and the ETA changed from arriving by 3.30pm in good time for happy hour, to more like 4.30. (I still made happy hour and the scrumptious barbecue that followed.)
I was there at last for what turned out to be an excellent weekend and it was great to catch up with so many friends, particularly my two visiting ACC Lone Trekker friends, Sue and Judy from Adelaide, who offered to take me home on their way back to South Australia.
It was an offer I gladly accepted as Yemmy had to be tilt-trucked to my friend Eric's place at Officer, Vic, for attention to his transmission! Little did I know they intended going back over Mt Hotham!
SERIOUS BUSINESS
Lots of our members visited the Omeo Show on the Saturday morning and after lunch the serious business of the annual general meeting took place, with a new president and committee members elected and lots of good reports about activity during the previous year. Of interest to me was the fact that new president Colin is a fellow trombone player.
SANTA CAME VISITING
There was much hilarity when a cheerful Santa appeared to give out pressies – it appeared that everyone had been good because no-one missed out on a gift and Santa was kept busy giving the ladies a hug when they fronted up.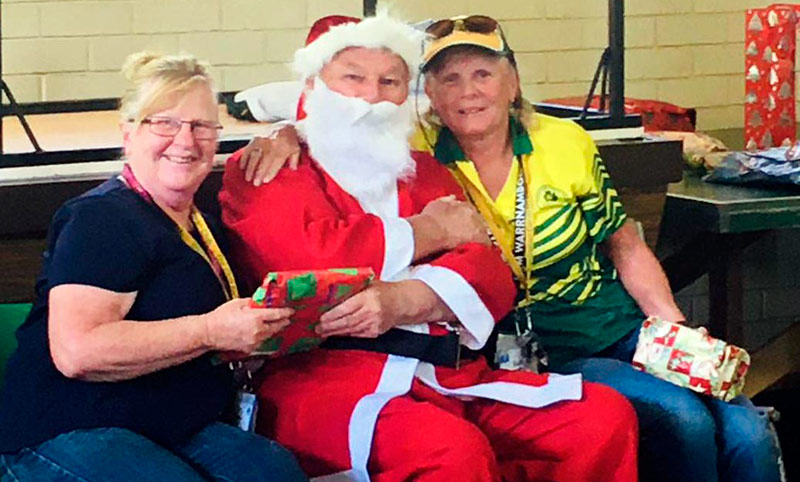 Fortunately, there was a chair for the ladies to sit on because Santa had had about 50 large ladies sit on his knee many years ago at a muster at Warrnambool and said he couldn't walk for a week after that.
A wonderful selection of salads and sweets appeared for the BYO barbecue dinner that evening, rounding out a great day.
WHERE TO NEXT?
Sunday morning saw a line-up of vehicles ready to start a tagalong tour of the local alpine area, with the first stop at the Omeo courthouse and prison where we learnt a lot about the colourful history of Omeo and district, including tales of notorious bushranger Ted Toke.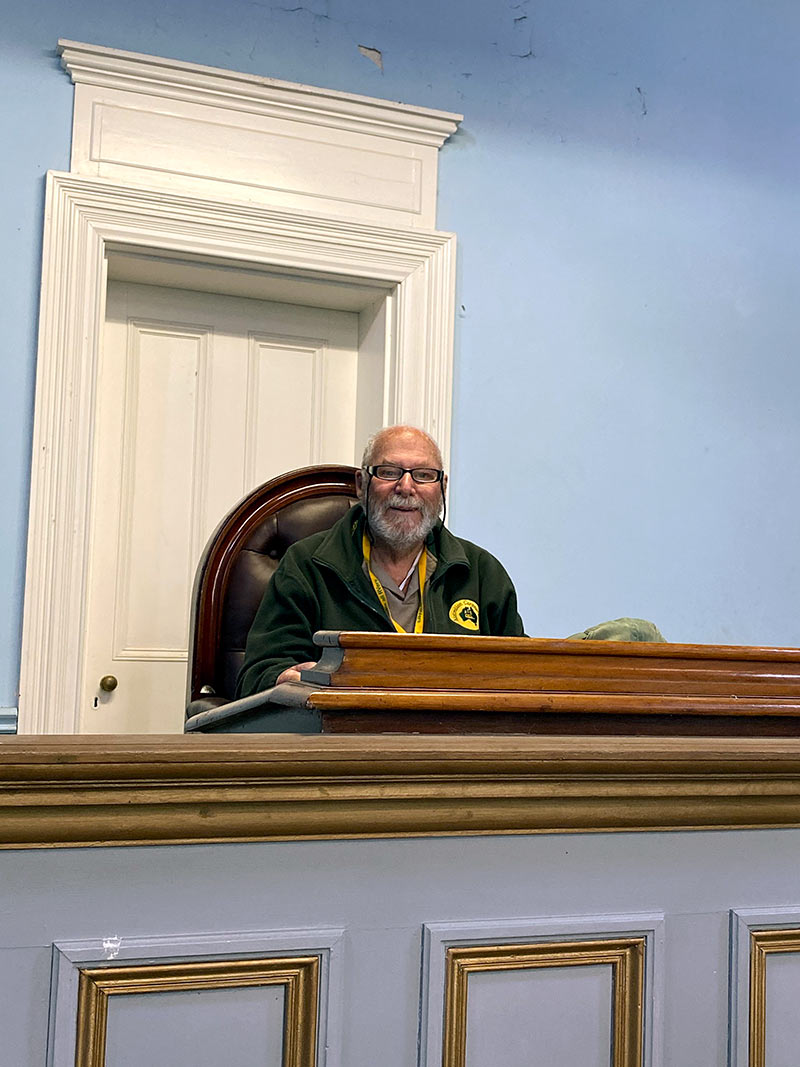 There were free copies of his fascinating life called Dead Cocks Don't Crow, although the full manuscript of his life has never been printed.
Jef, our guide, gave us an interesting insight of Omeo in the early mining days and how the first courthouse was built in 1883 in the days before roads were made and all materials and labour had to come from Melbourne by sea to Port Albert, Gippsland, and by bullock cart from there.
WONDERFUL ALPINE SCENERY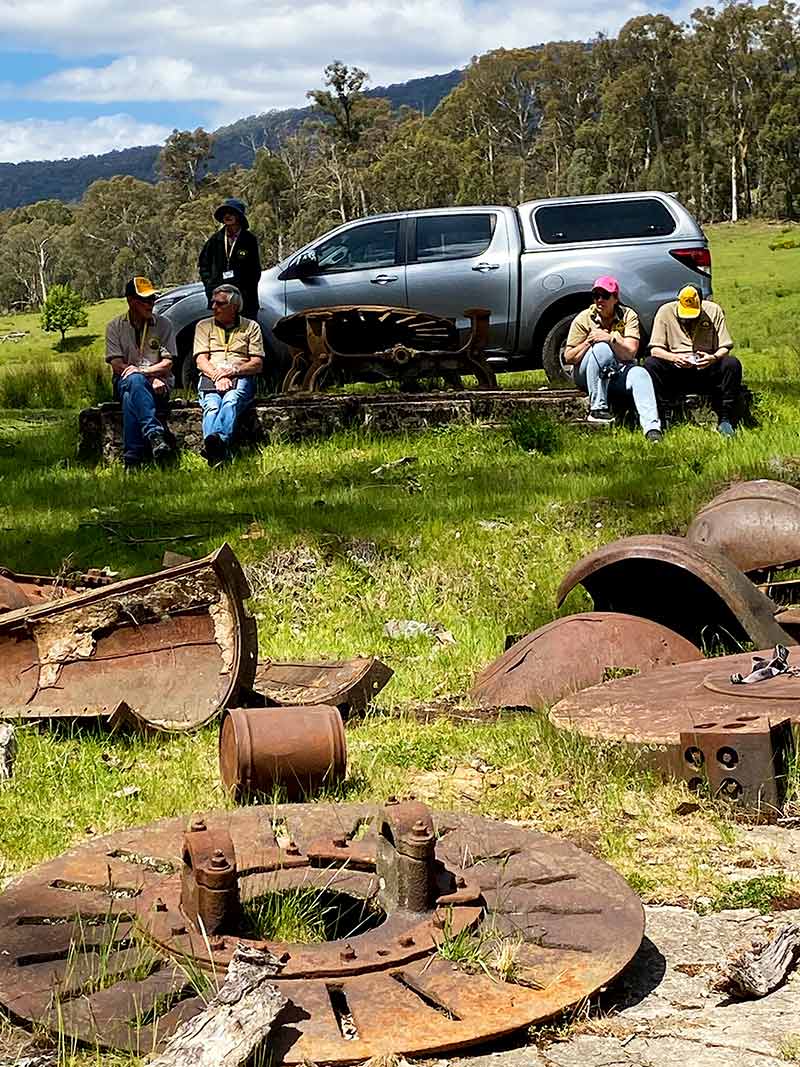 The tour then took us through great scenery to a lovely spot on the banks of a river where we relaxed in the sunshine and had our lunch before heading to Mt Wills, a historic mine where some of the original machinery is being restored by a local group.
BACK DOWN THE HILL!
As mentioned, the girls wanted to go back down via Mt Hotham as it's the shortest way to my home. Yemmy was being taken to my mate and the RACV had agreed to pay me for one night's accomodation along the way as it was too far for Sue to drive in the one day.
It was a lovely drive and I relaxed in the back with their little dog on my lap for most of the way. Sue drove very safely but we were all a bit shocked when a fellow on a push-bike overtook us on one downhill stretch!
We had lunch at Harrietville, where we chatted with a fellow on a lovely motor trike who was in the area for a rally of similar machines. He had ridden it all over Australia but it still looked brand new.
The was free-camping at Brown Brothers in Milawa and although it had been closed for the weekend because a festival had been on, the girls were able to stay there while I stayed in a very swishy hotel. It was $204 a night but the RACV picked up $170 so I really only paid $34 and that included a sumptuous breakfast of eggs on toast, bacon and mushrooms.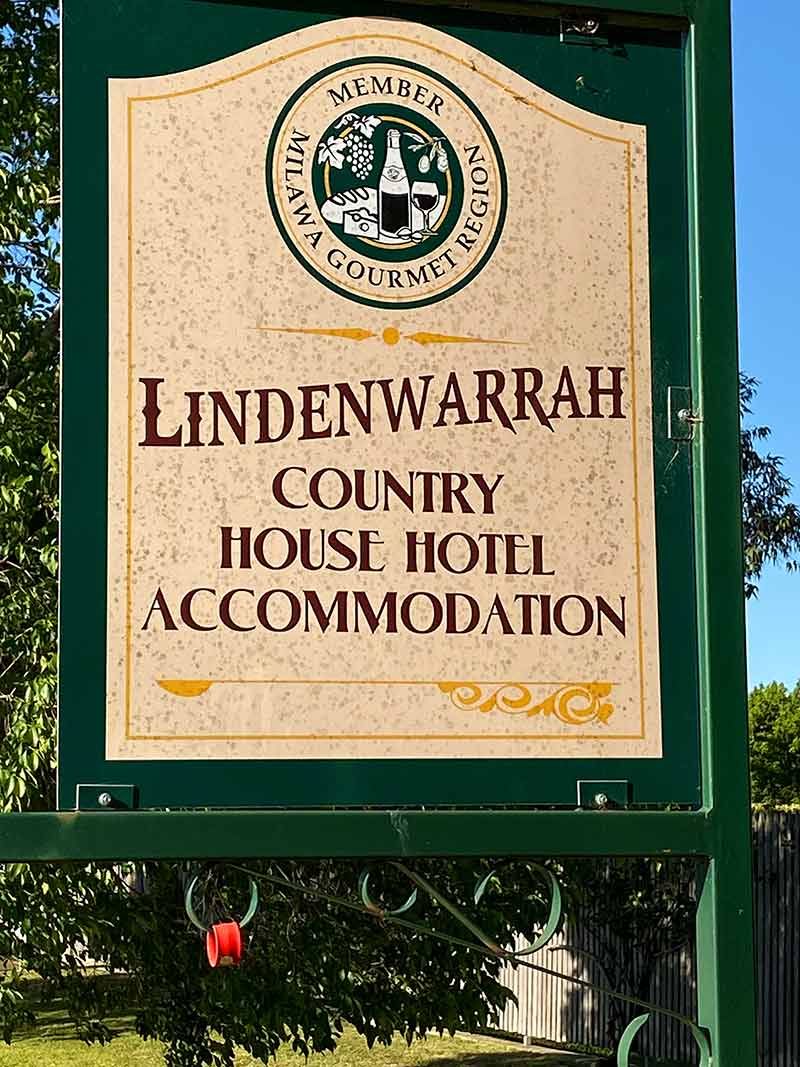 I walked down to the local pub for dinner and saw a lovely painting of the hotel on the dining room wall done by a local lady artist. My huge bowl of chicken and bacon penne went down a treat.
Sue decided she could manage to drive the rest of the way in one day but we hadn't reckoned on the GPS taking us a longer way from Bendigo, plus we missed a turn in Avoca so added a few kays by going through Ararat. It really wasn't too much further but we had stopped for morning tea and then for lunch and that added a bit of time.
The girls have a great sense of humour and we had many a laugh on the way. They stayed at my place for two nights and met my eldest daughter, Jackie, and her partner, Dennis ('Duck' to family and friends) who were staying with me and my youngest daughter, Sue, and hubby, Shaun, who own the property my house is on.
The next day, we did a sight-seeing tour of Stawell, including the gold mine that has new owners and is now back in full production. We were going to the Stawell Gift Hall of Fame but they chose that day to be closed. Murphy?  
I was a bit sad when Sue and Judy left next morning but it had been great fun to travel with them and their little dog, Holly.
'PACAS LOSE THEIR WINTER COATS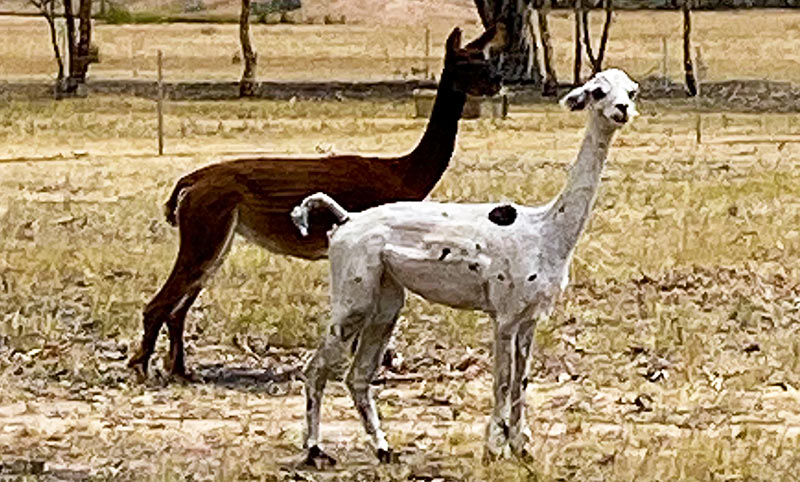 Our flock (?) of alpacas were getting very wooly before the shearer visited and made them better equipped for summer. With all their wool gone, they look a bit like long-necked goats!
YES – I'VE GOT WHEELS
The week before the Omeo Muster, I bought a lovely little Hyundai Getz from Melbourne Unique Car Sales at Coburg. I'd done a lot of research and on paper this one looked just what I needed – low mileage, nice grey colour, manual gears and had the upgraded 1.6L motor.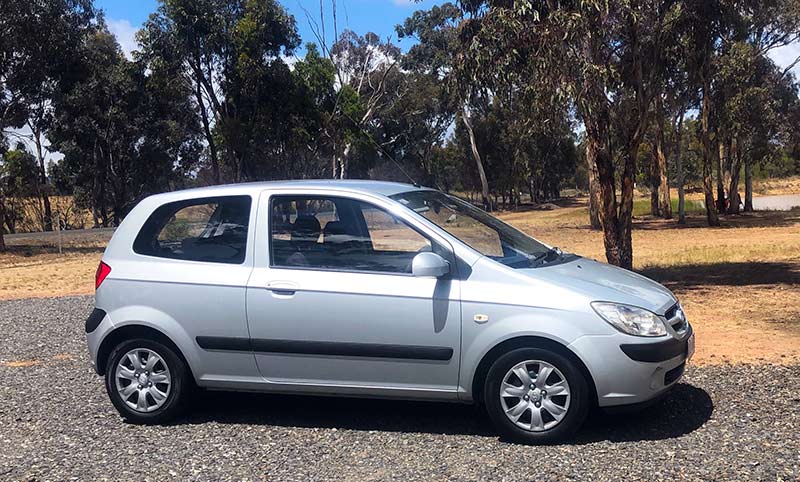 Jackie and Dennis were heading to Mornington for a few days and gave me a lift to Coburg where I met salesman Dennis who could not have been more helpful. The Getz was away having a roadworthy and I did a bit of walking to pass the time.
Dennis had suggested a cafe that was selling a coffee plus a bacon and egg roll for just $8 so that's where I went and it was very good value.
Then I went looking for a GPS to help me find my way home from one of Melbourne's busiest suburbs although I couldn't get it working until I'd got home and peeled the sticker off it's face!
The little Getz is all I'd hoped for and it's great to have wheels while Yemmy is away at the doctor.
KIWI TRAVELLERS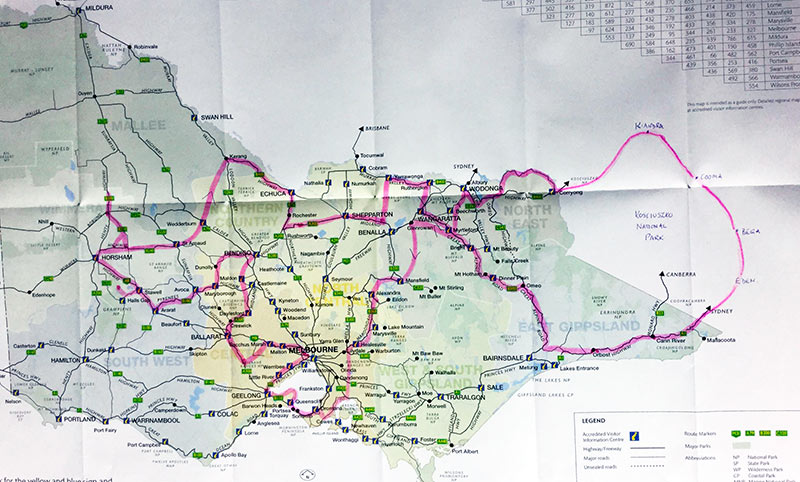 Last month I told you about the intrepid mature-aged Kiwi ladies who were travelling around Victoria in a Jucy Camper. They sent me a map of their travels after they got back home and here it is. Well done, ladies!
See you down the track.