Though the company is quite young, Everest Caravans appears to be establishing itself as a long-term player in the Australian RV manufacturing industry. That's if the style, fit and finish and overall build integrity are anything to go by.
This, I suppose, shouldn't be a surprise – the man behind Everest has 15 years of experience building offroad vans for other companies and spends plenty of time on the tools rather than with his feet up on a desk.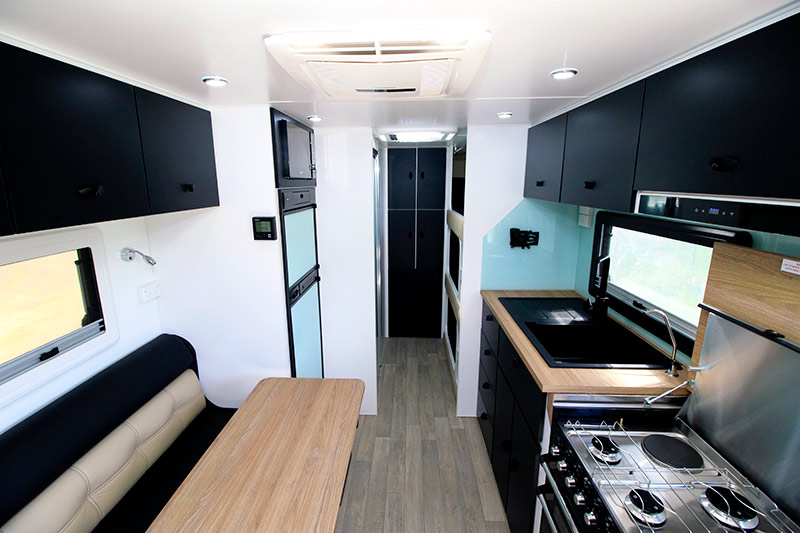 I have to say, this experience shows in the 19ft 7in Kombat that I took for closer inspection in November.
The Everest Caravans stable of vans is comprised of eight different vans. Two months ago, we looked at the top-end Ice Glider, a purposeful family van with offroad credibility. The littlest is the 18ft Camo – a rig I'd love to get my hands on soon –  and this Kombat sits somewhere in the middle.
SMART INTERIOR
Interestingly, the Kombat bears some similarities to its big sister, the Ice Glider. Though the Ice Glider is a couple of feet longer, the 19ft 7in (external body length) Kombat easily fits a large rear kids' bedroom with three nearside bunks (or you can opt for two bunks instead), a massive rear cupboard, and a separate offside bathroom.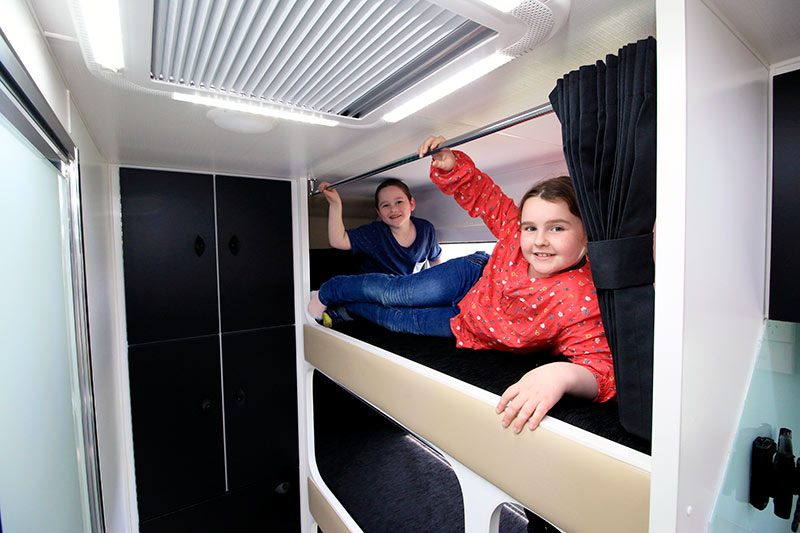 This bathroom includes a vanity with a reasonable amount of cupboard space – and even a front-loader washing machine – a cassette toilet, and a fully moulded fibreglass shower that's separate to the rest of the bathroom.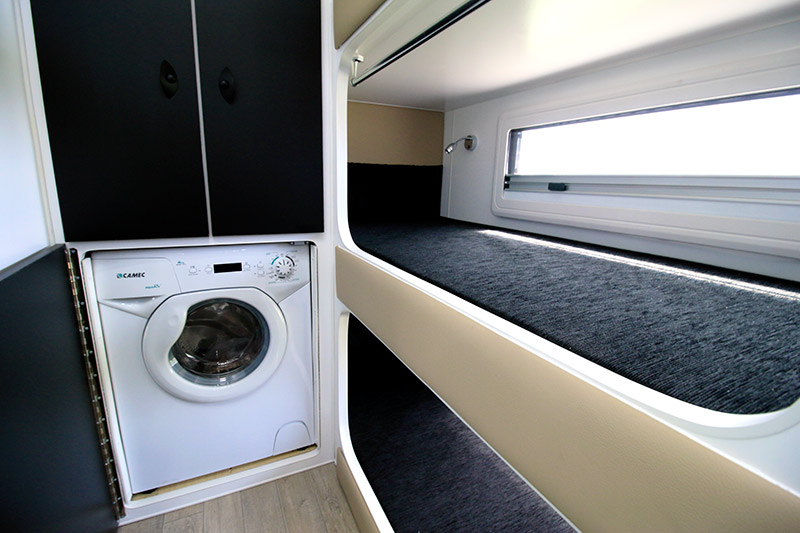 Indeed, the bedroom and bathroom setup is reminiscent of what you'd find in much larger vans, including the Ice Glider.
Amidships, the Everest Caravans Kombat is fitted with an offside L-shaped dinette that, as we discovered, will comfortably seat two adults and two young children. Within one of the dinette's overhead lockers, Everest has centralised most switches and controls, including the 30A solar regulator (two 170W solar panels are standard) and BMPRO Genius battery management system.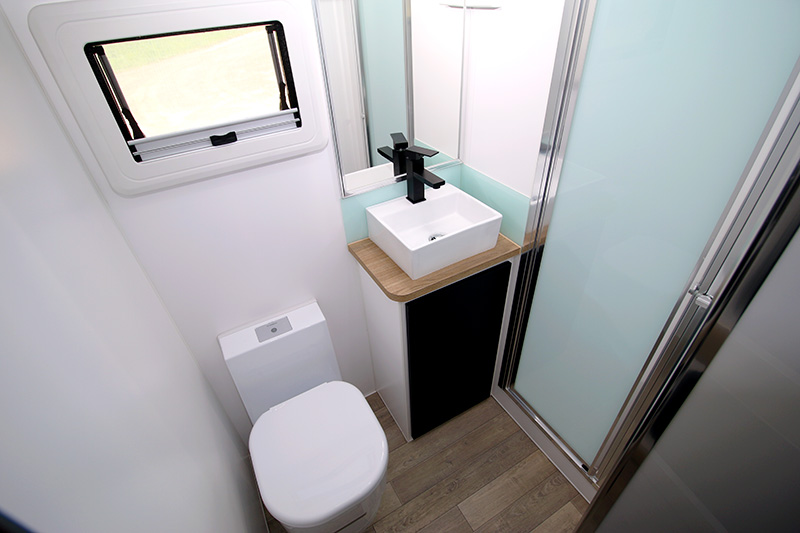 Within arm's reach of the dinette is the Truma iNet controller. The iNet is a special interface that allows the user to wirelessly control Truma devices, including this van's onboard gas heater.
Between the dinette and bathroom is the 182L three-way fridge/freezer. Nothing unusual here, but I rather liked that the aqua facia of the fridge colour-matched the acrylic splashback and the door of both the bathroom and the shower. It's small touches such as this that tie the interior together, lending that extra touch of professionalism you'd rightfully expect in such a major purchase.
While the kitchen has the expected features – cooktop, griller and oven, rangehood, microwave and various storage options – it was the deep black sink that appealed to me. I reckon it's more attractive than the stainless steel numbers found in new vans all around the country.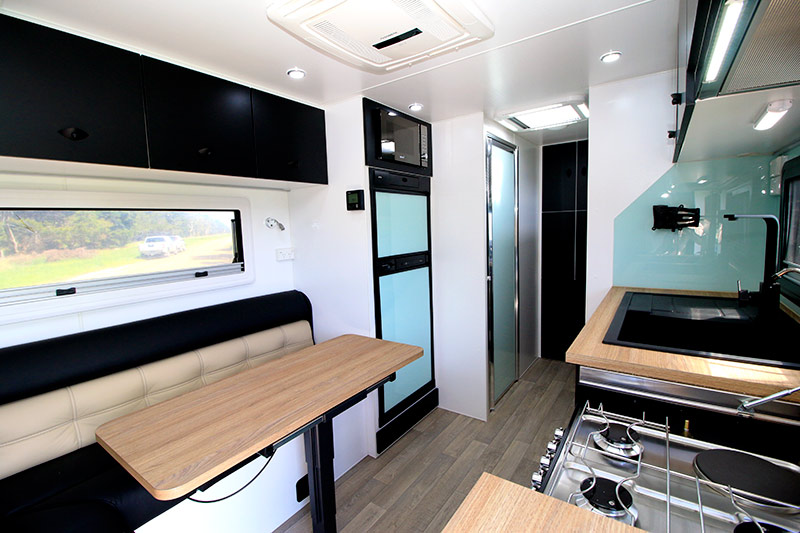 Now, there's not a sweeping amount of bench space; however, with the hinged section of benchtop over the recessed cooktop… and the timber finish looks great, too.
The secret to this van's impressive living space is in the front east-west bed. Some vanners would prefer a north-south bed, for obvious reasons, but for my money this setup wins every time. In the Kombat, it has allowed for the features and layout that you'd find in a 22ft-plus rig. And let's not forget, the larger the van, the heavier it is – which equals increased fuel usage as well as wear and tear on the tow vehicle's engine.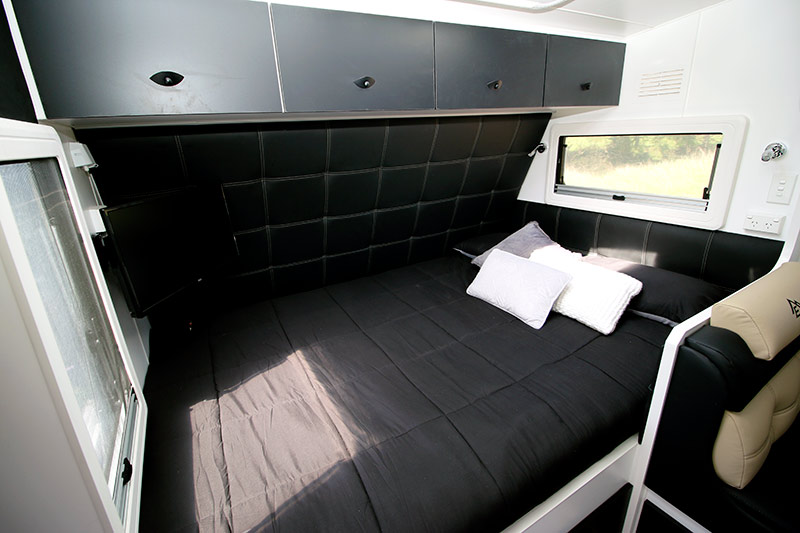 Clearly, the east-west bed orientation precludes separate side wardrobes; however, the Kombat does come with four overhead lockers and storage beneath the bed. On the nearside, at the foot of the bed, there's a 20in TV and necessary 12V/antenna connections – this TV can easily be moved to the swivel arm mounted in the kitchen, too, so it can be viewed from the dinette.
Among the other features, there's an Ibis 4 reverse-cycle air-conditioner, a stereo/DVD player and speakers, LED downlight throughout and, it's worth noting, piano hinges on each locker.
OUTSIDE THE EVEREST CARAVANS KOMBAT
The Everest Caravans Kombat is built on a 6in chassis with 6in A-frame, meranti timber frame and smooth composite aluminium cladding.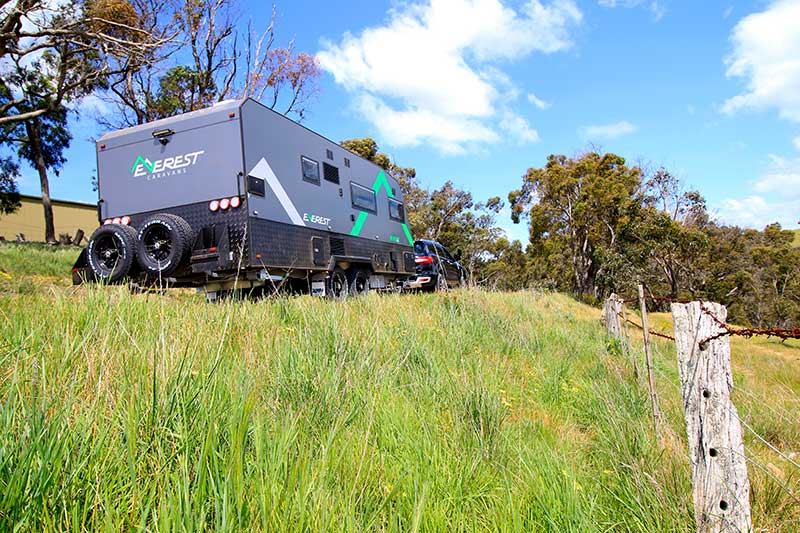 It wins points in the self-sufficiency stakes, thanks to the three 95L water tanks that Everest fits to the Kombat as well as the dual 100Ah deep-cycle batteries. A quick point on this: the batteries are mounted to an offside chassis rail, with a swing-away steel door for easy access.
Among the standard features, Everest Caravans has even fitted Al-Ko ESC. As expected, as I towed this van behind a Ford Everest, on a highway and various secondary roads, I experienced nothing untoward. No sway or pitching on the tow pin – a DO35 coupling is fitted.
Mounted to the drawbar is a checkerplate toolbox with a slide-out to suit a 2kVA generator, as well as two 9kg gas cylinders. I should note that although our review van didn't have one, a mesh stone guard to protect these cylinders and the rest of the van's frontage is standard.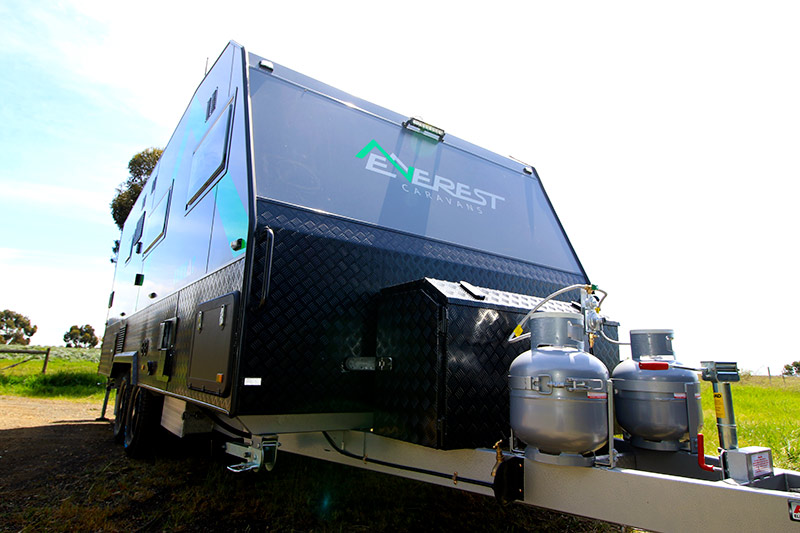 A personal bugbear of mine – unprotected A-frame-mounted taps – was taken care of in the form of a piece of black checkerplate. Great.
There are also two small LED light bars front and rear and a tunnel boot with a nearside slide-out tray to suit a Baby Weber Q barbecue – a chassis-mounted gas bayonet is included, allowing you to plug your barbecue into the van's gas supply. 
At the rear of the van, you'll find bumper-mounted spare wheels with 20L jerry can holders either side. A Safety Dave reversing camera is also supplied, as is an offside external shower.
GORV'S VERDICT
With its 3300kg-rated Al-Ko Cross Country suspension with dual shock-absorbers (a semi-offroad setup), checkerplate body protection, decent 12V system and excellent freshwater supply, the Everest Kombat appears to be a solid option for families with free-camping and lots of national-park touring on the agenda.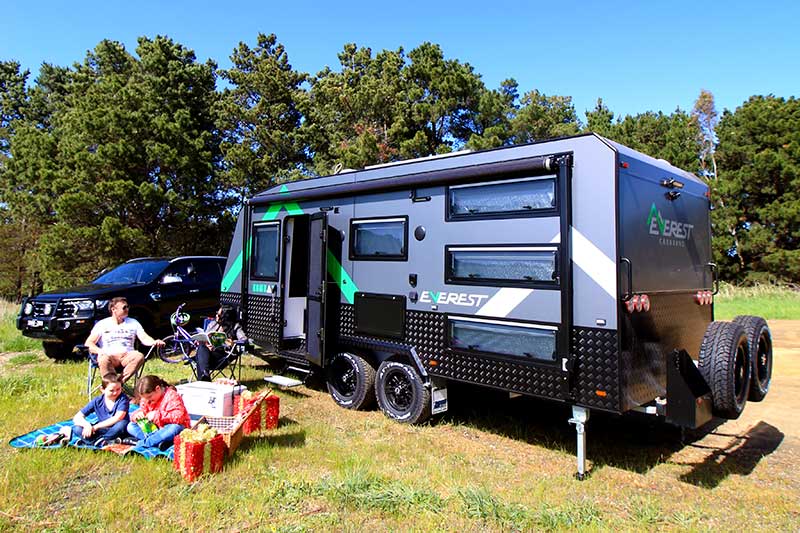 It's Tare of 2660kg is on the upper-end of the weight scale, but it has to be remembered that this is a substantial caravan with a lot of equipment. The ATM of 3300kg gives it a very adequate payload capacity (640kg) but to make use of it all, the Ford Everest used in our review won't cut it – think Jeep Grand Cherokee, Land Cruiser 200, etc.
Nonetheless, I reckon this van has a lot to offer young families. Lots of living space, a relatively small on-the-road footprint and a decent build quality.
THE SCORE
FIT AND FINISH –

LAYOUT –

INNOVATION –