I often look for different ways to get home – as they say, a change is as good as a rest.
Leaving Ararat, Vic, and heading home via Pomonal, I couldn't resist stopping to video the wonderful view of the Grampians. I often sit on my verandah in the evenings just soaking up the view over our paddocks and on to the distant, mysterious Grampians as they fade into the twilight.
A few minutes before, I'd passed a young man directing traffic around his burning car. It reminded me to get a fire extinguisher for Getzie – I've got one, plus a fire blanket, in Yemmy, but I realise you need one in all your vehicles. If I'd had an extinguisher I could have stopped  and put the fire out – a fire truck passed me on its way to the incident about five minutes later.
MEMORIES OF MORNINGTON
We lived in Mornington for many years before Vi died, and had made lots of friends in the area, but 11 years ago, after she had gone, I seized the opportunity to have a dependent relatives unit built and put on my daughter and her husband's lovely 20-acre farmlet at Illawarra, near Stawell, Vic. It's really a two-bedroom house with the guest bedroom having its own ensuite and it's very comforting to know that help is only 50m away should I ever need it.
Our last Mornington home was in caravan park. Friday night's were always happy hour in our street. Many's the yarn that was shared and many the jokes that we told.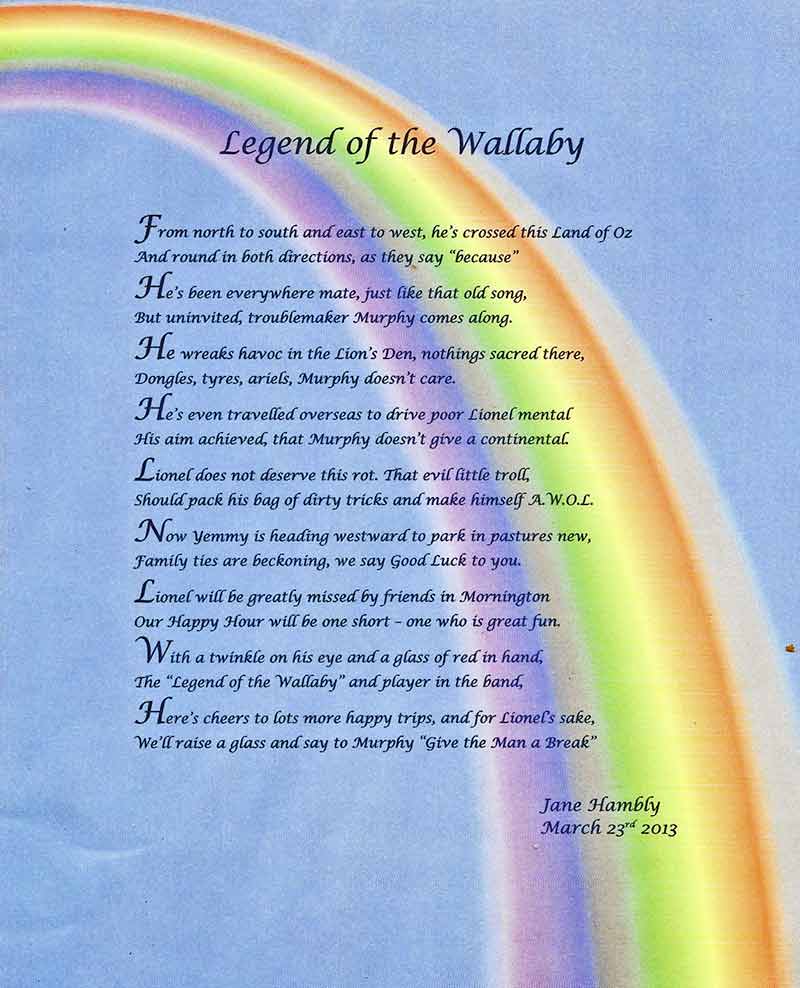 At my last happy hour with those lovely people, I was given a great memento by one of my Australian Caravan Club friends who still lives in the park – a poem she had written just for me and it was in a nice glass-fronted frame.
Legend of the Wallaby
From north to south and east to west, he's crossed this Land of Oz
and round in both directions, as they say 'because'.
He's been everywhere mate, just like that old song,
but uninvited, troublemaker Murphy comes along.
He wreaks havoc in the Lion's Den, nothings sacred there,
dongles, tyres, aerials, Murphy doesn't care.
He's even travelled overseas to drive poor Lionel mental,
his aim achieved, that Murphy doesn't give a continental.
Lionel does not deserve this rot. That evil little troll,
should pack his bag of dirty tricks and make himself AWOL.
Now Yemmy is heading westward to park in pastures new,
family ties are beckoning, we say 'good luck' to you.
Lionel will be greatly missed by friends in Mornington,
our happy hour will be one short – one who is great fun.
With a twinkle in his eye and a glass of red in hand,
the 'Legend of the Wallaby' and player in the band.
Here's cheers to lots more happy trips, and for Lionel's sake, 
we'll raise a glass and say to Murphy, 'Give the man a break'.
– Jane Hambly     
In case you are wondering what Lion's Den Jane was  referring to, it was the name I had on the bonnet of my first Yemmy. It said LIONelS DEN but nobody ever spotted the small L.
A GIFT WITH HEART
It's great to see a caravan dealership supporting the community, and a Western Australian company has done just that.
Here's an extract from the Australian Caravan Club's 'Wait Awhile Nomads' branch newsletter:
When Bob Elkington and Jennie Morison from the Wait Awhile Nomads branch in Western Australia were checking out caravan dealerships to purchase a new caravan, they selected Luxury RV. Recently relocated to Rockingham, the team at Luxury RVs has over 40 years' experience in the caravan industry and the team endeavour to provide the ultimate customer satisfaction. When Bob and Jennie were finalising the purchase they decided to approach Luxury RVs general manager Luke Bell to request sponsorship for their branch in the form of a defibrillator. Luke was more than happy to oblige.
"This defibrillator will be a life-saving addition for the members of the ACC Wait Awhile Nomads group," said Mr Bell.
When Bob and Jennie collected their new Galaxy Caravan, Luke Bell also handed over the new defibrillator to Wait Awhile Nomads branch secretary David Braidwood. "Our branch members sincerely thank Luxury RV Rockingham for this extremely generous sponsorship. With a branch membership of 62 this defibrillator has the potential to save lives," said Mr Braidwood as he took delivery of the new defibrillator.
MURPHY'S A MAN!
My friend, Vivien, sent me a picture of the front cover of a new book she had found called Murphy's Law.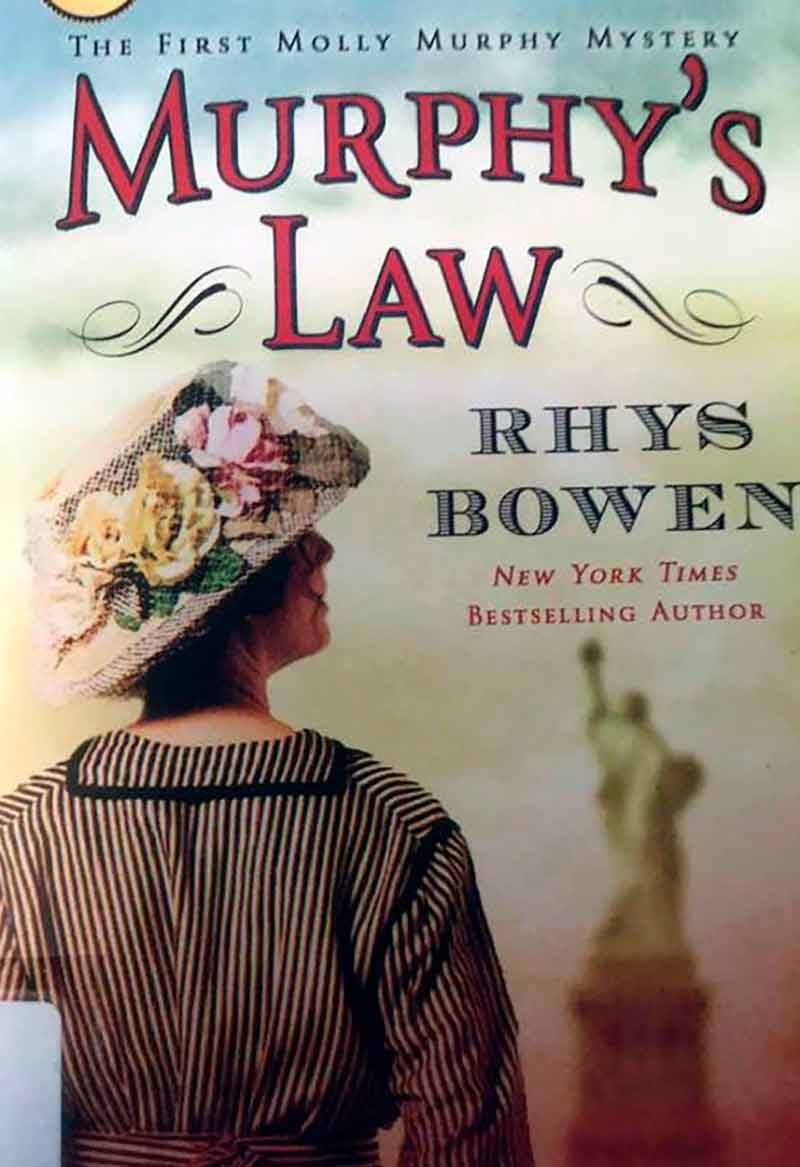 It was the adventures of one Molly Murphy. Now, I ask you, how on earth can Murphy be a female? I know they can sometimes be a teeny bit trying but definitely not as trying as my very masculine Murphy.
THE GOOD NEWS
If any of you have been following my occasional health reports you will remember I'd got my blood glucose levels down to 6.2 from 8.6 three months ago and the doctor was delighted. She was even more delighted this time when the reading had dropped to 5.8 – below the diabetes level!
The rest of the readings were good as well. One lady even suggested that we could have a naughty weekend while her old man was at work now that my testosterone is back to normal. Fortunately, her old man's a good friend of mine and shared the joke.
As part of my health regime, I do a fair bit of walking – often around our own paddocks where our alpacas live. Young Wilbur, our only male, has become quite affectionate lately when I stop to have a chat over the fence with them.
See you down the track.