Kokoda Caravans has released a brand new 18ft single-axle caravan. The Scout, as we discovered as we spent some time with it in Rosebud, Vic, is an offroader that manages to fit all of the features and comforts of a 22-footer inside a relatively compact package.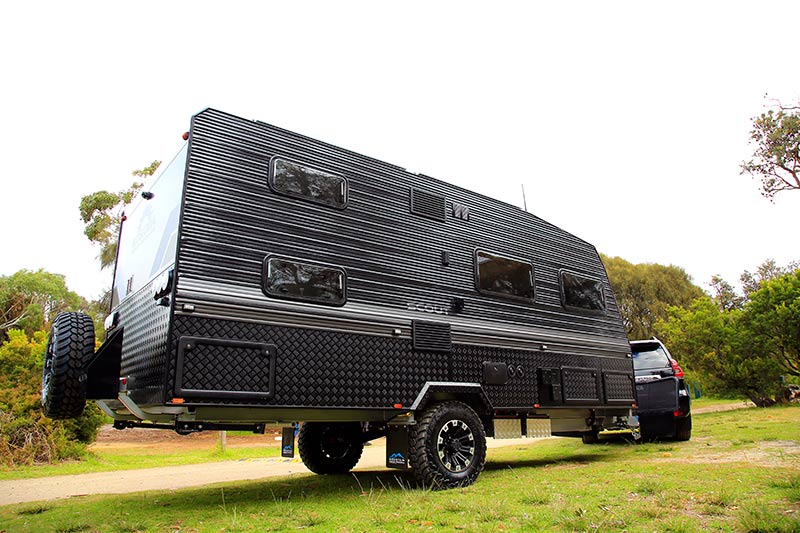 The Scout is a family van. Now, typically bunk caravans that also have a separate onboard bathroom are quite long. An 18-footer with a separate kids' bedroom, storage space, and a nearside bathroom with its own shower? You bet.
CLEVER LAYOUT
The appeal of the layout is immediately obvious, and it's clear that Kokoda has made sensible decisions in order to achieve the right balance of space for each of the living 'zones'.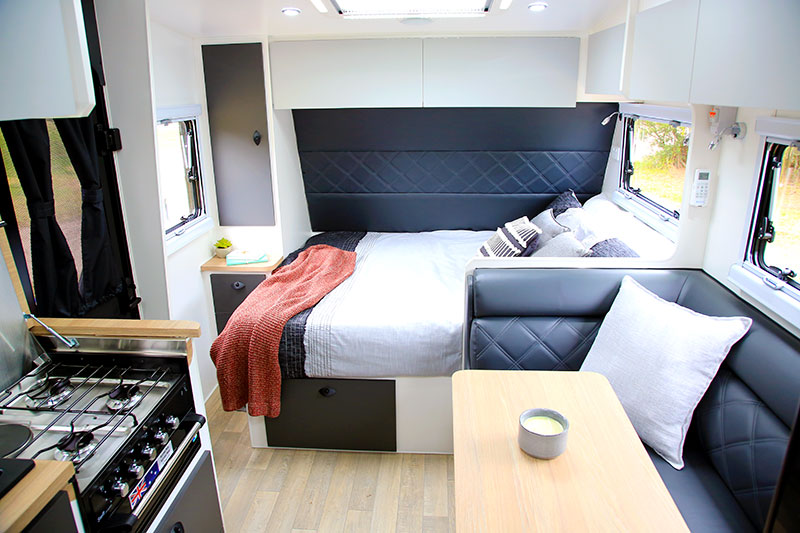 First, fitting an east-west bed in the nose of the van, rather than a north-south bed, has given the company the flexibility to include a comfortable L-shaped lounge, a kitchen, and that rear bedroom and bathroom.
The kids' room is the same proportions of the rooms you'd find on 22-footers. It comes with a choice of two or three bunks, each with its own reading light with an integrated USB charging point, and magazine/book storage pocket.
On the rear wall, there's a sizeable wardrobe, while more storage space can be found under the lower bunk.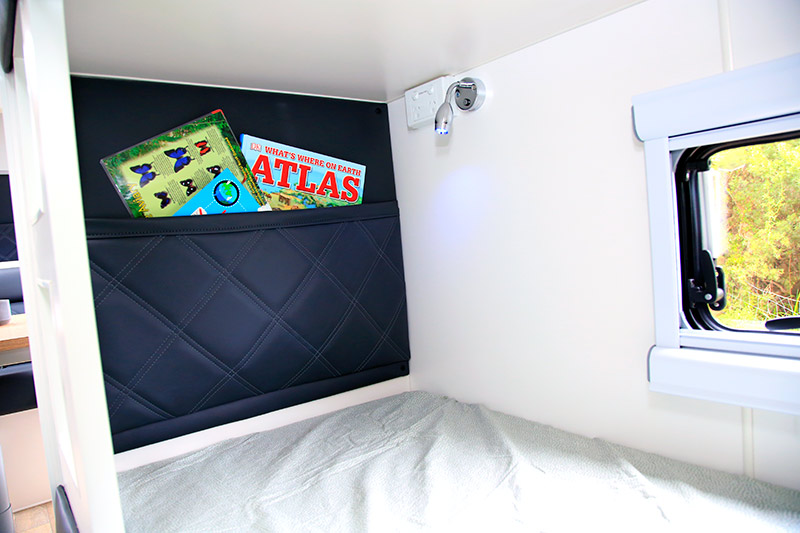 The bathroom is particularly good. There's a Thetford swivel toilet – with plenty of legroom – a vanity with washbasin, mirror and storage space, and a separate fully-moulded fibreglass shower. Despite being fitted inside an 18-footer, this bathroom doesn't feel compromised in terms of space.
Two lockers sit above the front bed, with a single wardrobe tucked into the front nearside corner. There's some additional space under the bed, too. The front wall is finished off with 'vinyl leather' featuring an attractive stitched diamond pattern, which you'll also find on the lounge's upholstery.
The bedroom has reading lights (with in-built USB points), a single 240V point, and there's a large ventilation hatch above that helps to let in natural light.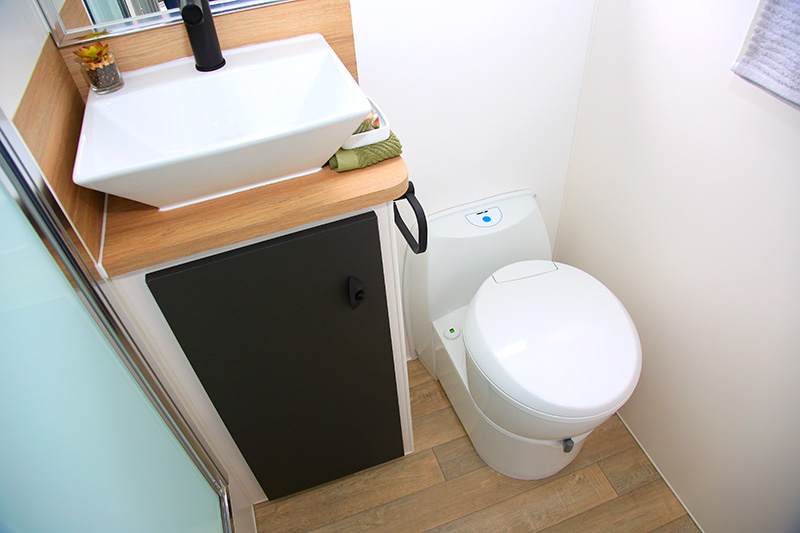 The kitchen, meanwhile, features a stylish black sink with matching tapware, a four-burner Swift cooktop and griller, some drawers, cupboards and overhead lockers, and Kokoda has even fitted a swivel-arm bracket to the far wall for the 24in flatscreen TV that comes standard.
The most obvious trade-off concerning the Kokoda Scout's layout is space in the kitchen and dinette areas. In order to fit the large kids' room and ensuite, kitchen bench space has been reduced and the dinette won't comfortably seat all family members at once.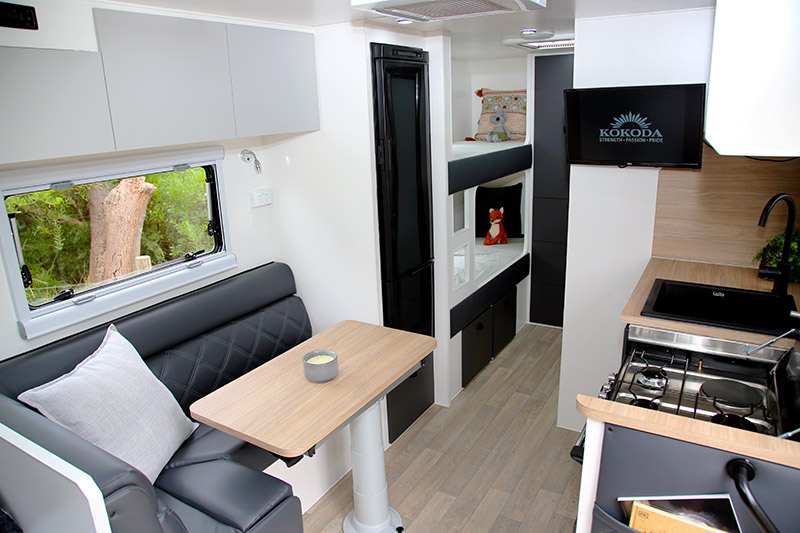 Why not just make the Scout larger? Well, that would inevitably increase the weight and price of the caravan, potentially tipping it also into tandem-axle territory. The point here is to offer families a smaller rig for a sharper price, without sacrificing the main comforts and features. And the Kokoda Caravans Scout does these things well.
Even the 12V system is generous: two 100Ah AGM batteries, which are mounted to the offside chassis rail inside a protective checkerplate box, come standard, as do two 170W roof-mounted solar panels. Inside a locker above the dinette, you'll find a BMPRO Genius 30-35 battery management system. Of course, you can opt for a lithium battery or, should you want the flexibility to fit lithium down the track, opt for the lithium-ready BMPRO Genius 35HA.
The fit and finish throughout the Scout's interior appears to be very good, too – I spotted no unfinished edges or poor workmanship.
OUTSIDE THE KOKODA CARAVANS SCOUT
The Kokoda Caravans Scout rides on a 6in SupaGal chassis with independent coil suspension and 16in alloy wheels with mud terrain rubber.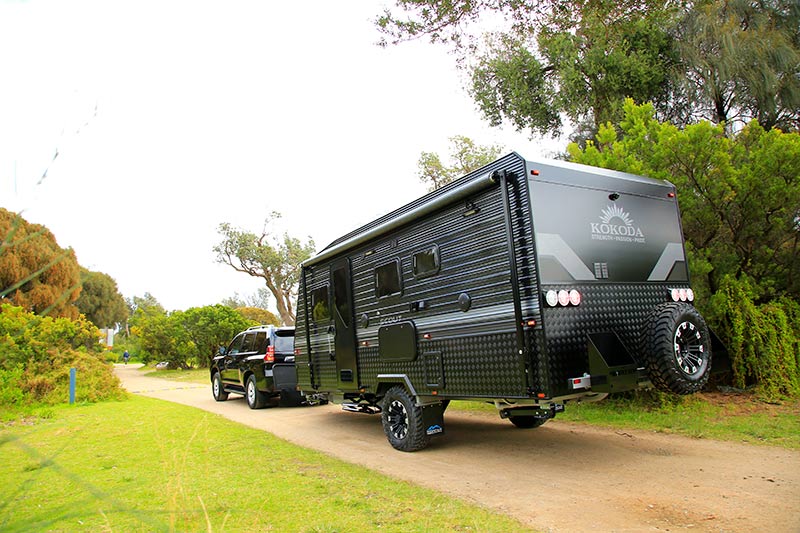 Underneath, you'll find two 95L fresh water tanks mounted just forward of the suspension/axles, and there's scope to fit a grey water tank to the rear, if you wish. There is some exposed grey water plumbing, which I'd consider wrapping in some conduit or similar before tackling serious offroad conditions, but that shouldn't be a hard job. 
There's a brass mains water inlet mounted to a chassis rail on the offside, and Kokoda has also thought to fit an external shower on the offside, too. After all, is there anything worse when camping than kids tracking sand from the beach all throughout the van?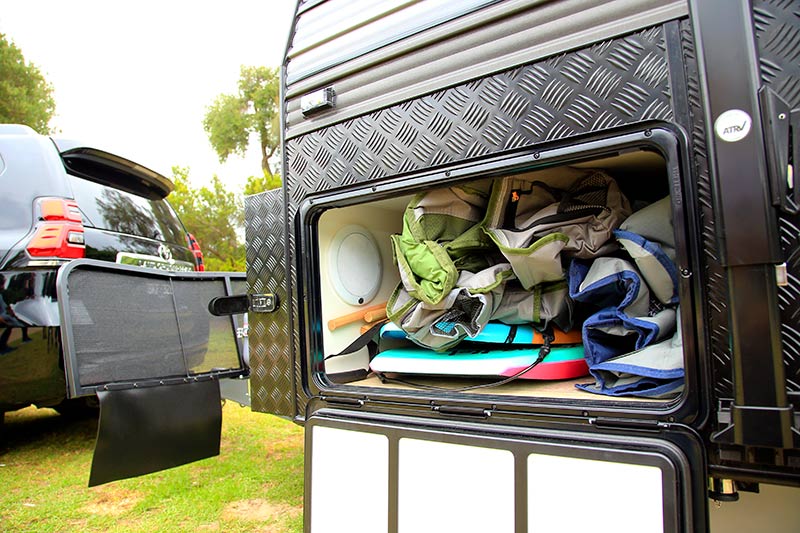 A couple of 20L jerry can holders have been mounted to the rear bumper, along with a spare wheel. A reversing camera has been fitted, too.
The nearside is home to a roll-out awning, a bracket to suit the TV along with the 12V and antenna points; however, these are not fitted inside a separate locker.
A storage compartment fabricated of checkerplate sits on the A-frame, behind the 9kg gas cylinders which are protected by a mesh stoneguard. The storage compartment is home to dual slide-out trays – one either side – that suit a portable fridge and a small generator.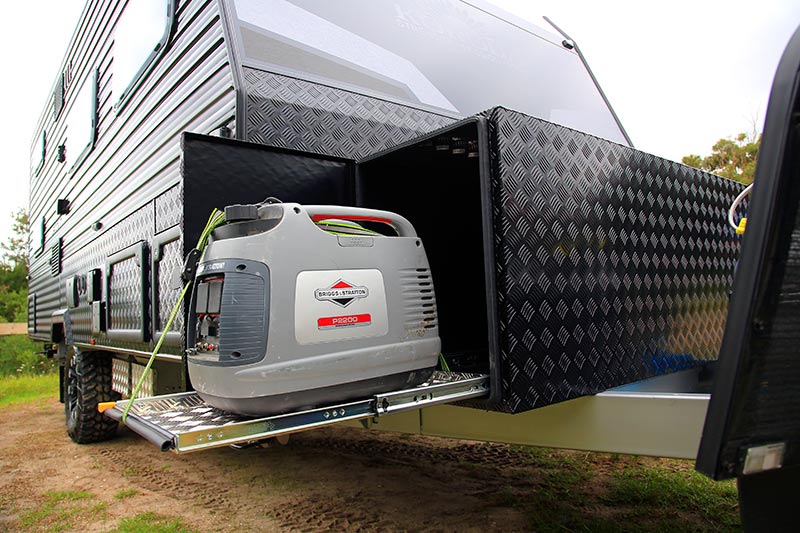 Rather than composite aluminium walls, the Kokoda Caravans Scout is clad in high-profile carbon fibre-look ribbed aluminium, complete with a high waist of black checkerplate, while composite aluminium is fitted to the front and rear. According to Kokoda, opting for the ribbed aluminium side walls over composite aluminium has given the van a significant weight saving. Either way, I thought the van, with its black decals, which have a brushed metal look, was undeniably stylish.
Naturally, it comes with a swag of other features, such as a Belaire reverse-cycle air-conditioner, a Bluetooth CD/MP3 player, gas-electric hot water, a microwave, a slimline Thetford 141L fridge-freezer and more.
The Tare of our review Kokoda Caravans Scout was 2260kg which, for everything that's onboard this van, does not seem inordinately heavy. With its 2860kg ATM, it offers a 600kg payload – quite generous, I think.
GORV'S VERDICT
There are plenty of reasons to opt for a smaller caravan. One of the main ones, in my opinion, is their lighter towing weight. Sure, there are bound to be some compromises, such as kitchen bench space, but the gains make these compromises worthwhile.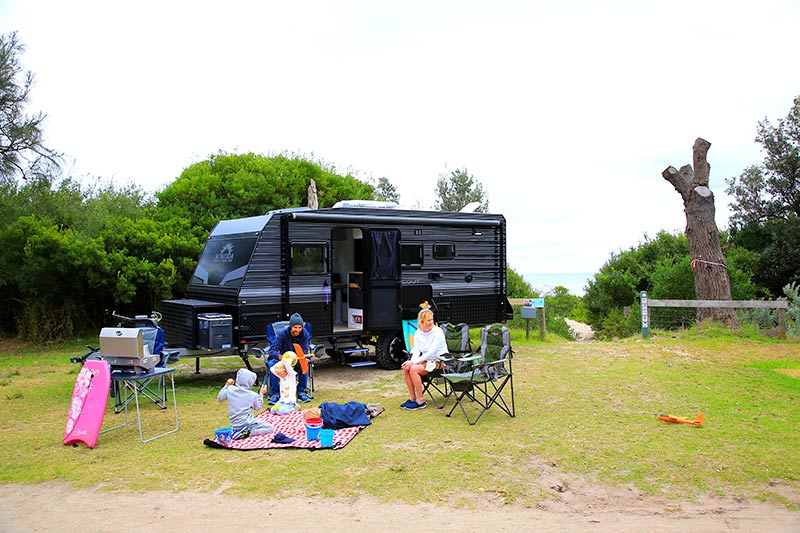 The Kokoda Caravans Scout proves that you can have all the features and comforts of a 22-footer in an 18ft package, with a sensible layout that utilises the available space well.
It is, in my opinion, a stylish, well-built caravan that does a lot of things well. If you're in the market for a compact family van, this is one to have a close look at.
THE SCORE
FIT AND FINISH –

LAYOUT –

INNOVATION –

HITS & MISSES
Excellent use of space throughout
General fit and finish is of a high standard
Excellent load-carrying capacity for a single-axle van
Unprotected grey water plumbing
Dinette and kitchen are quite small; however, I recognise that's an intentional trade-off that allows for a large kids' room and bathroom
The main cupboard in the kids' room doesn't open all the way due to the padding on the side of the bed