Whether you're hitting a favourite coastal destination for a long weekend or planning to visit a remote region, a comprehensive first aid kit should be one of the first pieces of gear that gets packed.
When looking for a first aid kit to add to our set-up, we found that they aren't all equal. As our travel can consist of a mix of bitumen, offroad and remote travel, we needed something that would cover a range of scenarios. Survival Emergency Solutions is an Aussie business that's been around for decades. It specialises in first aid solutions and has a comprehensive product offering that covers all kinds of situations.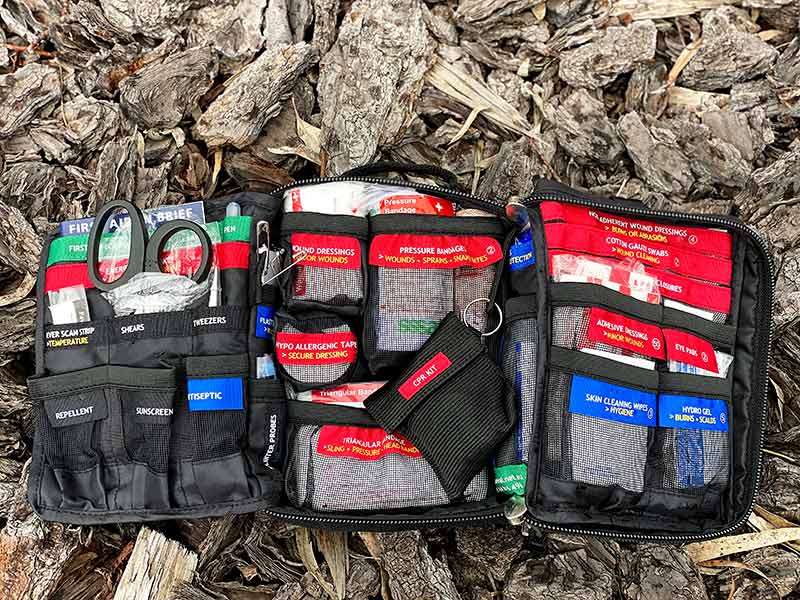 We chose to go with its Vehicle First Aid Kit and Snake Bite Kit. Let's look at these kits in detail.
ABOUT THE SURVIVAL FIRST AID KITS
Both kits are made from a durable polyester material that's moisture resistant, with each being double-stitched for added strength. Large, sturdy zips have been used, with tags attached to assist with use. The rear of the kits has attachment points which follow the MOLLE system (an acronym for Modular Lightweight Load-Carrying Equipment that's used by the military). These attachment points help to carry the first aid kit on, for example, a backpack or to attach it to a vehicle's cargo barrier.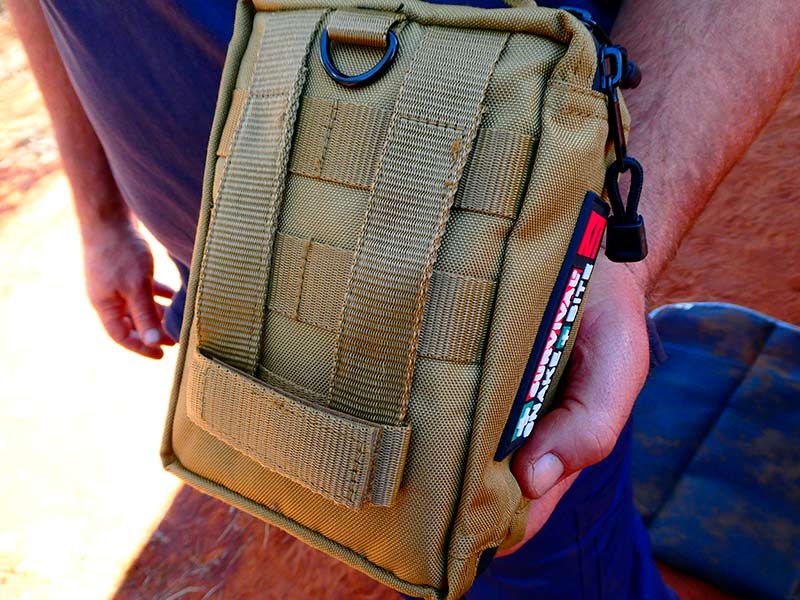 The black Vehicle First Aid Kit is comprehensive. It comes with luminous piping around the kit's front edge to help with night time viewing. There's a quick reference card on how to perform CPR located on the front of the kit, as well as some colour-coding descriptors to explain how the kit's contents have been categorised.
Three QR codes are also displayed on the kit's front that link to Survival's website when scanned with a smartphone. The website is a one-stop shop for restocking the kit, to access a comprehensive first aid handbook, as well as for downloading a first aid app known as iFirstAid. 
The Vehicle First Aid Kit is jam-packed with first aid items. The kit is divided into multiple sections, with its contents all labelled and colour-coded. Some kit items also include numbers next to the labels where multiples of an item have been supplied.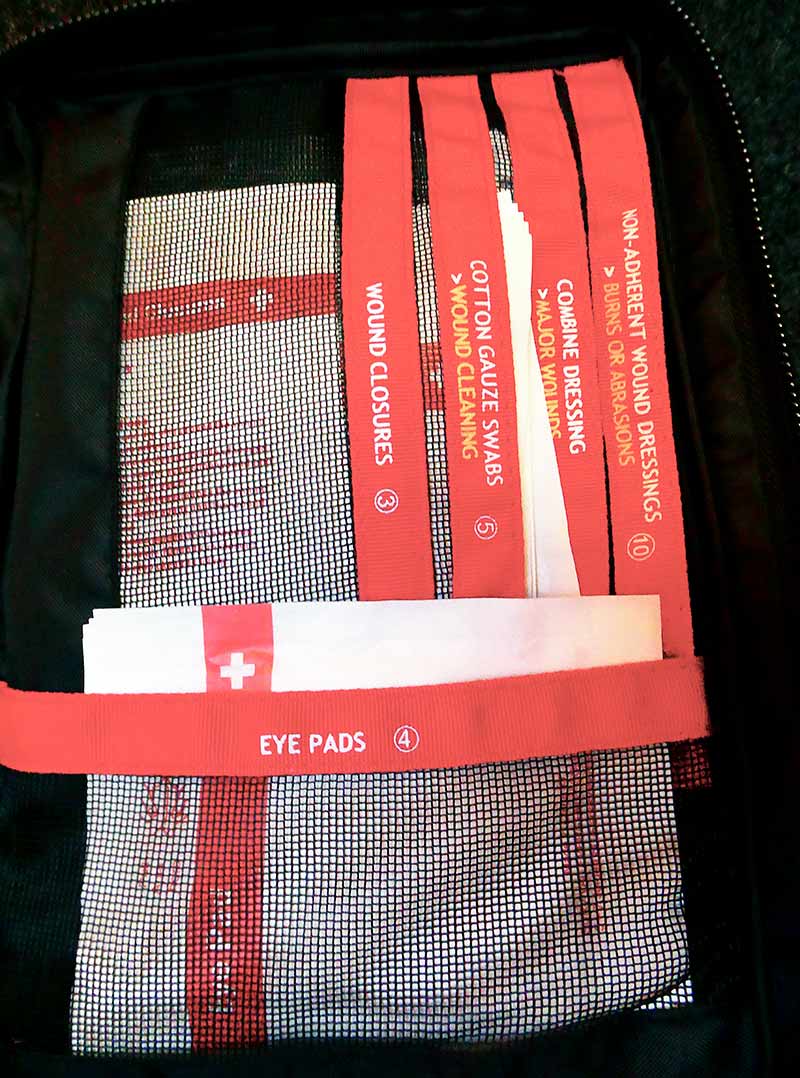 The 'Personal' section contains a first aid booklet which incorporates a notebook and a pen. Extra space has been provided in this section so you can personalise it and add in your own medications, etc.
The other sections comprise a range of first aid items covering hygiene, trauma, and general first aid. A CPR kit, a collection of dressings and bandages, plus some general first aid items such as tweezers, Band Aids, gloves, and an emergency blanket, are just a few of the things found here that come as standard in the kit. It's a comprehensive kit to say the least.
The khaki-coloured Snake Bite kit is smaller but it shares a similar layout to the Vehicle First Aid Kit. Items are colour-coded and numbered like those in the Vehicle kit, but this kit has been specifically designed for dealing with snake bites.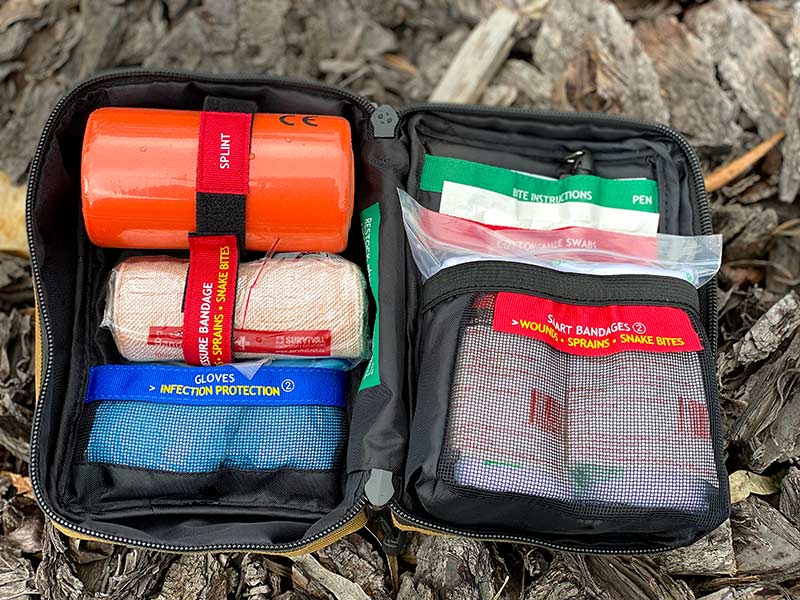 Inside the kit, you'll find things like a splint, emergency blanket, multiple pressure bandages, gloves, gauze swabs and a pen. There's also a step-by-step instruction card to walk you through the process of dealing with a snake bite, and details on how to perform CPR. This kit also includes the heavy-duty and reusable SMART style of pressure bandage. These bandages cleverly help the first aider by pictorially demonstrating how to achieve the correct tension when applying a pressure immobilisation bandage so it's not too tight or too loose. 
WHAT WE THOUGHT
There are many things we like about these kits, having travelled with them for some time now. The similarities in design and layout, plus each kit's contents being colour-coded, labelled and quantities displayed, is a big positive. Having to guess how many items need to be replaced isn't an issue when we know how many each kit should contain. These features are shared across Survival's suite of first aid kit solutions, so you can expect the same format should you use any of their kits.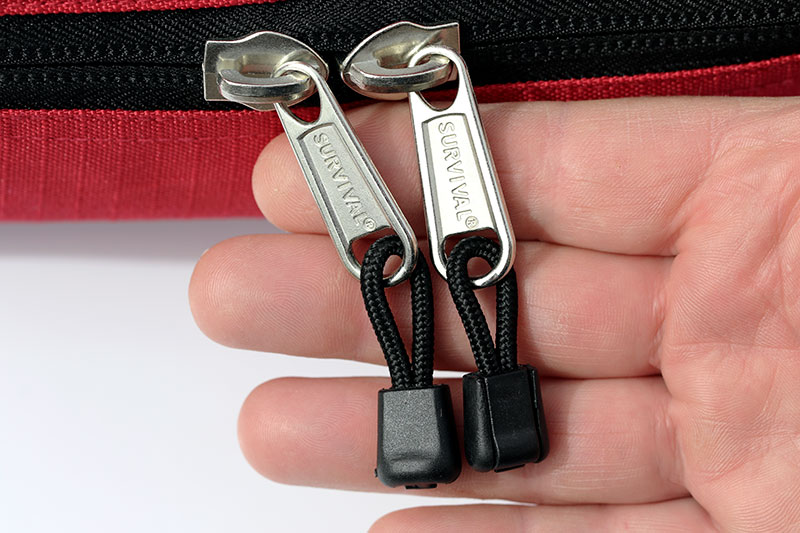 Size-wise, our kits are easy to store in a cupboard of our caravan and camper, or under the seat of our vehicle. We'll even take the Snake Bite Kit when hiking as it's a good size for our backpack. 
We also like the other first aid solutions that we can access from Survival Emergency Solutions. The ability to access its first aid handbook as well as the first aid app is truly first aid support at our fingertips. These are great features whether we're on the road or just at home. And Survival has made replenishing the kits super simple when using the QR code system.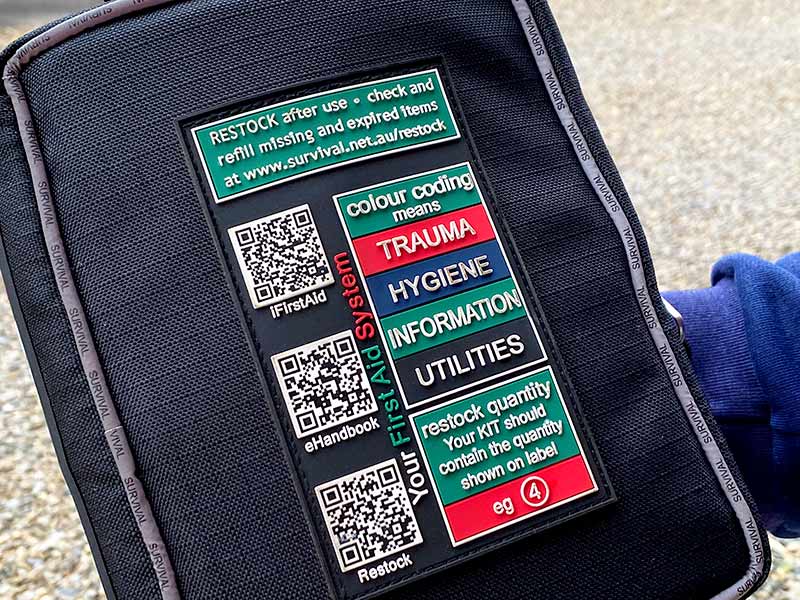 We experienced a recent snake bite incident at home and we were extremely grateful to have our kits close by. The SMART bandages helped tremendously to determine the correct tension for pressure immobilisation in what was a very stressful situation. Without these it could have been a very different outcome.
We all know accidents happen, and these kits have been worth their weight in gold. After that snake bite incident, we made a conscious decision to always have a first aid solution with us. We've now added more first aid kits at home and another set in our other vehicle.
There's nothing better than having confidence that our first aid kits will continue to have us well prepared for an emergency wherever we are. And that's great peace of mind.
More information: https://survivalfirstaidkits.net.au