Do you like what you see here? Overall, I did too. The Jurgens Lunagazer J2403 has a lot going for it. The fact it's a 21-footer weighing 1760kg Tare and even has a full ensuite… well, that makes it a real contender for any long-term touring couple.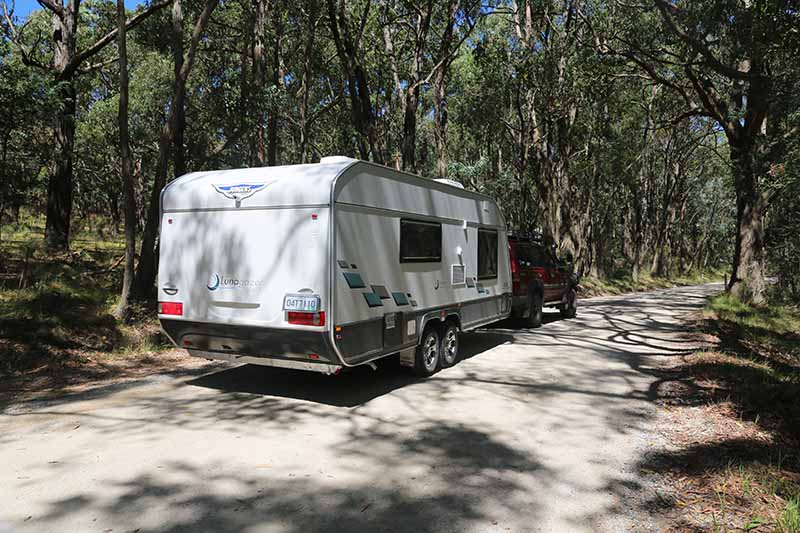 In about nine years, Jurgens Australia has grown from being a small, peripheral player on the Australian caravan market to one of its top ten. Now building up to 15 vans a week, for a total of about 600 a year, Jurgens is headquartered in Pakenham, Victoria.
[If you like this article and video, Like the Go RV Facebook page!]
Given the company's South African heritage, it's reasonable to wonder how much of the van is built in Australia and how much is done on the other side of the Indian Ocean. It goes something like this…
JURGENS LUNAGAZER CONSTRUCTION
The components of the chassis – the main rails and cross members – are fabricated in South Africa along with the one-piece 'Uniskin' roof and 'Duratherm' walls. As Jurgens Australia managing director says, the Pakenham factory just isn't equipped with the machinery to do it inhouse. It therefore makes a certain sense to have these items made in South Africa and shipped over.
The chassis' C-channel components are assembled to form the so-called 'Optima' chassis found under each Lunagazer. They are hot-dipped galvanised and bolted together using high tensile bolts and nyloc nuts in the Pakenham factory. Interestingly, Jurgens applies a process known as finite element analysis, a computer modelling system that highlights any potential stress points that need to be reinforced. It also allows them to remove unnecessary weight from the chassis.
The whole plot rides on Al-Ko Independent Rubber Suspension, which seemed to be a decent match for this van. Towing it at highway speeds and along slightly undulating gravel tracks, the Lunagazer J2403 remained composed at all times. It's fitted with Al-Ko Electronic Stability Control as standard but it had no need to kick in.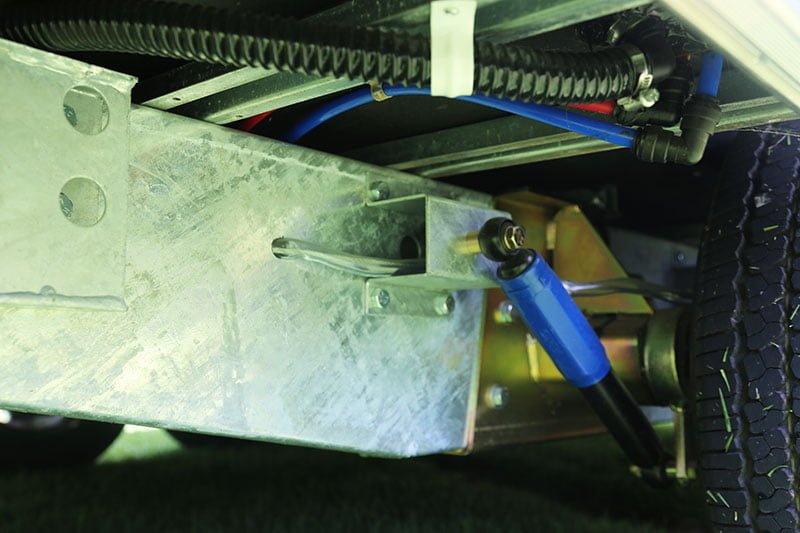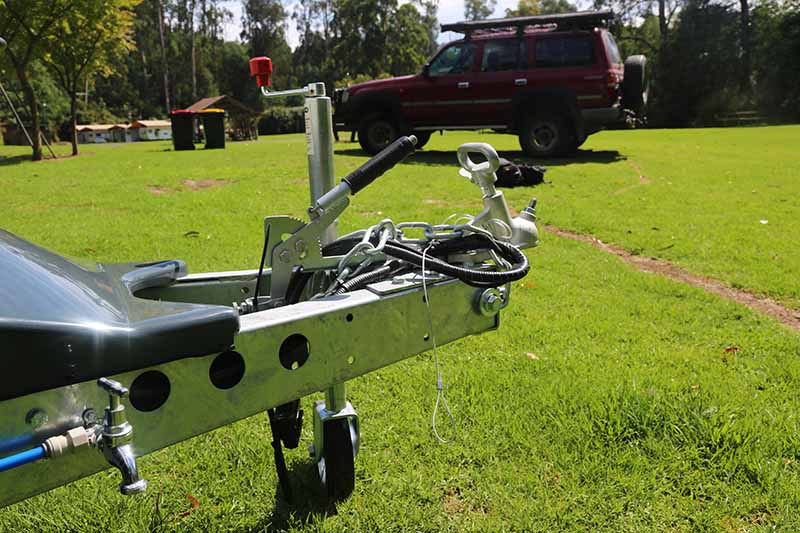 Capped with fibreglass ends, the walls are a one-piece aluminium/ply composite, no meranti timber or aluminium frame to found. The foam core of the wall panels provides excellent insulation, as I discovered.
EXTERNAL FEATURES
To be honest, the Lunagazer 2403 isn't brimming with external comforts and mod cons. Having said that, it has all the bases covered: a front boot with space for the two standard-equipment 4.5kg gas cylinders, a full-width tunnel boot, Dometic Carefree roll-out awning, ball coupling, and 12-pin trailer plug.
The A-frame is fitted with a tap on the offside which, I reckon, could do with a little guard to protect it from road debris, while the nearside gets a fold-down picnic table.
INNER LIGHT
Inside, the Jurgens Lunagazer J2403 shines. Only the most picky of souls would find something to fault in the cabinetry, which is CNC-routed in the Pakenham factory out of poplar ply.
The queen-size bed, in the nose of the van, lifts on gas struts to reveal a fairly decent storage space that's unencumbered by things like a house battery or charger – those are kept under the dinette seating along with the hot water heat. I liked the fact that gear stored in the tunnel boot is accessible from under the bed, too.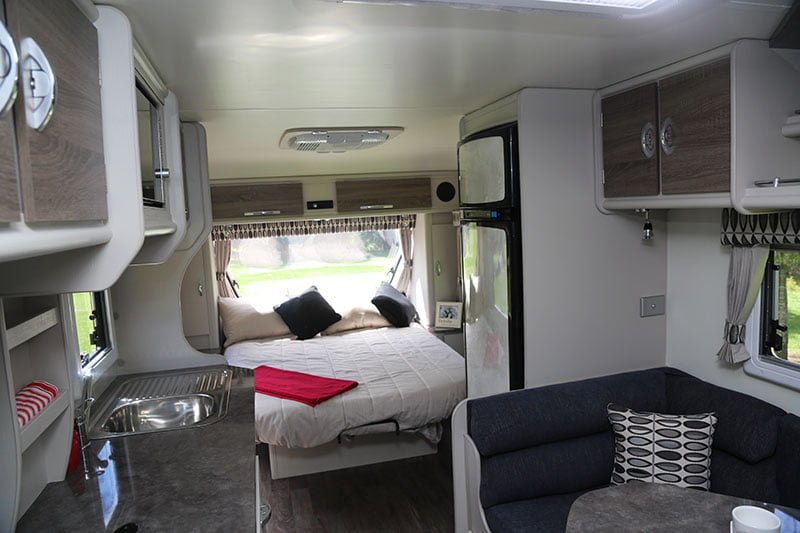 The nearside kitchen is equipped with most of the essential gear: a Thetford Minigrill MkIII cooktop and griller, a 184L three-way fridge/freezer (on the offside), a Camec microwave, and a decent spread of storage. Looking in the under-sink cupboard, I tried to fault the workmanship of the plumbing's cabin entry points but couldn't. Not a splinter or errant gob of silastic to be found.
The dinette, meanwhile, should comfortably seat four. A good thing, too, since the van can theoretically sleep that many people (so long as two of them are kids), with the dinette converting to a bed at the shift of a cushion or two.
And that leaves the bathroom. It has a nearside cassette toilet, separate, fully-moulded shower cubicle (love the mirrored door), and the expected cabinetry. I'm personally not enamoured with the idea of toilets on the nearside, since that makes it harder to discreetly remove the cassette when required, but that's a personal hang-up.
GO RV'S VERDICT
Naturally, there is a lot more to the Lunagazer. Reverse-cycle air-conditioning, LED lighting, the option to fit a washing machine (and a grey water tank and solar panels, for that matter), block-out blinds for the double-glazed windows… Ultimately, given its price point, the J2403 represents solid value for money.
The other benefit: its relatively light weight might mean you don't need to upgrade your tow vehicle. Yes, it's fairly light for its size and level of specification, and that goes for the unladen ball weight of 140kg, too.
The combined 120L fresh water storage capacity and 80Ah house battery are, perhaps, a little light-on for extended free-camping, but combined with some caravan park stays, the Jurgens Lunagazer J2403 has a heck of a lot going for it.
THE SCORE
FIT AND FINISH –

LAYOUT –

INNOVATION –

HITS & MISSES