Following on from last month when I said Yemmy was at the RACQ repairers in Mareeba and they couldn't look at him for a week, well, quite a lot has happened since then, including the repairer fitting a wrong-ratio differential that affected the electronics so that he would only run in 'limp home' mode.
I'd paid them $7430.30 only to get back a vehicle I couldn't drive normally. They denied any liability for the transmission as they said they had only worked on the diff.
When I said it had been driving normally before it broke down, he replied, "That's what you say!"
This led me to suspect they had fitted the wrong-ratio diff and a check of the identification plate on the new diff confirmed this! A further physical check backed this up and I sent an email with a picture of the plate to the repairers. They then admitted they had fitted the wrong diff!
By this time I was fed up with their incompetence and asked the RACV to take Yemmy back to my trusted repairer in Gippsland.
I've raised a dispute through my bank as the repairer refused to refund the money I'd paid before getting Yemmy back.
The RACV has been fantastic throughout the drawn-out process and paid to get Yemmy returned to Gippsland and got me home by a mixed transport bag: a taxi from Walkamin to Cairns Airport, Jetstar from Cairns to Tullamarine, SkyBus to Southern Cross Station, VicRail by train, and coach to Stawell Station… and then a friend picked me up and took me the final 10km to my home in Illawarra.
Yes, I was bushed by the time I reached home after more than 14 hours of travelling and didn't appreciate the drastic change of climate from balmy Far North Queensland to wintry western Victoria in one day!
GOODBYE, ALICE SPRINGS
I'd intended diverting to Alice Springs to catch up with my daughter and her partner, who are working in a Big 4 caravan park there. That's been put on hold for now as my trip has been abandoned and if I do go to our ACC National Muster at Denmark in October it will be straight across the Nullarbor and not via the Alice.
I was looking forward to their free Sunday morning pancakes as well but there will be another time – maybe on the way home from Denmark, if I get there.
DO RAVENS WEAR SHOES?
I once worked with a friend who was stationed for a few days at what he called Raven Shoe. It took a little while for me to work out that he meant Ravenshoe, which is pronounced 'ravens hoe'.
I was reminded of this when a group of us went up there from Walkamin to have lunch at the Ravenshoe Hotel – claimed to be the highest hotel in Queensland. It was Graham's birthday and some of his friends staying at the Walkamin Caravan Park went to help him celebrate.
I was intrigued by this notice outside the pub: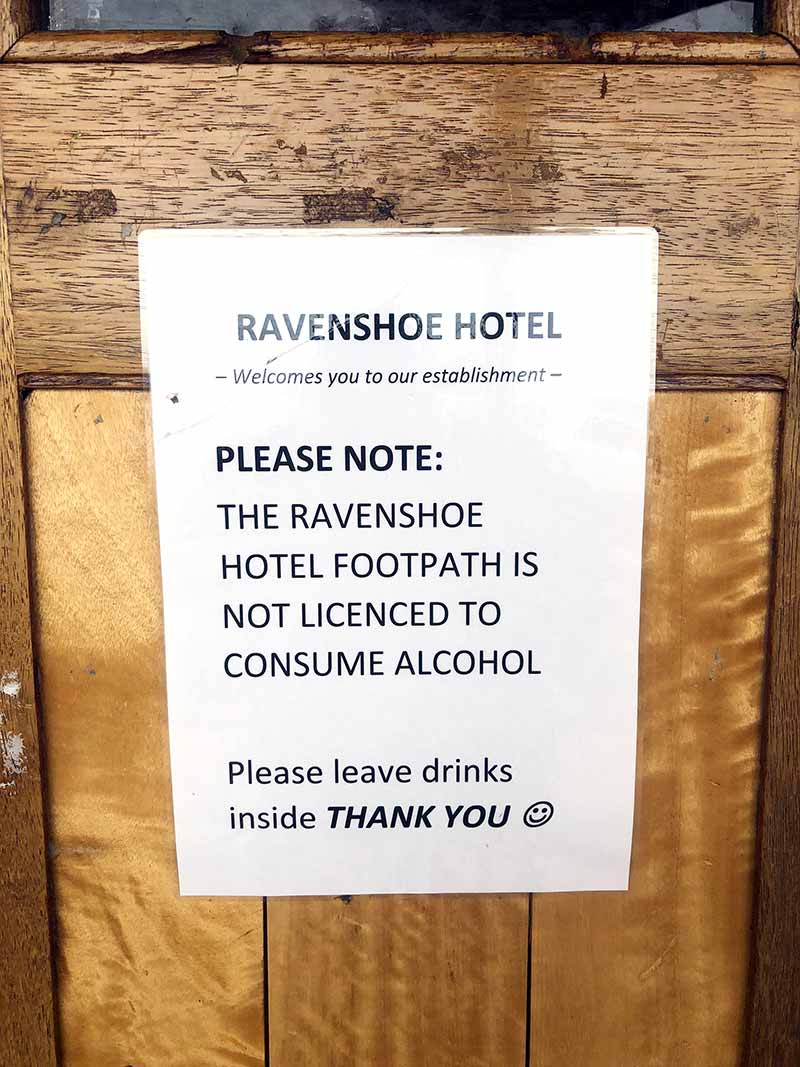 I didn't know footpaths drank alcohol!
MY HEALTH
I think I told you I was starting a self-imposed health regime because my diabetes glucose readings were getting too high and that my last visit to my doctor before I went tripping showed a remarkable lowering of the reading coupled with significant weight loss.
Since being on the road I've continued my walking and eating regime and, after I arrived home recently, I made another appointment to see my doctor after giving some blood for analysis. She rang me with the results and they were excellent – so much so that we reduced one of the pills by half. I intend to keep the regime going although it's much harder to be enthusiastic about walking when the chilly Victorian wind is blowing and it keeps raining on and off.
By the way, I've set my steps target at 3000 steps a day and last week my average was 3144! I know this isn't very high but it's a lot more than I was doing earlier.
FREEBIES
There's nothing I like more than free overnight stays and you might remember when I wrote about my trip to the UK a few years back when I used The Caravan Club's Certified Locations – little corners of farmers paddocks where there was a dump point, water at a communal tap and garbage disposal. They were not free but very reasonable.
On the same trip I joined 'France Passion' where, for a once-only subscription of about $90, you can stay for nothing at one of the many wineries, fromageries, farms, etc. It was a fantastic experience with only one problem: I returned to England with a lot of wine under the seats of the little motorhome and had to enlist the help of a niece and her partner to help me dispose of it together with some pate de foie gras straight from the farm.
I subscribe to an American RV magazine and recently came across a scheme where you pay a joining fee and connect with a network of more than 600 wineries, farms and attractions that invite you to visit and stay overnight for free.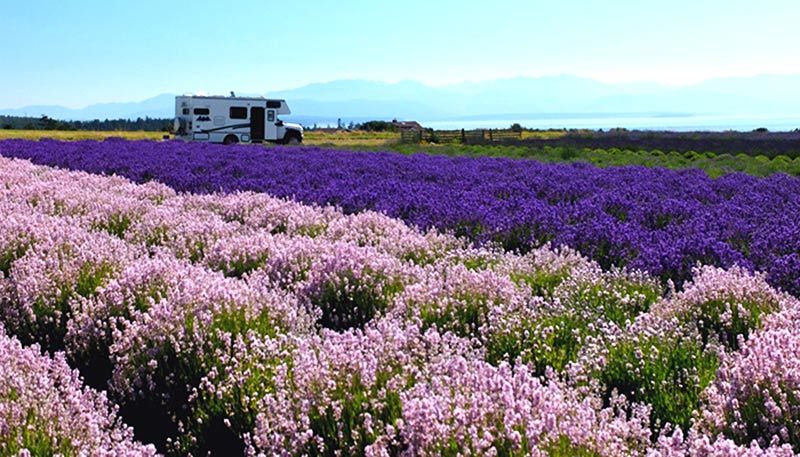 It only costs $49 US ($66.97 AUD) and pays for itself in just one night! The link to this interesting site is https://harvesthosts.com
If you are contemplating a trip to North America and plan to hire a RV for the trip, this would be an ideal way to save money and also see a different aspect of the US and Canada that you might miss if you stayed in RV parks all the time.
See you down the track.