I've been stationary this month at the lovely Walkamin Caravan Park, Qld, so there hasn't been much to write about except a lovely Christmas in July and other Walkamin happenings, so I thought a bit of my caravanning history, specifically my tow vehicle, could be interesting.
I was looking back at some of the things I've written over the years and came across this piece supposedly written in 2006 by our tow vehicle, a Ford Falcon wagon we called Gertrude or Gertie for short…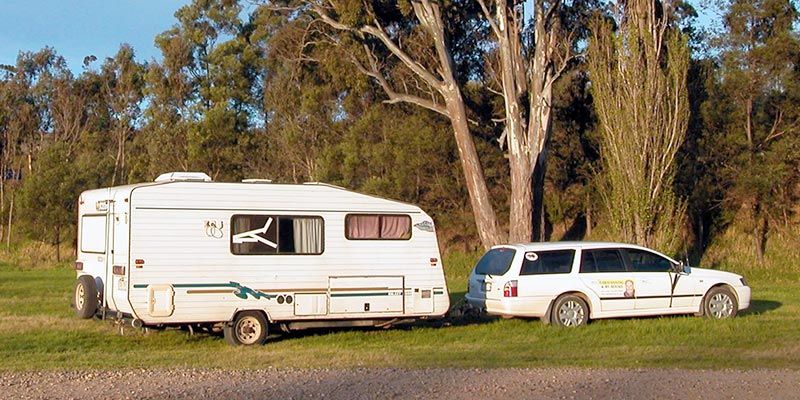 "Hello there," I wrote many years ago. "As he has already told you, I'm a Ford – a 1998 AU Falcon station wagon running on gas and they make me tow that heavy thing they call a 'caravan' but I call the 'lump'.
"Recently they made me tow the lump from Adelaide to Mornington but instead of going the shortest and quickest way, they decided to follow the Murray River all the way up to Mildura and down to Echuca. It was hot! Phew – as if I didn't have enough work to do dragging the lump into that blustery headwind, they kept putting the air-conditioning on and making me work even harder.
"He had his foot well down so to pay him back for making me work hard, I drank more gas, and once he even promised me a drink of petrol when I started 'singing' to show I was nearly out of LPG. Promises, promises! 
"He found a servo selling gas before we got to Swan Hill! So much for his sweet talk. He even sold a book to Debbie, the lady who put in my gas. I heard her say she had been looking at his website a few nights before. I don't even know what a website is. Perhaps it's a place where there are ducks, or is it spiders?
"Once, he took us on a dreadful, rough, gravel road to a place called Ogmore in Queensland. As soon as we got there, he made us go straight back the way we had just come! Now, as soon as we go onto a gravel road I think, 'Oh no, not Ogmore again!'
I don't have much say in where we go but sometimes when he's not paying proper attention, I let my wheels stray on to the ripple strip on the side of the road. 'Gertrude!' he says quite crossly. 'Get off those ripples!'
"He says the same if I happen to run over a cat's eye in the middle of the road if nothing's coming the other way. As if it matters!
"He puts on a much nicer tone when he's making me pull the lump up one of those steep hills. 'Come on, Gertie – you can do it,' he flatters as he pushes his foot down harder to make me drop down a gear.
"I heard them talking as we came through the Great Divide. 'Aren't the hills lovely?' 'The trees are so nice through here.' 'Look at the beautiful grapevines – there'll be plenty of wine this year!'
"All I get to see is the bitumen stretching out in front, twisting this way and that, as we climb the hills, and then the lump's pushing me on as we go down the other side. Can't he find a flat road for a change?
"I don't really mind what happens when we are in the country but I do get fed up when we are in town traffic and the traffic lights keep turning red. He keeps muttering about idiots taking the safety space that he tries to leave between me and the car in front. Sometimes when that happens he makes me stop so quickly that I have to think of using my ABS system to stop in time.
"That's when he uses words I really don't think are nice for a gentleman to use in front of a lady!"
CHRISTMAS IN JULY
I didn't make it to Walkamin Caravan Park's Christmas in July last year because by then Yemmy had been 'repaired' at Mareeba and then taken south on a truck while I left the balmy air of Far North Queensland one morning and arrived in cold and windy Victoria that same night!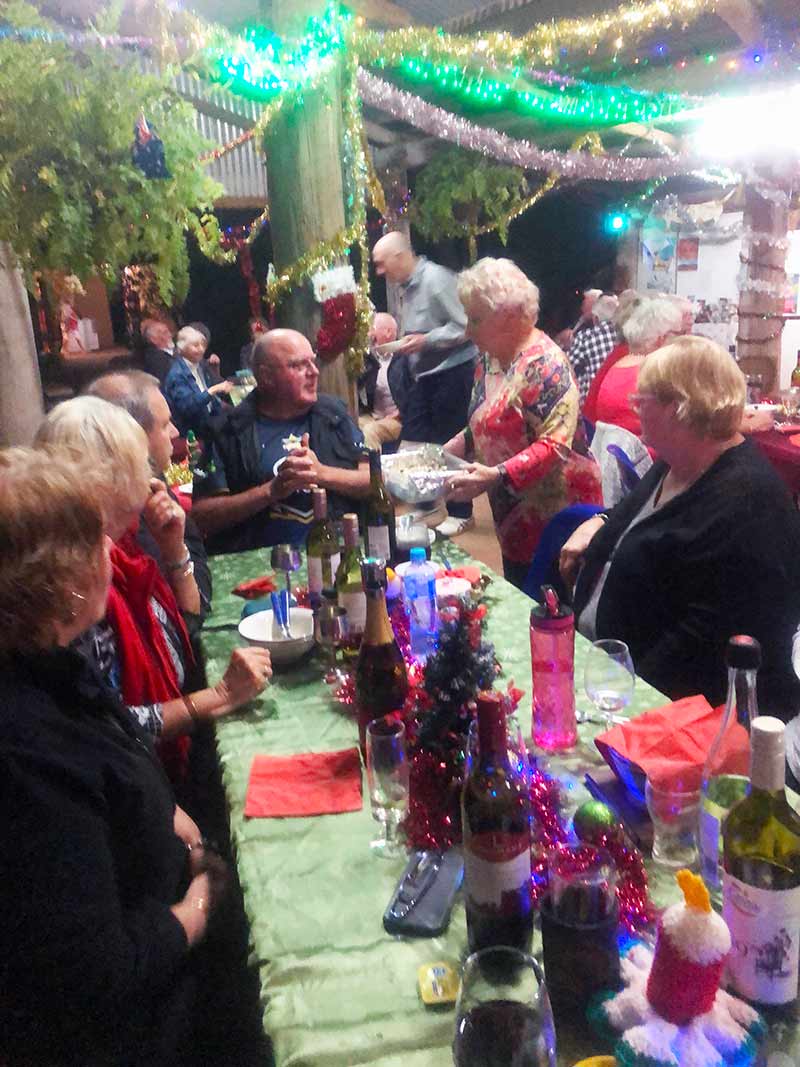 This year was different. About 50 of us RVers gathered in the 'Shed' for a great catered meal and much hilarity. The decorations and table settings gave the place a wonderful atmosphere, although my friend, Bill, seemed more engrossed in checking his mobile phone to see how many steps he had taken that day.
(Bill and I have been obsessed with our daily steps count ever since I showed him the app on the iPhone last year.)
BACK IN THE AIR
That's a bit of an exaggeration because it wasn't me that was airborne but a little drone I was flying from a paddock that's part of the caravan park.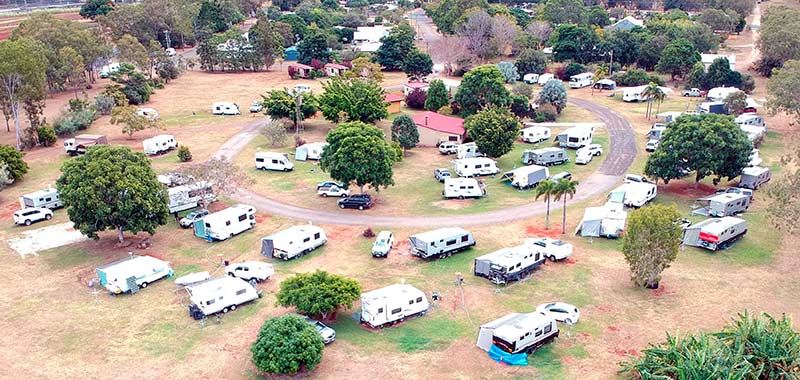 I was talking to a friend in front of the fire one night recently and my love of flying in helicopters came up. He told me that he had a couple of drones and thought I would like flying them.
The next day, he turned up with his smaller drone and said, "Come on, we'll go down the paddock and fly this thing."
I was fascinated by how this little drone could fly high in the air and respond so quickly to the signals I sent through the controller. I could take as many pictures as I liked through it's tiny camera and then download them later to a tablet or laptop.
Maybe I'll save up and get one!
TRIPPING WITH FRIENDS
It's great that I have so many friends here at Walkamin who offer me lifts when I need to go shopping or sightseeing when I get bored. Mark takes me shopping in Atherton every Monday while Bill and Irene have taken me to Cairns a few times.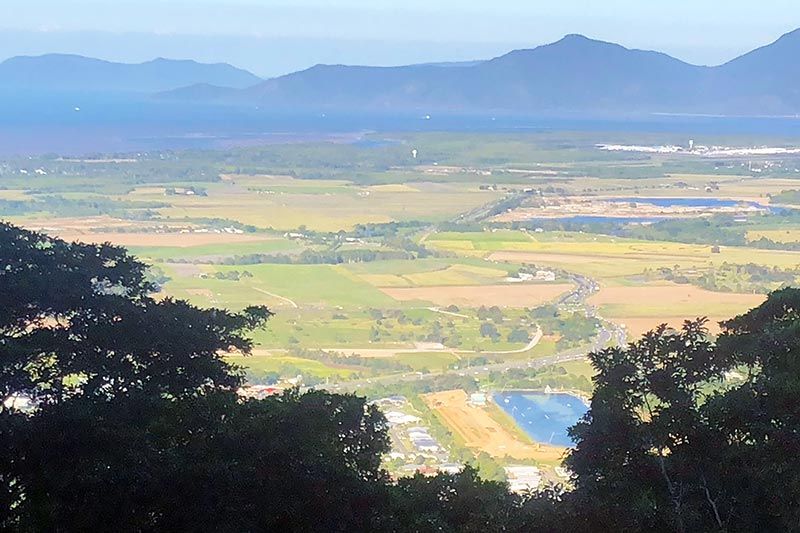 It was Paul and Coral (plus Matilda – a little dog with a very long tongue that I've threatened to cut off!) turn. They took me to Cairns and then returned via an interesting climb up from  Gordonvale back to the Tablelands.
Here's what Mr Google says about this road: "The Gillies Highway permits road access from the Goldsborough Valley near Gordonvale, to Atherton on the Atherton Tableland via the Gillies Range (famous for its 263 corners, and 800 m elevation change in only 19 km of road)."
I'll be on my way home via Alice Springs to catch up with my eldest daughter and then spend a few days in Adelaide with my son and daughter-in-law by the time I write my next column.
See you down the track.