If I were a fan, I could no-doubt pepper this review with plenty of Van Halen puns. Alas, I no nothing about this musical group, other than the fact that in Lilydale, Vic, is a custom caravan manufacturer whose very name pays it tribute. Owned and operated by Jason and Bec Francis, Halen Vans specialises in building genuine offroad touring weapons, self-contained caravans designed to keep you in the outback for longer.
The company's real specialty, however, is in customisation. Even our review van, an Avalon Offroad Series, was heavily customised for a customer in New South Wales.
COMMON-SENSE CONSTRUCTION
If this Avalon looks a little smaller than you might expect, that's because the customer requested it to be 200mm narrower and 50mm lower than standard in order for the van to fit inside his garage.
Halen Vans thinks a little outside the box, employing common-sense solutions to everyday caravanning problems. Let's start at the front of the Avalon. The trailer-to-vehicle wiring harness is detachable from the caravan. Without the matching seven-pin (round) lead, the lights or electric brakes wouldn't work – effectively, it is a built-in anti-theft device.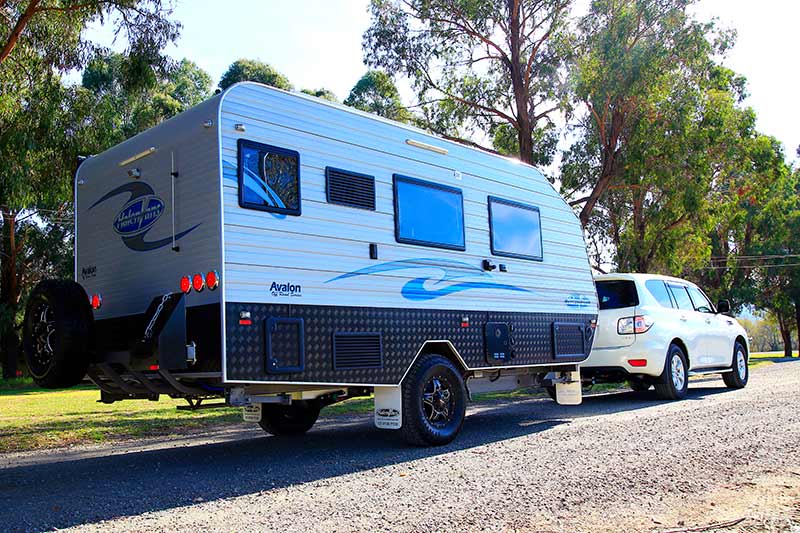 There were also three Anderson plugs on the A-frame. One was to run the fridge when under tow, one was to charge the battery, and one was to run the Optitec caravan mover specified by the customer. Sensibly, the fresh water tap is mounted on the inside of the A-frame, rather than the outside.
The drawbar also houses two 9kg gas cylinders – personally, I'd fit a stoneguard to protect the gas cylinders and no-doubt that could be done for other customers. Behind the gas cylinders was a fuel tank for a diesel heater.
The front boot is quite large, and tucked into the nearside corner is an onboard air-compressor. This Avalon was running Cruisemaster ATX Air suspension; however, all other fittings, including the air-compressor, were fitted by Halen Vans. The system is set-up to accommodate an external air-compressor, meaning that if the onboard compressor fails, you won't be left high and dry. It's also set-up so that the airbags can't be overfilled.
Behind the front boot is a right-through storage system for annexe poles, fishing rods, etc. There's also a tunnel boot and a dedicated nearside storage box for a Weber barbecue – the gas bayonet is neatly set into the nearside wall, rather than riveted to the chassis rail. That's the way to do it, I reckon.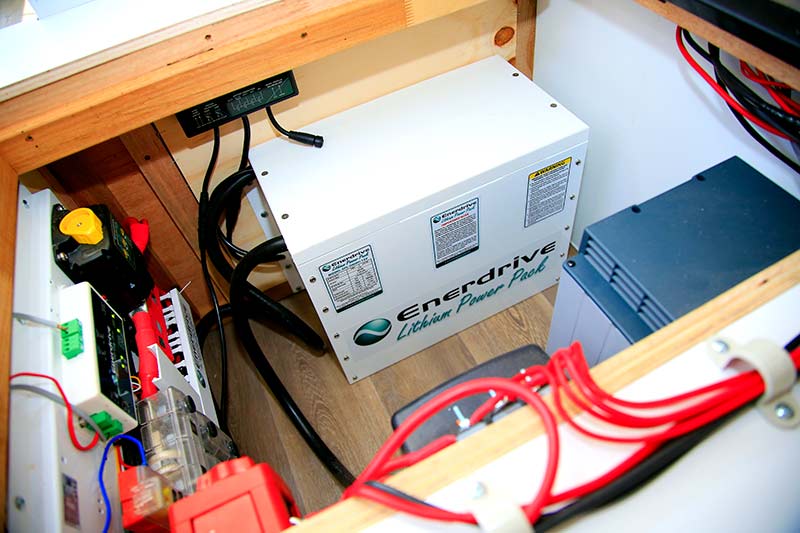 Electrically, our review Avalon left nothing to chance. It was fitted with a 300Ah lithium battery system charged by four 150W solar panels. One particularly hot day, we had drinks cooling in the van's 184L Thetford three-way fridge, running on battery power alone. Naturally, this system could power your other 240V appliances, whether it be a toaster or hair dryer, as well as the onboard Truma Saphir air-conditioner (mounted under a bed – as I said, the customer had height restrictions).
At the back of the van, Halen Vans had fitted a couple of jerry can holders, a reversing camera, and, of course, a spare wheel. Underneath, meanwhile, the van has an 82L grey water tank mounted rear of the axle and two 82L fresh water tanks forward of the axle, each protected by a sheet-metal stoneguard.
For an offroader, our Avalon was not unduly heavy. In fact, unladen, it only weighed 2049kg – pretty reasonably, I reckon – and had an ATM of 2600kg. It's built on a galvanised box-section chassis with a meranti timber frame and aluminium cladding. While the sides and rear of the van had a typical skirt of black checkerplate, stainless steel ran about halfway up the front – it looked great.
INSIDE THE HALEN VANS AVALON
Due to the heavily customised nature of Halen's vans, the interior furniture was hand-built. But you'd be forgiven for thinking CNC machines were involved – the cabinetry looked very precise and well-finished.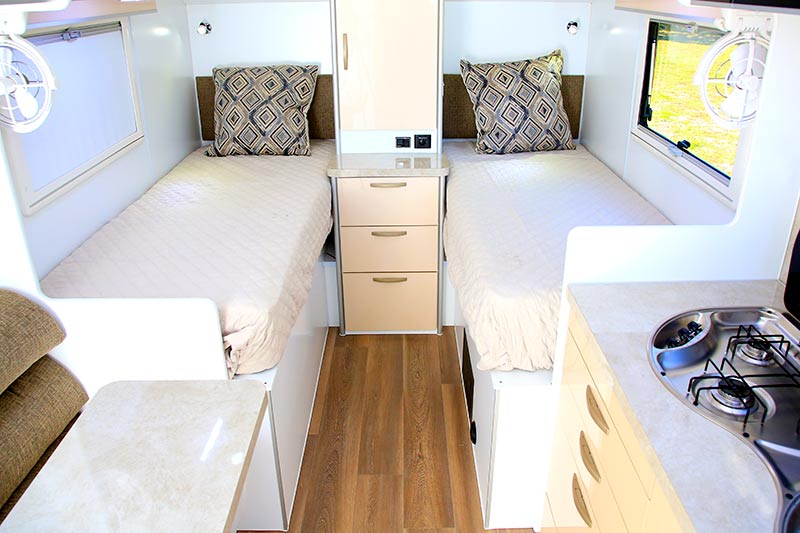 The layout comprised two forward single beds – an island queen bed is available, of course – a nearside dinette, a kitchen opposite, and a full-width rear bathroom.
The 12V nerve centre of the van – lithium battery, 1600W/60A inverter, solar regulator – was fitted beneath the nearside bed, while the air-conditioner and instant hot water system was beneath the offside bed. Both the 12V system and the equipment under the offside bed were presented in a very neat, tidy manner.
The wardrobe between both beds offered a reasonable amount of storage, and I loved that the controls for the air-con and Webasto diesel heater were mounted within arm's reach, so you could control the van's temperature without getting out of bed! What's more, a 12V Sirocco fan was fitted at the foot of each bed! Each bed gets a USB charging point and 240V powerpoint, too. Had Halen Vans thought of everything? It seemed so…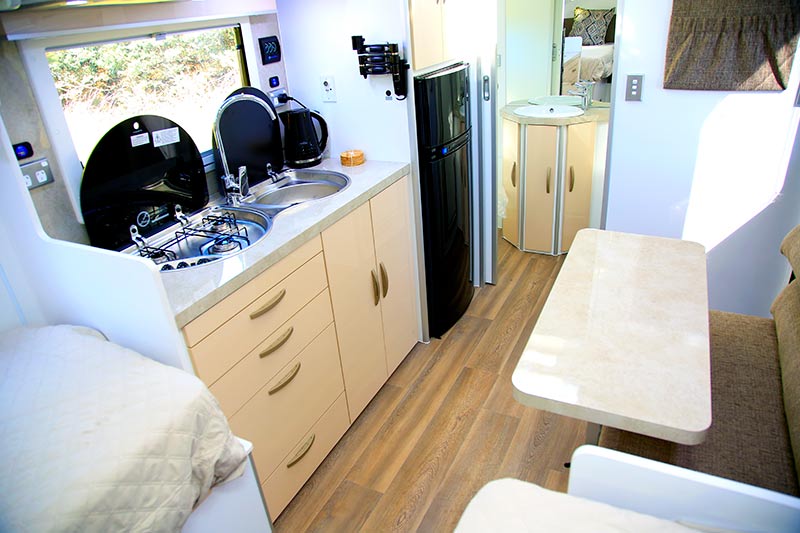 Now, the dinette was very much a two-person setup. It's effectively just a bench seat with a table, and yes, another USB and 240V point, so you could keep your laptop or tablet charged while you sat and worked.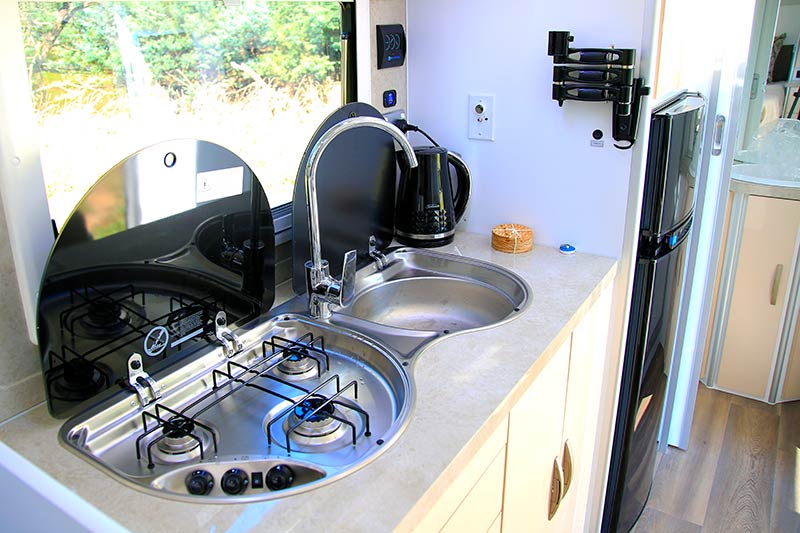 Because our Avalon was a relatively compact caravan, kitchen bench space was necessarily on the small side, though the lids of the three-burner Smev cooktop and the sink could be used as needed. Yet more USB and 240V points were fitted in the kitchen, either side of the bench. In the overhead cabinetry was a microwave, battery display, sound system and the hot water temperature control. In the single overhead kitchen cabinet you'll find the 12V fuse panel and corresponding diagram.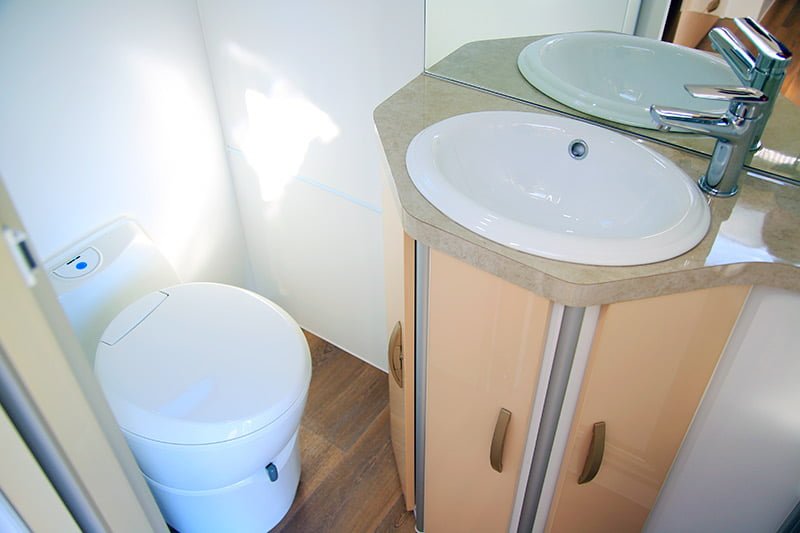 The onboard bathroom contained an offside cassette toilet, central vanity, and a one-piece fibreglass shower cubicle on the nearside. Considering the internal length of this van was only 4.72m, I was rather impressed by the bathroom. Sure, it's small, but it was perfectly functional.
We could debate certain aspects of the van's interior – you might like a griller, for example – but it's worth remembering that Halen Vans works with its customers to develop their ideal van. What is important to me mightn't be important to you. But in terms of constructions and attention to detail, I found very little to complain about. There were no sharp, rough edges or dodgy joins, and even the decor worked for me.
GORV'S VERDICT
With a first-class 12V setup, instant hot water, diesel heating, a space-efficient layout for two people, a quality suspension system and more, this Avalon looked as ready as it would ever be for remote adventures.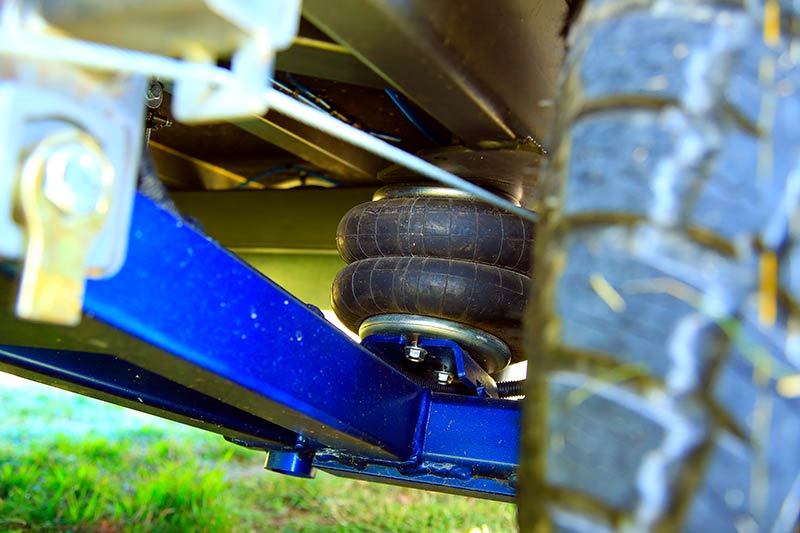 Despite being narrower and lower than standard, nothing appeared out of place or as though it had been shoehorned into the layout. The Halen Vans crew, I'm rapidly coming to realise, truly know their stuff.
THE SCORE
FIT AND FINISH –

LAYOUT –

INNOVATION –

HITS & MISSES
Quality of the fitout despite being narrower and lower than standard
Level of equipment, from the Enerdrive lithium battery system to the grey water tank, diesel heater and under-bunk air-con
Customised airbag suspension
I'd fit a guard to protect the gas cylinders
I'd like a little more bathroom storage