Last January, GoRV took you along the Savannah Way stretching from Cairns to Broome. In Kununurra, we pointed out that you could continue on the official Savannah Way along the Great Northern Highway, which is where we guided you. The other option was to brace yourself for the rough drive along the Gibb River Road, and since we promised that for another time, here it is, with 713km from Kununurra to Derby.
PREPARING FOR THE GIBB RIVER ROAD
The Gibb demands a certain type of vehicle and van or camper trailer. 4WDs are a must: you will need a ride that is up to heavy and relentless corrugations, severe dust, tyre-piercing stones, river crossings and pot holes.
You will need to lower your tyre pressure to allow for some give over the rough parts which, to be honest, is the entire way. The same goes for caravans: they must be designed for offroad travel and up to a thorough thrashing. Ditto for camper trailers. Mechanics in Kununurra, Derby and Broome make a nice living fixing the damage that most travellers will experience to one degree or another.
Start with everything in good condition, especially the tyres, including two spares for your 4WD and at least one for your van/trailer; keep to a safe speed (70km/h max) and you might make it across with minimal damage or incident. If you have a 4WD but don't want to damage your van, you can travel the length of the Gibb and find 'glamping' accommodation all along the way.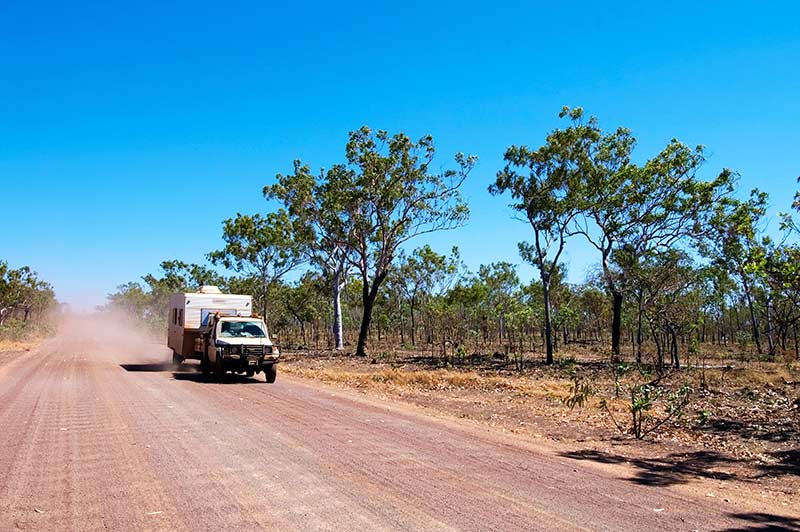 Preparation should also include stocking up on all essentials. Some stations might have limited supplies, but it is best to think in terms of being self-sufficient. A few butchers in Kununurra will vacuum seal meat and fish. 
Also take plenty of fresh veggies and fruit, working your way through the goods that perish the fastest and leaving produce like potatoes and apples for later. 
A number of stations do offer meals, and that can be part of the fun. Start with a tank full of fuel, gas bottles filled and at least one water tank full. Drinking water is essential.Prescriptions should be filled and the first aid kit stocked.
Visit the Kununurra Visitor Centre for road updates, a detailed map and the Gibb River and Kalumburu Roads Travellers Guide. Diesel is available at all fuel stops, but not always petrol, so you need to do some calculations to make sure you will have enough fuel.
If you include Mornington Wilderness Camp, Kalumburu and/or Mitchell River National Park, you will need more of everything. Make a note of stations that offer tyre repairs as you might need them.
EL QUESTRO
Travellers knock El Questro because of the fees, but to do the Gibb and skip this fabulous station would be a shame.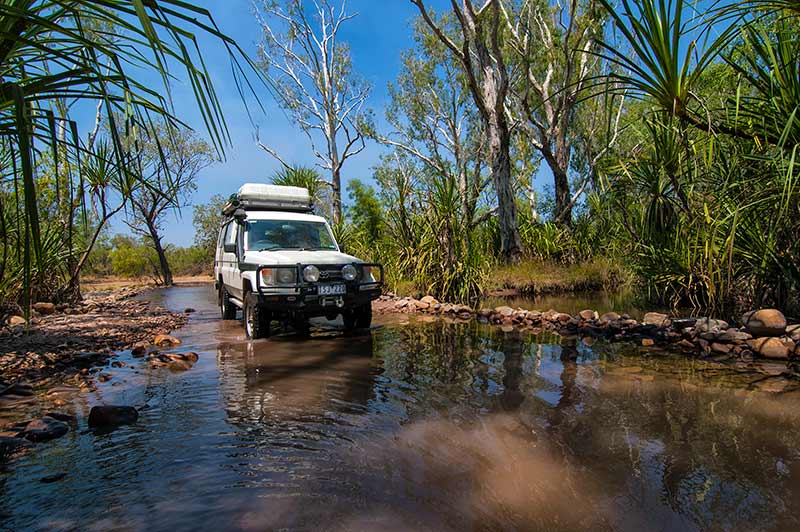 Emma Gorge is first and a stop here to look around is a must. The walk up to the gorge and falls is of moderate difficulty but oh so worthwhile. A swim in the clear, crisp water of the plunge pool is a delight after the hot walk. You can stay in tent cabins at Emma Gorge or continue to the El Questro campground.
Several days here can be filled with guided tours, self-guided tours, hiking, swimming, 4WDing, fishing and bird/wildlife/scenery viewing. Must-dos include the first half of the El Questro Gorge walk, Zebedee Springs, the Chamberlain River Cruise and just relaxing.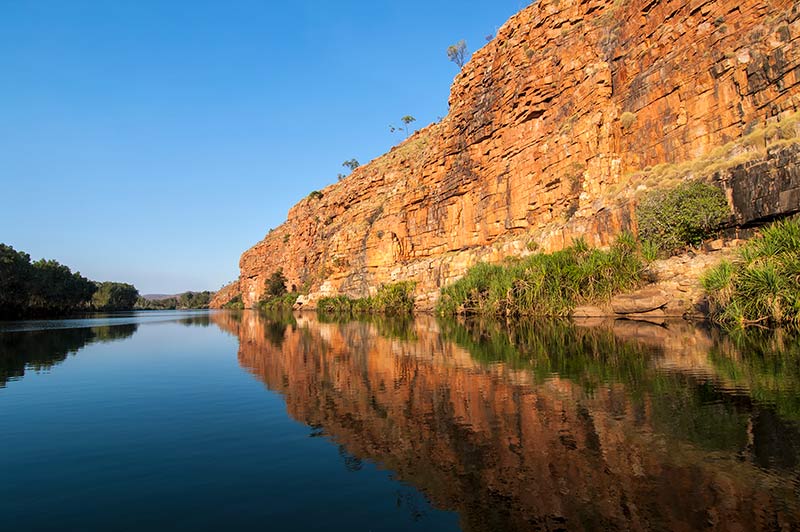 If you are only reading about the Gibb, you can at least visit Emma Gorge because the road is sealed to the resort turn-off (24km with a 2km gravel road to the resort). The sealed road continues for another 10km to the El Questro Village turn-off with a 17km gravel road. It's a very desirable option if your rig isn't up to what's next! 
HOME VALLEY STATION
The road becomes unsealed and continues for another 33km to Home Valley Station. Once a working cattle station, it is now owned by the Indigenous Land & Sea Corporation and managed as a tourism destination. The original stockmen's quarters are now upmarket rooms. For RVers, there are two campgrounds. 
The homestead is near facilities like the swimming pool and the Dusty Bar & Grill. River Bush Camp is on the Pentacost River with views of the Cockburn Range. There are a number of tours and bushwalks on offer; it might seem like too short of a distance from El Questro to stop and camp again, but those sunsets by the river make it a shame to miss.
ELLENBRAE STATION
One hundred and seven kilometres on is Ellenbrae Station. This is a true working cattle station, so the experience is more authentic, and rustic, than the previous stops. The 'driveway' to the homestead is 5km and demands the reward of a cup of tea and fresh scones. If you want to stay, there is accommodation along with two small campgrounds.
Take a shower beside a towering boab tree, heat your own water in an utterly unique (and somewhat alarming) Mad Max-style bush contraption and enjoy the grounds shaded with numerous trees.
DRYSDALE RIVER STATION
Kalumburu Road comes up in 70km, and if you are fully prepared, you can turn north and proceed for 59km to Drysdale River Station, where things just don't get any more genuine.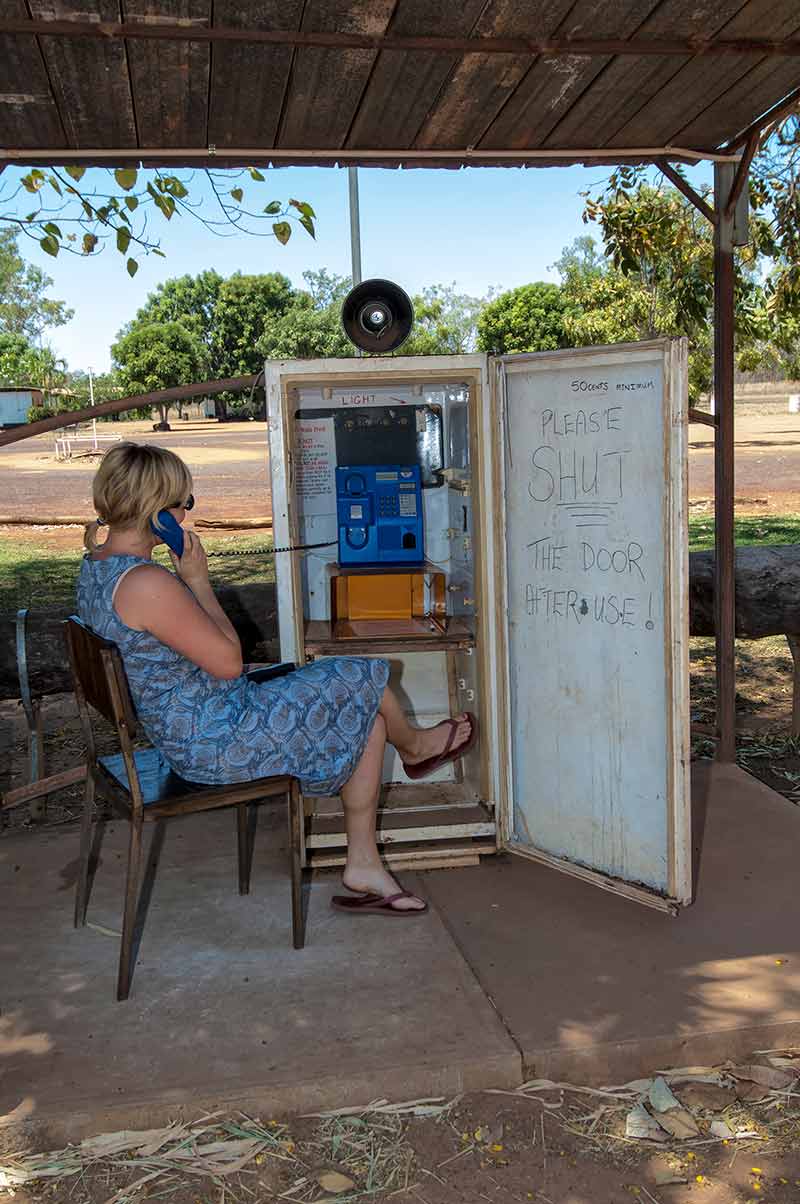 Meals are on offer: the Kimberley beef burger is famous for those who are so inclined; there is camping at the homestead, or at Miners Pool beside Drysdale River. You can leave your van at Drysdale Station if it was not up to the significantly rougher road (174km) to the Mitchell Plateau; those with a true off-road setup can camp at the Munurru Campground by the King Edward River.
(There are two fantastic rock art sites nearby – for more, check the 'Kimberley Art' section of GoRV's Adventures in Rock Art).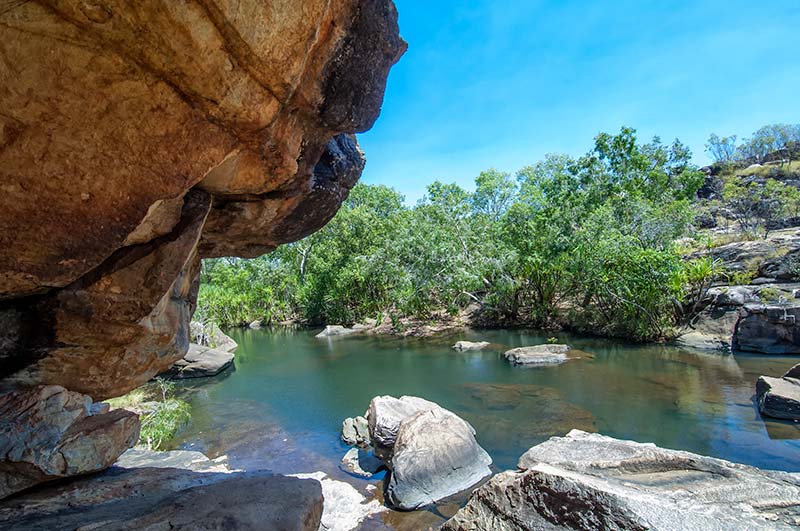 Offroad trailers only can continue to the Punamii-Unpun Campground at Mitchell River National Park; there is one deep creek crossing on the way. If you don't have a tent, you can treat yourself to a couple of nights at the Mitchell Falls Wilderness Lodge and drive into the park for a never-to-be-forgotten walk along the Mitchell River to Mitchell Falls, and if the budget allows, an always-to-remember helicopter flight over the falls and along the Kimberley coastline. 
An Uunguu Visitor Pass is required. If you want to continue to Kalumburu, you need to be fully prepared with permits and a thorough study of Kalumburu's community visitor information.
MOUNT ELIZABETH STATION AND MANNING GORGE
Back at the turn-off, the Gibb proceeds for 70km with the option to turn north for 30km to Mount Elizabeth Station. The campground is quiet and peaceful and there is much to explore, including a walking tour of the station, Aboriginal rock art and easy-to-access Warla Gorge on the Hann River. 
For experienced 4WDers travelling with nothing but a tent, the 220km (each way) Munja 4WD track to Walcott Inlet is the adventure of a lifetime. A much shorter and 'doable' 4WD option is the 12km road to Wunnamurra Gorge.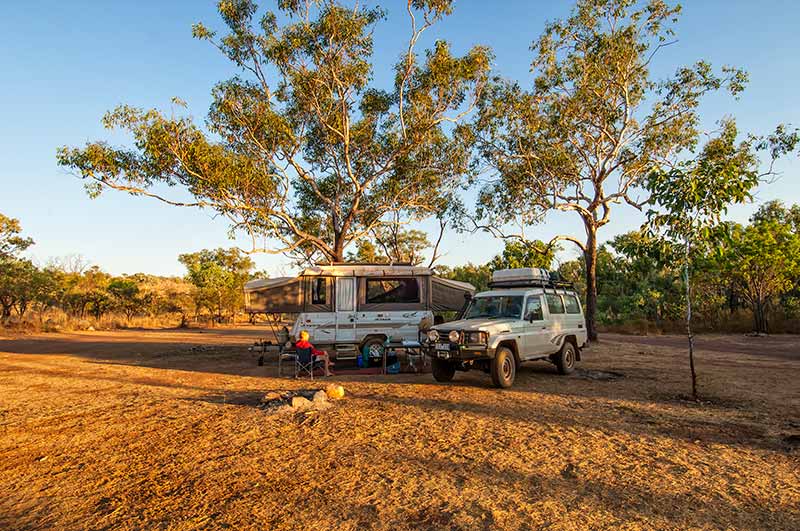 A short 38km places you at the Mount Barnett Roadhouse, where you pay the camping fees for the Manning Gorge Campground, a 7km drive. The safe swimming hole here makes camping a delight and the walk up to refreshing Manning Gorge is a highlight of the Gibb.
This is at its best when visitor numbers are low! This is gorge central, so within the next 50km you should stop at Galvins Gorge, tucked under a rocky wall with a boab tree perched on the top like a silent sentinel. 
Adcock Gorge involves a 5km track off the Gibb (turn left when you reach the fork in the road). Don't be tempted to dive from the stepped gorge wall.
MORNINGTON WILDERNESS CAMP
If you were a crow you could simply fly from Adcock Gorge in a straight line south to wondrous Mornington Wilderness Camp, owned and operated by the Australian Wildlife Conservancy.
Since you are not a crow, put that 4WD in 4WD and venture south from the Gibb for 90km of dust and ruts to a most rewarding destination. Call in advance to book a site and check on track conditions; there are unpowered sites by a creek or gorgeous tented tree-style cabins.
This is a birdwatcher's paradise and the tours are most worthwhile given the trouble you have taken to get there. There are both self-guided and guided tours on offer. 
WINDJANA GORGE
By now you will understand that the Kimberley is a mix of untouched wilderness and heavily grazed (and visited) land.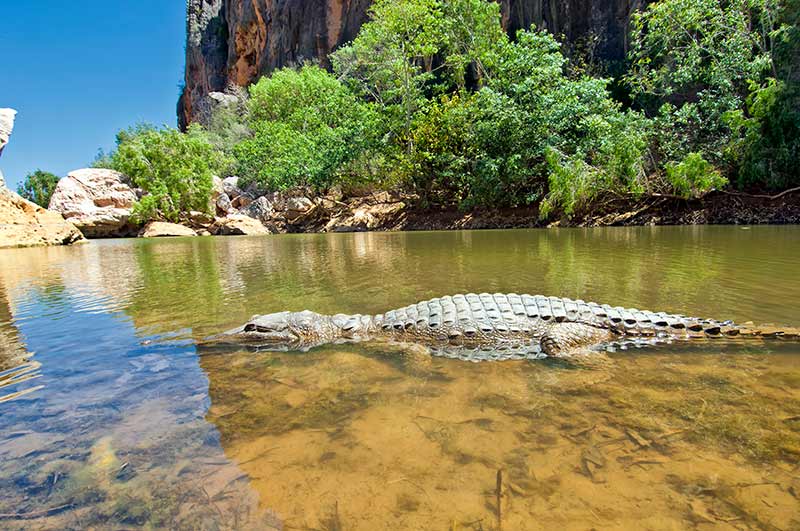 Thankfully, patches of remnant rainforest have been preserved and protected in the King Leopold Ranges Conservation Park along with Bell Creek Gorge and Lennard River Gorge. You can base yourself (as in set-up camp and explore by 4WD) at Imintji, the park's Silent Grove Campground or Mount Hart Wilderness Lodge.
For one more gorge, and a collapsed cave, continue on the Gibb for 65km and turn south to Windjana Gorge National Park. The campground has basic facilities and with a short walk you will find yourself by a sandstone wall imbedded with fossilised marine life from the Devonian period when the Kimberley was submerged in a tropical sea.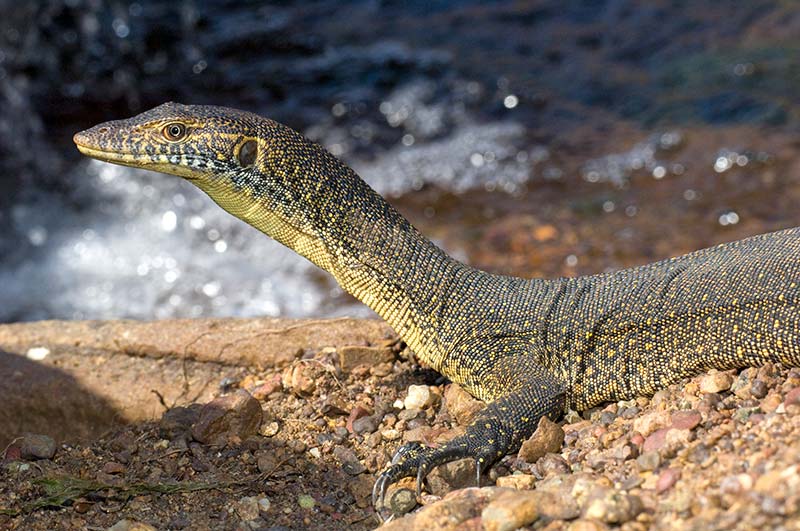 The creek dries up in the winter, leaving pools with freshwater crocs panting for the next Wet, along with waterbirds, flocks of corellas and a colony of fruit bats.
Windjana is also a good place from which to explore Tunnel Creek National Park 35km along. The walk there leads through a huge cavern and then narrows to a dark underground section (take a torch and waterproof shoes). Even if you are gorged-out, these last two are a highlight.
BIRDWOOD DOWNS
For those who have wondered if there might be a more sustainable way of managing cattle stations, then Birdwood Downs, a short 12km from Derby, is an example of how a degraded landscape can be returned to ideal conditions while still running cattle.
The campground provides all the basics and there are ecological tours and horse rides on offer. It's not a bad way to end (or begin) a journey across the Gibb River Road.
USEFUL WEBSITES
Kimberley Australia Guide (tyre repair facilities, fuel stops, caravan issues, etc.) and the free pocket guide.
– Images: Steven David Miller/Natural Wanders