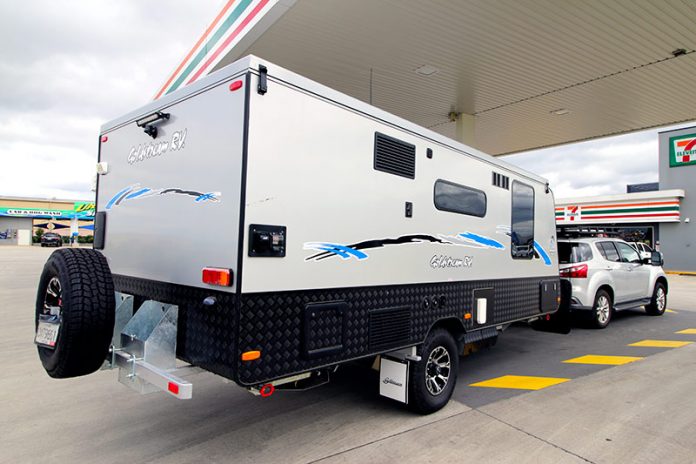 Fuel. It is the biggest hip-pocket burden of all RVers, especially those who are not stopped in one place for a significant period of time. 
Pop-tops, therefore, have long been an object of appeal. Because they're shorter than their full-height cousins, pop-tops create less drag when under tow. The decreased drag, in turn, should lead to greater fuel economy.
We at GoRV are by no means aerodynamicists, but this is a known scientific principle. The real question is the degree to which fuel economy might improve by towing a pop-top instead of something that has 400mm of additional frontage presented to the wind.
APPLES WITH APPLES
In order to answer this question, I searched for two vans that were nearly identical, the only difference being the roof. Goldstream RV had the perfect rigs: a 1760 RV pop-top in 'Panther' configuration, and a 1760 RE full-height caravan in 'Rhino' configuration.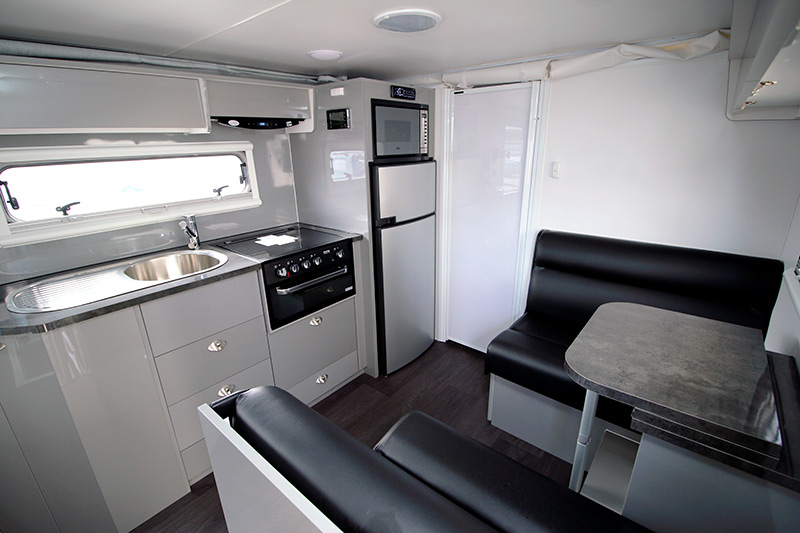 Aside from the roof, the vans were of identical physical dimensions, with different internal layouts. The pop-top was 2.6m in overall height, while the caravan was 3.1m.
The full-height van had a Tare of 2255kg while the pop-top's Tare was 2075kg – a difference of 180kg that was due to some additional features found in the Rhino package and the fact it was a full-height van.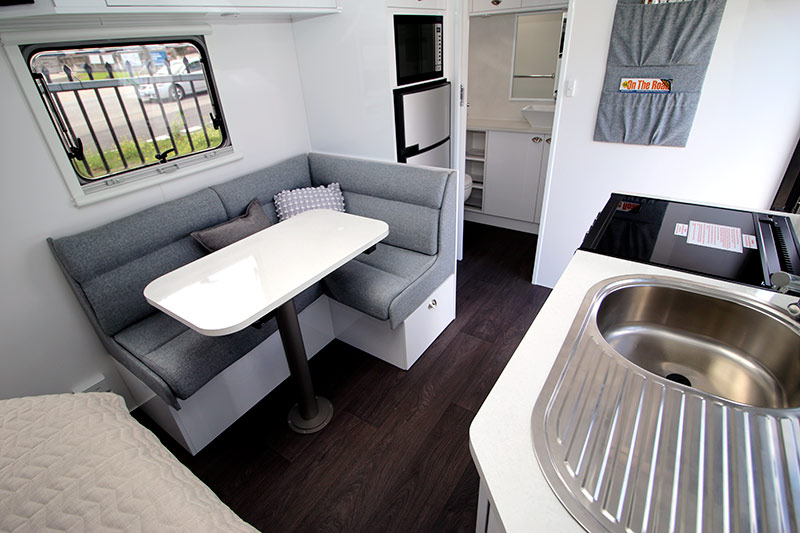 To remove weight as a variable, I filled the pop-top's two 80L water tanks and placed 20kg worth of weights under the bed. This made the weights of the two vans as equal as possible.
THE FUEL TEST
A run up to the shops and back wouldn't cut it. To achieve a meaningful result, I figured a couple of hundred kilometres per van was required. At Goldstream's Pakenham, Vic, headquarters, I first hitched up the pop-top to my Isuzu MU-X and headed to the nearest fuel station, where I topped up the diesel to the point that it was almost overflowing.
From there, I headed east towards Traralgon, a regional Victorian city about two hours from Melbourne. In Traralgon, I intentionally spent 15 minutes in stop-start traffic before heading back.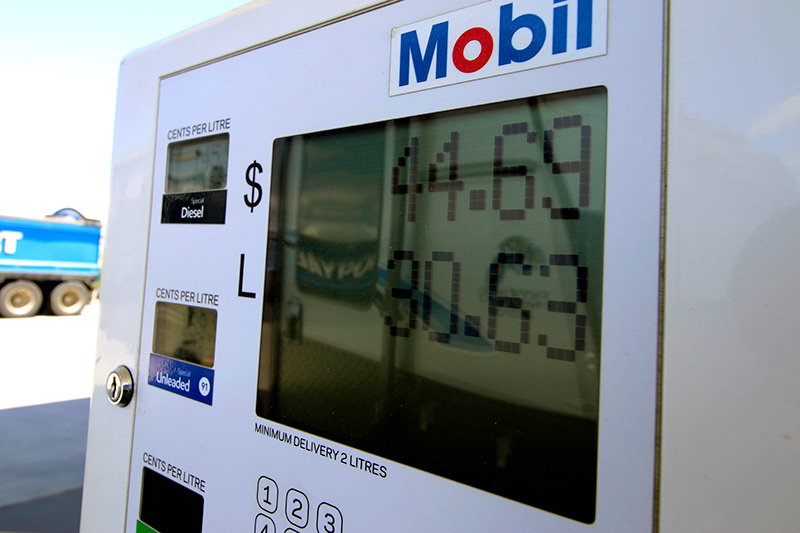 On refilling at the same Pakenham servo, it was revealed that by towing the pop-top for 209.8km, the 4WD's 3L engine guzzled 30.63L of diesel.
Time for the second test. I repeated the scenario described above, this time with the full-height van hitched up.
On the highway, for both tests, I kept my speed to about 95km/h, keeping to fifth gear as much as possible, and driving as smoothly as conditions allowed.
After almost six hours of continuous driving, I pulled into the servo near Goldstream for the third time that day. The odometer, which I'd zeroed before departing for the second run, read exactly as the previous test: 209.8km.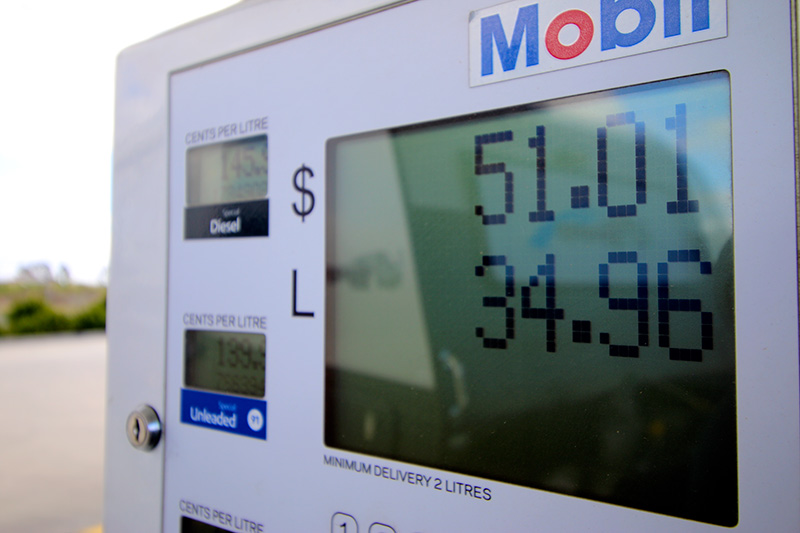 Pleased, I refilled, sure that my vehicle had used more fuel on this second test. I was surprised, though, when the diesel pump returned a figure of 34.96L – an increase of 4.33L.
That seemed like a lot. But was it really?
THE NUMBERS
THE POP-TOP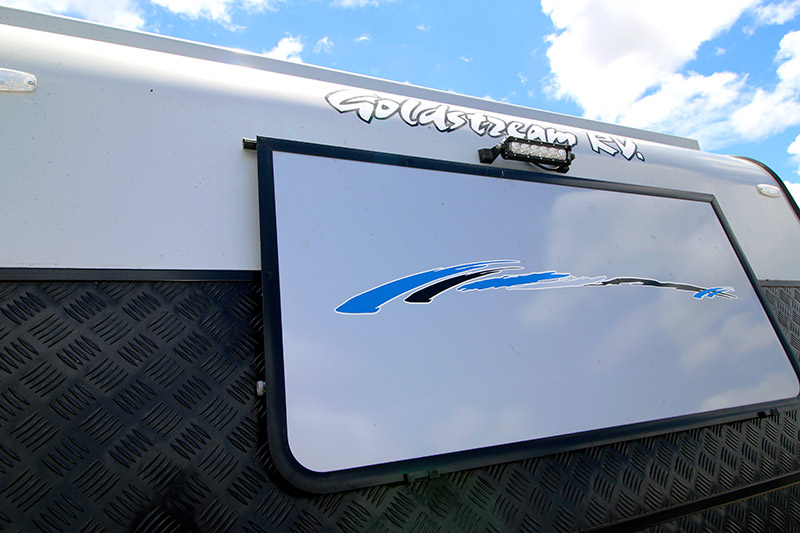 Towing the pop-top – which had been loaded up to closely match the full-height caravan in weight – on a highway for a couple of hours, throwing in a bit of around-town traffic, saw the MU-X use 14.6L/100km of diesel. This equates to 6.85km/L.
THE CARAVAN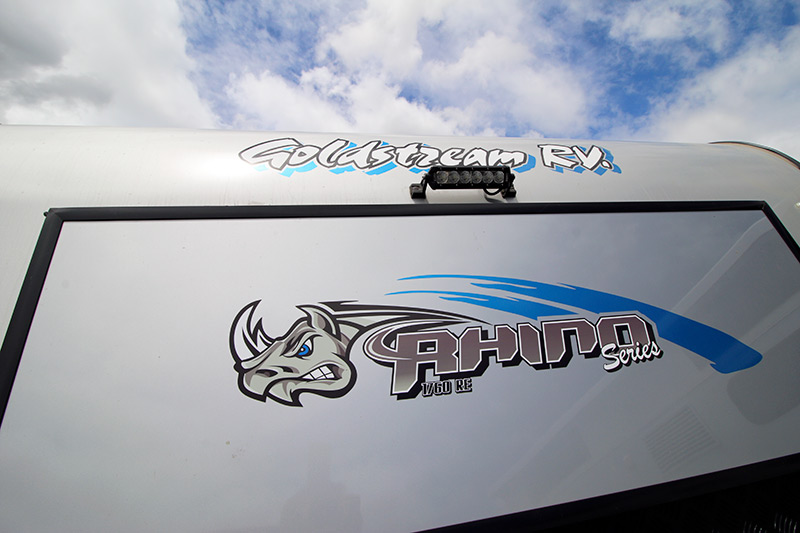 Towing the full-height caravan on the same course, and matching my driving style to that of the first run as much as possible, saw the vehicle consume 16.7L/100km, equating to 6km/L.
IS THIS A BIG DEAL?
Per 100km of towing, the difference between the full-height caravan and its pop-top equivalent was 2.1L.
To put it another way, based on the $1.46 (rounded up to the nearest cent!) per litre I paid at the bowser, that's $3.06 extra for the full caravan per 100km. That doesn't sound like much, does it?
It's not. But… as you are no doubt aware, caravanners put in many kays behind the wheel. For many, a 500-600km day would not be unusual. So let's extrapolate our fuel 'penalty' of $3.06 over 1000km, accounting for two days of travel. That's an additional $30.60 – the price of a cafe lunch, perhaps.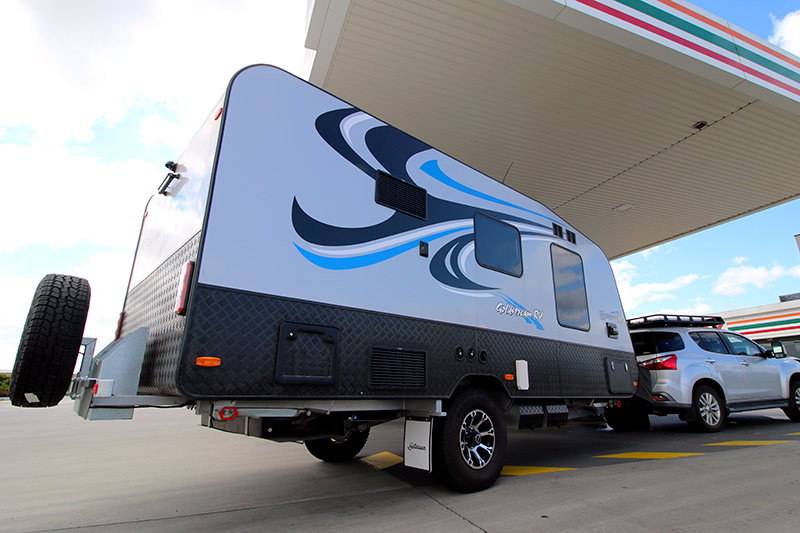 Sure, you could continue to extrapolate – travel 10,000km and you'll pay an extra $306. But life doesn't really work like that – fluctuating weather conditions, headwinds, changing tyre pressures, and especially the extra load that would no-doubt be in the van, etc., would all affect fuel consumption. To wrap it up in a neat to-the-cent package that you could set your watch to is not realistic.
It's also not realistic to suggest that my figures would be replicated by your rig. In fact, repeating this test in different weather would probably yield slightly different figures.
This does not, however, invalidate the test. I set out to see if towing a pop-top would be more fuel-efficient than a full-height caravan, and by eliminating the weight variable, I was able to show that the lower towing profile of a pop-top – in this case 400mm lower – did indeed make a difference at the bowser.
AT A GLANCE
POP-TOP
Km/L: 6.85
L/100km: 14.6
Cost to refill: $44.69
CARAVAN
Km/L: 6
L/100km: 16.7
Cost to refill: $51.01
*Test conducted over 209.8km
TOP OF THE POPS
Of course, the potential to save money at the bowser is not the only reason to consider a pop-top. These are just some of the additional benefits…
Not being as tall as its caravan equivalent, a pop-top is a good choice for people with low carports/garage.
Typically, a pop-top will be a little cheaper than the equivalent full-height caravan.
Its shorter stature should make a pop-top a better bet in heavily-treed offroad conditions.
With the windows in the vinyl gussets, pop-tops usually offer great ventilation.