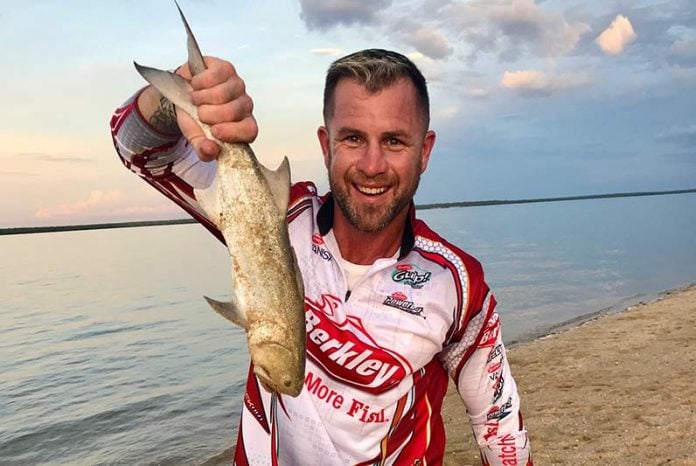 Whose life-long dream or bucket-list item isn't to catch a barra in the Northern Territory? It's been on mine and it's still on Shannon Ponton's.
The Northern Territory is amongst the world's best places to play, stay and fish. I headed off on a three-day fishing trip from Darwin with my great mate, former Biggest Loser trainer Shannon Ponton as he has also always dreamed of catching a barra but never actually given it a go.
A MILLION-DOLLAR FISH
Fishing is one thing but fishing for a barra is another. And fishing for a barra worth a million dollars? That's right, every year from October through to February, Tourism NT releases 101 different species of fish all over the Northern Territory. One has a tag worth $1 million and the other 100 are tagged with $10,000 prizes.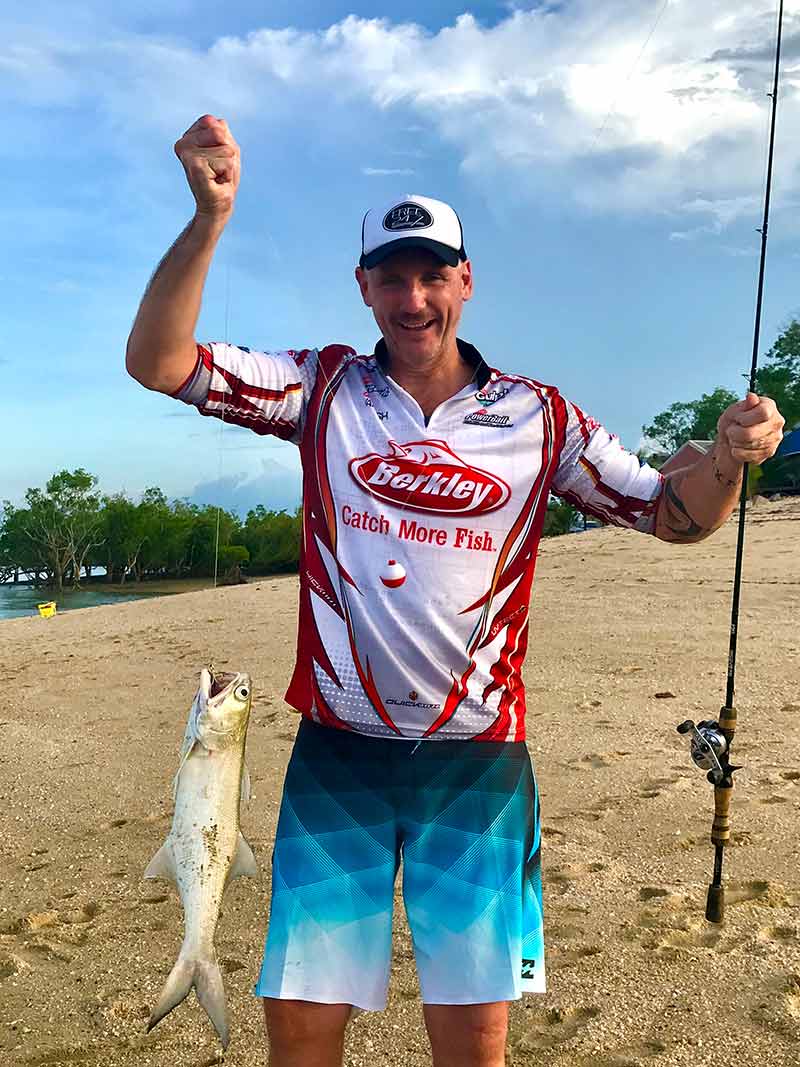 They say you have to be in it to win it, so we hooked up our New Age caravan to the Isuzu D-Max, stock standard from the showroom floor, and off we trotted to Darwin and Bynoe Harbour.
Darwin itself is known around the world for its fishing and how regularly big fish, right in close to shore, are caught. The wet season is the ultimate time to go to the Northern Territory. Fish from a charter boat, your own dinghy, the muddy banks, a pier or take your own big boat. There is always an adventure waiting around every corner when you are caravanning around Australia.
DARWIN FREESPIRIT HOLIDAY PARK
Leaving from the Darwin FreeSpirit Holiday Park, a brilliant park right on the highway as you drive into Darwin, we headed to Bynoe Harbour a couple of hours' drive from Darwin. We dropped into the Berry Springs Pub for a quick look and, of course, that much-needed rehydration. Just for the memory bank, too, every Melbourne Cup Day the Berry Springs Pub has crocodile races instead of horse races, so add that to the list of 'want to dos'.
Arriving at our accomodation and first fishing location, we checked into Crab Claw Island Resort at Bynoe Harbour. This is a superb place to stay, a real hidden gem. It has 12 elevated beachfront cabins, two semi-beachfront cabins, four family cabins, five retreat cabins in a palm garden, and even a powered area for caravanning and camping. So we parked up the New Age and Isuzu – in a shady spot – and unloaded all our fishing gear, including two brand new, straight-out-of-the-wrapper Berkeley fishing tops – you can ever be too sun-smart these days!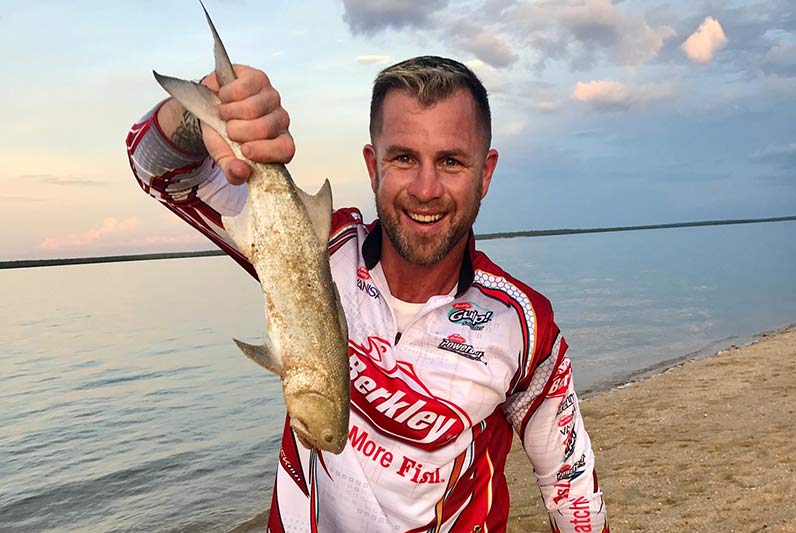 We fished for a few hours straight off the beach, right in front of the bar area, catching plenty of fish – and, yes, I have to admit it, the tally was Spida 0, Shannan 5. But no barra!
We had a nice selection of salmon and we traded a few mud crabs with another traveller, so we had dinner sorted. While it was no no million-dollar fish, the salmon still tasted very, very good.
NORTHERN TERRITORY'S DUNDEE BEACH
Day 2 and we were all over Dundee Beach, a relaxed coastal town and very popular fishing spot some 120km south-west of Darwin. Situated on the shores of Fog Bay, this tiny settlement is a popular weekend destination for fishing people. The only problem is deciding where to fish: Perron Islands, Point Blaze, Finniss River or the Bynoe Harbour.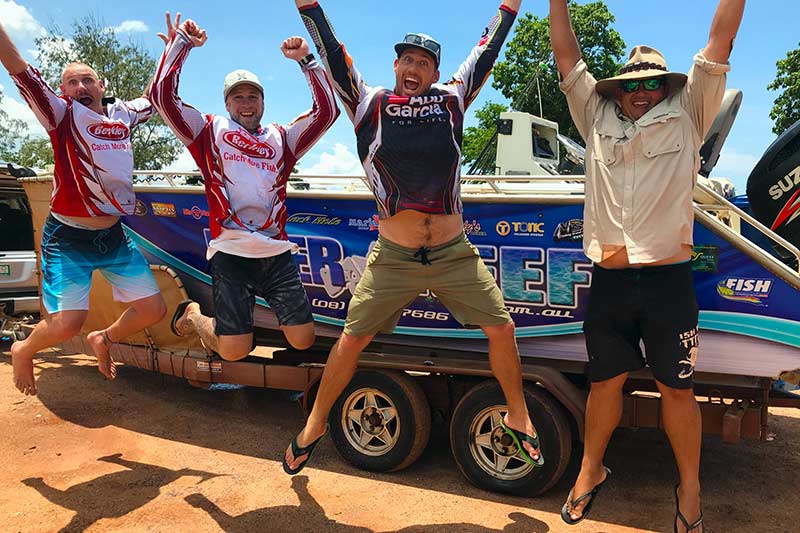 We decide on the Finniss River, with Captain Jack from River and Reef Fishing Charters.
We hit the river hard, trolling, casting, trolling, casting… but nothing. But some days you are on and some days you just aren't. We had a cracking day pulling in three or four decent fish but, unfortunately, no barra! We gave it our all and the one positive for everyone else is that the million-dollar fish is still out there waiting to be caught!
The waterways here, whether it's the Finniss River, the islands or the harbour, are so clean, so untouched and so easily accessible in such a remote location.
Our full-day fishing trip was over and we overnighted again at Crab Claw Island Resort. Unfortunately we have to head back to Darwin but both of us could have easily stayed a week to 10 days out there.
We stopped in at the Sand Palms Pub along the way – after all, outback pubs like this are what makes Australia special. Drop in, have a beer, a soft drink or whatever you like, but its meeting the people who call these places home that really make those memories. Tommy, the owner of the Sand Palms, is a true Aussie character.
LITCHFIELD BY AIR
Once back and parked up at the Darwin FreeSpirit Holiday Park, we decide to see this area from a different perspective – from the air. On day 3, we took the Northern Territory's Litchfield National Park by helicopter.
If you don't like helicopters you can always drive to Litchfield; it's all sealed and a nice 90-minute drive from Darwin. Litchfield is known for its waterfalls, pristine swimming spots, beautiful walking trails and hidden natural wonders. Wangi Falls is the stand-out attraction –  the falls flow all year round and are most spectacular in the wet and early dry season.
With walking tracks that we hiked along (why did I choose to bring a personal trainer along?) to hidden waterfalls where no one is within cooee of you. The gushing water comes straight over sandstone cliffs. If you wish to stay out here you definitely can, but get in quick as this place fills up quicker than a local bar at happy hour.
Seeing Litchfield National Park from the air with Nautilus Aviation is something you will never forget. This remarkable landscape is totally different from the air. From up there you see the enormity of it and get a true sense of just how awesome the Territory is. We flew right over Wangi Falls – it's just magic! Nautilus Aviation does flights all over the NT so be sure to look them up for a dramatic birds-eye view.
With our long weekend from Darwin complete, we settle back into our work, dreaming of the day we catch a barra in the NT. Our next trip is already booked and I am eagerly counting down the days!
Peter 'Spida' Everitt is co-host of The Great Australian Doorstep, which airs Saturdays at 2.30pm on Channel 7Two.