An image of a poster claiming new D-shackles regulations are now in force has been causing confusion on social media. Again.
The poster – a hoax dating back to 2014 but which has recently resurfaced – claims police in Gympie, Qld, have been issuing hefty fines to people towing trailers without the use of rated D-shackles.
The best advice: if you see this image, ignore it.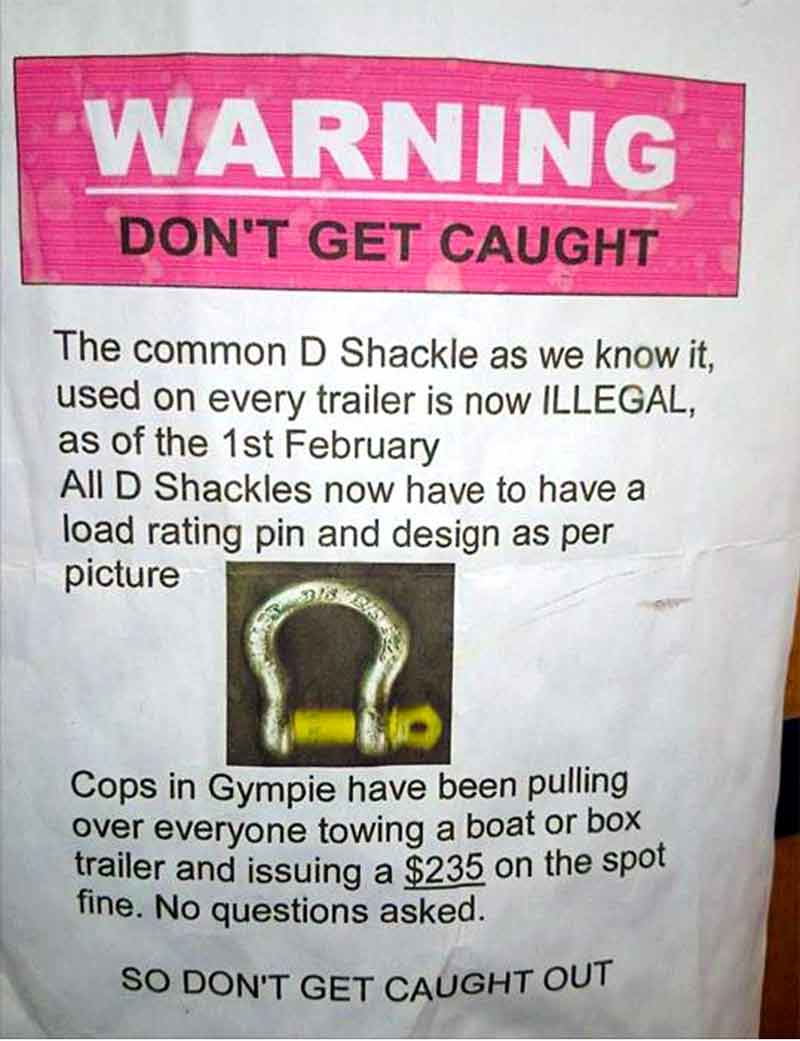 But it does raise an interesting question. Should the Australian standard concerning the D-shackles we use to connect the caravan's safety chain(s) to the towbar be changed? Should load-rated D-shackles be a requirement, rather than a suggestion?
Any towing combination is only as strong as its weakest link. The van's safety chains are required to meet certain standards, as is the tow vehicle's towbar. So, when it comes to D-shackles – the bit that connects the two – what gives?
D-SHACKLES STANDARDS
The relevant Australian standard, 2741-2002, doesn't specify that rated D-shackles must be used when towing; however, various state-government departments have issued guidelines, and the Caravan Industry Association of Australia has conducted research with shackle manufacturers to develop the following checklist to refer to when buying/using D-shackles for safety chains up to 3500kg capacity.
The shackle should meet the requirements of AS 2741-2002.
The shackle grade should be 'S' or '6'.
It should have a working load limit of 1000kg.
The diameter of the shackle steel should be 10mm.
Either a 'bow' or 'dee' design is deemed suitable; however, a bow shackle design provides a greater angular displacement.
The CIAA also notes that "a significant detail to understand is that the breaking load of a shackle is generally six times the working load limit".
A shackle that meets the requirements of AS 2741-2002 will be stamped or marked with the manufacturer's name, the working load limit and the grade.
Should the Australian Standards be changed to make rated D-shackles a requirement? Comment below…